Output and Save Your Work
Chris Orwig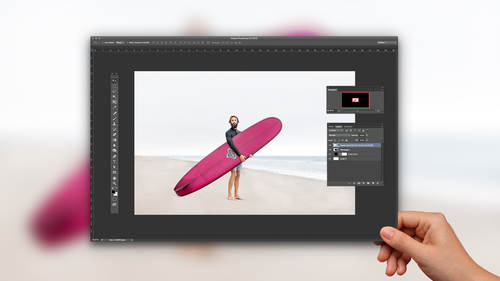 Output and Save Your Work
Chris Orwig
Lesson Info
7. Output and Save Your Work
Lesson Info
Output and Save Your Work
Now I'm ready to go to photo shop because I want to perhaps resize or clone or do something else there. What are my options? There's a little button down here, or link, which opens up what are called workflow options. This determines how the file will be sent over to photo shop, and this is an advantage versus can't light room. You can't do this in light room here, I can say before I even get to photo shop. Just resize the image for me at these particular dimensions because I know it's gonna go on a website or something at this size. Or you can also modify your color space as well in these in these in this workspace area so you can control that here. You can, of course, just leave it on default and you'll see that listed below color space and then also the file size that we have there. So let's say I'm just leaving in his default. I want to go to photo shop. What I do is I click open image. My next class advanced when I'll talk more about different options when it comes to opening file...
s and what it's gonna do is send this file over to photo shop and just go to full screen view so we can see that image. So we have that here. And essentially, what it did is that's when all those settings, which really were kind of theoretical because remember, it's just a text file interpreting the image. Those were all baked or applied, or it's like, signed, sealed and done and then sent it over to photo shop. And so what I'm getting here is that with all of that camera goodness applied to the file and then I can continue my work flow in whatever way I need to. So that's kind of the rhythms for us. Bridge hit Kamerad do all of our stuff, finishing off by sharpening and noise and then head over to photo shop. That's our workflow, Lupus, faras how it goes in here. There was that cropping question earlier. When you crop inside a photo shop, my recommendation is always leave. Delete crop pixels off. When you do that, it works like it doesn't camera. You apply the crop, reactivate it, and those pixels air still there, they're still in the background, so that's that's a really essential one toe have turned off. Unless, of course, you just want to be decisive. Get rid of that file size. But most cases, it's nice to have it on and see if that any questions on this little this little bit where I did, I went into Photoshopped, zoomed into 100 did some sharpening, did some noise reduction. Okay, so let's say I'm here in photo shop and I decided I needed change my image size for whatever reason. So we know image size would go to image and image size this little dialogue too small. So I'm going out to 100%. I want to see my image at 100% so I can see all that nice detail that I have here. And I realize I need to decide this thing down. So it fits in a certain thing, maybe six by 10 or something like that. I resize it here and click. OK, And now I'm at a new dimension, right? Whatever it is, maybe I went from 15 by something to four by six. The actual thing doesn't matter. But you get that. I've changed my size. So now I need to do my final sharpening, which is called output sharpening. Remember, four. It was input now its output. Because at this size, remember I said, how like your radius amount depends on the resolution of file. It's now a lower resolution file, right size the dam. So here what I would do. And this is more photo shop class, which I'm kind of cheating here a little bit. But I would go into my sharpening controls and or my filter and I would run one more pass on of sharpening and let me go to Smart Sharp in What I What did I just do? I clicked on I wasn't watching where I was clicking Sharpen smart, sharp. And there we go. Sorry about that. And what I would do here is I would apply sharpening relative to the image and the size that I have, because it's a lower rest file. Same thing here. My radius is gonna drop down a little bit. Um, and then I'm gonna find just the just the right amount to make that image snap. It shouldn't feel overdone. Should feel nice and just clean. And then I would apply that to the file and then get it off to wherever it needs to go. You with me, I'll knock. And how we tie these Tuapse together Bridge camera, photo shop. And of course, there's a whole other world what we could do in photo shop. All right, well, let me jump back over here and just see if there's anything else. Oh, yeah, One more thing. I have a set of images in this case that I have processed in camera and you can see these, you know, shoot my my friends down the beach and have all these files and all my raw stuff is done, and I don't want to open them all up and send them all over to photo shop and resize them one at a time. So the workflow is to use what's called image processor. So once I'm done with camera, I can select all when I have a whole shoot that I need to deliver to the client, go to my tools photo shop, and then go to image processor. And what that's going to dio. Let me just go back to photo shop for a minute. Make sure footed shop isn't hung up here. What? That's gonna dio is give me the ability to say I want to save these all out as Jay pegs in this size. And what this will do is it will go through that process of re sizing those files down and saving amount of J pegs that I could then give to the client. And so, in a lot of work clothes, when you have a bulk of images, this is what you're gonna dio, and I won't run this right now. But basically what we do is we would save the files out, create a folder called J Peg. And then that's the one I could give to the client so that because they can't handle raw files, right, they need to handle something another file format, like a tiff PST or most likely, J. Peg. And with that, it actually gets me to everything that I want to cover for beginning now. There is obviously, man, there is so much more to cover with this stuff. Hence another class, and then I have other tutorials. If you look out there, the most important thing for you guys with this camera world and those of you who are watching is to not overwhelm yourself with the amount of things you can do with these tools, and that's what I'm trying to do. Here is hopefully you picked up. I can open up an image. Do a few, these sliders. My images can look good, and that's actually good enough. And then later add on components to it. What tends to ruin people's progresses when they just try to take on the world? They feel like they should know everything, and they're actually image quality drops. So it's so interesting. So stick with those things and then get to the next next spot drew questions or you guys questions or Yeah, you have one discovered Michael. I'll ask one from online Mobile. Getting ready there, um so sharpening. Going back to sharpening. I was always told Toe only sharpen images is a very last step. Is raw different somehow, And that's where I think that input to output. So, um, you notice in mind I did do it at the end after I did all the magic or whatever you wanted to do. Style it. So that's really good advice, because do that at the end of your workflow. Um because, let's say let's say what the vibrance one that brought out all the color variation. If my exposures off that's gonna bring out color noise and so I don't want I want to deal with that after after I know that's a problem that makes anyway, do it Last is a long answer. Short answer. I mean, that's a short answer. Do it last. I was wondering, Can you tell us a little bit more? The difference between the input sharpening and the output sharpening? Yeah, I mean what it's doing here. You're obviously working with this huge raw file, my case, and it's just taking that file, and it's applying it to all of the data that you have there than the output is really just saying, What's my output gonna be? As Faras? Let's say if I'm doing a book and this book is 10 by 10 once I get to that 10 by 10 space, I need a different amount of sharpening than I need on a 20 by 20. And so really, it's not necessarily anything different. It's just by that point, your mawr in the zone of targeting output or size or destination or if it's a Web graphic, because what what can happen with Web graphics? Um, is that you see much less of the image, their smaller little thing. So you're sharpening the way I like to think of. It must need to be a little more delicate, you know, versus, like, a bigger file. You actually don't look a big file very close. You kind of stand back from it, right? But a little So anyway, it just has to do with that. Great question. Yeah, Drew, you have? Yeah. What was this short cut key for? The black and white you're using? Let's see the black and white. Let me think of what was I doing? Black and white noise reduction. Oh, yeah, Hold down optional. That's always Yeah. And I think that's like the tattooed shortcut, right? You know, it's someone you know. It's the one, like alternative, whatever. That's the one where it just went and out. And Photoshopped camera all light from all these tools. When I'm when you know there's another way you can't remember. I hit that key and usually you find it. So that's a great question. Sweet. And there is a little bonus file with some of these listed out, I think I hit hit all those in here but that you could print out. And okay, have this. Ah, question that goes back to when you were applying the, um, input profile. Would he call those things when you reset? Preset? Yeah, When you apply a preset, let's say you didn't like that one and you have a whole list of them and then you apply another one. Do you have the UN apply the one that you had before that, but or does each cigarette question some of the presets that all create are just for one panel on if you noticed. But in there it's like all these little check boxes. If you checked everything for a preset and then it different when it would change everything. But maybe of a precept that only adds 20 points of vibrance. It's only gonna affect one slider if that makes sense. So it depends on the preset. But when in doubt, presets can get a little muddied. That's where that reset button is really helpful. I have a reset preset as well, but option he canceled turns into reset because, you know when you get into trouble, when you process images, you're like, Oh my gosh, what have I done or who knows what's happened? I hit reset because sometimes you click through them like you said, and you don't know if you're stacking up the effect, reset it, and then choose the good one and you're fine. So that's a really great question. You simplify that, Yeah.
Class Materials
Essential ACR Tips and Shortcuts
Ratings and Reviews
Highly recommended!! I have watched some classes taught by Chris Orwig before, and really appreciate his excellent teaching style. He truly is a master of his craft in both photography and in teaching. He taught at a pace that allowed me to take notes and absorb what he was saying, which I really appreciated. He was well organized, and thoroughly explained each step that he was taking. I have been editing photos since early 2002, but always worked with jpeg files. Even just nine months ago, I had no idea what to do with raw files. However, with the classes on raw processing taught by Chris Orwig, I have realized that shooting in raw and then processing in raw is vastly superior to working just with jpegs. I have even been strongly advising my friends to shoot in raw!!
I watched several of Chris' tutorials elsewhere, before I discovered CreativeLive. Chris is a very student-friendly teacher, and he always seems to teach more than he intends to. For example, when he's talking about software and retouching, you can get new ideas from his creative eye and unique view of the world and just seeing some of the creative concepts in the photos that he uses. That's the main reason why I watched this video. However, although I've been using Adobe Camera Raw for about six years, I learned several "new" (to me) things about the software. As an introduction to ACR, this video will teach you more, in less than an hour and a half, than I learned in the first 6-7 weeks, when I first began using the software. It's a very simple, logical and orderly presentation that's easy to follow.
Chris Orwig is a great teacher for Photoshop. He is very engaging, very well-paced and gives you the information you need without being boring. :)
Student Work