Beginner RAW Processing
The Importance of Adobe Camera Raw (ACR)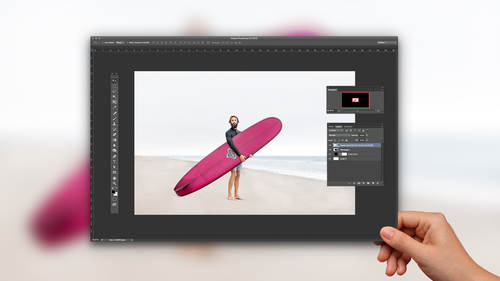 Beginner RAW Processing
The Importance of Adobe Camera Raw (ACR)
Lesson Info
The Importance of Adobe Camera Raw (ACR)
so glad to be here so much fun. Love this creative community. It's exciting to be part of this. So today we're talking about camera, which I have up, and what I want to do before we really dig into the tool is tell you what my goals for this session are and their six things that I want to try to cover. I mean Teoh the good news with cameras that it's not super complicated. You can learn it pretty quickly on dso that the topics that I want to get Teoh I want to talk about interface and just get familiar with how we navigate around, zoom in and zoom in on her images. Look at how we can open and access our files, of course, or some different techniques there. Fix things like exposure. Just make our images look better and crop and recompose and then next, fine tune, color and really add that sort of snapped with the color in our photographs and last night, at least output. How do we save our files, or how do we do something else with them and get him out of cameras? So that's that's what w...
e have in store for us today, so kind of keep those things in mind as we dig in. To dig into this tool before I get to the tool is well, I want to talk about this concept of raw capture versus raw processing, and raw capture has to do with camera. You know, you can set your camera to shoot or to capture J pegs or raw files. So that's that's camera stuff. Raw processing, his computer stuff. It's the same word, which is kind of funny, but two very different things. You with me on that? So capture happens here. Processing happens here, So if I capture a J peg, I can still raw process it and I can raw process raw files, of course. JPEG tiff PSD. So there's different file formats you can use. So which kind of leads me to this idea of how does this work flow work? And what is Kameron on the computer side as far as that processing side, so again, just a few slides before we actually use the tool. But they're different ways. We can prosper images, which we've talked about just a few minutes ago. We can use photo shop or light room or camera or other tools as well. And a lot of times, whenever a topic comes up on using one of these tools, some people say, Well, should I just use this one and not this one? Or maybe I should use this one and not that one. And really, what it's about is the suite of tools. And if you can learn the sweet you condone, you can work so much more fluidly and powerfully. And there a couple of reasons why which I'll talk about in a second. And what we're gonna look at is also this idea of kind of marrying tools together. And when it comes to camera raw workflow, sometimes that means we use can't adobe camera a lot in photo shop a little. Or perhaps it's a little bit more even yoked. You know where you're going back and forth between these two two tools, but most importantly, that it starts with raw, and then sometimes you end there. Other times you finish in Photoshop that Roz are beginning point for how we're processing these files
Class Description
Understand the foundations of Adobe Camera Raw photo format. Explore the power of using it as a standalone application to make compelling and non-destructive improvements to your images. Chris Orwig will walk you through the process of improving exposure, fine-tuning color, reducing noise, sharpening, cropping, and more.
Software Used: Adobe Photoshop CC 2015

Reviews
Highly recommended!! I have watched some classes taught by Chris Orwig before, and really appreciate his excellent teaching style. He truly is a master of his craft in both photography and in teaching. He taught at a pace that allowed me to take notes and absorb what he was saying, which I really appreciated. He was well organized, and thoroughly explained each step that he was taking. I have been editing photos since early 2002, but always worked with jpeg files. Even just nine months ago, I had no idea what to do with raw files. However, with the classes on raw processing taught by Chris Orwig, I have realized that shooting in raw and then processing in raw is vastly superior to working just with jpegs. I have even been strongly advising my friends to shoot in raw!!
I watched several of Chris' tutorials elsewhere, before I discovered CreativeLive. Chris is a very student-friendly teacher, and he always seems to teach more than he intends to. For example, when he's talking about software and retouching, you can get new ideas from his creative eye and unique view of the world and just seeing some of the creative concepts in the photos that he uses. That's the main reason why I watched this video. However, although I've been using Adobe Camera Raw for about six years, I learned several "new" (to me) things about the software. As an introduction to ACR, this video will teach you more, in less than an hour and a half, than I learned in the first 6-7 weeks, when I first began using the software. It's a very simple, logical and orderly presentation that's easy to follow.
Chris Orwig is a great teacher for Photoshop. He is very engaging, very well-paced and gives you the information you need without being boring. :)