Beginning Stamping for Jewelry Making
Transferring the Design & Sawing the Metal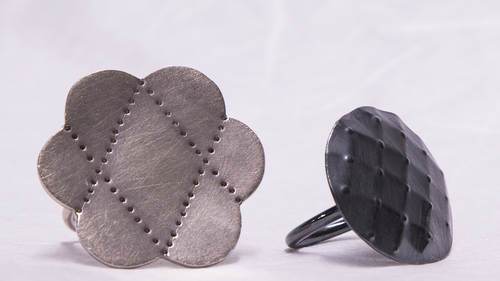 Beginning Stamping for Jewelry Making
Transferring the Design & Sawing the Metal
Lesson Info
Transferring the Design & Sawing the Metal
This pattern that's for this ring is this over with a basic grid and it's on a diagonal so it's not like this one the the grid is straight up and down and it has a different look to it I'm going to keep to the diagonal thread so just use scissors cut it out I use a glue stick like the glue stick put a little bit of glue, stick back behind and stick it on now in an effort to conserve metal you hold it up to the light to see the edge meets edge I like to place my pattern right up against the edge so that I save medal now this is a little piece I don't know how much more I'm going to get on this anyway, but in the big picture of things when you are working studio you might buy a big sheet of metal like this, right? And then in that case you want to conserve, you want to conserve the metal and use your pattern and your layout right up in the corner to begin with, right? You don't want to put it in the center so and hold it up to the light get it right up on the edge, you can trim it off an...
d then go to sawing out the pattern ok, so you sit down to saw got my soft frame and I've got some saw blades and the saab please come in different thicknesses and the thicker they are that the teeth are farther apart and they're better for thicker material so depending on what you're doing, they're great resource is out there toe suggest what kind of saw blades what size saw blades to use for what metal there's always arranges not like one saw blade is going to be best for any particular thickness of metal but ok, so they come in sets of twelve these saw blades of these air three odds that's three slash or excuse me there two outs two slash zero and I've got a saab lid and you take it out just show from the beginning so they have teeth on them you wanna look at the teeth and they want to be facing down otherwise there won't cut correctly and then you're going to face them out so you have a soft frame this wing nut here opens it up in a place the bottom of the saw blade which doesn't have teeth in it in there tighten it up and so the teeth are facing out so away when I'm going to be sawing away from me away from the back of the saw frame out and down and then you want some tension so the saw blade comes up to just overlapping this top part of the saw blade or see the file overlapping a tiny bit and then you're pressing flexing this saw frame so that this solidly can reach higher up in there and closing at the same time so that is talk you get a nice high pitched sound that means the saw blade is in there it's tight enough and you're ready to go what you don't want if you don't put it, push it in there too much hear that it's dull so the dull sound means you need to make it tighter and press charles you have to be somewhat gentle somewhat gentle yeah, sometimes you get sometimes I feel like I get a package of subways and I break everyone just a this point and it's who knows why you know but so how money is a good number tow have toe hand when you stop the project yeah, I have tons of software lots and lots of coming back and they come they come in packs of twelve and you probably buy a gross of them at when you're buying them in different sizes goes being twelve by to tell us twelve times twelve twelve times twelve hundred forty four so you know saw blades are inexpensive relatively speaking you want lots of bone some days I break a lot of them still and justice liken off sign day and other days you know goes and goes and goes usually break the saab the saw blade before it goes dole okay so bench pin here and I'm going to start sawing around the outside and so begin the soft offering actually the swoon let's see looks like it is off to an angle so redo this and he also used doubles when your story and you need to worry about I don't use goggles it's uh this the dust that I'm signing falls down I don't use goggles when I'm signing, but any time the flexible shaft and some other things too but I don't worry about it here okay? So then to begin I just like when I'm first cutting through the metal be at an angle here to get a groove and then go more toe upright and you want to listen for a very assistant movement you don't want like fast and you know crazy and you want to use the whole saw blade to that so you want a long stroke long stroke and I like tio think about it like where you're looking here does make a difference so you know when you're driving you don't look at the car right in front of you like a couple feet had you kind of gays ahead of towards where you're going and it's the same thing here you have a smoother line that you're cutting if you're looking towards where you're going then right where you're at lubrication on the blade, I do not have the habit doing that, you certainly can use this stuff. Just run your sob late it's like a little bit of an oily grease so a blade through it and use it. You can use that for any of your drill bits and all that and certainly is helpful, but I find it, I'll keep sawing, justus well, without it so you do want to watch for your fingers are long, consistent strokes to the outside of your drawn lines, so you can always a good habit to get in just to sort of the outside. So you have your guideline intact. All right, so you saw all the way around? I'm not going for the sake of it. Just going to move on to the next step. You're going to solve all the way around your piece and then it's cut out. This is, you know, halfway cut out at the moment. So you get you're storing technique, something that you really have to hone over the years. Is this something the beginning could just sit down and really do this? Yeah, I mean, I suggest if you've never saw him before, like getting a scrap piece of metal, drawing a line and trying to draw the sea saw straight and see what you can dio I mean it's, it's, it's, definitely don't dive into silver the first time you ever saw and get a just a little piece, draw some lines and try to follow them. Try to follow it straight on it. Try to follow to the outside. You're always going to be filing afterwards, anyway, but, um, yeah, I let yourself, you know, sick to play around and have some samples and testers essentially.
Class Description
Stamping is a great way to customize metal jewelry and add unique flair to the pieces you create. In Beginning Stamping for Jewelry Making, Raïssa Bump will show you how to add personal touches to your handmade jewelry through basic stamping techniques.
Raïssa has made jewelry for most of her life. In this class she'll share her passion for metalwork while showing you how to make a ring with a stamped "quilted" design. You'll learn how to:
Saw, file, and prepare metal for stamping
Stamp metal to create a quilted look
Solder metal onto a sized and shaped ring
You'll learn the stamping process, from start to finish, and develop the basic skills you need to explore more stamping options.
Check the bonus materials below for a complete product list of the tools and supplies you need to finish this project.
Reviews
I don't even make jewelry and I enjoyed this class so much. There is something relaxing about watching Raissa make jewelry. She explains everything very clearly!