Beyond Macro Photography: Into the Microscopic World
Charles Krebs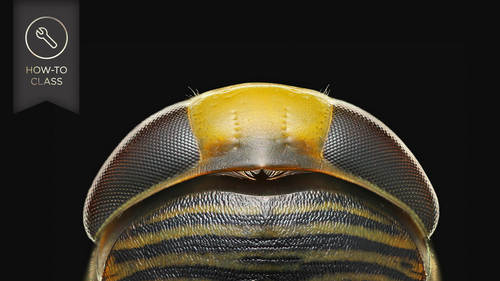 Beyond Macro Photography: Into the Microscopic World
Charles Krebs
Class Description
Photomicrography (photography through a microscope) and photomacrography (using a hybrid combination of microscope optics and conventional camera equipment), opens up vast new areas for exploration. Learn about the tools and techniques essential for exploring these fascinating approaches in Beyond Macro Photography: Into the Microscopic World with Charles Krebs.

In this class, you'll learn about the most common equipment and techniques used in photomicrography and photomacrography and the difficulties photographers face when shooting such technically challenging images.

Charles will discuss the imaging characteristics and complications that arise while working at high magnifications and he'll offer solutions for dealing with diffraction effects, severely limited depth-of-field, and vibration problems.

The world around us filled with fascinating subjects too small to seen with the unaided eye. Macro photography provides a peek into this world, but to fully appreciate many smaller subjects it is necessary to experiment with specialized techniques – find out how it is done in Beyond Macro Photography: Into the Microscopic World with Charles Krebs.

Class Materials
Beyond Macro Photography: Into the Microscopic World Slides
Ratings and Reviews
Like the other reviewers I enjoyed this class but would like a very in-depth part 2. He just mention lighting, a ping pong ball and a white dome. I'd like to learn how those are used. Where do you get the dome, what material is it, etc. I'd also like to learn about his specimens. While he mentions what they are, how do you use the water from your bird bath? Does it go on a slide? Please do a part 2. Thanks!
Super interesting but too short. I would love to have a longer course with Charles! Thank you Charles, you made me remember my childhood. I had a simple little microscope that my father gave me back in the 90s - sweet memories!
I found this course very interesting. I, like other reviewers, would have enjoyed a longer presentation with more hands on instruction. I'd like something that goes from A-Z, everything from acquiring your subjects (Are they purchased, caught, frozen, pinned, etc) to the photographing of the subject (lighting, etc.), to the end result. The focus stacking was the most hands on portion while other sections were just informative. I really enjoyed the class and Mr. Krebs knows his stuff but I would pay to have another more in depth and hands-on kind of class with Mr. Krebs,
Student Work