Book Club: Creative Calling
Chase Jarvis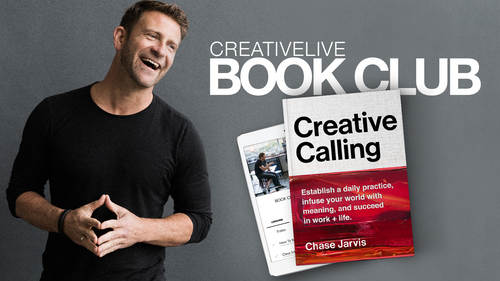 Book Club: Creative Calling
Chase Jarvis
Class Description
Back by popular demand, our founder Chase Jarvis returns for a special deep-dive into his new book Creative Calling. In this new 6-week Book Club Series, Chase will go chapter-by-chapter to help Creative Calling readers map out how to build a creative practice into their everyday life. By the end of this 6-week Book Club Series you will have the tools to:
Identify hurdles holding them back on your creative journey.
Overcome creative blockers and negative influences stopping you from creating.
Develop a system for you to pursue your creativity.
Establish accountability for yourself and your supporters on your journey.
Build a community for your work and grow your tribe.
WHAT TO EXPECT FROM THIS BOOK CLUB SERIES:
Week 1: Welcome – Analyze how you are currently operating and identify how you bring creativity into what you do. (Chapters: Read This!, Introduction)
Week 2: Step 1: Imagine – Creators create. Get out of your own head and begin to break down the barriers stopping you from creating. (Chapters: Hear Your Call, Walk Your Path, You Stand Out)
Week 3: Step 2: Design – Systems create the space and time you need for creativity. Build a blueprint for yourself to create daily. (Chapters: Develop Your Systems, Make Your Space, Do Your Best Work)
Week 4: Step 3: Execute – Do the work. In order to unlock your true creative potential you must create. Learn how to get past the "planning phase". (Chapters: Make It Til You Make It, YOUniversity, You Must Fail To Succeed)
Week 5: Step 4: Amplify – Doing your craft is only 50% of the job. To truly tap into your creativity you need community. Grow a supportive creative network unique to your craft. (Chapters: Find Your People, Build Your Audience, Launch!)
Week 6: Next Steps – Now Take Action.
WHAT PEOPLE ARE SAYING ABOUT THE BOOK:
You will enjoy life and be more successful if you focus on creating... and Creative Calling is an engaging guide to doing just that. – Richard Branson
Chase is the perfect guide as we learn how creativity has the power to change everything. – Brene Brown
It's a must read for any creator or entrepreneur. – Daymond John
Creative Calling will whole-heartedly change the way you think and it will provide you with the inspiration to make a bigger life than you ever thought possible. – Debbie Millman
You won't find a better resource to unlock your true potential. – Jimmy Chin
ABOUT THE CREATIVE CALLING BOOK CLUB:
Renowned artist, author, and CreativeLive founder, Chase Jarvis, teaches us how to unleash our creativity, transform our lives, and add value to everything we do in his new book Creative Calling.
In this 6-week book club, Chase will take a deep-dive into each section of the book and help readers take actionable steps towards becoming unstuck and creating a more meaningful life.
ABOUT YOUR INSTRUCTOR:
Artist, author, entrepreneur, mischief maker...Chase Jarvis is well known for many things. As a photographic master, he's regularly cited as one of the most influential in the past decade. Chase has won numerous awards including Prix de la Photographie de Paris, Cannes Lions, and The International Photography Awards. But Chase has always cherished community over competition.
Ratings and Reviews
Such a great class to accompany the book, thanks Chase! I wasn't expecting this content when buying the book last year. Love it! Thank you for your wonderful guidance and inspiration to help us live up to our full potential in life! The steps of the IDEA framework is a great resource to fall back on, regardless of what type of creative project.
Just watched part 3 and we are loving it! Chase Jarvis is such a great teacher! Positve and inspiring! Loving the book as well and will make a review on Amazon! I am so glad he puts himself out there, it's not easy and lots of work and time went into this! Thank you so much! Chase Jarvis is making a positive difference! Thank you and keep it up! Your making a difference in our lives!! El Brunkhardt
This has been a great dive into the book, with Chase's conversation and examples showing how to apply the concepts to our lives. I especially appreciate how generous Chase has been with his time - he spends at a minimum 30 minutes after every call answering questions and brainstorming with the community and that's just as enlightening as the conversation about the book. He's generous, encouraging, approachable, kind, and shows us an efficient way to not only make creativity a major part of our lives, but to see the many ways we are already creative and can build on that.
Student Work