Bookkeeping for Crafters
Lauren Venell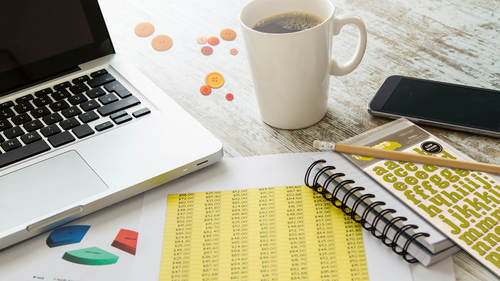 Bookkeeping for Crafters
Lauren Venell
Class Description
It is common to be intimidated by math and money, but managing your business's finances doesn't have to feel overwhelming. Bookkeeping for Crafters with Lauren Venell will give you the confidence and skills you need to start and maintain your own small business ledger.
Lauren is an artist and educator committed to making financial solvency accessible to independent entrepreneurs. In Bookkeeping for Crafters you'll learn the basics of managing your money and how doing it yourself can reveal important opportunities for your business.
You'll learn about managing different types of income and expense accounts and how to painlessly prepare for tax time. Lauren will make predicting fluctuations in your cash flow straightforward and easy while helping you develop a system that is right for you – even if you prefer pen and paper over spreadsheets.
If you are ready to change your relationship to money and manage a ledger that is customized to the way you do business – this is the class for you.
Be sure to check out Lauren's other course Bookkeeping for Etsy Sellers.
Class Materials
Bookkeeping Resources.pdf
Product Profit Calculator.xlsx
Fancy Ledger for Creatives.xlsx
Simple Ledger for Creatives.xlsx
Freelancers Rate Calculator.xlsx
Crafters Sample Chart of Accounts.pdf
Ratings and Reviews
Months after watching the live broadcast of this course, I am still so glad I bought it. I find myself coming back to it over and over again just to refresh my brain on how to manage all of my numbers. I'm new at having a business and doing my own bookkeeping, and this course has been extremely helpful as a tool to help me set things up well and keep me on track. Highly recommend especially for those new to business and bookkeeping or intimidated by taking care of your numbers!
There is so much fantastic information in this course that I had to purchase it even though I watched the free broadcast. It's real hands-on stuff, not a general description of what bookkeeping might be, but an actual guide to manage your business' finances. Thank you for all the insights and workbooks! I highly recommend this class.
Wow, this course was jam packed full of insightful information (not just about book keeping!). Lauren was great at simplifying the process! Even though I watched most of the 2 days free broadcast, it was a wise investment to purchase the course and now I can re-watch at my leisure and fully take it all in. Thanks Lauren! :D
Student Work