Brand Development for Creatives
Branding Tools
Karen Okonkwo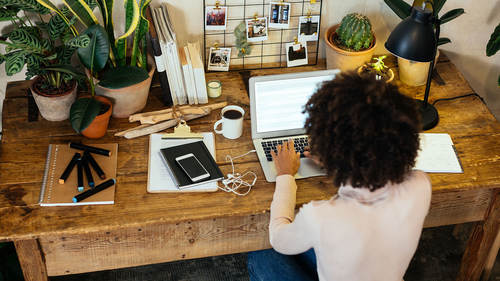 Brand Development for Creatives
Karen Okonkwo
Get access to this class +2000 more taught by the world's top experts
24/7 access via desktop, mobile, or TV

New classes added every month

Download lessons for offline viewing

Exclusive content for subscribers
Lesson Info
7. Branding Tools
Lesson Info
Branding Tools
So moving on here, I wanna talk about tools. So there are quite a few tools, that you can use to maintain your online aesthetic, and most notably of course are photos and videos, so I wanted to take this time to just share some of my favorites, starting with photos. So images are the quickest way for you to lure in an audience via social media, because as we all know, the famous phrase, that pictures speak louder than words. Your business may have nothing to do with pretty pictures. But when you choose to have your presence online and you know that over a third of the world are on these platforms, you're just gonna have to find a way to adapt, to make sure that you are staying popular and relevant. So, it's just not enough to just throw up a photo on your social media outlets. There has to be thought that goes into it, starting with what look you're trying to convey. So, adhering to your brand template is always going to be important, so you never want to fall short of that. The image ...
should be clear and good quality, and from there you can really just play around with the photo filters to give it the look an feel that is most relevant to you and your brand. When we talk about photos, one angle that you can use are stock photos. There's been an evolution when it comes to stock photos, because most stock photos are very corny, homogenous, and stale, and so we have found that people have taken that and flipped it to make them memes. So you're finding that a lot of these brands are like, "How can I get people's attention while still getting "them toward my content?" So they're being strategic, and they're taking these photos and they're making them memes. A lot of these brands that I've seen have literally increased with their followers, and I believe it's got a lot to do with being strategic with the way that they find content online through memes. So, in many cases, businesses prefer the quality of their images on social to be that quality of a professional camera. And it really is your prerogative if you want to invest the time and money into getting a professional camera to make sure that there's congruency in your images. If I were to give any suggestions on good cameras, Sony is good, Canon is good, but stock photography can really be an outlet for you. As I mentioned earlier, I do have a stock photography website called Tonl, spelled T-O-N-L, and we have a lot of editorial-style images that are being used online, and they've been able to adapt in that way, because they are social-facing, so they are penetrating better online. These are my absolute favorite photo editing resources. You get a photo, but you're like, "That doesn't really "fit my brand, the mood, the colors." I choose these, I use Adobe Photoshop, I use VSCO, Snapseed, and I heard that Filmborn by Mastin Labs, who's local here, are really good photo editing apps. Nevertheless, it's really key for you to decide on a filter that's going to be your go-to look. I had, I think I told some of you guys, a cultural wedding show, and at first the images were really haphazard. They were just different colors, different looks, and I said, okay, this is the VSCO filter we're gonna use, it's called A6, and no matter what the image is, that's the color we put. Sometimes it's a little tug and pull, cuz you're like "No, I really like that photo, and when I add that filter "it kind of changes the yellow to look orange, "or it makes the red look pink," but the thing is that you're trying to create a cohesive look, so when you filter against that, you're not creating a cohesive look. And we've found that our followers started to increase. We found we'd be walking around and people would be like, "Oh my god, I love your photos, I always know when I see "a Her Big Day photo." And I was like, wow, that's what you wanna listen. I always know when I see blah-blah-blah's photo. Because you created that cohesive look. These particular photo editing resources, what they do is they allow you to change the contrast, the brightness, the saturation, before you even apply your filter, so if you're worried about that look, you can always just kind of play around with that, and they're all very user friendly. So, let's just say you can't take your own images for your site, that is actually totally fine. This is where reposting comes in handy. You can actually use other social media accounts' photos to still convey your message. The key really is to properly attribute where you grabbed those images, to make it fair, and allow those people to get recognition as well. I wanted to give you some examples of brands who have done a really great job of reposting images and still staying to their look. Here we have Create & Cultivate. Some great brands who have mastered reposting content to convey their message would be this first one with Jaclyn Johnson. She is the founder of Create & Cultivate, CEO and founder. Create & Cultivate basically focuses on helping women create and cultivate the dreams of their life. They're constantly grabbing images of women, because that's huge. What they do is they repost images of women who have attended their events, or just women in brands that align with their business palette. They always stay with the colors and lighting that is still cohesive to their look. You can see that here, a lot of bright colors, staying in the pastels, the pinks, the blues and the whites. You just know whenever you see a Create & Cultivate picture. They do that very well. Another company that masters this concept of reposting is Gather Seattle by Chloe Csadenyi-Benson. Gather Seattle basically hosts gatherings in Seattle with an aim to bring the Pacific Northwest food and design communities together, just so they can connect and inspire each other and nourish each other. And as such, the content is imagery from members who attend their events, and a lot of the imagery from the people who they're featuring. Chloe just decided on a color scheme that she wanted. She decided on the love of contrasts, a love of brightness, and the style, and you see here that there are sometimes where she does include words, but there's an even balance of it where it doesn't take away from the overall aesthetic. I'm sure you guys can see that here, she has a quote, and it's a quote from somebody who is a member of the particular company that she hosts. So she stays true to all of that. I always tell people that the worst thing you can do is cave in and just throw in a photo that just doesn't fit your cohesive look. You're on a roll and then one day you just have this urge, you're like, "I want everyone to see my puppy," or, "No, I want everyone to see my cute little niece," and it's like, okay, but just make sure that it fits into the color palette, it fits into your cohesive look. If you're ever really curious, and you're just like, "Hm, I wonder how that is gonna look on my feed." What I suggest is getting this free app. It's called UNUM, and this app actually gives you the luxury of lining up your photos in a queue, and then you can see what it'll look like before you actually publish it. So that allows you to be a little bit more intentional, where you can see, okay, maybe that picture of my cat, next to my dog photo, doesn't look that good. Maybe I should actually put myself relaxing with my cat, and then the next photo could be of my cat. You can just see what it all looks like cohesively. If you're really intentional about that, it'll lend itself well for you. This same desire to make sure that your photos are good should also hold true when it comes to video content. As I mentioned, in the years to come, video will be over 80% of what people absorb when it comes to marketing. So you really want to fall in line with that and find ways to implement video. Some of my favorite video creation apps are iMovie, Inshot Video Editor, you have the luxury of adding text and music, and different things to really bring your video to life through your phone in minutes. Those apps are really beneficial for you. Keep in mind that several social media platforms significantly reduce the quality of videos, so make sure that when you are creating them, you create them the highest quality possible. Because these particular platforms do reduce the quality of them when you post it. The videos that actually do the best are the ones that are less than a minute, high energy, and include closed caption, because many people are scrolling through their phones, looking silently, whether they're in a meeting, sitting next to an annoying friend. People are always scrolling through their social media, and they don't wanna get caught with the sound on, but they still want to see the content. So adding closed caption is great. Now, longer videos do lend themselves well, so long as they are relevant. If you want to create a longer video you just want to make sure that it's attention grabbing, that it's a topic that holds a lot of relevance to your audience. Either way, the visuals should always be bright, and quickly get the message across. In wrapping up this section here, I just want to stress the importance of pinned content. This is content that you want your audience, at a minimum to see, whether they decide to stay or go. This content should clearly tell them what you are, who you are, maybe if you have a special award or accolade that you really want to bring to their attention, have that content on there, because it kind of lends itself to being another, "hey this is me" credibility thing. Make sure that in the caption there still is a call to action so that you can talk about whatever your special moment is, then say to learn more, go to this website. So this example here this is Twitter, and what we did is we pinned our website. So every time you come to our Twitter, you're always gonna see this content here. And naturally, of course, we say to you, "Retrain your eyes. See the world differently. "Check out our new stock photography website "and be sure to sign up." And then we have our website there. Again, you guys will always see that every time you go to our Twitter, and we have other different pinned content on the sites that do allow pinned content. So I wanted to pause, if there's any questions. Talking about Instagram, and reposting photos, and with regard to copyrights, and who has the ability to do that, do we just lose all that control we post there? Because I would license images to my clients and allow them to use it on their social media, but if other people then take those and repost then that starts to open a can of worms there. Yeah, and you can report those photos too. There's a button on social media where you can report that there's something wrong with that image, but I just tell people that if you want your content to maintain its integrity, as in knowing who it is, you just need to put some sort of watermark on it. You have to be careful though, because sometimes a watermark will sometimes deter people from even reposting it, and you actually want your images to circulate. That's how you would obviously get more attention. The best way for you to keep yourself clear is to use those reposting apps, where it collects everything. It puts in a little corner where you got the image from, it gives all of the attributes, and also don't be shy in reaching out to people and saying, "Hey, I see that "you're using this photo, do you mind just crediting me?" There's been certain situations with another brand that I have where we didn't know who the picture came from, so we actually said, please let us know who this is from in the comments, and then people would let us know and we would change it. I would say that at this point, where images are so easily accessible, the only way that you can protect yourself is to put some sort of watermark, unfortunately. On this social media thing, I have recently jumped in because I'm trying to stay current, and I have been maintaining other ones that I had abandoned before, and then I set up a Twitter, and when I set it up I typed in my business name, and it automatically transposed my business name, and so every other handle that I have says Mer-see-ah Lyons, or Mer-see-ah Lyons Photography, and then Twitter says Lyons Mer-see-ah, and there was no option that I could find. I've been running it just for a few weeks now. Should I contact them and see if they can change it? I never saw a preview of what it would look like. Or should I just start a new one and try to restart following? Or how would you handle that? You said that you basically tried to get your business name and that Twitter automatically switched it? Right. And then It treated it like a first-last name and then swapped 'em. Okay, it sounds like a glitch, or a troubleshooting issue. I would reach out to Twitter. I will say that it is generally, typically harder to get a hold of any of these social media platforms' support tools, but I would go that route first. Then, if not, I would actually create a different email account and go back into Twitter and try to see if you could redo it. And then, what you can ask is, you might be able to merge your two pages together, but if you're new and you just started, I don't think it's a big deal to start over, and what you can do on your old page is you can say, "We have moved to," and then put your new handle. So that's the way that I would handle that.
Class Description
Creating a clear brand is an essential part of starting a business. Join entrepreneur and TONL co-founder, Karen Okonkwo as she shows you the options there are to develop your brand's identity.
In this class, Karen will teach you how to:
Write a mission statement
Create a brand story
Decide on an online aesthetic
Clear branding across all aspects of your business is an important ingredient to success. By the end of this class, Karen will have given you all of the information you need to develop a brand identity that defines who you are and helps you achieve your goals.