Brand Development for Creatives
Types of Content
Karen Okonkwo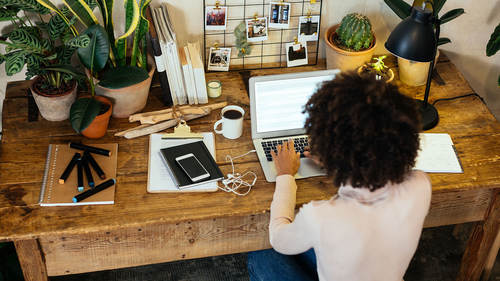 Brand Development for Creatives
Karen Okonkwo
Get access to this class +2000 more taught by the world's top experts
24/7 access via desktop, mobile, or TV

New classes added every month

Download lessons for offline viewing

Exclusive content for subscribers
Lesson Info
8. Types of Content
Lesson Info
Types of Content
So, the last thing here is just talking about the types of content that you can share. And we'll wrap up with this section. I know it'll be helpful to share the types of content that you want to convey. And one of the people who I think created a really great model is Hilary Rushford. She came up with these four genres that you can use. And she breaks it down into education, inspiration, behind the scenes, and community. To be well-rounded it really is best that you tap into, actually, each genre. So, the following slides that I'm gonna show you are people within these different generes who are really doing it well. But I do want to say that it's important that you try to have a nice balance of all of them. But it also depends on your business. Maybe it only makes sense that you focus strictly on community. So, let's tap into some of these examples. We'll start off with education. In the education genre you're really just trying to enlighten the consumer on the topic. You're just essen...
tially teaching them a lesson, and showing them that visually. So, here we have athletic form. Athletic form is a company that best, again, depicts education. They're a Seattle based-training facility. And, you know, they fill their page with video tutorials on different exercises, visuals of classes, and just images of trainers to really sell the story that they are a community-drive, high-skilled gym. So you never really see them fall through. They're not showing a picture of a cat, you know, they're not really showing like a picture of them sitting and watching TV. No, they're whole entire genre is about education related to their brand. The second genre here is called inspiration. In the inspiration genre you are basically just selling the dream. You can think of it like an editorial spread. Consider this like your public dream board. And the person who does this best is actually my business partner. His name is Joshua Kissi. He is a New York based creative and photographer. And he fills his page with inspirational images that he has personally shot of, you know, models that really fit this aesthetic. You know, deeper contrasted images, really bring out the skin tones of his subjects. So it's very aesthetically pleasing to both the women and men that he showcases. You know, it's very fashion-forward, so a lot of people we find that his images are on a lot of mood board, because it's setting that sort of tone. So this is an example of inspiration. Then, one of these that I think is probably easiest for a lot of brands to do, and I think it lends itself well, is creating a behind the scenes genre. Really, what you're doing is you are making your followers feel like they are literally tapping into your world, a world that maybe they otherwise wouldn't have been able to see. So this section really aligns best with like video tutorials, you know, getting backstage, going in the back of the house, really, of your videos and your imagery. So, these are the profiles, the next profiles I'm gonna show are profiles that really depict that well. We're gonna start off with this behind the scenes look with L.A. based beauty vlogger, Whitney Wiley. She's a friend of mine, and she really fills her page with behind the scenes imagery of her everyday life from, you know, paid sponsor, paid partnership, excuse me, to getting engaged, to eating dinner with her fiance. To traveling around to London, to going to the beaches in California with her bestie. You know, just really you get to see her day in the life. And it gives you a bird's eye view into that, and a lot of people like that. There's a lot of celebrities who have opened up that door where they're not just an actor, they're not just a model, but now you see, oh, they're an activist. Oh, you see the way they interact with their family. And it actually makes you like them more. So, she does that really well, where she shows you her entire life. And her brand is beauty, so that always plays into it. Because she's always tagging what she has on her face and on her body. This is another profile here that I think does a really good job of depicting behind the scenes. I mentioned here earlier, this is Sakura Considine. She's a Phoenix-based business owner and lifestyle blogger. And she too fills her page with behind the scenes of images of her as a co-founder of her creative strategy and design studio called Bloguettes. Plus scenes from her personal life, you know, from finding out that she's pregnant, to doing paid posts, to traveling with her boo. You know, she basically takes you around every single step. So you pretty much know that you're going to get a piece of every part of her world because that's what she wants to show you. Therefore, that actually gives her more opportunities. Again, I told you that she shows all of the paid sponsorships that she gets, all the trips that she takes. All the things that she does get for free, she finds a nice way to integrate that into her life. Then, the last genre here is called community. In the community genre, you know, this is just imagery and video content that really takes the eyes off of say the owner of the brand, and turns it back onto the people and the things that collectively make up the business. Examples of that would be the Seattle-based company called Molly Moon's, this is an ice cream shop. And what they do is they fill their page with customers enjoying their ice cream. Actually, if you look closely this picture right here is me. My aunt is a nun, and she came here from London. and my brother popped in from Arizona, and we went to Molly Moon's and took a picture, and they decided to repost it. It's just fun, it shows you they're trying to say to you this is the type of person eating ice cream here. This is the community that comes here. But they're also showing their signature treats. So they're still staying true and saying, hey, this is what we have to offer and the community loves it, we are a Seattle staple. Then, another profile here that really depicts community best is a Seattle-based podcast company called the The UpNUp. You know, they're a startup company, and what they do is they fill their page with images of all the people that they feature on their page. So you get that community feel because you actually get to see, okay, who all in the community here is on this podcast. And it actually entices you now that you see the visual of those people to actual go and hear what they have to say, as opposed to not being able to see that. And you're like, hm, I wonder what they look like? You actually can come here, and you know what community that they serve. So, in wrapping up here today, what we did is we briefly walked through everything it takes to be on brand. I'll just leave you guys with a really awesome quote from somebody who I think is a great leadership guru. His name is John C. Maxwell. And he put it best when he said that there's something that he calls the law of buy-in. You know, people will buy into the leader, then the vision. So focus your efforts on portraying the best version of you as a creative, and the vision of your brand will naturally flow and really resonate with your audience. Thank you guys so much for tuning in. And best of luck out there bringing your brand to life.
Class Description
Creating a clear brand is an essential part of starting a business. Join entrepreneur and TONL co-founder, Karen Okonkwo as she shows you the options there are to develop your brand's identity.
In this class, Karen will teach you how to:
Write a mission statement
Create a brand story
Decide on an online aesthetic
Clear branding across all aspects of your business is an important ingredient to success. By the end of this class, Karen will have given you all of the information you need to develop a brand identity that defines who you are and helps you achieve your goals.