Details Panel and Focus Area
Chris Orwig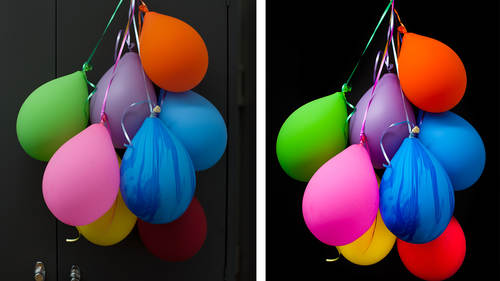 Details Panel and Focus Area
Chris Orwig
Lesson Info
10. Details Panel and Focus Area
Lesson Info
Details Panel and Focus Area
Detail panel I think I think most people need to know a detail panel if you don't is holding the option came clicking on your sliders so um outsiders intensity radius you can see the edge is going to resume and even more this image has a lot of noise because they're shot how super higher so um but you can see when I use my radius the other edges glow and stick out most people like I don't know what radius is doing but just option click and drag those guys and you can see it's at that point you also will notice that radius only goes up to three like they could have made it go up to ten but that's because usually it's going to be pretty low and the lower the resolution filed a lower your radius is going to be details same thing people it's really low architecture texture whatever it's going to be high but use that slider masking same thing you kind of see like oh yeah I'm just sharpened edges perfect white sharpening white reveals black doesn't so option click and drag the sliders ahs yo...
u get through them in order to improve your details a little bit more a couple more little tips want to throw your way I want to do one little, many thing here which is these guys um um a tool that isn't always noticed is select focus area it's a relatively new future and what focus area does for us is it tries to select the area folk, the areas that are in focus, which is really key for sharpening, right? So did a decent job of grabbing these guys without even changing my slider. We can change how much is there? She is now gone and I'll bring her back, and what I can then do is say, well, yeah, what a output this to a new layer with a layer mask, and I'm going to click, ok? We could also refined the edges again. I'm going fast here, but you know, you could clean up those edges, and with that what's, the beauty of this is that I now have these guys on their own layer, so finding a run sharpening or contrast to find one run if there's noise in the background will now have the background or if I want color in the back, you know, I like have this, and when we shoot it, regardless of what we're shooting, usually we're aiming for stuff and focus and usually there's stuff that isn't in focus. That was a great way to bring out really good qualities of images, yes, a question about sharpening, so you asked that one now, sure, yeah, and I love it when I hear that that huge video on and that's also what's your take on sharpening in light room or you do do it and photo shop. And how do you know how much to apply? Yes, great question. So light room versus photo shop, the standard kind of thing is, if you talked to the engineers and stuff that cameron light room, our input sharpening and so input sharpening is that first step. You know, what you're trying to do is, like get the image to the right spot, which it isn't there, and then output sharpen is what's going to happen in the second stuff, even in light room, it's built into the export, and you choose a value for that. So if I have an image it's going to be said a cover of a magazine, you know, I'm going to do my import, trife sharpening and light around, and then the images that go to print from you go through photo shop because those were really important, you know? And so then I'm going to go there and do my output, which is very selective, which is very like, you know, the eyes are sharp and different than the eyelash is different than the eyebrows different than the hair different than the texture of the genes or whatever it is because the subtlety of that, your eyes going to go e. I think what people tend to do is like the sharp and all the eyes. But then the inner eye looks good, but then something looks good here, and you're confused by that, anyway, input camera. I'll put photoshopped that typically leads to the best results or futures exporting. Some of that will happen. There sounds like a good class on just
Class Materials
Chris Orwig - Bring Out the Best in Every Image with Photoshop - Reference Guide.pdf
Ratings and Reviews
Chris Orwig has long been near the top of my most admired photographers list. I own his books, have watched almost all his courses, and naturally purchased this course from CreativeLive. As always, in a short time Chris covers new and unique material in his wonderful professorial manner that is always easy to understand. Great material, great class, great Orwig, and highly recommended. But I must add a short addendum for other Orwig followers who may be considering this course. Chris is easily the most philosophical, metaphysical, feeling photographer I know. He is a poet with words and images, and he teaches that you should produce images that resonate with your own higher self. Great! But I almost fell off my chair when this class started and Chris now has a very long beard. Okay Chris, I am a follower! You are not only my favorite instructor, but my guru of all things photographic!
Great class as usual by Chris Orwig, a gentle mix of useful teachings (it goes fast, be prepared to take notes or rewatch video) and wise guidance. I particularly appreciated how practical the course is, you get to learn things you can apply right away versus a general Lightroom or Photoshop class. If - like me - you know your way around a little bit the editing tools but want real life exemples on improving the edit of your images, plus appreciate it coming from a great teacher, definitely watch this course.
Chris is brilliant in the depth of his knowledge as well as his teaching skill. He can talk sliders and deep emotions in the same sentence. So many photo teachers are "self-taught" with giant holes in what they know, or they think that 7 years of experience is a lot. Chris is one of those pros that just gets better and better, with skill and with heart. This particular course goes fast and you have to pay attention to the arrows to see what he is doing. But listen up - it's Chris - what he says can go deep instantly, or be a big terrific new skill.
Student Work