Instagram Marketing Strategies
Kathy Holcombe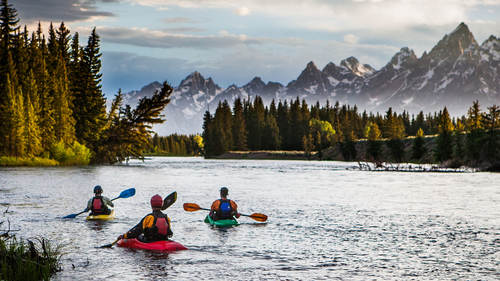 Instagram Marketing Strategies
Kathy Holcombe
Lesson Info
38. Instagram Marketing Strategies
Lesson Info
Instagram Marketing Strategies
All right. Let's move on to Instagram. And this is really the best platform for photographers, because it is so image heavy. It's also 15 times more effective at attracting customers to business, which I found really interesting. So if you're wanting to grow your business, and you have an Instagram platform, you're more likely, 15 times more likely to convert those followers to customers. Interesting. So again, as you're setting up your Instagram account, you need to have a profile with your bio and a link to your website. You need to be sure that your profile is public so that anybody can see your work on there. And going back to the other question, that means anybody can share your work that's on Instagram, but that's a good thing as long as it's tied back to you in some way with a logo, a website, a way for people to know where that image came from. For Instagram, you can hashtag things, and you want to think about your hashtags really carefully. A lot of times, people use these to ...
say something funny, but hashtags are a way to search through images and to filter through content online. And so using consistent hashtags allows you to share a body of work or to be incorporated in a larger body of work. So when we're on Instagram, almost every single post that we put up there has hashtag Famagogo, okay? If it is a kayaking image, it's going to have the brands that we represent for kayaking hashtagged, because we want to be associated with those brands. We want to share our images with those brands. That's our indication to those companies that they can use those images, okay? So use consistent hashtags that benefit your business. Make sure you do it intentionally, not just to be funny. Why do you want these images to be sorted in that way, okay? So use hashtags consistently, and then post at times when your target audience is watching, okay? My target audience is out kayaking and climbing on the weekends. They are not on social media. They're on social media during work hours, right? How many of you are on social media during work hours? So you need to watch this, and you can analyze this yourself. You can see when you're getting your responses. When are people liking your images? When are people commenting? When are you posting that your images are getting a response? When you figure that out, keep doing that. Do it at exactly the same time when you find something that's working. The same thing with the content. When you figure out a particular type of content is working, a quick video or an image or whatever that is, keep doing that same thing until it stops working and then change it. Try to figure out the next thing that starts working, 'cause this does change all the time. So this is a way that you can grow your audience. Follow accounts that are similar to you and start engaging with that audience. That's what we talked about just a minute ago. So if you find a group with your target audience, comment, share, interact, become part of that community. If you look through that conversation or that group, you're going to see a lot of the same people interacting again and again. Become one of those people. Make sure they have a way to come back to your business. Now Instagram, when you're creating ads, it actually works through Facebook. So you create them on Facebook, and you boost them out that way. Same kind of ads, but it has to be tied to a Facebook account, okay? Another way that you can increase your audience on Instagram is to engage with other popular Instagrammers. And so if you know of a popular Instagrammer that connects with your target audience, you can engage with them and talk to them and become part of that audience and part of that community. And even better, if there's a popular Instagrammer that you can convince to be one of your clients, give them anything they want. That's the time that it's okay, because if you can come to an agreement with them to create something amazing for them, and they will blast it out to their followers and they're also your target audience, what a wonderful endorsement. We talked about reviews and testimonials earlier. If you can get somebody with a huge following to say, oh my gosh, this was hands down the best photography experience I've ever had to millions of people, what a wonderful boost, right? Okay. So as you're thinking about your images, users connect with faces. We all connect with people. It can be pet faces as well. So I don't know if you guys have seen all the pet Instagram celebrities, but we connect with animals just as much as we connect with people, so we should just say faces as a generic term. High quality bright images, just like Facebook. There have actually been studies done about which filters to use to have more engagement with your audience. Google those and see what those are. And I'm sure you guys already know this, but we don't take Instagram images with our phone. We take them with our primary cameras. We give them a little love in Photoshop and Lightroom. We email them back to our phones and post them that way. So I'm sure you guys all know that, but just in case you don't. Consistency, consistency, consistency. Try to post regularly so that your followers know exactly what to expect from your account in the content, in the timing, in the message, and then figure out what works best and repeat. So here is something that is super interesting. I'm a data girl, and there are websites that you can use to analyze your data on social media. So Iconosquare and Websta are both platforms that will help you maximize your social media following, and what they can do is they can search through all of your posts and say which ones were the most effective, what time they were posted, how many interactions they had, and they can help you develop a schedule on the best way to maximize your following. So it's one thing to look at and kind of have an intuitive feel for what's working based on scrolling through your field, it's another thing to have hard numbers behind it. Sometimes we're surprised when we actually look at hard data. So these aren't necessarily the best, but they're definitely some that do this. There are several others out there that do the job as well. So it can just kind of help you manage what you have in front of you, because social media does take a lot of time. One of the best recommendations I can give you is come up with your social media plan, develop your content, and get the heck out of social media so that you can have a productive business and a productive life, because otherwise four hours later you're going to be sitting still scrolling, and you're going to be like, oh, I really needed to write that marketing plan, but it's already five o'clock, and I'm not going to have time today. So make sure that you are using your social media accounts to grow your business, and then spend time doing other things that will actually help you grow your business and connect and serve your clients better. So look at the data, see what you can learn from it. What is it telling you? Are you hitting your target? Are you hitting your target with information that they appreciate? Are they interacting with that information, and is that following through to having people contact you, and is it boosting your business? If those things aren't happening, social media is not worth your time as a business owner. So you either have to change what you're doing or come up with another tactic to build your social media base, okay? So one of the things you have to do as a social media provider is establish trust with high quality content. And remember, 80% is the magic number. You need to have really good high quality content to keep your audience engaged. If you're wanting your audience to do something, stress scarcity. A lot of times, people buy things because they're afraid it's going to go away. Think about an experience that you've had maybe at a car dealership or something like that where you go there and they're like, oh, well, I have another client that's interested in this particular vehicle. If you want to take it home for tonight, that's okay, but tomorrow I'm going to have to sell it to somebody else. And what do you do? You're like, I love that car. I've got to have it. Right? So if you can stress scarcity in your business, you can motivate buyers to buy through fear. It's one tactic to use. It's better to have them buy because they love it, and that's a positive emotion, but essentially, we're using fear in the sales strategy, because they get one shot to look at those images in the sales meeting, and if they don't buy those images in the sales meeting, they're gone forever, right? They're not posted online, they don't go anywhere. So we're actually using fear as a sales strategy in our in person sales. So you need to think about how you can use that of something disappearing here in your social media audience as well. Number of sessions is disappearing, limited edition prints are disappearing, we're only going to be in this location for three days. Whatever it is, that scarcity is a powerful motivator. So on the other 20% of your business, the promotion part, keep your products in the spotlight. What is it that your clients want to know more about what you're selling? What would be interesting to them? So is it a new art display that you put in somebody's home with a brand new product that you're super excited about? Would that be a worthy post for that 20% promotion? Would it be a brand new location that you're offering only for a short limited amount of time? Is it a new wedding venue that you're working at? What are the things? How can you highlight your products in that 20% of the time when you're promoting to make your audience want to buy what you have to sell? And then here's what we talked about earlier with the testimonials. Use social proof and reviews. You can ask a question to your audience. What did you think about this session? What do you think about this product? What did you think about your experience with me? You can ask those on social media, and then you can share them to your website. All right? This is a great opportunity to get that feedback, especially if you're confident that they love you. All right, so there are some very distinct rules about social media. The content has to be precise, efficient, interesting. If it's not those things, it shouldn't go up. You can offer contests through social media. This is pretty interesting. Contests are a great way to increase your audience. Everybody loves to win something, right? And so if you are wanting to boost your audience, and especially if you have some good partners that have a big audience, you can offer a contest either through them, which is ideal if they already have a big audience that you're affiliated with. And by doing that, you will increase your audience. There is one caveat on that though. Some people just want to win, and once they've won or lost, they'll leave your audience. But if you have compelling, interesting content, many of them will stay, okay? So that's one way to boost your audience. Use incentives to increase participation. Think about a time when you've had an incentive to follow a business page. I see it at festivals and events and trade shows. Hey, if you like our business page, you'll be entered to win x. Have you guys seen that out there? Absolutely. You can do the same thing in your business, and you can tell your audience that if they tell their friends about it, they can have two chances to enter for whatever it is. So you can use that as a way to add new audience members and expand that into their friends as well, okay? And then that analytics to measure and see what's actually going on that's based on numbers is a really great way to continue to grow and keep doing what's most effective, quit doing what's not working, and move forward in a positive direction.
Class Materials
Product Development Guide
Ratings and Reviews
Kathy was a wonderful instructor. She was engaging and someone who was precise and incredibly helpful. We have a full time photography business and are always looking for new ways of running our business. Her information was insightful and forced us to have conversations about our business that we have haven't had in several years. She is fantastic and someone who has the information needed to help you start or expand your business. Thank you for a wonderful class!!
Thank you Kathy for yet again another very thought provoking class. You are such an inspiration, teaching us the right questions to ask ourselves so we too can be brilliant photographers / entrepreneurs. I was a fulltime RVer for seven years, traversing 44 states and seeing some of the most beautiful places on our planet. It gave me a great opportunity to meet some extraordinary people and to hone my photography skills. Now I have put down roots in Stapleton - Denver, CO and am soon to launch my own Family Lifestyle Photography business. Your course has definitely given me the courage to just charge ahead and go for it!
Another top notch production from the amazing team at Creative Live! Kathy Holcombe, aka FAMAGOGO did a great job of covering all the basics along with the associated costs involved in starting up a photography business. However, you don't need to be a beginner to get great info from this class, it's packed with ideas and tips that even an experienced pro can put to work and take to the bank literally the next day. I highly recommend this class.
Student Work