Canon Rebel T3i / 600D Fast Start
John Greengo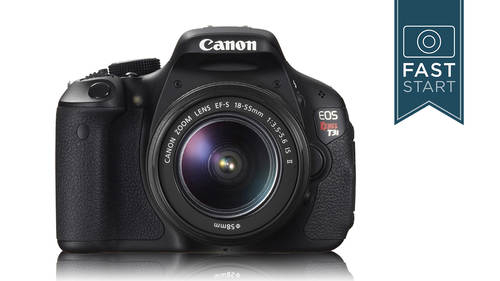 Canon Rebel T3i / 600D Fast Start
John Greengo
Class Description
Join John Greengo for an in-depth step-by-step tour of the Canon Rebel T3i (known in Europe as the Cannon EOS 600D). With a hands-on introduction to your camera's operations, detailed instructions on how all the menus work, and instruction on how to shoot great photos with this specific camera model.
Ratings and Reviews
This was such an awesome class. It's nice to finally be able to figure out my camera. John is such an awesome instructor. I love his classes. I like watching the videos but also need to read the transcripts so I can take notes. It can be a little bit challenging but also very funny at some of the words that the transcription (software?) thinks they are saying. I really get a kick out of it. I have taken John's Fundamentals of Photography and have had so many aha moments in both classes. Its just so nice when everything clicks. John's way of teaching is so down to earth and just easy to absorb the information. Now I'm off to see what I want to do next. Thanks so much for such an awesome class!
It's almost embarrassing to admit. I've had my T3 Canon for over 5 years, and am just now trying to really learn what all it can do. Up to now, The best I could get in photos, unless I got lucky, was pretty much equivalent to the old 110 pocket cameras. While the T3 is an older model comparatively speaking, especially in the current electronics age, it's still a very good intermediate camera in my view. John as much said this in this course, which made me feel better. I didn't know if it was me, or the camera. Obviously it was me on the poor quality photos. John is so in depth, and speaks well to simple minds like myself. I could understand exactly what he was saying. Everything makes sense now. As John said, the manuals that come with these cameras are a bit over whelming, and just so much to try and read. I learn better with visuals and audio much better. John excels at doing just that. If you have a camera that has so much on it, and you're totally confused like I was, I HIGHLY recommend this course. You'll be glad you did. In just a few hours, I knew more about my camera, and the basics of just about any camera of this type. I was amazed.
I'm a beginner , I'm so glad I took this class. I always come back and re watch it trying to get theses things engrained in my little pea brain. LOL I like this system I can rewatch it when I want or need a refresher. I tried other sites but I like this one the best. If you need help with the T3i or any other Camera they have it all here. I'm now taking the fundamentals of photography. It a lot more in depth but they explain it very well.
Student Work