Capturing Story in Portrait Photography
Image Color Balance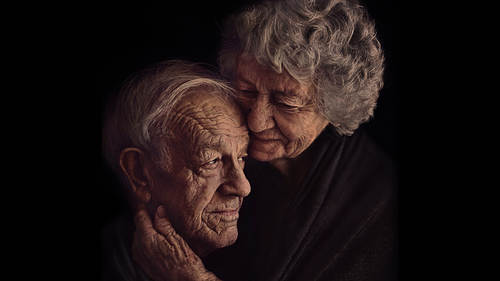 Capturing Story in Portrait Photography
Image Color Balance
Lesson Info
Image Color Balance
When it comes to color balance this can be a little confusing for some people. I see a lot of images with photographs that are really high contrasting in color. They'll use one color and then something that is the complete opposite in color tone in a photograph. What they don't realize is that those two contrasting colors are creating a distracting element in the photograph and taking you away from the main subject. It's really important in terms of that color balance that it brings a harmonious effect to the photograph. It can create some really dramatic effects as well. I'm heavily inspired by Renaissance paintings and you can see I've incorporated those rich royal blues and reds into this picture. I'll often, in the background you can't quite see it here on the screen, but that is a really dark green color. So there's greens, there's reds, and there's blues. That really warm rich frame, for me, add just this richness and this dramatic effect to this photograph. When it comes to edit...
ing a photograph like this, if for example, part of the image isn't of the right color then you can tone it done or change it to match the color that you want it to match in post-production. Tryin' to get it as perfect as possible in frame with that color tone that you want, but you can use things like Photoshop to really kind of enhance those colors to create that beautiful dramatic effect that you're looking for. When it comes to color balance, this is where, when we're talking about our other elements that judges are looking for, this is that creativity and style. This is impact. You can use these harmonious colors in terms of composition as well. It gives the overall image a feeling. When we look at a photograph we create an emotion. Some colors stir different emotions up in people. That's another really cool thing to factor into it. When I'm creating a storyboard another thing that I do is that I will search colors and I'll figure out which colors go best together in terms of those harmonious effects that I'm looking for. Also, what's the meaning behind a color? We use colors for different things and sometimes they can be used for definitely stirring emotions in people. When you are creating an image that has a huge emotional impact on it, you want those colors to go along with that same sort of emotional effect that you wanna have on someone. Whether you want it to be disturbing, whether you want it to be happy, whether you want it to be sad, creating that impact can be with colors. So with the dog image that I showed previously, that was a very gray monotone image. It really went with the mood. Those tones, for me, represented something really cool and dark and sad. They're the colors that I'm gonna use for an image like that when I wanna tell that sad story. When I'm talking about something that's really rich and joyous, something you're gonna look for there, the colors that I'm gonna use. With the twins in the bowl and they're all sort of brown and warm, it's gonna give you a really warm fuzzy feeling. Whilst there's still a kind a sad story in there, it's gonna make you feel something warm. Consider how those colors make you feel when you're looking at them. Do some research around them. It's really quite fascinating what you can learn when you start to look at different things.
Class Description
AFTER THIS CLASS YOU'LL BE ABLE TO:
Brainstorm and develop concepts for creative portraiture
Turn a client's story into a unique portrait
Design and build your own props and sets
Take great portraits of subjects at any age
Shoot and edit portraits with confidence
Increase the odds of success in photography contests
Move beyond traditional portrait photography
ABOUT KELLY'S CLASS:
Tired of the traditional, overdone portraits? Dive into creative portrait photography by turning a client's story into stunning portraits with substance. Learn how to brainstorm concepts for a unique image based on a client's story and personality. Explore options for building your own unique set and props. Working with techniques like Photoshop composting and in-camera double exposures, learn how to turn abstract ideas into portraits with meaning.
Join Kelly Brown, a nationally recognized portrait photographer that's captured several awards for her storytelling abilities, and go behind the scenes for five live portrait shoots. Create portraits that span multiple age groups, with a behind-the-scenes look at portrait photography for newborns, children, teenagers, adults, and senior citizens. From brainstorming to editing, weave a meaningful story in front of the camera.
Following the live shoots and editing, Kelly shares insight into photography contests, from the submission process to tips for wowing the judges. Learn how to prepare an image for a print or digital competition.
This isn't the beginner's class on creating a good portrait with basics like depth of field and properly lighting the subject's face -- this is the portrait photography class for photographers ready to go beyond the basics to capture their best portraits yet using creative storytelling techniques. Stop regurgitating the same tired traditional portraits you've seen hundreds of time and capture creative portrait photography that inspires.
WHO THIS CLASS IS FOR:
Intermediate photographers looking to break out of the norm
Professional photographers in a creative rut
Environmental portrait photographers
SOFTWARE USED:
Adobe Photoshop CC, Adobe Camera RAW
ABOUT YOUR INSTRUCTOR:
As one of the most awarded portrait photographers, Kelly Brown is known for her knack for capturing creative portraiture. The owner of Little Pieces Photography in Brisbane, Australia, Kelly is most known for her work in the newborn genre, though her portraiture spans all ages. With a straight-forward, easy-to-follow teaching style, she's taught newborn photography and posing classes in more than 20 countries. As the judge for international print competitions and the winner of highly reputable contests such as the WPPI Photographer of the Year, Kelly also shares insight into photo contests with her students.
Reviews
Among a sea of wonderful teachers here at CL, Kelly is the cream of the crop. All of her classes are outstanding and this one is no exception. Amazing teacher. Amazing class. Amazing education. If you are hoping to stretch yourself to create deeper more meaningful stories in your images, or are feeling the pull of print competition but need some direction, this is definitely the class for you. Thank you Kelly!
Kelly Brown is a true inspiration. She has been my idol in this industry since I began. This class was amazing. I love how honest, authentic and genuine she was. But most importantly I loved her wise direction and teaching style. Kelly brown thank you for this gem. You helped light a fire in me. I'm so excited to start telling amazing stories with the skills I have learned from this class.
Just loving this class! Kelly is one of my favorite instructors. She is very good at articulating her ideas and carrying them to an absolutely wonderful end product. Her images are always stunning. I love that she always puts safety first with her models. Thank you Kelly for sharing your creative visions with us.