Lighting for Adult Portrait
Kelly Brown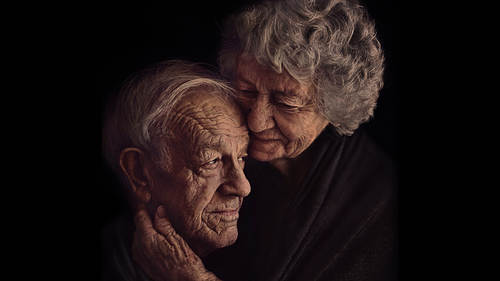 Lighting for Adult Portrait
Kelly Brown
Lesson Info
22. Lighting for Adult Portrait
Lighting evokes the emotion of the story. See how lighting is essential to creating the mood for the image. Walk through the lighting set-up, including the modifiers, used for the next live shoot.
Lesson Info
Lighting for Adult Portrait
So when it comes to lighting, this is where you really wanna create that mood which is what we're gonna do in here in this setup today with our model. But when I look at some of the previous images that I've created, so this one here is a very, very dark image printed so dark and lit so dark that you can't see a lot of that detail. But when it was printed and entered into a competition, when you go up and you have a look at it in the lights, you can see all the detail in one side of the face that's supposed to be lit. So I was inspired at the time by the news, there were a lot of soldiers coming home, there were a lot of soldiers battling depression, and hearing about all of that, I really wanted to focus on creating something that represented that, that was a little different. So my husband was in the army for a long time and so he knows what it's like to have experienced that, and experienced some pretty horrific things when he was in the army. So for me to be able to create that and...
sort of use that really soft, dark, moody light to have that impact, was really important. So when you're coming up with a concept, you're coming up with an idea, I can't express how important it is to know how you're gonna light it to have that impact to tell that story, that mood, to evoke emotions in different people. So, yeah, do we have any questions about any of that? No, we're good? Okay. So we're gonna get ready to photograph our model and I've gotta couple of lights here and I'm just gonna go through and talk about these first before we bring Raymond up because, I know in my studio, I have my own lights, so I'm very familiar with how they work so I'm gonna use creative slide lights here and I'm gonna make a few adjustments to make sure that I get setting absolutely perfect first before I create that double exposure. So I'm shooting this particular setup with a different camera and this is because when you are creating a double exposure, not every camera will do it. I'm a Canon girl and the Canon 5D Mark III I think was the first camera to offer a double exposure in camera shot. This the 1D X Mark II, what this does, you can take nine frames, not just two so when you think of a double exposure, it's two frames. With this camera, you take up to nine which is incredible, right? I also wanna be able to do this using the Live View on the back of the camera. My 5DS doesn't allow me to use the Live View so that's why I wanted to do it because you can't be timid unfortunately to do this particular shot. So I wanted to use the Live View so that at least the cameras can see the back of my camera and show you, and then what I'm gonna do is I'm gonna pull the card out and I'm gonna hand it over here to Adam and he's gonna bring those shots up so we can see them which is gonna be perfect. But I'll be able to show you the back of my camera and you'll be able to see as I move around in Live View, how I position Raymond in the frame as well. So that's why I'm using this particular camera. I've got a 50 mil. Lens on there just purely because that's the lens that comes as close to what we can visually see with our own eyes and yeah, I just wanna keep that focal point really kind of simple. So what we're gonna do is Gary is gonna come in and he's gonna move our strip light out. I'm gonna use two lights for this. So the idea is to have Raymond kind of sitting on a stool here and we're gonna photograph him with one light source coming in from here and then we're going to have him stand and turn this way and use this light source to light him here for those two exposures in camera. The reason I'm using two different modifiers is because I want this light to be a little more contrasty and directional in terms of that mood. and then this one, I want it to be a little broader and lighter with that three foot Octa. So I'm just gonna adjust kind of the distance that they are at. We did a little bit of a test so we knew where to put that one, 'cause we had to slide it in-and-out for the tv. But in terms of intensity, they're turned down to their lowest setting which is a four, a four. So I've used my light setting too on their lowest settings. So these are a little brighter than what I'm used to, so it'll just be a matter of moving them in-and-out to get that perfect exposure.
Ratings and Reviews
Among a sea of wonderful teachers here at CL, Kelly is the cream of the crop. All of her classes are outstanding and this one is no exception. Amazing teacher. Amazing class. Amazing education. If you are hoping to stretch yourself to create deeper more meaningful stories in your images, or are feeling the pull of print competition but need some direction, this is definitely the class for you. Thank you Kelly!
Kelly Brown is a true inspiration. She has been my idol in this industry since I began. This class was amazing. I love how honest, authentic and genuine she was. But most importantly I loved her wise direction and teaching style. Kelly brown thank you for this gem. You helped light a fire in me. I'm so excited to start telling amazing stories with the skills I have learned from this class.
Just loving this class! Kelly is one of my favorite instructors. She is very good at articulating her ideas and carrying them to an absolutely wonderful end product. Her images are always stunning. I love that she always puts safety first with her models. Thank you Kelly for sharing your creative visions with us.
Student Work