Citizen Journalism
Citizen Journalism with Omari Salisbury
Omari Salisbury, Kenna Klosterman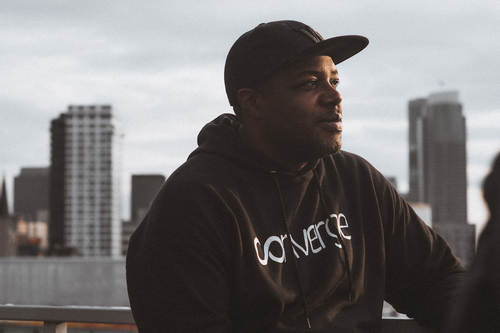 Citizen Journalism
Omari Salisbury, Kenna Klosterman
Get access to this class +2000 more taught by the world's top experts
24/7 access via desktop, mobile, or TV

New classes added every month

Download lessons for offline viewing

Exclusive content for subscribers
Lesson Info
1. Citizen Journalism with Omari Salisbury
Lesson Info
Citizen Journalism with Omari Salisbury
Yeah. Hello, everyone. And welcome to Creativelive. I'm your host, Ken Klosterman, and I am here for another episode of Creative Live TV. Today we are filming another episode of our podcast here. Creativelive called We are Photographers where we take you behind the scenes behind the lives with photographers, filmmakers, industry game changers and find out their stories. There is something to learn from everyone's story. And, man, you got a lot to learn and get excited about. Today with today's guest. His name is Omari Salsbury, also known as Obey. Go the Big O And he my goodness, he is of the He's the CEO and founder of CONVERGE Media. We live in Seattle, and if you live in Seattle, you definitely know Omari. But I know he's got followers from all over the world. Um, he has been at the forefront of citizen journalism during the Black Lives matter protest here in Seattle that has gone viral all over the world. And he is also the son of the first black tone photography studio here in the...
Pacific Northwest. Um, he his son, we're gonna talk about also a visual storyteller. Just a long line of knowing media in his bones. He has traveled and worked 52 countries, plus from the Arab world to Africa. And we have so many wonderful stories to hear from Omari. But his hometown is Seattle here, like the rest of us. And, um, we're super excited to have him on today, so please help me welcome Mr Omari Salsbury. Thank you so much for being on the show with us today. Wow. Thank you. And what an amazing introduction, By the way. I appreciate it. Thank you. Well, I have so many questions for you, but the way that I want to start this is, first of all, by inviting everybody who is tuning in live. If you are tuning in on creative life dot com slash tv, you can see the little chat icon that's up on the top, right? That allows you to interact with us here. Ask questions for Omari throughout the broadcast. Uh, and as well, if you're on Facebook or Twitter, you can comment there as well, but I will definitely see those ones coming in on creative live TV first. Eso we'd love to give shoutouts starting by letting us know where it is. that you are tuning in from from all over the world. So Omari is here in Seattle and Omari, I just would love to start by before we kind of go back in time. And your story is, let's start with today. Uh, May 29th. Everything broke out here in Seattle. Um, you're at the front lines. You are live streaming. And now fast forward. You and current Verge media are really have become sort of this CNN of of Seattle on the ground. So take us through the story. Well, you know, it is interesting enough, and I'll start that day on the 29th because I think probably later in the show, when you asked me what led up to that, uh, that very same day, hours before, but s So basically, on the 29th, um, saw the protests where were occurring, that was a Friday. It was kind of smaller, but it wasn't too far from my house. And, you know, I had a blogged that I've been writing just about news in our neighborhood, mostly about gentrification and things like that. Um, and another thing, the public interest around the black community and I saw that the protest was actually leading into the international district, which years ago much much of the international district, when you go back in time was part of the Central District in Seattle, where black population is. So I thought that it would be relevant to a small group of readers. You know what I'm saying? Thio go down there and cover it and see what happens. I never did live before. Um and, um, you know, because my background is really more writing in photography and I've never done live. I don't even do a video uploaded or something. And oddly enough, you know, I was all the all the major media had left once the police have dispersed the crowd and that that that first day it was it was just a few flash bangs. It was more like the police waited out people and they left Well, the police had left and I still was down in the international district and I happened to see this group of I gotta be careful. I will label them because you know, every everybody keeps telling me, Don't say this or don't say that because of whatever, but I'll just say it was, ah, band of people up to no good. And I was the only camera there, and I mean, they went for 45 minutes. They kicked in the Bank of America. They kicked in Washington federal. They tour the international district up, and I caught it all on film. You know what I'm saying? Live all on film. And, uh, they followed him for 1.4 miles through the downtown Seattle. The police didn't stop them, didn't arrest them, Didn't do anything from from South Seattle to I guess you would say that right in the heart of Seattle. Um, and two things happen is that, you know, I wrote a article like I intended to do Just put it up on my blogged and also put up a video. But I put up a side note kind of out to the to the idea, the international district. And that's, uh, you know, also known as China Town. Little little Saigon, Japantown, uh, and that you know Hey, don't believe the hype. It's not black thugs from from our neighborhood that came in Tora pure neighborhood. Because the video show this is all young white kids. They were just tearing up everything. Because a lot of times that's a common misnomer that, you know, these black kids gang members go to the international district and do whatever and so that the video was really enlightening and a lot of different ways. But it was just me covering something. Went live, had, like, 60 people. You know, for me, that was a big deal. You go live. I've always guaranteed to people that go like my mom, My dad, I'm like that. I got audiences, too. This is a It's like 60 people. The first night I felt really accomplished. I was like, Man people, actually, you know, they want to see if I go live. And you know that article that I wrote in that video through through no means of myself for anything just posted it. It just got into people's hands and it moved, and it wasn't until days later that I actually realized how big or how out there there was. The next day was when we literally when all hell broke loose in in downtown Seattle and went down there again just to cover it. I was with my son. We're like, Yeah, well, you know, let's just see what happens. And I mean, that's the day it's four or five Police cars on fire, flash bangs everywhere, you know, cheer gas everywhere, pepper spray. And you know, I mean, I just kept the camera rolling and on alive, and, you know, when you're live, you never really know where it's going. I mean, you might see a number account, but after a while, you don't even notice that because trying to shoot I mean, it was we were really in the funk, you know? So they're throwing flash bangs getting hit with flash bang grenade shrapnel on this and that you're trying to breathe and all these things and again just covering it. And one of the interesting things real quick about that day. So I was on one side of the block and my son was on the other. He has never been anything like that, taking a tough guy, but he had never been anything like that. And this is where the cars were burning there on the police cruisers on Sixth Avenue, and officers threw tear gas canisters basically in between us because he's on one side of the block and I'm on the other side. The other this boy goes, runs through the tear gas, comes and grabs me, pulls me back over there where he's at. He's like Dad, you know, I was worried about you, this and that. We inhaled so much tear gas that we get to the end of the block and Semitic stare there. We both can't see. And I actually have a video. Appeared to pour more milk in our eyes and all kinds of stuff and everything else and that that was my son's welcoming. Basically the protest season. I had covered a few, you know, a few protests before, But it was nothing like that and, you know, again being on the ground and not being into s CEO and who this and that and these platforms and twitch and everything else. I'm just like, man, I just live stream, you know, we've got the stuff out our eyes and eventually went home. And, you know, it wasn't until really three days later that I even realized that people were paying attention to me. And what had happened was is that was what we in Seattle we call the flashpoint or the pink umbrella day, Um and and that was now on Monday and were there on Capitol Hill. What had happened just for the viewers out there is that peaceful protesters tried to pass the East Precinct several times on 12th and Pine and I was in that group and covered it in time and time again. The Seattle Police Department did not allow access on Pine Street and a lot of people for a lot of different ways. And it's not just people who might, people say, leftists and protesters. There's also people on the libertarian side like, Why are you blocking the streets? This is the people's streets. And so on Sunday they block access plenty of times. And on that Monday, thousands of people came up there to Capitol Hill, and I found myself right there in the front of the protests at the barricade. And again the police didn't allow access, and we see in the flashpoint I'm there on video, and it was amazing on video, which is a whole other story in a different show. But, you know, as a young kid, I was I was beat up. I was a victim of police brutality in the city of Seattle. You know, it's the whole organization that started over that. But, you know, you put that to the side. You put whatever because you're in a professional capacity. So whatever feelings I might have about the SPD or my personal experience, that kind of goes into a box because you need to be able to do your job. So I sat there on the barricade and I'm trying to de escalate. I'm like, Hey, guys, let's bring it up. Talking to the police, talking to the protesters, police grab a pink umbrella and the woman actually had her on my podcast. The woman lists whose pink umbrella was being grabbed. She goes back and forth and I'll be honest with you all hell breaks loose and we caught that. So I'm there and I'm just shooting that and you know what I get? I get maced. I get I get tear gassed. It was always to appoint, you know, people. My mom was so concerned cause I'm on tape live, and that's the crazy thing about live streaming. I'm like I can't breathe, you know, you could hear me gasping and gasping, but clearly that left. But But what happened Waas is that I didn't realize it at the time. Finally, we get cleared up, go downtown and I get home. And I just clipped out that segment right before the pink umbrella and everything happening. I didn't realize that the Seattle Police Department uh, what what? What was less than ingenuous? They said that the protesters started a riot, and that's what they released to the to the public. And that's what the mayor's office said. But it was my footage that was right there because I was standing right next to the pink umbrella and and the next thing I know is like I'm getting all these like National International everybody that it's like they're they're they're all on the footage. But one thing I did, I admit it once, once I'm filming and we're getting hit by the tear gas and hit by everything. I go on Twitter because we're live streaming from another phone and I go on Twitter. And actually, no, I had only had one phone, and by the way, all of this I'm talking about was just on one red IPhone eight. There was 34 years old. And so when people sitting like, oh, I have to wait for this camera, this light, this grip on this mike, if I would have waited for that, I wouldn't be on here right now. You do what you came on, what you have All I had was this red IPhone. So in my comments, I'm like, tweet the mayor. Hashtag calm it down. And I was like, calm it down and thousands of people. That's when I realized how many people were actually on the stream. Thousands of people started tweeting the mayor and the chief of police because they saw this for themselves and people in Seattle, especially in that neighborhood. You know, downtown Seattle, A lot of downtown's you see protests, but in this residential neighborhood. And this is where, like a lot of white progressive people well, to do live. These were people who could never imagine tear gas and pepper spray and rubber bullets. And so on the stream I'm like, hashtag calm it down, you know, tweet the mayor and thousands of people were like, Man, there's journalists over there. They're getting gas in this neck. Calm it down and the hashtag calm it down. Went all across the city and the police literally calmed it down. You know, I'm not saying that like Omari made the police change, but it was It was a big impact. And we actually in that stream quite a few times when the force got excessive. The next day, I got shot with two rubber bullets. Calm it down, and and so many people hopped on the stream. And we're like, Yo! And there they were tweeting there, the public officials and everything. But we went from what we call that pink umbrella area that was the Western barricade. And so we went from the Western barricade for eight days. Protesters came there every day and almost everyday got smacked by the police. Tear gas, rubber bullets pushed back and everything else. Excuse me in. On the eighth day, Seattle Police Department abandoned, and no one can still tell us who gave the order. But Seattle Police Department abandoned the east precinct. Um, and that's what led to the creation of the Chazz and the chop. Wow. I mean, I was gonna ask you about some of those instances that happened in terms off um, you know, getting tear gas getting, you know, all of it yourself. And you just brought us there. Um and and I mean, that's the thing of what you have been doing is not just brought us there in retailing it now like you brought people there live and that actually then changed things on. And And what I so appreciate about the way that you've gone about that is that you're just telling the story is you are you were saying with no bias with no judgment, you're just showing it. And the fact that we can do that now means that people you know they're there. There can't be that you know that that bias when you're just showing the truth, right, And you know and the thing is and so a lot of things changed right away. City of Seattle wasn't used to seeing this in a residential neighborhood. I mean, people, you know, made a Seattle is big for the mayday thing before Kobe downtown gets torn up every year, and people are used to seeing that. But people weren't used to see them for people who don't know. And there's a lot of misconceptions around their people live in Capitol Hill. Ah, lot of them are first responders and doctors and nurses because, well, First Hill in other areas very close to here people, lot of people working Facebook and Google, these air bartenders. There's also Seattle's Arts District. So these air people big LGBT Q community, thes air, people who work every day. You know what I'm saying? Paying to the community and the taxes and everything else who are getting smacked on that barricade every day. And the people of Seattle couldn't believe it. They absolutely couldn't believe in. The first thing that happened is that, you know, my footage was in, uh, in a lawsuit filed by the A C L u and the Federal Court of Western District of Washington would put a temporary restraining order on tear gas. And so, you know, there was a restraining order that actually came out of that. The second thing that came out of that is now the city in the city of Seattle. Um, you know, less than lethal munitions are illegal. Rubber bullets and things like that are illegal. And so it takes different tactics and not to even get ahead in the story, but which was pretty amazing. When the Seattle Police Department cleared the chop, there was only one release of 11 lethal, less than lethal item, which was one rubber bullet. And they cleared that whole chop guns and everything in it with with no tear gas, no anything but. But what? What happened was is being there on the ground, Uh, and then every day, being able to maybe it's a gift. Maybe it's part of the job. I pressed, reset every day. So even though on that Monday I got tear gassed, I got pepper sprayed. And on that first video is a lot of prophetic because we didn't expect to see that coming. I couldn't breathe medics everything. The next day I was out there and actually talked to interview the police the next day. Hey, guys, you know what's up with this? And then so many of the interviews that I have are actually what the police officers on the front line. And I think that was was important in storytelling. We got such a big audience is because, man, you know what yesterday my momma always says that forgiveness is given up all hope for a better pass. I got gas yesterday, but hey, guess what? Today's a new day, and we're gonna sit out here and we're gonna talk to the Seattle police officers, and we're gonna talk to these protesters. And it got to a point where even the Seattle Police Department saw a lot of fairness in in the reporting. And I thought that one thing that could happen is protesters. We only see sitting on one side of the barricade. The protesters and the journalists only see one view, and I see. And the thing is, is what's missing in our city is perspective. What's missing in our city is point of view. I say all the time. Like, man, we don't have to agree. But you know what? We could make a commitment to understand. And so, on the stream, I called out the chief chief best. I said, Man, it would really be good if the protesters and the people of the City of Seattle can see what the police see, Chief Best came up to the east precinct. Call me on my phone. I'm streaming, so I'm sitting in the chief, the voicemail and the chief called My Mama. It's o'clock at night and you could imagine if the chief of police is calling your mom at 11 o'clock. She's assuming the worst. My mom is 73 74 years. I was like, Oh, so they called my son, who's sitting next to be little, uh, he's like, you know, my CEO. He's 19. He's like, Yeah, the police ladies on phone. It's like, Well, man, we want we want, we're inviting you around. So So me and me and we walked two blocks up and we entered into the police lines. And what this streaming phone? And by the way, everybody, this is this red IPhone six is 3.5 years old, and the processor is slowing everything. But sometimes you gotta use what you have. You know what I'm saying on and do the best with it? And I follow the chief best, and we go and we see the National Guard and we get a tour. But the thing is, is that we're looking now and seeing the same vantage point that the officers see and you come to find out that the police can't really see much and you think of as on the protest side you're thinking all the police conceived of this and that because he's umbrellas up in everything, they could only see a few feet in front of them. And you know what? The outcome of that it didn't change the tide or anything. But the outcome of it was the next day when I interview people in the part and there's something they would say, I wouldn't even ask them. They would be like, Hey, when you put the camera and show the police perspective is the first time I felt empathy for the police. And that's when we realized that it's like if we could use this camera to show Mawr viewpoints and just show points of perspective without a bias either way. But just show point of perspective. People intuitively who really are seeking good solutions will take that and be like Okay, at least I understand more now. I mean, that is You said it so much more eloquently than I was saying in that e. I mean, that's the beautiful thing about I feel like about this independent as a citizen journalism where where and not just that But then there's add layer You on top of that because, I mean, you mentioned earlier like maybe, you know, what is it about you that you're able to keep your calm, that you're able to talk to anybody that you're able? Thio? Um, just just be able to be that mediator. I would say, um e mean that, like you said, that is the role of a journalist. Uh, but I'm curious to kind of go back in time and take us to how you got to this point today because you do have a very lengthy media background. Um, can we go back in time, Thio, your dad and the photography a portion of his history as a historian, photographer, documentarian? Yeah, you know, it's interesting because we actually talked about that on the on the morning show, and I would just say this one thing here for some people that haven't seen the street When when she's talking about Yeah, there was times there on when the barricade was there, but even on the stream, there was times where protesters were pointing guns and a K 40 sevens at themselves and were just standing there and being like, bring it down. You know what I'm saying? Which was? My mom wasn't happy about that, but way sat there quite a few times and and mediated. But, you know, it's a really interesting story. The first part all kind of breezed through. But it's important. Is that my my grandfather, James Saulsbury Sr. You know, he served in World War Two, and when he was over in World War Two, he he picked up, uh, for a book off camera. It's a German camera, you know, back then, exceptional. An amazing lens. This is in the forties and you know when when he landed there in in New York, when the boat arrived in New York. You know, I'm saying, even though he was in his dress uniforms, you know, the ugliness of segregation was still alive and well in America, and he was greeted with that on A lot of a lot of the soldiers in World War Two had to be able to make peace with the fact of helping to liberate Europe and the way they were treated in Europe and the way that they came back home. But he brought that camera back to Rocky Mount, North Carolina, and gave it to a young James Saulsbury Jr. My dad and my dad was so intrigued it took six or nine film, which they don't make any more. Um, and my dad was just amazed by this camera and inspired him in. He went toe to school. Elizabeth City State, North Carolina, then went out to Brooks Institute, Santa Barbara, California and and, uh, you know, studied under the legendary Boris Toe, bro. And then when I went on to, you know, work to the MGM and they my parents moved to Seattle in the seventies that that would be a great opportunity to come up here And, uh, you know, my dad, people from Seattle, you might know the facts newspaper and in the fax over the years. It's not the paper that there once waas it was, you know, a very big, vibrant newspapers, a lot of struggles of black media all across America. Um, and my dad was a staff photographer there, and a very amazing man. Uh, they Fitzgerald Beaver believed in my dad's dream of opening a photography studio and and my mom and tell you, my mom and dad They opened Salisbury Photography almost a half a century ago here in Seattle. And they had just missed the Yellow Pages. And back then, you know what? No Google. What? No yelp or nothing. If you wasn't in the Yellow Pages, he didn't exist. My mom telling stories you like, you know, her and my dad. They go door to door and he'd have his portfolio. He's like, Man, I'm I'm just here. You know what I'm saying? Uh, they went door to door and yeah, I mean, it just tells you something how much my dad believed in his craft and how much my mom believed in him because it, like safety, wasn't in the Yellow pages. Man, you didn't exist, you know? And they went door to door through the central district, and my dad's like, man, you know, I mean, I could take these photos, I could do this, and then they built that business up. You know, Mrs A half a century ago of, you know, inspired by inspired by that camera. And you know, oddly enough, my my dad actually handed that camera off to me. Ah, year ago, which is the camera now? 75 years old and and something. You know what? They are family, you know, fortunate. My parents got divorced, and Salisbury photography didn't live on until today. My father is North Carolina now. Uh, but, you know, I grew up in the in the dark room. I had 33 years old, man who had, you know, 34 years old at the process. You know what I'm saying? And take it from a negative and everything else, and you know what I'm saying? All the chemicals and mix and everything was a small child. I was in the dark room, You know what I'm saying? And working within larger and everything else. And it was It was man. It was such an amazing experience. Uh, and and you learn those things and even my father now, And it is so amazing because, you know, everybody has these these cameras that are so much smarter than even the people. But my dad could sit there, and they can tell you how light the actual optics physics and how light moves through the lands and all these other kinds of things. And I'll put my dad up against the cheapest camera that you can find and him doing manually. You know what I'm saying? In his mid seventies, then somebody who's got this best $5000 whatever camera, Because he, you know, he understood and still understands the way the light moves through the lands in the placement it you know how to properly place, uh, you know, if it's a man in the photo or woman in the photo on the fundamentals, you know what I'm saying? And it's funny because people give me all kinds of credit for this, and then I'll be like, you haven't met my dad. Uh, and, you know, I just don't know. And of course, I say my dad is both My parents are because, you know, like any, like any family business. You know, Dad might be out front, but that engine is Mom. You know what I'm saying? And so she was right there, and my mom is 70 something. She don't be like me to see her age. She still does a radio show every week here in Seattle every week, and usually her shows put together tighter than mine. And I tell people all the time, but coming from my mom and my dad. The media is not on me. It's legitimately in me. I mean, it's such beautiful stories about it, isn't you? I mean it, Z Okay, first of all, what is your mom's radio show? Where can people find it? Because I got to go listen to your mom. E was about to swear she's an amazing woman. Yeah, she's on every Monday from from 2 to 3 p.m. On k k N W in Seattle, Washington. That's available. I mean, that's 11 50 here if you're in Seattle, but also K, K and W is online, and and her shows she is well produced. She she cracks the whip. I'll be feeling like, Man, I got to keep up with moms. It's I mean And so then you got the combination of of the two of them because it's not just the visuals stories. It's the art of the interview, you know, and your mom being a radio host. And and so that's what I think is so fascinating about, um, the work that you've done. Maybe I'm going too fast. I'll come back to this because it's, you know, it's the layering of of the questions in the conversation On top. We do have to come back. I just want to tell you this. We got to come back because in college I learned how toe displace actual radio tape. Everything's digital right now. And I did play by play in college too. Wow. I mean, you were made for this moment. Do you feel like you were made for this moment? You know what? And I know that Ah, lot of people who might be watching today my watching the future or people who are aspiring and I wanna be able to say this. That's a great question that you know my whole life in be honest with you, Can I share this moment that we were talking about earlier? It goes right here. So So you know, my whole life I call myself the Black Forest Gump. You know what I'm saying? I went to college for geology, but graduated was working for an one and years ago during the and one Mix tapes, and the college network did a stint with all kinds of big music groups wherever the wind would blow wherever that feather would blow it. Somehow, I find myself there. I went to 10 to near one year, just, you know, on vacation. And after three days of being there, I was like, Man, this is it. You know what I'm saying? And spend years over in East Africa, launching TV and radio stations over there been about 25 countries across the continent, lived in a lot, launched a TV station there, and and Dubai in the United Arab Emirates with the clouds media group at work and a lot of stuff in in, um in Europe and in China. And you live that lifestyle. It wasn't the glamorous life, but I knew all the right people. I've met so many presidents and heads of state across the continent of Africa, and, you know, and had opportunity to work with ad agencies on all kinds of high level things. And then two years ago, it sounded good. But none of that was my thing. That was a skill that I was able to do and, you know, working for different companies and everything else. I was able to do something. And a few years ago I came back home to Seattle. My my young boy, who you know, I took everywhere with me. You know what I'm saying? And ultimately, of course, he had to settle down in his schooling. He had a few years left in a day high school here in Seattle when I came back home and, you know, I landed back home and end up being a third. I thought that, like, all of these years, of all these things that I've learned and especially in the developing world, doing media, I mean, guys got a good here in America and especially, I'm glad that you have a global audience because especially people on the continent of developing country, they know first thing is they wake up. Is there power or no power? Was there enough credit in their phone to be able to make a phone call? You know what I'm saying? That the fiber optic cable to the country get cut is the Internet. Is the bridge in or out police going to shake you down? And even there in the media, a lot of media operations, you might write something on your computer, but you gotta put it on a USB and go to ah Internet Cafe. Just the print is hard is ah, hard life in media in a developing country. And I came back home with so many skills and I was like, Man, well, let me apply. You know, Amazon is here. Microsoft's here. T Mobil's here. Nordstrom is here. I'm like, man, somebody, somebody should hire me. You know, I e went for, like, not quite entry level, but not even like senior this and that nobody would hire me. I couldn't get any kind of job in communications and media anything. Nobody. I couldn't even get an interview. Only only I got one interview one time was one of those funny funny call interviews. When I ask you like these crazy questions and you know, I I said to myself that, well, all the skills that I have, I really I really felt that I was doing a disservice Bunch of myself, But my neighborhood, my community, I said, I know so much. I got to do something. So I just started volunteering, you know, a local organization, Africa town. And they didn't. They had space, but they didn't. They were like man wearing the gentrification and education. What are you talking about? Media I was like, No, just just let me build a studio here and we could do podcasting. And, you know, we could make make videos about community and everything, because at that point, I was like, Man, I ain't never gonna get a job. Don't nobody wanna hire me, You know, let me just use my skills here. Let me reduce my footprint and let me use my skills to just try to make the community better and invest in my kid and invest in kids in the community. And, um, we started the morning show, and I'm getting where I'm going. We started the morning show and Kobe here we started morning show because Kobe hit. And for me, the best part of the week, it turns out, was when the when we did the morning show because I was around people. I live by myself downtown. And so the weekends covert early on. You know what I'm saying is changed a bit now is nobody went anywhere. If you didn't live with somebody, you were just stuck by yourself, and the weekends would be so depressing. And I remember that that weekend the 29th. You know, when I called. I called my mom earlier today. I talked to a few times a day and we were talking about what protest might come because it was the weekend going into, you know, what had happened here, where George Floyd and I remember being at home, and I was so depressed. And I was like, God, I said, I don't know what happened. I said, I'm still a piece. Whatever. Whatever accomplishments I've made, I've seen this world. I've met some amazing people. But I said in this true story, I've never shared this part of the story with anybody. And I sat at home. You know what I'm saying? With tears in my eyes and I was just like, You know what? If this is just what it is for me, I'm gonna be alright with it. You know, Andy, I work for myself. Figure something out. I'm gonna make the community better. And, you know, I I remember sitting at my apartment really depressed state. My mom called me. She's like, you know, them protesters is out there right now. My said what you're talking about mind. She said, you go over there. This facebook, Page one of the local channels. And I looked and I saw that that was the protester on May 29th. And I said, Well, you know what? Let me go cover that. And that's the first part of the story that leads to how I'm here right now. I was at home. You know what I'm saying? Depress Ready to give up. You know what I'm saying? I was like, man, maybe my best days were behind me, But let me make peace with that. And it was a phone call from my mom saying Check the news and I checked the news and I walked down a few blocks. I did a video, put it up on my block and then right here. And sometimes they say in this industry, it's better to be lucky than good. And I'd say it's always better to be blessed and good, you know, And for people who are listening that are out there and you've lived a lifetime and you got so many skills and you got some whatever you know and people won't hire you because your your algorithm isn't right and linked in, and you know you need to change the word on your LinkedIn profile to perfectly match the job description of whatever for people that are out there, man, you know what I'm saying by my grandfather, Used to say said you might give out, but don't give up. And, uh, you know, this story and the converge story Israel deal. You know, I'm, you know, qualified to work in any business here, any business in America. But imagine because my and that's most of people that converged are all people who didn't fit the algorithm for linked in. They didn't fit some kind of computer profile. But guess what? We're all here, and we're all thriving. First of all, thank you so much for sharing that story because I know that will touch a lot of people because it truly is at those darkest, you know, times when you're feeling depressed and especially as creatives that you don't know how to take that step forward, you know? And then incomes your mom and there's opportunity. Um, and you saw it as such not knowing what would happen. And the fact that you you're that that story mirrors your father and your mother and not having the yell being in the Yellow Pages and the going door to door like it's just we'll talk about your son a little bit more later, but that it just, um it's It's such an incredible mhm story that you saw that as as opportunity. And so I'm wondering for people who aren't familiar with your team at Converge. So it started out. You, your mom telling you Thio go out, see what they're doing. Fast forward to today, which is July 17th. So not that far from fast forwarding of July 16th and tell us about what converges today, Um, and how you are proceeding, um, out there with your journalism, right? And so in like that Actual business conversion started, like four years ago. But, you know, I mean, it's dormant for the most part, you know, But going out there to the protests and it was crazy is that, like my my friends, who are also like creative or they Bobby steals the postman for people who might follow the streams and Eric calligraphy. Eric is a photographer. You know what I'm saying? Who, you know, I mean, through through life experiences, he can't get no regular job, you know, what I'm saying? Bobby still is like these guys, you know? I mean, he's mad. He's a videographer, photographer and a chef, by the way. And so the thing is, is I'd be out there and it would be dangerous, and those guys were the guys who were just keeping me out of danger. I mean, it was like, I really kind of even miss those early days of the stream. I don't miss the tear gas and everything, but it was like, you know, they felt that what? I was screaming. I didn't get it at the time, and not because I'm slow, but when you're in the minute, you don't realize it. And it isn't until even later, When I hear interviews like this, people like, No, we followed, you know, this and that. So at the moment, I'm not realizing how important the stream is. But even Bobby Steals and Eric calligraphy, they did, and they're like, No, we got to go over here. This and I mean, these guys, they took so many Robert bullets and somebody listening, or give me their gas master like no man, you gotta be able to breathe. You're doing the stream and everything else. So those guys were here. They're not anywhere I go, they'll they'll always be there. But what happened is is amazing group of creative people. We're like, You know what? We want to be a part of this, and and I mean, sometimes it comes down to my mom always says, You know what I'm saying? Nothing occurs before it's time. I think most creative people could say It's like, man, if I just had a person who knew how to do the S e o and or whatever. If I just had a person who could go and edit this up if I just and that was convergence. Story is like, man, my commitment has always been there. I could create the content. I could dance to people. I could talk that I could do whatever people want to do. But I just didn't have enough resource. And in two days, every kind of person that converge could ever need was here. Somebody who knows the back in, like my website. Beyonce. It was crap. These guys Jordan showed up and now it's this and that is integrated or whatever. Nikki, you know what I'm saying Who is just amazing and she's man and she she's like the whip. She whips everything in order over here and keeps everything going. And she's a She's a marketing and sales genius and that that's that's what you need. All you who you know. I mean, before we just had the cheapest camera, the cheapest whatever and people donated. And so we put all the donation back into equipment. So now we've got this Black Magic six case, and I'm still scared to touch him. But, oh, yeah, she's a genius. You know what I'm saying? We've got Jake, who's another photojournalist who is just, you know, who's coming to play and then the people from our original team over the African town. You know, Darryl and Triana and hands. And it's like speaking of a linked in, I could have never found these people on any computer algorithm. Thes were the people who rose to the occasion. They said, Man, we like what convergence doing, and by the way, I'm an expert in this. And so I believe that that I went from from from sitting there at home, uh, May 29th, ready to just give up on this whole career and just move on to something else. Thio. Here it is. 50 plus days later, I got some of the best people in the world that are working on this converged platform at Get. I paused because I know if you could see my arms, it gives me chills, and I and I've you know, and I've I just It's It's when you believe that all of those things can come together and people step up and you know, and it's just it's such an amazing, amazing thing. Um, and the work continues and grows stronger. Um, and and it's or maybe not grow stronger. But just more eyes, I guess. And eso I'm curious what shifted for you. Did anything shift for you as all of a sudden? Now people are putting their eyes on you, and you know, NBC is doing a story on you. You're you know, you're out there doing the stories, and then all of a sudden, you know what? What happened for you then? And how did that shift things? Well, I'll be honest with you and for the most part, nothing and shifting and, you know, in in the reason being is that early on, so in in college, Like I said, I learned radio from one of the best. Greg Sampson, Rest in Peace of W. R. V s 89 9 E. CSU in Elizabeth City, North Carolina, and learn the fundamentals of radio. I said one of my first jobs out of there were amazing jobs. I worked for the basketball networking for and won and all these other things. And for the first three years I went to every N b a all Star game, and I was, you know, a celebrity, journalists and everything else. And I went through that in my twenties, and I went through the limelight and everything amazing about in the ups and downs and everything else. And so at this most important juncture in our city, when, when when total concentration is required and commitment and dedication. Uh, it's a blessing to be able to say that, for the most part, unfazed, you know. But I'm only unfazed, probably because of that phase that I went through early on in my life. And so I'm able to sit here and be like, You know, I'm good. No, it's OK, and you know I'm still the same guy. I'm able now, you know, with all these things going on to just be like after work, I just go home. But because, you know, two decades ago, you know when it was like, Oh, it z n b a or it's you know, it's Ah, it's an event, a record label or whatever could hang out all night because there was a novel thing then And so it's Sometimes it's like, Man, you know that things a line at the right time. And so I've been able to take all the publicity. And there's no major news network on Earth that I haven't been on as part of the story, you know, or even a contributor to the story. But, you know, I mean, I'm really proud to say that I'm still the same Moto. You know, my phone number hasn't changed. I still answer every every phone call. I just feel bad. And sincerely I feel bad and I'm gonna make time when it slows down because so many people send me emails. So many people send me messages of support and everything else. You know, my mama said that you always gotta be able to get back to people. So I will tell you might take me a year to get back to everybody who has written, you know, in supporting everything. But I'm gonna do that. And I think that's one of the things that's probably changed is that I'm not able to To return to return acts of kindness and sincerity is instantly as I used to. But, you know, I tell people all the time when it comes to act of kindness, I have a memory of elephants, so it might be a year from now, But, you know, people are here from me. But, you know, the best thing is my life hasn't changed. And another thing I say is it? You know, we've We've been unfortunate to win this, um, very tragic and inhumane events here in the in the chop zone. You know, I'm saying the murderer of Lorenzo Anthony the murder of Antonio Matos Junior and I was on the freeway. When, when? When? Summer, summer. Taylor and Diaz love were ran over. And of course, summer Taylor and passing away. And you know, I saw most of that with my eyes and some of this stuff on the stream. And I'm proud to say that like one, you know, we never sold any footage. We've never sold any footage to anybody because that's not why we're here to, you know? I mean, every time there was a tragedy year, I never did it, you know, interview. I didn't want anything to be about me, you know, things like that. And I think that, um and those are things that we're really proud of in the sense of people who are in the creative space. So a lot of there's a lot of people here on this pain and tragedy and inhumanity that's occurred that, you know, I mean, they they've got a different route with it. But there's my city and I love my city. I love Seattle, and I think that, you know, the Emerald City being the place that we all wanted to be it it takes a commitment to be like, Hey, let's think in the long game on. Let's not think in the short game. What have you learned about yourself having experience the trauma of everything that you have seen? Um, has anything have you learned anything about yourself that you thought to be true. Well, I was saying, Is that a xai as the tears for my eyes? I say that seeing all of that and this is this is our 50th. Whatever day of continuous coverage and it was really going down, it was like 40 40 plus days of continuous coverage of of some of anything could happen is that I found out and I'm glad I didn't surprise myself. I found out that I was, so I thought I was. And, you know, sometimes, you know, it's a blessing. This is a tragedy, a lot of tragedies around. But sometimes people lived a whole lifetime, and because of a faith or a fortune, they've never put to the test, you know, And and And people leave this earth sometimes untested. And, uh, you know, I didn't know the outcome, but I was hopeful. But I'm thankful for this test. I'm thankful. I'm thankful that no matter what happens past tomorrow, that man, when it was time and when converge was called them when we lived up to it and and and all those things that were in my mind and a lot of people might be watching in their mind like, Man, I could do this if I just had an opportunity. I could do this if someone just gave me a crack through the door. I could do this if someone just called my number. I'm sure it's a lot of people that are out there a man to get your number called and to be an unknown to be an unknown 40 40 days ago, 40 plus days ago in today. There's not a City Council member I can't call. I just did, uh, interview with the council president. There's not any network person in America, ABC, NBC, CNN that I can't call somebody. There's not a local channel here that I can't call TV or radio and everything else, and and to know that is like sometimes we just needed that break that that that opportunity, a little shelter from the rain and so 11 of the things that that I did learn and then I'm glad that I got tested. Is that everything that I thought that I could do that My parents told me they could do that. All the friends who, when I doubted myself reaffirming, man. Oh, you can't give up in the band. You could do this. You can do that and being able to to show them and show the world like, Yeah, it's all good on. I think the other thing is is that, uh, man of of I've learned to respect a lot of other people's positions people people talk about, you know, police and policing. And a lot of the calls here in Seattle or mental health. And when there was no police and chop the biggest issue here with people with mental health and nobody knew how to deal with them. So you learn empathy, You know what I'm saying? Or for the protesters out of interview protesters. And they would just be at the barricade and they just be yelling and yelling and be like, What are you know? Are you peaceful here? Do you wish anybody harm? They said, I don't wanna hurt nobody. I'm just so frustrated. My pain is so much of the anger that they felt and you learn empathy. You know what I'm saying? And you learn empathy for the protester and you learn empathy for the police and you learn empathy for the medics. And with that empathy, it creates a sense of hopefulness that you know what our city isn't through yet. There's still space. Yet there's still so many good people that are out here in the Emerald City. Um, and I think that if there's one thing that I've learned through the Seattle protest is that man, the best of Seattle was yet to come. The road map hasn't been quite finalized yet. But you know what? There's enough people determined on all sides of the issues to ensure that we get there. Who makes me proud to be a Seattleite? Go. I mean, I, um it's just it's so powerful for creatives of all types, you know, not just people who are interested in journalism. Um, that, you know, there is no direct path to something, um, and nobody's path is ever going to be the same. Um, and and so we were We were talking before, um, going live about about your son, and and so I'm curious because of just what you're talking about. Your parents kind of always what? Everything. Realizing that everything that they instilled in you is who you are when you were put to the test. So your son has been along with you for this journey as well. Um, tell us about about him and and what you're seeing developed for him as a creator, right? So, you know, I mean, you know, he's taller than me now, so he won't let me call him Little Old, you know, saying he went by young go for a while now. I think it's just Oh, but, you know, it was crazy about this guys, you know, early early on in my career, You know, like I said, I used to take him everywhere, and I got I got pictures and video of him being, like, five years old, and that's being on choice FM 100 to 5 Choice FM over and Dar Salaam, Tanzania. And it was me, and little was my co host. You know what I'm saying? And five years old, you know, seven years old and wasted. I mean, his whole timeline. 579 almost every two years, Heywood, he would be there when tv stations or meeting. You know, we did a lot of concerts and stuff with their meeting celebrities and things like that. And I mean, I was always on the road and moving around, and he was with me as much as possible. More than his his older sister and, of course, his younger sister. He was just in that age of and when we moved up to be the Abu Dhabi And, um, you know, he was there, and I always felt bad because, you know, other parents, my friends, you know, their kids, they they were at every football game or a basketball game. And every first this and that. And, you know, a lot of times I was man chasing the dream that that overseas and never you know, this is what I imagine. What convergence right now that I imagine being overseas on I chased effort for years and is those long flights give you enough time to cry all the tears out before you land back in Seattle so you could be composed because you're disappointed. But you should take this boy with me everywhere. And, you know, it wasn't until we got to Loyola in Chicago, and that's where he's at Loyola University of Chicago last year. Freshman orientation. Trying not to pressure him, too. much. So I you know, hey was like, I don't know what I want to study yet or whatever. We got the orientation. I said, What's up? You know, it's good to have a plan. What you want to dio Hey said that I'm a studied broadcast journalism and it went into that movement. I'll be honest with you. I felt like a failure as a parent, I said, Man, I took this boy everywhere. I didn't It wasn't committed in in in football or in piano or something. And this and that and he was like, Man, Dad, you don't understand. He said I would be just like you, but better, you know? I mean, it was such an amazing moment there on the campus of loyalty in Chicago because I really thought that I failed this young man and I really thought that, you know, take taking them in and out of this radio station or this meeting or this. Whatever. You know, that that I had failed him and because it wasn't a football practice or it wasn't a recital and everything else and it was being there and realizing that it was like, man, you know, uh, it is hard to even put in words, but this this guy now he's, uh, you know, he's going to go in the second year over loyalty. They've got to figure out the online thing, but he's one of the producers here, has a show here tonight that he produces called Good Game Alert. You know what I'm saying? And it's and it's about a show about how to reach marginalized people in the black community in Seattle, you know, people who might have been in prison or getting out or they're on the verge of maybe doing some things they shouldn't. And that's what his show is all about. Is is highly rated here. And, you know, I mean, like, I said when when we were there in the protest. Um, and and it was his first protest, you know, he never seen him like that, But he wanted to come. And of course, the mama didn't want to come. And I say, you know, I told her like, Yeah, I'll keep them safe. And I'm like, Jeez, how am I going to do this? And we're over there. The cars were on fire. The police cruisers and I'm on one end of the block. He's on the other And that the SPD, they throw the tear gas in the big canisters, they land in between us. Now, I know in my mind if he stays on that corner, he's gonna be okay. And I stand my corner. I'm gonna be okay. We didn't have any gas mask, anything. That was the first day. Um and so I stand on my corner. But this boy weren't runs through the clouds of tear gas and he grabbed me like Come on, Dad. We're down here with eso. Then we run. So we really went through the tear gas twice. And then we were run back through the tear gas and get to the corner and held so much tear gas can't breathe. You know that? That's medics with a report. Bill got us in our face and everything else I said, Son, what's going on? He said, man, I couldn't leave you over there. Dad. He said besides, you too old right now. You couldn't even run if you wanted to, you know? And it's just, uh well, what amazes me about him is I think that he has both his grandma and his grandfather's sense of empathy, seriousness and carrying all in one, you know. And he's well on his way. And I tell him, you know, although I learned radio at W. R. V. S, you know, I actually graduated with a degree in geology, of all things, and I said, Son, I've learned this media business and bits and pieces. I said, I have way more failures than I have successes. You know, all those failures is what's prepared me for this moment. But I said, Imagine you're going to school and you're gonna learn all the things that I had to burn my fingers learning. So, you know, give this guy about another tea and 15 years you'll be you'll be looking up another old Mari Salisbury, the better looking one. The taller one. Exactly. My goodness, I'm I'm really, um, excited to see you know what? It just what he creates as well. But I want to make sure where you just mentioned that his show. And so where is it that people still have a couple more questions? But where is it that people confined his show? So it's a our Facebook pages as the easiest places converged media on Facebook, Believe it or not. Up until days ago, you had to scroll down to, like the 50th converging media on Facebook. But right now we're probably number one. Number two. It's a little blue logo Converging media is called Good Game alert, kid. Game alert. Awesome. Um, I wanna have two things I want to talk about before before closing out. And the first one is you coming back around to this, you know, citizen journalism, that we all have the ability, um, or because there you're not bound by, like you said by tools. You know, you're going out there with your IPhone. Um, that anybody, um, can can be part of this. And you said, um, I think it's on. You're just on your instagram sort of header through communications. All things are possible. What is it about for you about about this, this journalism part, the the communications part, that the talking versus just the visual, um that that makes you believe that anything is possible? Well, I mean, in one part of it is like I said, when people tell me all the time and I've lived my whole life to be here at this moment. One part on the talking. I said. I used to be color commentary W. R V s, you know, men's and women's basketball. So I was used to just painting a picture for people who couldn't see they weren't there in the basketball arena because it was radio is like moving left to right across your doll. You know, mighty Vikings inbound. They're going over the songs and sitting there at Center Court. So I mean, that's early on in my train. I hadn't used that skill in 20 years, but But I think that, um, for for me for the communication part one thing that that really may be reinforced communication is traveling and seeing it, Um, so much of the world when when you really get friends overseas. Well, as you know, there was no people. But when you're really there on the birth of a baby or the death of the elder, and then you realize that it's like man, we all celebrate, and then we all crying more in the same. It kind of clicks in your mind, and it's like, man, we might not be as different as people are trying to tell us. I think that maybe if we can focus on communication, if we could learn how to communicate with each other and start with just a simple things, start with a birth start with a death start with a happy feeling. You know a lot of those kind of things, and it's really become a focus to me of How can we better communicate and that that started? You know, you live in a country and people think if you're black and you go to Africa, it's all good. I mean, people always treated me good, but I faced a lot of discrimination around language barrier. I didn't speak Swahili, so now I had to learn. It could make its way. They could dio you know what I'm saying? But But I had I had to learn it, um, and because I wanted to be able to communicate. And I wanted the people to understand that I was sincere in my communication, and I didn't want them to have toe transfer the English. I said, Man, I value my relationships here. Let me learn Swahili. For a while I was in Mozambique. I learned some Portuguese as well and a few other African languages from French. And I speak a hodgepodge of everything these days, but understanding if we can talk to somebody if we can find a sense of empathy. If we consign a starting point about anything and so many places around the world, football because you know everybody plays soccer, you might start there. You might say, I love Liverpool. I love you know what I'm saying? Uh, any of the other teams you might be in the to Barcelona, you know, when you uefa, but it's a starting point and for me, if I could start a conversation that people saw the streams, I talked to the proud boys. I talked to the out right. I've talked to all kinds of people from the far left and everything else because ultimately, if I could still understand, I don't have to agree with you. But, man, I could make a commitment to understand and then that understanding I could relate it to someone else. Communication is so important. I haven't been been feeding you some of the comments that have been coming in from people online, but as I wanna I wanna share what a couple of people are saying. I mean, tend to hurt on YouTube. Just said, you know, it's called loving one another in terms of this conversation. Um, and I wanna earlier talking about, um, little old or young. Oh, and Karina Read was saying way to go, Dad, um, she was watching from Canada. Uh, we have Catherine Danielle who is saying thank you for sharing this history. Wow. Going back to when you were talking about your parents. Coral is tuning in from Tasmania, Australia. Paul from New Zealand on They keep coming in Melbourne. Bessie in Melbourne, Australia. Um, so lots of people, um, who are very much appreciating, um, everything that you're telling us and what I wanna end with, um is, you know, you mentioned that you haven't sold any of your footage, which is incredible. Um, for, you know, so many reasons, but you are a group of people who are working your tails off day in and day out, and you are self supported. Community supported, um, and community supported. And so I just wanna ask you how people can support what you're doing. Um, and also then I guess along with that, where can people find you? Follow you. Um, you know all the things because, you know, it's this is just a point in time. Um, July 20. What day is it? July 16. Uh, and there is. The story continues. I mean, we didn't even start talking about your you know what's going on in our city, at least with the mayor. And, you know, there is just you're just continuing that, that the coverage. So where can people where can people find you and for you and support you? Well, thank you. So, I mean, all in, all in one place, it would be our website where we converge. You know, by the time I got a domain converging media dot com was been gone. But I think even our domain kind of fits us because it's where we converge dot com. It is really true to that, Um, I'm on on and on at our website where we converge. You can, um, dot com. You can find, like, donation and stuff like that. We're also a converged media across a lot of big platforms. People know Venmo, paypal, cash app. It's just converged. Media um for for me. I'm on Twitter at Omari saw o m a r I s a l man. Follow me. I love the comment with people I love to talk to him and things like that, um, and, you know, can converge media across all platforms on Twitter at converge Media instagram converge media, you know, Facebook converged media on. Do you know one? One thing that people might not realize, especially when you go to our social media, is they like that? Yeah, there's me, and they're streaming. But we have so many amazing photographers. Calligraphy, uh, Nikki Jake and they documented the protest season. And so we've been putting all kinds of photos up on our instagram and things like that. And so a lot of visual artists, you can see their work as well. Absolutely. Make sure you are following, you know, from all of those places. Will have all the links in the show notes as well. Um, you've got the daily your morning show update every day. Yeah. Monday through Friday, 11 a.m. Thio 12 p.m. Pacific Standard time. We have we have the morning the morning update show. We do a show Wednesday from from 6 to 7 called Community Voices on. Do you know, we're constantly, uh, young Old show. Good game alert. You know what I'm saying? That's that's every Thursday at 7 p.m. And a lot of other stuff that we do. We want to, you know, the thing is, people donated to us to be able to buy equipment and stuff. And so one of the things that we've done is we've We've bought this equipment and we've also opened up our space for other aspiring media people and other people who just needed that crack in the door like I did. You know what I'm saying? And so, uh, people are already coming. Now they record their shows to put on their platforms here. You know, we don't charge anybody anything, and we, you know, because we got some really great equipment, thanks to the generosity of people you know, I'm saying around the world, and the last thing I want to do is to be able to shut the door on that creative person who was like, myself, who just needed an opportunity. Murray Big o e. I mean, you are just a gem. of a human being. I'm so grateful. Thio have spent the last hour plus with you, um and Thio be able Thio, introduce you Thio folks around the world who may not have been familiar yet with with you your story, your coverage and I really appreciate your vulnerability and honesty. You know about where you've been and the challenges and the ups and downs, because as creators, you know, that's that's what people don't know what to talk about. And, um and and that's what we're here to talk about, um, and so highly encourage everybody, uh, to again go, go see Go! Follow um go into the into the front lines with Omari with whatever is, um that that he's covering and doing So can I say one thing? I e just want to tell everybody who's out there is like, man, do what you can what you have. You know, if if we would have waited here for for the right camera or the right light or this or that or my friend who says he could grape But, you know, he hasn't called me back or anything like that. We wouldn't be here right now. It was just like, man. Well, I had was a cell phone, 34 year old IPhone and just I want to be able to tell the story. So wherever you're at in the world and everything else, you know what I'm saying? Uh, do what you can with what you have, and I mean, and now and because of that effort. And I believe you know now I have mawr, all kinds of production stuff that I could never even dream of. But it was the fact that just getting after it just go get it with whatever tool that you might have. Thank you so much. I was going to ask you for final words of wisdom. And there you go. Thank you again so much. And I again look forward Thio following everything that you're doing. And, um, it's just it's been an honor and pleasure for everybody out there. Thank you for tuning in and for your comments. Um, from all over the world, you can see what is coming up here on creativelive creative live TV and we will see you next time. Thank you again for tuning in. And that's a wrap. Thank you. Thank you.
Class Description
WE ARE PHOTOGRAPHERS PODCAST:
Our weekly audio podcast We Are Photographers brings you true stories from behind the lens and behind the lives of your favorite photographers, filmmakers, and creative industry game-changers. From their struggles to their wins, host Kenna Klosterman discovers the real human stories about why they do what they do.
Listen to this and other audio episodes on our audio Podcast page.
ABOUT THIS EPISODE:
In this episode, Omari describes his experiences from being an unknown citizen journalist to his live-streamed coverage being recognized by news outlets all over the world. Learn why media is in Omari's bones, from his grandfather bringing home a camera from WWII to his mother still having a weekly radio show today. Omari shares his personal struggles of returning to Seattle after a successful media career overseas to no one hiring him despite all of his experience. Find out why Omari wholeheartedly believes that through communications all things are possible.
ABOUT OMARI SALISBURY:
Omari Salisbury is the COO and Founder of Converge Media, a leading producer of content for Black and urban audiences. The son of the first Black-owned photography studio in the Northwest, Omari hails from a long line of visual storytellers. Fifty-two countries and counting, he is a true global citizen working in media across the continent of Africa, the Middle East, and Europe. Omari has been documenting the frontlines of the Seattle protests since day one. His inquisitive coverage and objective commentary have been praised by protestors, government officials, community leaders, residents, and local business owners.