Louder Mixes: Master Buss Limiter
Graham Cochrane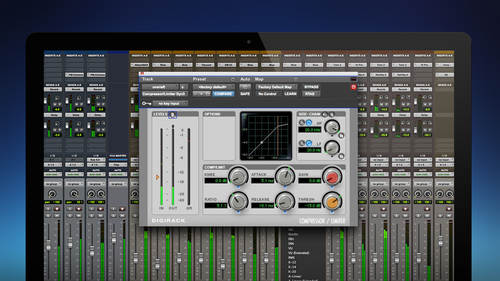 Louder Mixes: Master Buss Limiter
Graham Cochrane
Lesson Info
8. Louder Mixes: Master Buss Limiter
Lesson Info
Louder Mixes: Master Buss Limiter
So I've saved my fifth compressor move for last because I think it's applicable to just about everybody making music any stage of the game. And I get a lot of questions about it. And this is how How do I make my mix loud? How do we get louder mixes? Um, so let's assume in this scenario with you all here and you're all watching at home that you are making your own music on your own, start to finish which a lot of us are. So you conceive of the song you write it you recorded at home, you mix it and then you might even have a really good mix. Might be you might be understanding, compression and EQ You and all these things we're gonna be talking about today and tomorrow, and it sounds good to you. And then the inevitable thing happens where you go and play it in your car or in your ITunes playlist or something. And it's it's recycling through your favorite professional songs. And then your song comes on and it's so much quieter. I get this question all the time. Why? Why does my mics sound...
so quiet? Like it sounds nice and loud when I'm mixing it. But in the real world, it sounds quiet, and so we get stuck there, and what I want to show you is how you can get a mix that's pretty much just a loud is what's out on the radio without needing a mastering engineer without needing any fancy plug ins. Because here's the scenario. Your mix. If you look at my my master fader here, my mixed bus, this blue track here, let's ah, on solo this acoustic guitar. Give me an example of all. Just the Mick. Let's say I'm liking the way this mix sounds. Look at the volume of my mix was at minus 18. It's hanging around. I'm now here on these speakers, you know, with you all listening at home like we've got a volume that's probably suitable so you can hear this mix, and it sounds plenty loud for you. And if you're mixing in isolation, you gotta understand one thing that the volume you've got your audio interface set to or your speakers set to is not a real volume in the real world, right, because that's just you've said it to a volume that's comfortable for you so you can hear it so you can do your work. You could mix it appropriately. And when the mixed sounds good and you want to share it with the rest of the world, there is basically a standard in a sense, even if you don't want to get technical. But it just a certain volume that every other mixes basically living at. Now there's a variety of volumes. It's not always one track, one consistent volume, and that has changed over the years. We're gonna talk about that in the final session today. Leave you listen to records 20 years ago. They sound quieter than they do now. But even then, those records still might be louder than your mix. And you're saying, Why is my mix quiet? Sounds fine in my room. Will. If you looked at that volume, that meter is telling you really the volume that meteor here saying You're mixes grand is living around minus 18 db and that's about it. Might pique above that, minus 10 minus five. But it's it's average Volume is around there. What you and I are used to listening to on the radio on ITunes on your CDs Anywhere you get, music is gonna be way up here at the top. Its average volume is gonna feel closer to minus zero. Um, so that's a shed gap. We have toe to reach, right? Take our mix from minus 20 minus 18 up basically 10 12 db to get it to compete with another track. So the way we do this and why this is related to compression days with something called a limiter. And so some of the questions have been coming in have been what is a limiter? You know, how do I use it? And that's your secret to getting allowed mixes is a limiter. All the limiter is is a spy Pacific type of compressor. Um, it's a simpler compressor. It's a compressor for a very specific move. So it's gonna have If you imagine this compressor here, you can even see here in the plug in list in pro tools. They call this the dynamic three compressors slash limiter guy, which is kind of true, kind of not true. It's kind of true, because a limiter is a compressor. The only difference is that has a super high ratio. So, like this ratio were. We've been playing with 2 to 13 to 14 to 1. This lets you go up to 100 to 1. And if you look at this little read out this plug ins giving you look at the slope 1 to 1 ratio means there's no compression happening. It's like a straight light. It stays the volume that it's at when it crosses this orange line. So if this is audio, that's quiet the ladder gets when it crosses the threshold. What happens to this audio 1 to 1 ratio? Nothing's happening. As I crank up the ratio you can see it's slamming down the volume to the point that, in theory, 100 to 1 ratio. Saying anything that crosses this threshold is not gonna get louder at all. It's going to stay at this threshold level, so a limiter is usually you have a super high ratio. It's gonna have a super fast attack because it wants to pounce on the audio the moment it comes through and it will have another control, usually called a ceiling control, which is like an absolute ceiling is not gonna let any audio go above a certain volume setting, So it's like a specialized compressor. It's the same concept, but it's for the specific move. Now. This is called the compressor limiter. Like I said, I'm not a big fan of using this plugging in particular for a limiter, because it's not what we would call a brick wall limiter like it doesn't really have a ceiling. So you can still actually clip your mix. Because even if you have a really high ratio, it's still let some peaks go through. So I usually reach for something else. Now a lot of D A W's, whether Studio Juan or sonar a lot of other programs probably have. I know some of them have a good limiter that comes stock. Almost every piece of recording software should have one limiter, so you probably already have it. It's nothing fancy. It's nothing special. You could get someone once for free one that I like for free. If you're a pro tools user and you don't like the one that comes with it is from Massey. He makes some great plug in's Steven Massey. Where is the L 2007? Um, you can download all his demos for free, and they work without any, you know, bleeps or pops or whatever, Um, for free, never have to buy it. The only caveat is it doesn't recall your settings. Every time you open up the session again, it's gone back to factory default. It's kind of like, you know, to let you know if you really want to keep these settings and haven't saved and is a couple of their modes and bonus features that come with it if you pay for it. But at its core, you could use this for free is a great example. Look at how simple this is Still a compressor at its nature. It has a threshold number. That's that's why I showed you that in the very first sessions, the most important knob on a compressor limiter threshold output. This is more of the ceiling we're talking about. I'll show you this in a minute, and then it has a release setting. It doesn't even have it in milliseconds, has normal, fast, medium or slow and a mode, and in this case this is probably how hard it's hitting it. It could be more of the attack setting. I don't know what he says. Technically in the manual is that, like his attack, But at its core, if you left these two things alone, you only have two knobs here. It's got a built in, uh, ratio, and that might be this, too. It's got a built in attacks setting, which it might be that as well. But even if you don't mess with it, you have to look for attack and release. You literally are just going to say, I'm gonna set my ceiling and then I'm going to dial down the threshold. And what limiters usually have is an automatic makeup game. So you remember that knob in the compressors. We've been looking at this makeup game. We've been turning things down, and then the final thing we do is turn up the audio. The output. Most limiters do that automatically. As you turn the threshold down. It's compressing your mix. It automatically turns up the volume to compensate, and in essence, that's what we're going to do. We're going to use a limiter to catch some of the loudest peaks in our song by setting the threshold low enough that we see some peaks and it's gonna automatically bring up the whole volume of the rest of our mix as loud as possibly can, to to whatever output we let it be at this by default at zero db, which on our meter is the very top, and that's kind of where we want to be. I'll give you a little tip, though I don't know if this is a holdover from the way CDs or printed, and I know we're gonna leave. Lose that technology eventually if we haven't already. But I rarely set my out put on mixes to all the way it zero because sometimes after the fact, when digital audio on a CD is being converted to analog signal to your speakers the way it it creates the real audio wave, it fills in some of the gaps. That's getting little to technical, even for me, and it could technically make your output a little bit louder than it really is. And so, technically, you could clip after the fact, so I always leave a ceiling of, ah, half a DB like minus 0.5. But that's just me. Some people do minus 0.1. Some people do all the way down to minus one Um, don't be worried about that. Like, Oh, it'll never be as loud as the other mixes. It's all. It's all an illusion. Loudness is really an illusion. It's it's what it's perceived to be. So this is how I do it with a limiter. I'm done with my mix. I'm feeling good about the mix. I like it either want to send it to a client so they can hear it. I don't want it to be quiet because they're going to play their mix. And when they played against some of their favorite songs organizing and this sounds we quieter than all the stuff I like, and I don't want them to be focused on the volume. I mean, like, I know, but listen to the mix like that's what matters. So I try to always put a limiter on to bring up the volume of the mix for them. Or if you're just finishing a song and years doing the single, you doing one song for your band or one song for YouTube or something. This is a quick way to master your song. If it already sounds like a good mix on, we're gonna talk about awaiting to know how is it comparing toe Pro Material tomorrow session? But if you feel good about the mix, this is a really quick way to get that final output volume, which is all you're really looking for. Set your output press play. Go to the loud as part of your song where the most is happening because that's really where you want to set your threshold in this case, where it's called back in. This is where everything is in the song. You can see all these tracks and then start dialing down the threshold. Now it's gonna make this mix louder. So just heads up for anybody. That's and I don't know how you want to control this, but on actual feed out there to the real world. I'm gonna My mix is gonna get louder and you're going to see what's happening both here it's You're going to see this output creep up to the top as I dial this threshold back and over here there's two meters as well. There's an input meter. That's gonna be the static, that it was actually the level of my mix right now that should match the peak up here minus five. It's peaking up here, minus five. That's gonna stay static. You're going to see reduction meter. This is the same as the gain reduction that g r meter on the other, plugging its exact same kind of settings just looks different. I'm gonna watch that and see how much is turning down my whole mix. And then you see the output rise up to the top here and you see it rise up to the top here, and what I'm gonna look for is how much game reduction is happening. And I'm also gonna look for when is it compressing? When is it limiting my mix? It's probably gonna be on the kick in the snares, like we looked at the in the mix bus compression cause that was the loudest peaks. So I'm okay with turning down there. If it's if it's turning down, consists constantly like the reduction meter stays down and never lets up. Let's up to me, that's too much. That means it's squashing my mix and never letting go. And you can hear that usually. But if you can't here you can see it visually with that meter. So I'm gonna be watching for that, making sure it's clamping on the big hits and resetting, making sure it's resetting. You hear the mix get louder, so let's take a look. Here we go. We're getting a lot of volume, like you could see its output with staying up there. Zero These meters and green are the average volume. So, like what you perceive as average bowling is never gonna be zero like it's always gonna be minus 10 minus eight db. It's a whole discussion for another day, But like I know this is in HD, so I could probably change the way this meter reads. Um, I want to see pro tools. Classic. Take a look at this. We go. That's what I'm used to seeing. You could see the volume is way out of there by bypass it, um or I can't sense the demo. You don't get a bypass button. So I This was I said, the threshold to basically minus nine. So I put it back to zero. That's where my mixes living Bring it back up to minus nine. And here it gets loud again. Here we go. Yeah, tons of volume, tons of volume. But all we're doing is reducing. It shows me that allow the most introduced here was minus 4.8. That's like it will recall whatever the loudest one is, but on average is about minus three on the biggest hit. That's the most it's squashing, which means most of the mix is not getting squashed. Remember, most of the mix is living underneath that threshold of minus nine because you could see it on here. Theo Audio is under that threshold, so this limiter isn't squashing most of the music. It's really just taming the peaks. It's that's how you get loud mixes is you can't just keep turning things up. It's gonna blow up your speakers. And that's the whole BT is we use like trickery and smoke and mirrors to basically say OK, well, what can we turn? Turned down so we can turn up everything else? We can turn down the loudest peaks, which are probably your kick drum. Probably your snare, a big bass guitar hit, maybe a vocal hit. And so it's only gonna catch those and bring them closer in line with the rest of the mix. If you have these peaks all over the place is gonna bring those down, and then this is in the background, automatically bringing up the volume of everything. And so it's a much more vault, loud sounding mix, but it still has some dynamic range. We have reduced the range. The range is like from the quietest pointed, a loudest point that range could be D R. 14 or something. We're reducing it so that the most it ranges from is maybe eight, like less of a jump for it. Yes, that's the only way to get louder mixes is to reduce the range. But musically speaking, we don't notice much of that being squashed. If you do it naturally like this, you don't if you have too much. If you bring that threshold way down, the volume doesn't get much louder, but it sounds nasty. So take a listen to this sound nasty. So we went from zero to minus nine, and that sounded good. But we'll crank it more. That sounds like the year 2000 to 2000 and three. Uh, it sounds so bad. It's just its Everything is at one volume, and it hurts. It hurts your ears literally to listen to something like that for longer than seconds if fatigues or years. We don't want that so sort of my rules of thumb that I have found to get really fast, quick sounding loud mix for a client for something on the throw online, even to quickly master your music to get people to think. Wow, there's no drop off in volume from my favorite record to this is set your ceiling at minus 0.5 minus 0.1. Find the loudest part of your song and they start dialing down the threshold and watch the gain reduction meter till you're seeing maybe minus three, maybe minus four on your loudest peaks and long that's resetting to me. Those are good barriers to keep yourself keeping it musical without having to worry about the technical we're not even looking at. What is the arm s value? We're not using K metering. We're not doing anything fancy. Were just using simple rules of thumb to help you get a mix that's much louder. That is gonna be pretty darn close to a master of mix, whereas the average listener is not gonna notice any drop off because every song is different. Volume and every song has a different proceed volumes. There's never nothing is gonna be 100% the same volume, but this will get you to when you export this out. It's an MP three or a wave, and you put it online. It's gonna be right in. That ballpark is going to close to zero nice, and they keep all the musicality of your mix. And this is what I would do day in and day out what you say, the dial word says loud, mellow, smooth, vibrant. What is the thing that's the attack? Or this could either be the attack setting or G, the ratio? Nothing. It could be a combination. It could be like. Sometimes it would make their own setting Where and so he's calling it loud, mellow, smooth. So for rock and roll, hip hop, pop music country allows setting probably is what he's saying very fast limiter. It's gonna really clamp down. If I was doing a jazz record, I love the word smoother, mellow but literally is probably, ah, a sharp, less sharp curve. It comes down on it, so you may not get quite a lot of a mix, but it's not aggressive. So it's a character thing, and that's why he doesn't call it attack or call it whatever means just his mode. Like here. Let's look at another example of a limiter because there's different ones. Output you could have. Um, we have the ways. Yes, like the L L two. This is a classic limiter from waves. Similar setting. Gemma Threshold. You can pull down. You have an output ceiling, which is the same that output knob. You set that and forget it so we could do minus 0.5. This has a release, and that's all. And then you see the attenuate ER, which is the same thing as gained reduction. How much volume is it attenuating turning down? That's all it does. So you set the ceiling, you could leave the release and really one? Nah, just pulled a threshold down again and watch the game reduction. Let's do that. Let's do that plug in. So let's give it of Massey's Here's waves exact Same thing happening. Just a different, different limiter
Ratings and Reviews
THIS IS PERFECT FOR SOMEONE LIKE ME .I STARTED LATE IN TAKING MY SINGING CAREER SERIOUS,SITTING BACK WAITING FOR OTHERS;I AM MORE OF A SINGER/SONGWRITER THAN A PRODUCER OF RIDDIMS;BUT I HAD TO LEARN,BECAUSE I WAS SERIOUS OTHERS WAS NOT,THERE PEOPLE WHO CAN HELP ME WITH ALL THIS STUFF BUT THEY ARE ALWAYS BUSY,THEY HAVE PREFERNCE(POPULAR/NOT POPULAR ARTIST....MUSIC POLITICS,AFTER AWHILE ALL THE WAITING AROUND ,TIME WASTING E.T.C,SO GRAHAM COCHRANE AND THE RECORD REVOLUTION, AND NOW CREATIVELIVE ARE HELPING ME GRAETLY AND I AM ADVANCING AT A GREAT SPEED THANKSSSSSSSSSSSS
I don't usually write reviews, but these lessons are an amazing course for people who want to know more about compression. I feel that I have more confidence in my mixing abilities. Thank you very much Graham!
So glad, that I joined this master class. Very informative, with good and helpful explanation. I'm keen on Graham's EQ class and my first start at the DAW, with the things I just learned. Thank you!
Student Work