The Loudness War
Graham Cochrane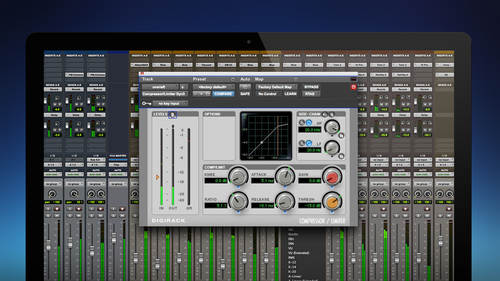 The Loudness War
Graham Cochrane
Lesson Info
12. The Loudness War
Lesson Info
The Loudness War
I wanted to leave some time at the end of this whole compression session to talk about the loudness wars okay because it needs to be addressed because it's been a major source of contention in the audio industry at a massive high level talking major label recordings and it affects all of us down to those of us in our bedrooms making music for fun which is there was a point you know if you go listen to two albums made before the late nineties before them until late nineties they I think they sound great a lot of the records that we love back then sound great they're well recorded well mixed very musical but if I took an album from like nineteen, ninety two and it's rocking and it sounds awesome and then I play in a play list right next to a new album that was made in like two thousand for two thousand five the one in two thousand four two thousand five is going to sound much lower I mean everything actually today is going to sound louder tech technically than what was happening in the e...
arly nineties and below because people started to catch on to the fact that we mentioned earlier that the louder something is the more people like it and I wished human beings weren't that way but like we just said a second ago you crank up your mix on your interface it sounds more awesome um and if you and I make a great mix and we're happy with it and we put it out in the world and we even use a limiter, but, you know, it's it's at a nice level, but if someone else, they really crank down on their limiter and their mics sounds louder than ours next to each other in a play list next to each other on the radio, unless they've really compressed enough to try to even things out, the louder mixed sounds better to the average listener, and they think it's better it gets noticed more, your ears pick up on it more. And so in mixing engineers and mastering engineers picked up on this, and they said, well, I won't we need our songs and our talent, our labels, music to sound better, so we'll just make our mixed a little bit louder then whatever is currently on the radio and it just became one thing after the other was kept making mixes louder and louder and louder, and you can on lee go but so loud because the more you crank down and we looked at this with the limiter in last segment, the more you crank down on it, the more you're producing the dynamic range, the point that everything is at ceiling literally and it does it sounds two distorted it sounds horrible, um teo musical ear I don't know if a lot of the general public could tell I think people can tell and they're smart enough and you're seeing a trend change. But this's, the whole set up is what was happening is people keep making the mixes louder. So this happens in internet forums on online when you're in the home studio, you know world and you kind of figure out howto make my tracks loud, but people are saying you shouldn't make him too loud there's this whole war waging because people are angry with how mixes sounded in ninety eight to two thousand three so much of that music, not everything but so much of it was just destroyed in mastering and so there's this that's abuse of of audio and so everyone's now afraid of limiting and now we should make things more musical a great friend of mine um in over in the u k he has a great cycle production advice dot co dot uk, I'll promo him because in shepherd is like he is a master engineer that's all he does but he's become a proponent for making mixes loud enough, but musical and he's got tons of great information on this, but there's a whole movement guys like him pushing for let's make mix is not nearly as loud as they were let's still make them dynamic and musical and I think people like songs that air dynamic like if I take my favorite mixes from the early nineties, all I got to do is turn him up to my stereo and it sounds awesome the problem is when they're all in the same playlist and one is quieter and then after like turn that up compared to the loud mix from two thousand four or turn it down going back to the other mix um here's all I know here is what's going on is people can tell when things were just completely squashed and these days we're seeing a trend move away from super super loud aggressively compressed mixes to more musical mixes because the more you limit the less energy actually having your mix it actually doesn't sound as good it sounds sometimes quieter like if you took a mix that was completely squashed in limiting and a mix that was nice and limited musically that it's loud but not nearly squashed and you play that the same average volume the music that's less limited with sound louder and better because it actually has more peaks, more variance and then the other one would sound just like but on ly win there side by side without any volume comparison doesn't make a difference so here's what's going on as a right now I think itunes and a lot of other music playlist pieces of software are working towards already have automatic volume control they're listening to audio in your play list and analyzing the r m s where the average volume and saying, oh, this song is a little quieter, this I was a little bit louder and it could be slight and they're balancing them out. So when you just press play the europe playlist, you're hearing them at about the same volume, which is what we were just trying to do with the limiters just get it up to a volume where it's it's chilling with everything else, so moving forward. This may not even be a problem because the way we consume music a lot of times online streaming if these pieces of software or balancing things out first and as mixing engineers that are master neuro music or putting a limiter on, we don't need it to get that loud. We want to get it up there, but it's not going to have to be compete with something else because it might be even now on the software. So this is a huge, huge issue, and what I want you guys to use compression for is to get that punch to get that energy and your mix is to get that weight and get loud enough mixes getsem volume, they'll be afraid of it, but what have we seen all day long? Is little compression moves three tv awfully vocal fattening up to snare a little bit little bit of mixed bus compression we bring in some of that parallel drum processing that accused to guitar mean it pop a little bit more minutes we're just like squeezing a little bit across the entire mix and you get a massive result when you take away the compressors and that's that subtle moves or what I'm hoping you will take away from this courses don't use one compressor to just squash everything as if that's using compression use compression subtly across all the tracks that needed and watch it add up to a mass results so that way you get a mix that isn't flattened, boring is engaging in dynamic, energetic and punchy it's controlled it could be loud enough but not like aggressive where you it's making your ears tired, it's coming in nice balance of everything and it doesn't take much it's very easy to do you have to be afraid of overdoing it and if you stick with some of the settings we talked about on the limiting segment it was one of my favorite mix compressor moves you'll get mixes that are allowed enough we're gonna hang with the best without destroying all that musicality that you worked for in all the musicality that if you listen to records before night late nineties that they had and you forget how dynamic those mixes are and how actual little bit quieter. They are, but they sound awesome. So it's, just something to be aware of, um, is not something to fear, and it's trending the other way. People are yearning for more musical, dynamic sounding mixes.
Ratings and Reviews
THIS IS PERFECT FOR SOMEONE LIKE ME .I STARTED LATE IN TAKING MY SINGING CAREER SERIOUS,SITTING BACK WAITING FOR OTHERS;I AM MORE OF A SINGER/SONGWRITER THAN A PRODUCER OF RIDDIMS;BUT I HAD TO LEARN,BECAUSE I WAS SERIOUS OTHERS WAS NOT,THERE PEOPLE WHO CAN HELP ME WITH ALL THIS STUFF BUT THEY ARE ALWAYS BUSY,THEY HAVE PREFERNCE(POPULAR/NOT POPULAR ARTIST....MUSIC POLITICS,AFTER AWHILE ALL THE WAITING AROUND ,TIME WASTING E.T.C,SO GRAHAM COCHRANE AND THE RECORD REVOLUTION, AND NOW CREATIVELIVE ARE HELPING ME GRAETLY AND I AM ADVANCING AT A GREAT SPEED THANKSSSSSSSSSSSS
I don't usually write reviews, but these lessons are an amazing course for people who want to know more about compression. I feel that I have more confidence in my mixing abilities. Thank you very much Graham!
So glad, that I joined this master class. Very informative, with good and helpful explanation. I'm keen on Graham's EQ class and my first start at the DAW, with the things I just learned. Thank you!
Student Work