Gaining Control in Kosovo
Gary Knight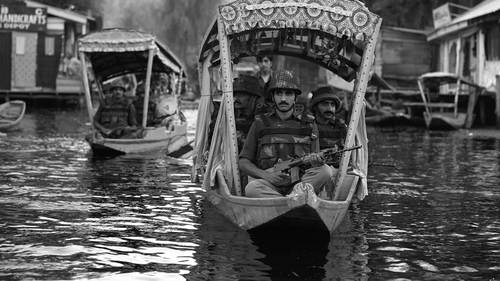 Gaining Control in Kosovo
Gary Knight
Lesson Info
3. Gaining Control in Kosovo
Lesson Info
Gaining Control in Kosovo
so Kosovo. I'm going to speed up a little bit here. So this is where my career changed again, Really, In Kosovo. So as this war started, I was flying around in the Adriatic with the U. S. Air Force, making these photographs, the U. S Air Force were enforcing a no fly zone over Kosovo. That was part of a sort of big story. So it's just a, you know, very generic kind of assignment. And yeah, the photographs. Very beautiful. And it was pretty cool flying around and f 16. But I knew there that this was actually of no consequence, right? These were just photographs that really had no value look nice on the wall. And they were great that week, but they didn't really have any value. And the way I analyzed and thought about my work in Bosnia was that really I had failed. I think many of the other photographers succeeded on heavy, for example, Geo Perez, who really got to grips with war crimes. Onda were great. Eyewitness photography did very well. I think I failed on. And, you know, I think I ...
failed for a lot of different reasons, but I don't think I was thinking about the war in the right way, and I was photographing the consequences of what was happening. You know, I run from one place to another, depending on what the news cycle, Waas. But I didn't really try to process what was happening and then build a story around. You know what was happening. And principally it was a story off criminality. And so by the time Kosovo came on, Kosovo is really the endgame off the destruction of Yugoslavia, the end of the cycle of war. I wanted to address this big issue off war crimes, crimes against humanity. I didn't want to fly around in Jets. I didn't want to, you know, run from one hot spot to another, photographing whatever was in front of me. That's absolutely not what I wanted to do. I wanted to take shields advice, and I wanted to use all of the experience that I had all of the knowledge I had accumulated to lend my voice to something and do something that have more urgency and was frankly inactive advocacy. So when I went to Kosovo, I was given a copy off the criminal tribunals indictment of Milosevic. And when I opened this long legal documents, I realized I looked at this thing and I realized this is the structure off the essay that I will produce on this war. And it was divided into three parts deportation, persecution and murder. And it listed all of these places where murder had taken place on I thought, OK, that is it. That is the framework on bats the way I'm gonna drive this essay. So I'm just going to show you this slide show. If you look at the screen, I'm gonna talk you through this a little bit. So deportation was taking place right in front of my eyes in Albania and Macedonia as floods of displaced costs of our Muslims fled their homes, which you know you can see here, mostly women and Children fleeing together by road on. The men were fleeing through the mountains to safety in neighbouring countries, and this was the first time I had seen refugees who looked like me. They drove cars to escape, sometimes with TV sets in the back, and they came telling stories off murder and rape, and they were able to tell me who was murdered where on I kept all of these notes very, very diligently, knowing that eventually I'll be able to make my way into Kosovo. In conversation with zeal, I decided to look at this tell a terrible event through the prism of an investigator, not through the prism of a journalist. And I collected every story I could mark down the names of every place, referred to them on my maps, stocked up on film on, you know, eventually made my way into Kosovo with Rod Nordland in the indictment. Persecution is the destruction off places of worship like this and places of work, dwellings and and records of ownership. Anything that says you belong. I had two photographs, things that had taken place before, not things that were taking place, which is a little bit unusual for me. It created its own challenges, but liberated from you know, this idea of traditional journalism that I had had. I was able to look at this in a forensic way. On I photographed documents, personal effects destroyed urban spaces like this, which is an ancient Turkish center of Jack over that represented really the intent of the Serbs to erase evidence of the Muslim population murder self explanatory. And this was a very difficult part of the story to photograph and remains really one of the most profoundly sad and depressing events that I've ever had to confront in my career, like the Nazis in the Camaro rouge before them. And I don't say that lightly with Serbs on the Russians and Slav mercenaries who joined them were very, very thorough and rigorous on. I recognize this when I started to see what they done, you know, the methodology of murder was incredible, and I wanted to approach my work with an appropriate rigor, and I wanted to document every detail, gather every name, mark every location on drily, extract all information that I could for the scenes that I was witnessing. They also wanted to humanize the dead, and I tried to find their names on find out who had killed them where possible. And I did that by working with a lot of the investigators that were sent by the tribunal who could help me identify the names of these people. They had radio intercepts, so they knew who had ordered the execution in Belgrade, who had carried out the execution on the ground, some cases Russian mercenaries, in some case, Serb paramilitaries. So all of this information I gathered on eventually put into a book that I produced, which is called Evidence on Do. This work was used in Newsweek. It was used in media in Europe at the time, but more importantly for me, it was used by the tribunal. Photographic evidence made by journalists has limited value for the tribunal, but I photographed a lot of things that nobody else photographed, and I photographed them before local people came back on, interfered with grave sites. So a lot of this material was used by the tribunal, which is a big It's crossing a bridge for a journalist. But I was very, very happy to cross that bridge. I want to humanize this person. This person or the man who was killed here was called cola dish money on. According to the war crime investigators, he was killed by Russian paramilitaries because of his surname and his head. We moved on, then the house was set on fire. His body was found by the people who owned the house when they returned after being refugees and when they removed the body. This outline remained and returned many years later on bits still there under the carpet. Um, do you have any questions at this point? Can I think this is very hard to look at? And I appreciate that. And but don't be afraid to ask questions. It's not disrespectful to the people in the pictures. If you do, it's perfectly, perfectly fine. And my question does kind of fall along these lines. I'm curious about informed consent and the way that you educate your subjects, and it seems that you do put a voice and give a humane quality to your deceased subjects. It's a really great question, very important question. Informed consent, Generally speaking, is critical, so people need to know not only who you are way off from what you're doing, who for where, the pictures that you're making might be seen, possibly even in the future. If you can imagine that, which is hard sometimes before the Internet didn't imagine that was kind of be an Internet, so you need to explain to people what the consequences of them being photographed might be, and the consequences of them being photographed, maybe terrible and maybe dire, and you have to make a judgment whether they are able to make that judgment really for themselves or whether you should make their judgment for them and not photograph them. That's the first stage, right? So there are things and there are people who should not be photographed, I believe, because it might in Jane endanger them. There's always another way to tell a story, but then there are other people I would put them on the more criminal side of the spectrum who, frankly, I don't care whether I have their consent or not. But then who am I to make that decision? Right. So I have to be very careful that when I'm making those decisions, I'm not making them emotionally that I'm making them very thoughtfully, often with information and input from other people. So I don't want to call someone a criminal. If they might not be. I don't call someone a prostitute If they might not be right. I mean a lot of things that a lot of labels that we can use in at work in their captions, even that can really ruin people's lives. And that's really very important. Thank you for asking questions we could Any other just said that you crossed the line off Being a journalist. Can you explain that a little bit? So, you know, I think being a photographer allows you get into this a little later to wear many hats. You know, journalists principally is a journalist, a photographer. You can work in the advocacy space. You can work for an NGO. You can use your outrage in many different through many different channels. You don't have to only use the media. So I think is a photographer. You can move from journalism very hard core, very diligent journalism to working in the air because he space. I think you just have to be very clear about what you're doing. You have to be really clear to the audience what they're seeing, right? Are they seeing something that is journalism, or is this something that is advocacy need to be explicit about that? One of the challenges for me was really getting away from photographing the spectacular right on departing from prioritizing the photograph right over the demands of the story. And that is the challenge. And there's a conflict right there. If you're faced with a situation. What comes first? A beautiful photograph, a powerful photograph or the story. If you can't both work, which one? Which way do you go? It's huge challenge. If you think about it now, I'm not gonna condemn anybody else. But I would argue for me if you prioritize the photograph. The object that's narcissistic, right? I think you need to prioritize. This story if you're involved in this kind of work, is the story is much more important and you have to elevate this story. And I really learned to do this here. I hadn't done that necessarily in Bosnia or anywhere else. Pride of this. I really elevated the photograph because I was a photographer and I wanted to be a good photographer, and I tried very hard, failed often but tried very hard. But here, I realised, with photograph is, Actually it's an important means of communication, and I have to make it as sophisticated as I can for the audience. I need to pull the audience into my story, but I can't prioritize the object of the photograph over the story. So out of this period, this change, in fact, at this very time Theis Photo agency seven that I started with the's guys over here, Lauren and Chris came later grew. These were folks that I had become very friendly with during the period that periods from 1993 through to the early two thousands working in Bosnia, the Middle East and Africa on, you know, as I wanted to control and manage my stories Maurin my career on by the way that I photographed the things that I photographed. It was inevitable that I also wanted to control the business side of my career, too, because the two things were very, very, very connected. Eso with these characters. I started seven here. Don't just follow what everyone else is doing your head this all the time. Bigger freelance. It gives you great, great liberty. You know, it's not a weakness. I would never want to be anything other than a freelance photographer. It means that I am completely at Liberty Liberty to start by if I have to. But I am unconstrained more or less now. Don't be trapped by the dogma off style. You will hear all the time. Find a style, create your own style, right? Stick to it and you'll see multiple photographers out there who are trapped in a style that I would say, that's a mistake because you can't trap the entire world into a style. How do you photograph certain things if it doesn't work inside that style? That seems to me to be sort of redundant, right? So I think you should adapt your style to the story right? Choose different styles to choose different formats. Switch between color and black and why different life, whatever but just adapt. Adapt to the story. Prioritize the story. Don't prioritize your photography or your photograph for the object that you're creating. Bigger photographer allows you to assume many, many rules that is relevant. That came in from Elena Della Rocio, who similar to when you were talking about sort of having Teoh distance. You're wanting the great photo from the story itself. How do you deal with warning to sort of interfere with the scenario that's in front of you? But knowing that you have to be documenting what truth or documenting the story, it's out. What's that? More are ethical issues for you. That's very interesting, you know, early on in my career, I believe that I could be invisible, you know that I could operate in a way that didn't interfere. It'll with with what was going on anything. Generally speaking, that's a good approach to take. You know, you want to have his little impact on the situation as you can. But to really believe that that's possible is not true. Especially if you're six foot five with white hair andan Englishman working in Southeast Asia, right? I mean, it's just totally impossible. So latterly I have come and I'll show you some work from this sort of phase of my life. In a moment after this latterly, I've just celebrated the fact that I am a very large Whitehead, Englishman. Andi, I am going to have an impact on where I am. I can't hide from that. I can't run from that. I think what you want to try and do is no have to deliberate and impact. If you do have a deliberate impact, make sure that people who are reading your pictures consuming your pictures know that you know, if you stage a photograph, cool, tell them I stage this portrait, right? I interfered with this situation, right? That's I think, the way to do it cleanly. But, you know, try and have a limp actors possible. Generally speaking,
Ratings and Reviews
Honest advice and insight about being a photojournalist, presented in a straight forward, no nonsense fashion. I worked as a staffer on a daily newspaper for 12 years, met many creatives over the years. You might not like what Gary says or how he says it, but he tells it like it is. Photojournalism is not glamorous. I have seen many horrific things stateside. My photography did not change the world, but it defiantly touched many people, both for the good and also on the worst day of their life. If its in your blood, the need to tell the story, you will appreciate this class. It was great! For the average creative live student, I suspect they may find this class boring or offensive? So if you want to be a photojournalist, load up some film in your backpack, grab your gear and hop on a train, plane or bus and go make images and not excuses! Yes film! It will set you apart from the others!
Student Work