Getting Started in Cambodia
Gary Knight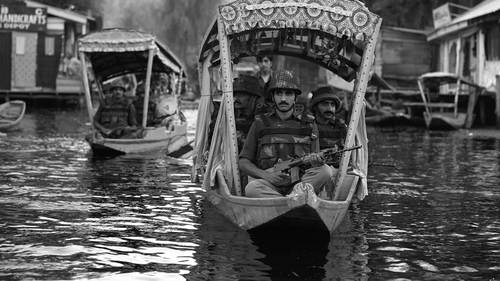 Getting Started in Cambodia
Gary Knight
Lesson Info
1. Getting Started in Cambodia
Lesson Info
Getting Started in Cambodia
I just want to draw your attention to this. If if I can. A lot of the images that I'm going to show today are very violent, particularly in the sort of 2nd 3rd 4th and fifth parts of what I'm gonna show you. So just be aware I'll try and flag anything terribly violent when it comes up. So has kind of a kindly pointed out. I've had a very long career. Andi, I'm gonna talk you through that walking through that career a little bit. Andi, talk to you about some of the lessons that I learned that I hope might be Jermaine to you into the audience online on I would say that you're free to ask any questions that you want. A lot of people like to ask me personal questions. That's perfectly fine. If I'm not comfortable answering, you know, generally I am so nothing is off limits. If you want to ask about PTSD, all of these things, that's really that's really okay. So I want to talk about, as I said, some of those sort of significant moments in my professional life, Andi, moments that really stee...
r me in different directions because my career has moved in many, many directions. Now you'll notice here I'm actually in this photograph had dark hair. Then, as a young man, you know, I was inspired by photographs by David Douglas Duncan, Robert Capper, Don McCullin, Larry Burrows, Philip Jones Griffiths on by the Life and Story of Oven English photographer called Tim Page, and when I was a teenager, my mother took me to a local bookstore, and there was a book about the Vietnam War by Tim Page that had Bean remained it and was affordable, which I bought. And I was intrigued by the life story off Tim Page like me. He had been raised in a very small village in a small community in England, where it was expected that you might become a real estate agent or work in the local business. But he had hitchhiked across the world and ended up in Vietnam during the war, where he'd become a very celebrated photographer. And when I picked up this book, I thought, Wow, you know, that's a really fascinating career. I've never heard of a career like that. It never occurred to me that that was, in fact, a job on do you know, I had a lot of fantasies as a young man. A lot of young men of my generation at that time in England had the same fantasy. You know, we wanted to go out there and challenge authority, take on evil, do the right thing, test ourselves and challenge our cells. And as I was reading the introduction to this book by William Shawcross about Tim Page, I thought this this really is a career that I could do. This is something something for me now. I was very immature, you know, It was I think that a maturity actually was a really essential ingredient in building my career. And I think one of the themes of today is learning Maura about yourself, on adapting your career to the strengths and weaknesses that you have. I was very, very idealistic. Aziz, idealistic, really is only somebody that age could be. Now I think that if I trying to build now, the career that I did build starting from today, it would frankly be impossible. I don't think I would take the risks. I think I know to in that too much and have had too much experience to really give it the effort. You know that it that it required. So So I think being young, being immature on not knowing the great deal and having very little experience can actually be an incredible strength on Don't be afraid of it. I didn't see those things. Is weaknesses at the time, of course, but I certainly didn't see them a strength. Now I met Tim Page in London by chance. That's an exhibition on. So I went up and I asked him, and I said, Hey, man, you know, how do I How do I start a career? How do I do this? How do I become like you? And he said you had a joint in his mouth. This is he often did. And he said to me said, Okay, well, there are two ways, man. He said, one is You go and work for a newspaper. You wait for somebody to die. Maybe you'll get an assignment if you do it. Okay, you go back to London and then, you know, wait for somebody else to die. Maybe you're getting another assignment, and slowly you can build a career inside and use paper or he said. You can just go out and you can do it so well. I don't fancy sticking around trying to work in the newspaper on. I thought I'd go out and I do it, so I chose to go to Bangkok. I want to cut a very long story pretty short. There's a lot to fit in here, but I spent about a year and 1/2 working on building sites, working in bars, restaurants 23 jobs a day, saving up as much money as I could so that I could make that move on. I went to Bangkok on I chose Bangkok because it was very cheap, incredibly cheap place to live when I had very little money at that time, which is the end of the Cold War, it was smack bang in the middle of a lot of really interesting stories of yet arm Cambodia, Burma, India. A lot going on in the region. Andi, there were no awful lot off media. There s O AP Reuters. A lot of news bureaus, all the big used bureaus from around the world on a lot of very young journalists like me. Now, this approach, I think, is as Jermaine today is as it was then, if you're going to start a career as a journalist and you base yourself somewhere like New York, which is a totally reasonable life choice that obviously brings with it a lot of expenses and a lot of encumbrances that might slow you down. If your story is New York or is in New York, then fair enough. It's where you need to be. But if the stories or the career that you want to build isn't in an expensive western city, you might think of moving elsewhere. So find somewhere that's inexpensive, where you can find great collaborators on a market that's really essential. You need to need to be able to sell your work. Now. It's a lot easier online than it was in those days, but it's still very, very critical teaming up with young colleagues. This guy here, Nate, their NATO is a similar age to me, learn to speak comeere most of its dialects and ended up being the first Western journalist to interview Pol Pot. Urinate and I arrived in Cambodia at the same time we became firm friends. Philip Blenkinsop, here, who, walking through Cambodia in the rainy season on a long range patrol. There were a number of folks like this who became really, really dear friends of mine remained those who is still alive. Many of them, unfortunately, have died. But we remain very, very fun friends. We live with each other. We shared expenses. We shared ideas. We shared stories we would often pitch stories together on, and we have remained friends. I still collaborate with Philip on some of the most important projects that I do. And, you know, we had the time of their lives. As you can see on duh, we still do, in fact, so I started working on the Thai Cambodian border where these photographs were taken. These photographs were taken on film on one camera only had one camera Canon E one program. Andi. I would tend to go off with 5 to 10 rolls of film for a week, which is about 180 to 360 pictures, because that's all that I could afford on bond. Now, you know, I might go off with 100 or 200 rolls a week, and when I was working for Newsweek, I certainly would. But those times were different. I think it made me a better photographer because I couldn't take many pictures. I had to think really hard about the pictures that I was taking. But these aren't great photos of the earliest photos of my career, but you can see the kinds of stories that we were doing going off into Cambodia with the resistance. So I started working on the Thai border, read many books about Cambodia. The refuge Cambodian refugees were all on the Thai border, had read the local newspapers magazines, spoke to local reporters and photographers. I go up to the Thai border with Cambodia on the roof of a bus because it was cheaper than sitting inside. I work inside the refugee camps. Interview refugees, talk to the NGOs. Really learn as much as I could about this country. Aziz Possible on bond. What I found when I went started going inside Cambodia with the guerrillas. Was that a lot of what was recounted to me? A lot of the stories I heard from the local people really challenged everything that I had read and everything that I thought was true amongst you know, these ideas was the idea that universe there was universal hatred for the Camaro Rouge, which there wasn't. A lot of rural people didn't suffer as badly under the Camaro Rouge. People from the city did, and you know, that's I'm not gonna get involved in a sort of political history lesson here with you. But what's important to understand about that is that everything that was being reported in Cambodia at the time really challenged that idea that the Camaro's could be popular and there was a real problem, because when the U. N, we're going into Cambodia trying to negotiate a peace process, they didn't really pay any attention to that idea, which kind of messed up the peace process and has actually resulted in a very corrupt regime staying in Cambodia. People in the West had no idea Western governments had no idea that the Khmer Rouge were still popular. So it's really important, you know, to to pick up information on the ground to speak to local people, toe have your own prejudices and the prejudices of your community and your society and your tribe challenged. And if you can't do that, you're never really gonna be a very successful storyteller. Now, this this picture just briefly are not gonna tell you about every photograph. But I always noticed that each platoon that's 10 men had one mosquito net. And I always wondered how to 10 men sleep under one mosquito net. They don't fit right on. What's the point in having only one if you use it one night out of 10? But what I realized is they use it as a fishing net. One of them ago. Upstream, fire an RPG into the into the river, stunned all the fish. They float downstream and end up in court in the mosquito net. So I had a very interesting a very early interest in actually very, very ordinary pictures, actually ordinary things that were taking place in this story. And I think a lot of the photographs that were published at the time overly simplified the war. I think most photographs of war and I'm as guilty of this as anybody over simplified war, and I think that's a real real problem. So when I was working in Cambodia in Thailand at that time, mentioned this a little bit earlier, you know, I was incredibly poor I was so poor. I used to have to give blood. I would sell my blood so that I could afford to eat. I was really living hand to mouth or vain to mouth, and at the time it was sort of antithetical to think of that as a strength. But I realize now, and I realised afterwards very shortly afterwards that it was in fact, an incredible strength. And I imagine here and online there are a lot of young people who are starting their careers who are also poor. It's normal, and I hate to tell you you're probably gonna remain poor for a very long time if you take up a career of photojournalism. But the reason why I think my own personal poverty was a strength is that it forced me to work in a different way. If I went off with men like this for six weeks, I would go further, much further, a much harder than any of the wealthier photographers who had assignments that limited the amount of time they could spend in the field who had mortgages. You had, you know, wives and families, husbands and families to go home to. I have none of those things. I was totally un incumbent. Plus, these guys would feed me. They gave me everything I needed. All I needed was a hammock, you know, which cost me about 25 cents in the local market. I had to live locally. I had to eat locally so I would learn to communicate. I was never fluent in high. I was never a fluid in comeere. But I learned enough of those languages to make get my way around on. I spent enough time amongst the local people that I really got to know the rhythm and Patton of these places. So I started to recognize a little later on that being poor actually was a strength, and I could I had to work to that. I couldn't compete with somebody more accomplished than I was. Their pictures would always be better than mine, always, but I would get pictures that would they would never get because they couldn't get to where I could go. And so my pictures had value in the marketplace and I was making connections that they couldn't make at this time. I also started to recognize that a lot of the images that I found interesting weren't necessarily interesting to anyone else, which is a real problem if you're a photographer. But I took a lot photographs of guys doing nothing, because in fact, during war, a lot of the time guys are doing nothing. You know they're hanging around there in trucks, there, sleeping, you know, chit chatting. This is one of my favorite pictures of the time, and you know it. Z details. I love the details. A guy who's wearing two hats, you know, I don't wise wearing two hats, never asked him, but he's wearing two hats. Love the three eggs. You know, it's a guy who's taking a minute in the middle of a water, have his lunch. No big deal. But for me, these things have a value. Now that photographs like this don't not. This is the kind of picture that my clients constantly wanted because it sort of realized their idea of what a war in Cambodia should look like. Guys with guns on ox carts, you know, in a peasant country in Southeast Asia, perfect. But a lot of more sort of nuanced pictures really escape that this is the Khmer Rouge looking nasty and mean at me, probably for a fraction of a second. I made the photograph Editors like the photograph. I bet you if I smiled at him, which I probably did, he just lost straight back right now, if I given them a picture of a smiling Camaro Rouge, you know, I probably would never have bean hired again. So here you have the Khmer Rouge cohabiting perfectly normally inside a village in rural Cambodia. Everybody was very relaxed in the village. It was clear that people were very, very comfortable here. You have a Camaro Rouge using a Nikon with my friend T Erry Phillies. This was a six week patrol through Cambodia with the Camaro's on another resistance group. But what I started to learn at this phase in my career waas what the editors wanted. And I learned that that really challenged actually very often what I was seeing. There was a disconnect between the two, which was challenging anyway, four or five years past, I lived in Southeast Asia, and then I went home to England for the first time. Teoh wedding. Andi, Um, after the wedding, I went to Bosnia. A lot of my friends had suggested I stop in at Bosnia on the way home, and I didn't actually return to Cambodia for another or Thailand to for another six years. So the take out from this little period is, you know, identify your strength. Um, and you might find strengths where you have previously seen weakness. You might find strength in all kinds of places where you might not look for them. But be very open to that. Your strengths on somebody else's strength, your strength might be your gender. Your strengths might be a language. It might be a culture that you come from. It might be an intellectual interest. It might be a sport. It might be anything but Identify your own strength and work to them. And if you have weaknesses, work with them, you can always fight them. That might take a long time, but work with trust your instincts, even if it contradicts perceived wisdom. Be very open to having your own prejudices, and you will have them for sure. We all do. It's normal, but be aware of what they are and be open toe having them challenged. And don't be afraid to challenge the status quo. In fact, I would say, always challenged the status quo, right? That should be your mantra. Always challenge the status quo. Learned to recognize your prejudices. We've dealt with that and organize your life to suit your career, right? If you're really serious about this, so your career has to come first. It's a hard career. It's really tough. And if you are going to succeeded it, you really need to organize your life. Situate yourself to maximize the potential that you have in your life. Your personal life has to kind of fit around that to some extent.
Ratings and Reviews
Honest advice and insight about being a photojournalist, presented in a straight forward, no nonsense fashion. I worked as a staffer on a daily newspaper for 12 years, met many creatives over the years. You might not like what Gary says or how he says it, but he tells it like it is. Photojournalism is not glamorous. I have seen many horrific things stateside. My photography did not change the world, but it defiantly touched many people, both for the good and also on the worst day of their life. If its in your blood, the need to tell the story, you will appreciate this class. It was great! For the average creative live student, I suspect they may find this class boring or offensive? So if you want to be a photojournalist, load up some film in your backpack, grab your gear and hop on a train, plane or bus and go make images and not excuses! Yes film! It will set you apart from the others!
Student Work