Truth and Finding Solutions
Gary Knight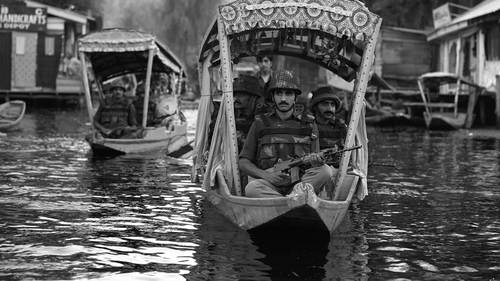 Truth and Finding Solutions
Gary Knight
Lesson Info
5. Truth and Finding Solutions
Lesson Info
Truth and Finding Solutions
so here, you know, lesson. Um being control of your own story. Tell us it is and maintain your integrity. And frankly, don't be afraid to walk away. You know, life's too important. You're your legacy is too important to be involved in things that aren't right. I know we have very little time left. Only one I like, raced through. This is my mates from seven. You don't hear any more about them. Eso if you have any questions afterwards. A lots of those. But the point of this is that you I have always been a bit of a media entrepreneur as well. If if if I don't like the media I'm working with, I create new media. So I created a magazine. I created my own agency with my pals. Andi, I would urge you if you don't like something as you see it, go make your own thing. You can do it. We created seven by raiding a T M machines in a photo festival in the south of France. You know, with a very few $1000 it was impossible and implausible, but we did it. One of the things I did is create this Little ...
magazine called Dispatches, which failed, unfortunately in the crash. But before it failed, we did this issue on poverty that I decided to illustrate myself. It was difficult assignment, and I didn't really know what I wanted to do. But I knew what I didn't want to do. And what I didn't want to do was represent the poor as victims or objects of pity, loathing, despair. Take your pick. But I didn't want to overlook either the inequalities and unfairness that's inherent in our society. So I wanted to switch here from a more prescriptive form of journalism to a more sort of anthropological nature of the documentary photography allows and my colleague Mort Rosenblum. I put this in here because I was trying to photograph camels by photographing the whole damn thing on day. It took me a long time to realize you only have to photograph bits of a camel to make a successful picture of a camel. You don't need to photograph the whole thing, but I digress. Morton. I spent most of the time working on this story in the USA and in India, and on one of these little trips we went to visit the Sisters of Mercy Mother to raises outfit in Kolkata on day one of their sisters their said to us that we were utterly ill prepared to work on this story because we didn't know what poverty Waas on. She was right, Andi that you know, we looked at poverty purely is a lack of material things and that we equated poverty with misery. You know, she is absolutely right and totally, you know, profoundly changed the way that I started to approach this story and I started to look beyond what I could see. You know what was obvious? People in poor close streets filled with sewers, etcetera and try to look for things that were, you know, more new Instinet. So this picture is taken in Dharavi slum, biggest slum in Mumbai on and most of the pictures you will see from Dharavi slammer of picking people with holes in their shirts and kids with snot running through their noses. But to rob Islam generates one $1,000,000,000 of revenue into the Indian economy every year. That's $1000 per person, right? That's the Ravi slum. Now you can photograph to Robbie slum without representing that right, So here you don't see poor people. You see people working. If you see someone with holes in their shirt, the holes are. What's important is the fact that he's washed it every day and it's clean. That's the detail that you need to to catch. That's that's what you need to be observing. So you gotta look beyond the obvious. Andi, look for the industry. Look for the ingenuity. Don't look for the shit in the streets and the dead dogs. It's not important, actually, so I tried to stay away from those sort of spectacular tropes. This picture is one of my favorite pictures. And many years ago, if I was photographing this, I would have focused entirely on this poor man here who slept in the street overnight is just waking up and he's got his blanket on. And I would have waited for these two young men who are holding hands sharing a joke to leave the frame because they would have offended three idea of the photograph that I wanted to make, which would be of the poor guy. But now I want to celebrate the fact that they're in there walking down the street holding hands, having a laugh on this poor guy who's living on the street in the photograph, too, because it's real. It's the hair and thes two things. These two ideas might be in opposition to each other, but that's great, because that's how the world is. Hey, wake up, right? If you've got a riots going on in the Ukraine in Kiev, you've got people shopping in the street next door. You got riots in Ferguson. You got people going to warm out two blocks down. That's all part of the same story. So part of this complex world. And it's that complexity that I really want to focus on now. Um, I brought us in here. This is really one of my favorite pictures. Most people don't like it, but I love it because I haven't got a clue what this man is pulling. I totally forgot. I can't even remember if I looked at the time. It's what's outside this frame that catches you right. Everyone wants to know, like, what's he pulling his wife a car donkey? I know you know. Who cares, right? It's what's outside the frame that is important for me. No necessarily what's inside, and I love the fact that he knows that I'm there and he's laughing because I'm photographing him. He thinks he's like, Why is this guy photographing me What's interesting about this? But at this time, I got a letter from Cambridge, Massachusetts. Andi. I was invited to apply for a Nieman Fellowship, but one year sabbatical at Harvard, where you're given the privilege of doing anything you want at Harvard and M I t fully paid. So who could turn that down? And I wasn't about to on. I went to Harvard for a year, didn't pick up a camera, and I studied just some of the most incredible things we can talk about later in the bar. But this was one of the most transformative times off my life, and I would urge you all If you ever get the chance to take a months off a year off, do a sabbatical, do something different. If you have an accident. Skiing use that time really well. It's not Obama that you broke your leg is an opportunity right on, and I learned so much from this place, particularly from Professor John, Still grow still go shout out for John Stilgoe, who is a historian of the American landscape, particularly the built landscape. And he taught me how to read the landscape, how to see the significance in the width of a road or structure of parking in an urban environment. I started to see things very differently. Having gone to this guy's class, this is picture, by the way of the Naga king and his mates getting drunk in Nagaland, northeast India. So this picture here of a coal mine on these women owned this coal mine there. Hill tribes. And then they're working in their own Carmine, also in northeast India. So at this point, I really left the business of photojournalism. I don't disparage it at all. It is a fine, fine career. It is being incredibly generous to me. And I am. I feel so very grateful and privileged to have participated in it. I just can't find any space there anymore for my own, my own career. So now you know, I've moved into this different space I love this picture is just a picture taken in a traffic jam. I would never have taken it, you know, 10 years ago, and I'm now working back in Southeast Asia where all started up in the hill tribes in this area that anthropologists calls Omiya on I want to share with you. This is the last picture This is in a place called Meghalaya, northeastern India, taking three or four years ago second, Rania's place in the world. 10 years ago, I would only have gone to the rainiest place in the world. But now the second brainiest places just fine. But I was working in this area because a couple of friends of mine in Delhi said you should go to this place because there's a breach there made from tree roots. I don't want cool. That's perfect. Good reason Teoh to this place. So off I went, because it just lent itself to this idea of serendipity and chance that I had when I was walking through this village next to this this bridge and I heard these local people chatting and I can't recognize the language I saw. I don't speak any in any of the Indian languages, and I asked this guy, John, who was with me, a local schoolteacher. I said, Hey, you know this language sounds a bit like Cambodia, Andi said. He said, Yeah, you know, I spoke. Are these people who left Cambodia in the 13th century when the Thai sacked the city and they fled? You know, west, he said, Well, people around here think these are actually the people who went and settled Cambodia, who created and called the and Korean empire fantastic. You know what a whole new area of research was opening itself up to me and connecting all of these parts of the world that I love so anyway continued to walk down this path, thinking about this I came across this bridge. So this bridge here was made by two communities, one on each site. They needed to trade with each other. Boys and girls needed to meet you that we need each other, fall in love and make New Hill tribes right on this being the second wettest part of India, every year these huge torrents of water would come down and destroy the bridge is that these people would make out of you, would just banging raised them, creating a huge problem for trade on love. So the Villagers 150 years ago got together and said Okay, how can we fix this? Okay, What we can do is we can plant some trees, speakers, elastic rubber tree on either side of the river and we will grow these. These routes, you see come down will grow them over the river together, which they did 100 and years they grew these routes and they intertwined went like this. They put rocks in there, and big, bitter stone made this bridge. You can now put ox carts on right? And it's lasted for 150 years. Can you imagine that? Having the foresight right, What incredible story of of community, Right and commitment and building something for other people. And I said, Teoh, John, you know what a marvelous thing this wars, as I was trying to figure out, had a photograph it and he said, you know, they'd never build this. Now you know why? And he said, Well, these days, you know, they've adopted the ways of the valley people and all they think about, you know, our themselves. And, you know, I was floored. Devastated, actually. And you know what I realized? Waas. This made total sense, of course, but What I realized is that I had arrived at this place 30 years later. You know, after I started my career almost 28 years and I was trying to photograph this place the way that it had bean forever, right? That's all I was trying to do is kind of what I did write. Photograph it the way that it had bean forever instead of photographing it the way that it Woz now. And that's really what I should have done. So this is an epic failure. I love it. It's beautiful. But it is an epic failure for me because I was still looking at this story as a romantic outsider looking at what I thought I was seeing and know what was really there. So that is the last picture, and these are the lessons from here. You know, create your own solutions. If you don't like what's out there, go out there, do yourself right, little little succeed. Some things will fail. It's inevitable, but you'll get there. Look beyond photography for inspiration and knowledge. Go and relearn. You want to learn how to read images. You want to learn how to create images, Go and draw. Go look. A film, right? Learn how to reconstruct the world going Study history, History of landscape history Any history, this career demands a commitment to being fair and honest. If you're not fair and honest specifically to the people who you are documenting onto the audience that you're communicating with, you can't sustain this career. I know. You know, you have to be informed. You need to do a lot of research. Local research as well. Dig deep local newspapers. Be fair to the people who are paying you, right. Someone's giving you a dollar. You've got to give them a dollar's worth back. But especially be fair to the people you're photographing. Andi, finally see what's there. Know what you think is there? Yes. Um, so I have a two part question. I'm zero bythe One is what is the most dangerous situation you've been in? How did you handle it? And 2nd 1 is what is the most beautiful thing you've seen since you've traveled so much? Oh, golly, I'm you know, I'm not really sure how toe answer on it. Honestly, I don't know how I can answer the first part of that question. Um Uh, yeah, maybe Iraq, maybe. Maybe Syria. Maybe Sarajevo. Sarajevo is so naive. You know, it's a miracle. Actually, I think I survived. But I was too stupid to Reno. How dangerous it was. I think that's probably fair to say, but time Iraq came around a little wiser on, but although it was Quantum Lee more dangerous in one respect, I was quantum leam or able to manage that. But you know, all of these wars are very different. Some wars in the jungle, you never see the enemy, you know. But they're out there somewhere, and something can come at you from You don't know where it's come from. In a city that surrounded, you kind of know where things are going to come from so you can plan that a little bit like, you know, don't go down streets in this direction because they can see you. You can go in this direction out in the desert with the Marines. You've got this sort of veneer of protection because you're inside the Marines. But then sometimes they shoot themselves on. But that could be dangerous. Accidents happen right in war, but it's really difficult to make their judgment, to be honest, but it's a decent question. The second question is the most beautiful thing. That's a really hard question, because I have seen so many beautiful things. You know? I think you know that last picture there, that the bridge I remember being the first child birth that I have a sore was a woman in Sarajevo. I was in the delivery room. This baby man came flying out like a steam train on this woman came in in the middle of the war. The siege in this for code. Beautiful young woman in this fur coat. She takes off the fur coat, gets down on the bed, and she's got red painted toenails on Guy thought. Wow, what a great scene in the midst of all this, you know, misery. Go down to the morgue in the morning and photographed dead babies. Did Children on, then to see this child being born. I remember that was pretty was pretty special question. Gary have a couple of great ones coming in from folks at home, the 1st 1 being so earlier in your career. Perhaps people didn't get to see as many images of that. We're horror war, murder on TV and the newspapers. It was rare. But today, now that we're sort of bombarded with images, whether social media, kind of everywhere we look that are horrific, do you think that that affects the impact of what we can do? Is photojournalists because people are more numb and if so, what can we do about that? It's a good question, I think. Russia Tehran, who used to be the editor Perry match back in the Grand days of Perry match is put it very well. He said that back in the sixties and seventies, you could put put a picture of a dead person in Perry match, which they often will do. That would shock everybody in France, you know, and that was enough. And he said, But now you need to put their name on. I would say that if you look at the images that have recently come out of Syria and Turkey off, you know Children, especially who have bean victims of this war, they have a name and they have a story, and I think it's important as I showed you earlier. Give people the dignity of a name if you can't find it. You can't find it. But if you can, don't stop. Find that name. Humanized him. Because for you in the audience premieres as a consumer. Now of these images, if I know the name of somebody where they came from, I can imagine their life, their real there. No objects. They're real people. And I think, yes, we're consuming. And where we're seeing more pictures of horror, and to some extent, you know, maybe we're inured to that. But I don't believe that we totally are. We are human. We cannot untrained ourselves to be a new train ourselves to be unmoved, right? We will be moved. But I think you have toe move away from objectification and give people the dignity of a name on a personality. Even if it's something that were left to imagine. Do you hold the rights to your pictures that you sent to knees Newsweek in the past? Can you use them yourself? Yes. Anyone? Yes. I own all the rights to all of my pictures. Yeah, that's very important to me. Um, yeah. I want to know how they're being used. You know, if people going to use pictures, remember, one poor wolf of its Remember him? One of the architects of the war in Iraq? Yeah. Guy with the holes in his socks. He wrote to seven, and he wanted my pictures toe hang on his wall in his office, You know, to celebrate the war for free as well. I thought, I'm not gonna give pictures. I'm not gonna sell pictures to pull Wolf of its to put on his office wall to celebrate this war. That's that's that would be criminal, right? I want to know who's using my pictures and where they're being used and how they're being used as much as I can, you know? So it's really important for me that, you know, I don't sell those pictures to private people. Toe hang on their world. I'll sell them to institutions, museums, but not to individuals. So, you know, I want to manage how things that used it's important. You get this arranged before and, you know, it's just part of the deal. Yeah. Yeah. All right. One final question before you. And are there any events? Elections per se any anything that you sort of wish Any world events that you wish you had covered that you turned down. 00 are anything that you know that you regretted or something to share. Final final story, Uh, nothing that I turned dead or two to events. I would love to have photograph, but But I couldn't. One is I would love to her photograph Neil Armstrong on the moon. I mean, that for me would just be the best. And I would would, I think, have liked to have seen a D day. But probably I would have buried myself in the sand. I think that would have, you know, just in terms of the experience off combat, I think that was probably one of the biggest events. And I would like to have been able to photograph that, but no, you know, I think I remember once I was skiing with my wife and, um Chernobyl. No, no Chernobyl. What was it? Some war A war started on. I was skiing and I thought, Oh, my God. You know, I should be there. But there was another one shortly afterwards. I can't even remember which one. It waas Chechnya. That was what Iwas. So you know. Yes, they were when I was younger. things. I wanted to be everywhere. I wanted to be doing everything. Now I don't want to get your any of these things. You know? I want to stay as far away from them as possible, really. But you can't be everywhere, and I think that that's part of. But like I said earlier, you know, the the maturity and that naive ity that I had when I was young was essential to build that career. You know, I couldn't have done it starting now. So you need to be hungry and want to be into everything like a puppy. You know, when you get to be an old dog, you just lie down and sleep.
Ratings and Reviews
Honest advice and insight about being a photojournalist, presented in a straight forward, no nonsense fashion. I worked as a staffer on a daily newspaper for 12 years, met many creatives over the years. You might not like what Gary says or how he says it, but he tells it like it is. Photojournalism is not glamorous. I have seen many horrific things stateside. My photography did not change the world, but it defiantly touched many people, both for the good and also on the worst day of their life. If its in your blood, the need to tell the story, you will appreciate this class. It was great! For the average creative live student, I suspect they may find this class boring or offensive? So if you want to be a photojournalist, load up some film in your backpack, grab your gear and hop on a train, plane or bus and go make images and not excuses! Yes film! It will set you apart from the others!
Student Work