Shoot: Fixing Fluorescent Lighting
Lindsay Adler, Erik Valind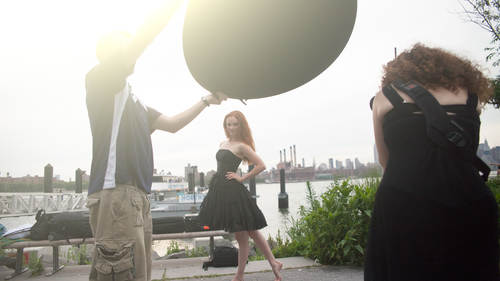 Shoot: Fixing Fluorescent Lighting
Lindsay Adler, Erik Valind
Lesson Info
7. Shoot: Fixing Fluorescent Lighting
Lesson Info
Shoot: Fixing Fluorescent Lighting
Will you be my joe? Man? We gotta find those ok? Would you would you stand on the target? Perfect. Perfect. Thank you. It's. Like where they go is evil. I'm shooting with his camera don't don't try to back out and focus on that thing I tried before. I was like, what? Uh, right, right. Set it up just for you. I'll get my manu out and pull it up my phone. Okay. That's what's hiding. All right, let me know when everybody's situated. All right, so all right, so we're going to take a look at fluorescent light and how to fix it. All right? So let's, take a look right here. I'm just going to take one shot and this is what fluorescent light looks like and let me know if that's that load, you know, if it's working okay? Oh, yeah. Looks like a good. Okay, so you guys should all be able to see really bad, nasty fluorescent light. So okay, the usual go to, for example, might be to go ahead and set your auto white balance. So I'm going to show you what auto white balance looks like. So if you look ...
out of white balance, it definitely improves things, but if you look, it is definitely still a little bit green so if you look in the shadow signs kind on the shadow side of her cheek and underneath her chin you will see that it's green it's not like a perfectly balanced image especially around the hair around the neck so I'm like, okay, I really would like to get rid of that green let's see if the fluorescent light preset works someone a click over here I'm going to go to my fluorescent light preset I'm clicking on his weight violence but in and dialing over to fluorescent okay, so I'm currently on fluorescent and take a shot and see how that looks so let's see if I've got any better in this particular situation in this particular situation it looks better but if it were still really, really bad what I would do is I would create a custom white balance using my expert desk and I know that I would get a passport color check her picture to fix later on so I'm like trying to cover my bases here we'll see if I need to do cost them make sure that I have a passport color checker so it's looking better but the problem I have is she's got shadows in her eyes, highlights on her nose and highlights on her forehead so unfortunately the quality of light is awful thankfully looking at the picture is able to get rid of all that green like I have a nice um color of light hurts skin tones actually looks skin tone what I gotta do something about that direction is you're beautiful but it's like not super flattering all right, so what I'm thinking is I've got my white balance acceptable to me so I have on thea fluorescent preset so you need to introduce flash so I'm going to do that so fast inspiring okay, so as I told you guys before what I already did is by setting the fluorescent preset fluorescent is green so I basically added a whole bunch of magenta so when I add a white light and I've shifted everything to neutralize green this way late well, now look magenta if everything goes as planned I was getting let me see how it looks uh here comes oh, beautiful. If you take a good look at that, you can see that that lights magenta and this is why we have her wearing neutral colored clothing and neutral background you'll see the highlights on her face that's from the fluorescent light is more correctly skin tone. You know vissel a little bit warm but you see that her face is definitely magenta so what you have to do is you have to mess up your flash, make it green, so when you neutralize everything it looks neutral so when you add one of the rogue color correcting fluorescent gels and because I know how my camera works there's lots of different types of those gels like you could do, like half fluorescent or full we're going to put a full on so this is fluorescent light won't cut it out so now what ideally you should do is it should make the overhead light green the group flash coming uh, the light coming out of my flash green so when I shift everything and neutralize it, everything will be neutral and a change of direction of light to be much more flattering and face me straight on right there. Perfect take a look, can't you too much of this you go and some things are pretty close, doing a little bit better? Um a couple things that you might do is well is if you think that the overhead light was like maybe a little bit warmer, you could go ahead and add a warm gel and and he's going to cover that more but that's the basics of how I would work with this if you look at it it's not perfect white balance but it's significantly better than that very, very, very first example, the very first example was green when I first added the flash it was magenta, so this is close enough that if you're shooting a party or an event or anything like that it's. Absolutely passable. If you wanted to be even better, you'd grab your expo disc, do your custom white balance, and then maybe tweak a little bit more with the gels. Will you turn that way? Okay, if you consider the camera can see her face from there. The light on her face is significantly better when she turned to the sign, because she has a whole bank of fluorescence that way, that's filling in her face. However, if she turns back this way, the camera will get that she turns back this way. She's got a highlight on her nose and shadows in her eyes because there's nothing filling ahead of her it's, just overhead light. So even in this situation, direction of light makes a huge difference. Even a fluorescent lit room.
Class Materials
Digital Swag Bag - Codes and Links PDF
Ratings and Reviews
Besides all the more or less 'technical, theoretical stuff', the greatest thing I'm taking away with this outstanding course is the plain joy and FUN of trying all sorts of (crappy) lighting solutions!! Speaking for myself, and I suppose also many others, as an 'advanced beginner', I strongly tend to end up to my eyeballs in all technical nitty-gritty, gear 'n' stuff, that I totally mis out on all the sheer FUN of trying out, and often 'muddling through' all kinds of lighting setups! Such a joy to see the fun exchange between Lindsay and Erik! Really catchy. There should be more classes and courses like this, redirecting students to what it's actually all about: sheer creativity and fun! Having said that, Lindsay and Erik demonstrate that there is hardly any crappy light situation that can't be overcome by creative thinking. And more often than not, it doesn't have to be high-tech or difficult! They really showed an exhaustive list of crappy light situations AND their solutions. And I highly commend Lindsay and Erik for their fun energy, and even more important, pragmatism and frankness. I recommend this course to ANY photographer AND videographer, no matter 'beginner' or 'highly advanced'! Lighting is the basis of it all, and most of the time, it isn't perfect...! I highly re
I thought I understood about light before I took this course. How wrong could I be? I have re-watched this course over and over and I just love it. Quality of light, direction of light - so many crappy light situations. Learning how to actually set a white balance instead of purely relying on the camera presets and learning colour correction by the color checker was also invaluable to me. This course is so affordable. I would recommend it to anyone from beginner to advanced as you will get more out of it than you think. I love the way Lindsay and Erik work together. No right or wrong way - just showing the differences in their styles to accomplish the same end result. Well done guys. Now to have more courses by Erik would be great. Again, can't' thank creative live enough and Erik and Lindsay for this course. Love, Love, Love It!!!!
I hope I can tune in tomorrow. Erik and Lindsay, you guys were awesome today. Some of the things I needed some refreshing on but you definitely had a way of educating. I thought the demos were great and really validating. Light is a difficult thing to keep on your good side, especially with me, someone who primarily uses ambient and available lighting scenarios. This course is great and I'm planning to tune in tomorrow because I really want to see what you have in store for outside. Best of luck guys!! -Sim
Student Work