Craft a Logo by Hand
Nicolas Fredrickson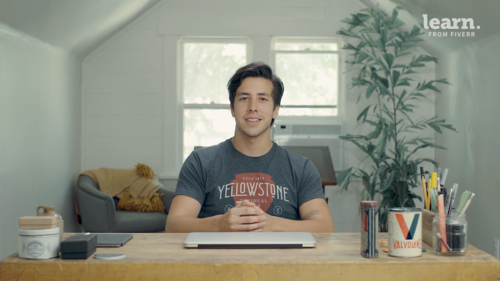 Craft a Logo by Hand
Nicolas Fredrickson
Class Description
AFTER THIS CLASS YOU'LL BE ABLE TO:
Navigate your way around logo, lettering and typographic terminology.
Work with a creative brief to design an effective logo.
Use InVision to create professional moodboards for your logo design.
Understand the principles of logo design like hierarchy, symmetry, legibility and spacing.
Use the Procreate app on your iPad Pro to hand draw your logo.
Work with concept sketches and concept roughs to elevate your design process.
Set up your projects and navigate the Adobe Illustrator CC interface.
Add texture and professional effects to your vector.
Master key Adobe Illustrator CC design tools to complete your logo.
ABOUT NICOLAS' CLASS:
A brand's logo is often the first thing the consumer sees so how do you create a brand mark that stands out from the crowd? Hand lettering is an incredibly versatile skill that allows designers to create original logos from scratch.
Now, you can create a hand-drawn logo starting with a standard pencil or an Apple Pencil and learn how to turn your hand lettering into professional vector artwork. Explore relevant history, terminology and practical tips to help you improve and gain a deeper appreciation for hand lettering and offer your client something truly unique.
This class is designed for complete beginners and if you don't have an iPad Pro or Apple pen, you can use a notebook and pencil so there's no excuse why you shouldn't get started with your new skill today!
WHAT YOU WILL LEARN:
How to apply foundational design principles to your logo design
The difference between calligraphy, typography, and hand lettering
The full history of hand lettering
How to use keywords in your design process to get a better understanding of the brand
How to examine other professionals' letterforms for inspiration
How to use the color picker, layers, eraser, pen, pen, brush, opacity in Procreate
How to use the variable width tool, shape builder tool and pen tool to make letters
How to prepare your files in an appealing way for final delivery
How to export and send your files in different formats
WHO THIS CLASS IS FOR:
People who are just getting started in hand lettering and need professional resources
Designers and illustrators wanting to create hand lettered logos
Logo and brand identity designers wanting to enhance their existing skills
Freelancers wanting to add hand lettering to their skillset
Digital marketers and brand managers wanting to expand into logo design
Anyone wanting to start a professional career in the world of hand lettering
Digital nomads looking for work that they can do from anywhere in the world
All levels of experience.
SOFTWARE USED:
Adobe Illustrator CC
ABOUT YOUR INSTRUCTOR:
Passionate hand letterer with experience working with a myriad of brands from small startups to Fortune 500 companies. Nicolas Fredrickson has spent thousands of hours studying and creating letters and enjoys helping other passionate people learn.
Ratings and Reviews
A lot to learn from this man. Thank you so much!
Student Work