Texture
Nicolas Fredrickson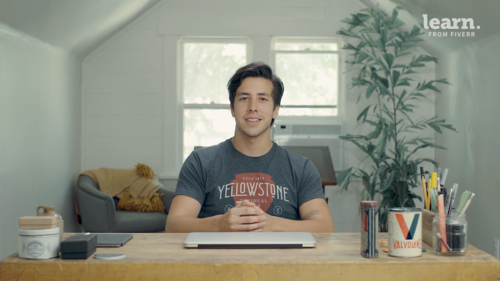 Texture
Nicolas Fredrickson
Lesson Info
Texture
once you have your vector wrapped up, it can be helpful to add some texture. I'll just select all of this copy. I'll bring it over to Photoshop just create a new document. Us paper is fine but I might bump up the resolution just a tad and you'll see why momentarily. Um Actually yeah go ahead and paste. So the first thing I like to do is go to this filter could have distort ripple. He's going to start give me your give me your piece a little bit of texture. Um You can play with these settings, some of them you can see it gets a little it's a little wild. Maybe that's what you want. But wow. You know, so you usually keep it or I keep it at the large option. But I mm hmm Probably about there is fine. Mhm. Still quite a bit. But then to tone it down I use another filter, the median filter and you can adjust this how however much you'd like. But seven is probably good and I might still turn that ripple down a touch. Maybe I'll go to 23. Yeah, I think that's that's more along the lines of wh...
at I'm looking for. I just wanna just wanna hear of um sort of ink bleed. It doesn't need to be crazy. So now go ahead and add a layer mask. We'll get some. We got some brush texture on there. Once you have a layer mask, select your brush tool or click be. You can alternatively just click over here. Now this is a brush I've made from a stamp pad actually. So it's got a stamp like texture you can kind of see there that's a little too big. So I'm not gonna keep it that size but from here if you make sure you have black selected. I just literally just start clicking around um and deleting parts of the letters and I make sure I give it a nice good coat and then I'll switch it to white in. This brings back some of the previous parts of the letters. I go back and forth for quite a while until I get a result. I'm happy with. You can also adjust the opacity if you don't want such dramatic effects. But that's about what I want. Don't worry. Once you're satisfied I take it one step further to really get the texture to pop. So click on your layer mask and click on command. L springs up your levels. Once you have your levels up you can drag the black up in the white down. This creates more contrast. And this is going to help when you're tracing your image. Mhm. I might actually create some more texture on that gee I feel it's looking a little bare the first time. Just grab my lasso tool so I don't mess up what a. I currently have. Yeah. Kind of. Well be careful when I get over here because I don't want a harsh texture line. I also don't want to mess with these letters over here. All right. let's try that again. One more section. Just this little section here. Mhm. I feel like that looks pretty good. Yeah. And now I was just flatten my image and then I'll just click and drag this right over to illustrator. It takes a second. Now, once it's up, we need this handy image trace feature at first. It doesn't look very great. But you can do some adjustments. So I always turn the noise all the way down. Turn the corners down. Turn the paths up and you start to get a better result. You can mess with this setting to depending on how much texture you want to come through. It looks pretty good. And then I knock out the white. Okay, just expand. And then here you go. Change this to white so you can get a better representation. There you go. You can of course leave the texture in Photoshop if you'd like. But with logos, I always make sure I have a vector version for the client. So that wraps up the texture. Mm hmm.
Ratings and Reviews
A lot to learn from this man. Thank you so much!
Student Work