Adding Depth to Your Portfolio
Ram Castillo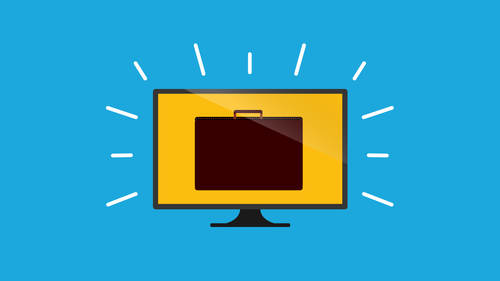 Adding Depth to Your Portfolio
Ram Castillo
Lesson Info
11. Adding Depth to Your Portfolio
Lesson Info
Adding Depth to Your Portfolio
Now, how do you add depth to your portfolio? I'm gonna go through some more questions here that might help you. Does your portfolio have enough variety? That's what really what it really comes down to. Now, I know you know this. This may not apply to those that are going to be specialists in their craft. If you ah, professional embroidery designer Fine. Don't check a responsive went what Ram said. Put a responsive website in there. No off course goes back to your goals. However, you can have variety in embroidery design. Can you? It really comes down to going back to your personal analysis. And what variety can you add that really makes the employer get out of their seat and go? I would be crazy not to hire this person. What is that thing? A lot of it is variety of showing me breadth and depth. Does your portfolio I present your abilities to the fullest, But does your portfolio represent your abilities to the fullest? Well, that's really simple. You know, that's a question that you kno...
w within yourself. If you know that that's the best that I could do on photo shop and take a photo of that piece and I've done everything I could usually. And you've done your research. You'll know when you've done that. So that's how you create bit of death. Do your projects tell a complete story and have a consistent, single minded message? Ah, friend of mine applied for a design director role recently and he didn't get the job. Ah, it was for a very well known brand, but I thought he would have been a shoeing. Ah, the feedback was that was this one here. He kind of didn't have the consistency off having that message right through to the end. And you know what it was about? It was about a dog. The dog was the character that he designed for a Ah, a wine. Sorry. A B packaging company. They said, Why isn't the dog in the shop? Why isn't the dog in the post op? Why isn't the dog on the website? Why doesn't the dog have a voice on social media? Why doesn't the dog appear on this guy shirt? Why isn't the dog here? Extend it That single minded message so important, guys, you know, often times we put so much in when we were all. All we need to do is we need to say one thing one, and it's worth noting that every platform has different conversations. So when I'm talking to you on a bus shelter that's leading toe my website that I'm doing for a brand Well, they're two different situations. They're two different conversations. So continue that. Don't think of the the the message as one quick. You know, um, one quick one that I've got ah, have to say on all off them I might only say part of the message here because I want you to come here on line and interact with me online with that with that message. I know that might seem bit Vagada. No, but essentially, that's that's ah, what is lacking in design work? Does your portfolio demonstrate your design Thinking an idea generation? Well, um, I've covered a little bit off this and I think again, design thinking an idea generation in context, we're gonna get to the captioning of your work but really doesn't solve the problem. That's what we're doing here, where designers who are problem solve this and with solving that for our clients. Ah, that require a lot of thinking. And you know what? Making the complex simple is actually very difficult, isn't it? So the employer that you're applying this job for one knows that when they see a single minded message in a solution that's so clear that they they're gonna want to know how you did that. And if you can show a little bit of that, they're gonna want you to come to an interview. So how do you do that? Ah, I'm gonna actually show you what I do. But essentially take photos of your progress as well. Include the initial scamp off that design. And if you take a photo off your scamps, your sketches, your your foot process. Let's say you had a massive project and had posted all over the wall. And then you were just standing in front of it doing this. I know that's a bit literal, but that shows the planning stages of it that shows the depth. Wow, that's a lot of post. It's I don't know what's on it. There a ways. Okay. I don't think just This is my design. This is the end. Other things you can do beforehand Yes, there are. Does your work pass as a tangible project? I'm not talking about designing spaceships and going Yeah. Hey, cool. Look, I did this spaceship design on the side of a spaceship. It would be great for your brand. Well, we're not flying at space yet. Has to be riel. Ah, And again, it just goes to, ah, where that design is gonna be seen at. Ah, it's a simple thing, but But basically, you want them to know that it's really okay. Do have a standout portfolio piece with a strong, clever and creative idea. Do you? I want to see it. Are you showing any of your credit process? Okay, so we've covered with that. If you answered no to any of these questions, then there is room for more depth. This is what it takes to credit Knockout portfolio guys. And I mentioned this at the very beginning. If we are going to create a knockout portfolio that turns heads, that makes people see the value and what you do, then you've got to ask yourself the knockout questions, the tough ones, you have to do it. You have to find a way to make it better remember never gonna be perfect. You know, sometimes as designers, we were like, Oh, that one pixels off from And it just spend my entire week fixing that. Don't do that. Do the 20% that's gonna give you 80% of the results and make sure that you are constantly making it better. Okay, I'm gonna show you a project I did for Audi. All right, Um, it was with a copywriter partner at the time about you and 1/2 ago or more, actually, um, for an agency called rap, which is a DDB company. Now, the project was to sell the que full Think, Yeah, one of their costs. Okay. The car was for off road as well as city city styling, type of car. So not off road. A zine going through a major adventure. But off road is in a little get away. Maybe an hour and 1/2 2 hours away from town, that type of car, but also stylish enough to be driving around in the city. So the first thing I do is research. So we get a feel for a whole bunch of perspective references. Ah, whole bunch off image tone, references of the car, how we want to shoot. You will want it to look really want it to look very Photoshopped. What's this style there? Usually it goes back to their brand guidelines background reference on also a lost all reference. So naturally I starts camping some ideas, uh, and again, using my personal sorry, the the brand to go brand guidelines that I have and figuring out how I could arrange the cause. How really, Uh, can I utilise the typography and include all the major components that part of their brand guidelines and fitted in there? You're gonna be limited by brand guidelines a lot. So you just have to kind of find the best way of dealing with, um and presenting the best top of message. So then we start doing this, and I'm like, Oh, that's that's crap. That's no good any. And it didn't feel Audi certainly didn't feel Audi, so I started piecing things together, and that's that's where you gotta start. Guys, start by researching your to do all the crap ones first, get them out of the way. That's the fact of the matter. It's elimination process. What did our Thomas Edison say I didn't fell 10,000 times. I found 10,000 ways that didn't work. Now we have these beautiful light bulbs for us to enjoy. It's the same thing goes, you are going to go through hell sometimes light nights, kind of fun, a little bit, you know, part of it. The reward is so much sweeter. So then I move on to this. Ah, that feels a bit more like Audi. Then I start questioning every single piece of that. How did the cause feel to me? Do they? You know what? I really drive to Armageddon. What am I all in it? It's three AM Um is that sad? How does it make me feel, Christian? Every part of it. Compact luxury, wider possibilities. You know, you have a chat with your copywriter partner on that one. But you know, it's true. How does how does this now come to life? We then got to this solution here who once kind of nice just on its own. Now, that feels a bit more like Audi. OK, we're getting somewhere a powerful statement. Oh, yeah, I'm feeling that I want to drive that car, but Why are you still in Armageddon? And your widow? Um, you know, I was like, OK, something's not right again. Go back to the drawing board. Who? This feels better. That was a bit more on brief, wasn't it? Um, Little off road. Get away. All right. But then there was one problem that the client just couldn't let go off. Who's this guy? What's his story? Why is he there? Why is he got a scarf? What shoes are so nice? What? I don't like this guy. You know what? There's something about him. What? You know, he looks too polished to be an off road kind of guy. And then the other problem was, of course, that it in San Francisco when this was for the Australian market. So what do you do? And then the client doesn't let go that you take him off easy. Does that problem goes away? Um, we took him off. So again, this isn't in my life portfolio, but this is something that I sometimes show. You know, I'm like, well, interesting that you ask that question. Have there been any challenges during the interview? Well, actually, I'll show you a pdf from one of my work in progress works. Show them that that's one example. So my recommended suggestion is that even if you're in university or college and you don't have the opportunity to create something that you're passionate about, that in line with what you love, invent your own brief. Even better. Do pro bono work for a charity? It'll go life, so make sure that you're not limited by your organization, even sometimes, if you're working for and reason why, I said real estate because I had actually done a lot of real estate designs and that didn't stop me from doing my own on the side. So I know Annabelle. He asked that question earlier. It's important to simply ah, find your perfect brief for yourself and do it. Nothing stopping you from doing it. In fact, I'll quickly show you now. Ah, the same student that I had that had many posters. She we did this exact same exercise, and I said to What's your favorite brand? She said that it was, uh, it was a French Riviera style fashion company, um, with a really beach theme, feel to it. So I go on the website cool brand. And I said, Which if you're Do you love this patches? I love this brand and I said to her, Would you change anything about it? She goes, Yeah, that would be a couple of things. I guess if you love this brand and you're a customer of the brand, let's redesign the entire brand. So I told her to create me a couple things redesign your low that their logo. Then she can show before in off the. Then I said to her, Howard and Open spread off the catalogue looked like Show me How would their landing page look like on a desktop and mobile? She turned it around in one week, and she has now a hero pace. It's made up spot. It's transparent. This was a project that I have been dying to do. It's one of my favorite brands, and I felt that there was room for improvement. I felt they didn't articulate their brand as accurately as I felt it could. Now she's getting a whole bunch of office from that, and you can take that further. You know you can. You can print some some shirts and have your friends wear it around the straight. Whatever. You know, if it is a part of that, that solution to that brief. So don't limit yourself. Also, consider creating a high Brill video so you can as you're working. Honestly, you take out your phone and just get a friend to record while you're working. You can get snippets of your project, create a video with those snippets and put a backing track on top. Whatever it is, whatever. Make it crazy. Make energetic, obviously. Don't do that if it's for a funeral brand. Um, but look, guys, you can add a video as well. 32nd video. Awesome. Who's doing that? Not many people, right? So you've now taken a couple of shots from home. Are cool. Cool telling Call that then I've created this little video of how that that bottle that I took a photo off interacts got me drinking it. I've got me, you know, throwing that bottle to a friend over some music, and that's cool document guys. And it's funny, and I'm so grateful that my mom was documenting my first drawings. Look at that. I'm actually showing people that that's amazing. You know, it's the same with your work, and it's important to document because then you can also look back and go. And that's what I did before. Look how far we've come. All right, So take videos, take photos off the environments that you're designing it. Are there any questions regarding adding depth to your portfolio before we move on to captioning? Why? I see a lot of note taking any questions? Are you guys actively doing things like this? Have you been taking photos? Have you been documenting that process? Anybody have any? Yeah, You have stories of this Put it together. But I Wait a minute. Yeah? Yeah. Just gonna decide on a couple that you think best capture parts of it. Question you mentioned hero piece. And it may be because I'm photographer and not designer by trade. What does that mean? Is it your best pieces that would hero pieces or something that speaks to your heart or what is that mean when you say I think that there's no one cookie cutter answer approach to that, it could be either. Okay. Okay. Uh, ideally, this is where I, uh, would bring in my experiences of what's gotten jobs. Yeah, for me. My goal was to get work both for freelance and full time. That was my main goal. I have other outlets of creativity. Um, that I don't need to show on my portfolio. So I clearly defined my goal, which was to get work and to make sure that work is the type of work that I enjoy but also the type of work that is gonna have me valuable to be hired. The end of the day, their business. They're gonna hire you to do the job. So to answer your question, my hero pieces are the everyday sort of stuff and a lot of them sometimes out the most overly creative. But they're well done and they're comin. I'll give you an example. Email. Uh, e g. M. Says we're as we referred to it, right? Ah, email. Direct marketing is huge. I do a lot of that. Is that something that I woke up in the morning and said, I can't wait. The design and a value newsletter? No, that's not really what I intended to do. However, it's a big part of what makes me be able to do the other stuff that I enjoy. It's a big one for May. It had massive balance of what makes you money and what do you enjoy? Yeah, I think All right, well, I do a question that can hear regarding portfolios, and this 1 may be something that some of you have all experiences well. But this comes from a viewer who says that they're 19 years old and they've been creating graphics and various print designs for people for over six years in producing clients designs for paying clients for nearly three years, and friends and former clients have suggested, officially labeling myself as a graphic designer and showing my work through a portfolio they want to know. When is it appropriate to leave out their age when they put something together like this? Does that ever hinder the process here when you have a portfolio and that could be somebody who's maybe on the other end of that spectrum, who's a little bit older, too, and they don't want people hold their, uh, do not put your age. It's a relevant, totally irrelevant. It's totally relevant. Ah, I forgot her name. But the girl that sailed around the world when she was 16 on the selling book. I'd never be able to do that. Um, okay, maybe if I tried really hard to learn about it. But the point is, value comes in so many other ways than age. I think that experience speaks volumes. Um, And for that, gentlemen, what was his name? Mr Mysterious. I bet it's Thomas Suarez, That developer. Look, um, it's start as early as you can. Amazing. Start a portfolio at 12 if you can honestly get it together. Now, how good is it gonna be when you when you're, like, 19 like this fellow? It doesn't make it. Uh, it shouldn't matter about your, so I recommend not putting it on.
Class Materials
23 digital resources to keep in your back pocket
The 6 most crucial design principles to implement on any design
Top 10 mistakes to avoid when creating your online design portfolio
5 free online creative communities you need to be on and why
Daily ideas to improve and retain creativity
How to Photograph Your Work with a Home Setup
Ratings and Reviews
I have been asking for a portfolio class for graphic designers since last year on Creative Live. So, I was excited to see Ram Castillo teach this class. Thank you CL! This is one of my favorite classes on CL. This class is not only for specifically graphic designers, but can also be applicable to other artists and designers as well. I had to create a online, print, pdf and dvd school/job graphic design portfolio to graduate with my degree and was taught vaguely about what exactly to include in the portfolios several revisions later. I wish I had discovered Creative Live, then! Ram Castillo walks you through the steps of getting to know yourself which helps you to create the portfolio and knowing your potential employer/customer which let's you analyze what your portfolio should include. But, it isn't always just about you. A degree in graphic design doesn't always guarantee you a design job. But, Ram Castillo, his sense of humor and his cute accent will show you how to get that design job. Ram shares his secrets some designers probably wouldn't want you to know. Ram Castillo shows the portfolio sites you need to be on and how to market yourself to be seen, how to self edit your work, and getting feedback from others. Ram has guests that explain how they prepared their portfolio to get a design job. Ram addresses what to do and what not to do, what to include in your online portfolio, how to think daily and how to take care of your mind and body which can impact the way you create your portfolio which can also be an emotional journey. This class was a huge source of inspiration and breaking down the steps that you need to do to have a knockout portfolio and be a successful designer to shattering those hurdles and excuses. After watching this class, you too may be inspired to create that knockout portfolio whether you are starting out or not, your confidence may soar after watching this class, you may be the one holding yourself back and this class may help you to get out of your own way. Ram suggests if you don't have that hero project in your portfolio, create those knockout personal projects to put in your portfolio. Ram Castillo prepares you for your portfolio and beyond to get that interview and job. I highly recommend this class for purchase for the bonus materials, the videos for inspiration, how to photograph your work, there is enough room for you, inspiration, process and accountability. This class will also prepare you for the next step, getting a design job which is the next class you need to watch and purchase. Thank you Ram Castillo! Thank you for teaching this class and so grateful that you taught this class. This class has been added to my design library of resources. If you will excuse me, now I have a lot of work to do to create that knockout design portfolio.
I was excited to meet Ram from his first email prior to the live class that I was going to take. He is personable, authentic and eager to help others. I thought I would enjoy his class but wasn't sure how appropriate it would be to me as my photography business. Surprisingly this class would be perfect for any Creative business. It was so appropriate for my business and had so much actionable content, that I took 10 pages of notes! Many can train about portfolios. Many can be powerful speakers. Ram was not only those things but so much more. He started out by telling us about WHY and HOW he became who he is and had us explore ourselves. It was powerful. It was a light bulb moment to realize my focus in business has a direct result to how i was raised and what I believe is important. That was just one part of the training. In the end, I had direct and actionable goals toward revamping my portfolio. It's great to take a class that is not only motivating but changes the way I do business. As a direct result of this class, I changed my portfolio and got a photography job where the client told me they hired me due to my portfolio. How powerful!! It would be a FANTASTIC investment you won't regret.
this class is amazing! I have just graduated my graphic design education and started completing my portfolio so I could show interested companies or employers wat I am capable of... I will never ever look at my portfolio the same way after this class they don't learn you these things at school... What your portfolio projects should represent, how many, how to show trough your portfolio, what you are looking for in a job, how complete or incomplete your current portfolio could be and how to give it that extra something so they actually check out your portfolio when you contact them to apply for a job... This course was great, the guest speakers made it even more valuable. They are all very experienced in the aspects they were asked for... Ram Castillo has some great life experience to share! Get this course if you want to give yourself that extra push to achieve great things with your design!
Student Work