Personal Analysis: Defining Your Purpose
Ram Castillo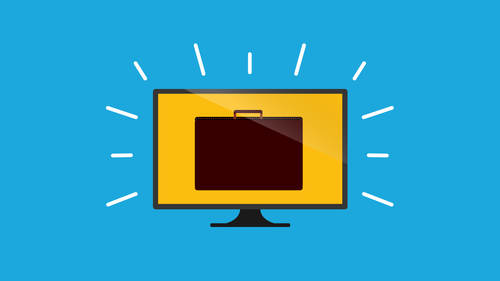 Personal Analysis: Defining Your Purpose
Ram Castillo
Lesson Info
2. Personal Analysis: Defining Your Purpose
Lesson Info
Personal Analysis: Defining Your Purpose
So Step one is personal analysis. The key lessons in this segment our number one eliminate the fear and anxiety by replacing that with confidence, purpose and personal value. Number two Clearly articulate your personal brand and story number three. Visualize exactly what job you want and identify any obstacles. And number four, the power of personal branding with one of the guests that I'm so excited to bring on Dave August Miller. So who here agrees that confidence is attractive, right? Okay, most of us now. I'm not talking about the confidence that's cocky or arrogant. I'm talking about the confidence. That's, uh, where someone really knows who they are that knows their identity and that knows their passions, and it almost seeps through their skin. You know that energy and that charisma of confidence. When I was traveling through New York Ah, about two years ago, I ran into this painting as I was walking down the streets, and it's often artist nine Paris gyro and in essence, I stoppe...
d at this painting on the street of ah would have been so ho. I was just mesmerized by this painting. I don't know why, and I was like OK, I'm gonna take a photo so I can remember it. Little did I know he was standing right behind me on the steps and I was like All have it in offend him. But, uh, he went on to tell me about what it meant in such depth that I that really shocked me because I was like, I was just really cool, you know, just because I can't make sense of it. Maybe that's why I like it. And, uh, he made sense of it for me in such great depth. And he spoke with such passion. He basically spoke about the beauty of women and how they, uh, have so many precious qualities both inside and out, and how he eloquently described it was just, well, amazing. I also have done a lot of travelling. I went to Sardinia in Italy. It's an island just off the side of Italy and, ah, in this little of street. Then I went to a little cafe and I was starving, so I sat down and the business owner was the one that served me. And he basically said, Oh, what would you like? And I said anything that you recommend is Sardinian authentically Sardinia. So he said, OK, we have Sardinian lobster pasta And then I said, Always loves the fresh. And then he laughed at me. Is it Is it fresh? What do you joking? Come with me Pretty much picked me up and chuck me into the kitchen. And, uh, the lobsters were crawling like right in front of me. And just like, don't eat me. Um, you know, But he spoke with such passionate wind Went on to tell me how you wakes up at like, three AM and catches these lobsters in the morning. Make sure that they are fresh. And he's made with Benji Madden from Good Charlotte. Ah, and again I sat next to you on a plane randomly, and I actually love the earlier music when they just started playing acoustic stuff and I was just trying to him about his songwriting. And again he had that confidence and that passion off who he waas. And that's why he has lasted the industry this long. So how does this affect your portfolio creation and development? Well, when you know who you are, you can better define what you want and when you pinpoint what you want. We then can flesh out the necessary steps on how to get there. It's like a soccer player, right? You can't shoot a goal without goalposts, so we need to define what we want. Most of the problems faced with people not getting what they want come from lack of clarity. If we figured that out first, we can then figure out this steps on how to get there, because there's power in vision and imagination. If you think about it, what makes us different from any other organism that is ever existing is our ability to imagine something even in the future before it's even happened. Yet that's an amazing quality, even if there's no tangible evidence that suggests that it's riel. And I think we have to leverage more of this If you look at the Wright Brothers, the first flight took off in 1903 and these are two brothers who the flight only went for 20 seconds. I believe on record, and it went for Ah, like the equipment is 120 feet or something like that. So it's a short trip, but ah, they got the idea when I was seven and nine years old when their father gave them a toy helicopter that flew. And if I said to you, let's say in the 1500 I'm going to get a shade of metal, bend it. Shockey's the people in it and to make it sore for at least a couple of hours. You think I was crazy, you know? So we have Teoh instill and leverage that value of imagination. The personal analysis process simply looks like this. What is your purpose? As a designer, who are you? You need to specify your story. What do you after? And then we also need to pinpoint what's preventing you from getting it. One of the obstacles and challenges involved. So we're gonna go through these individually, okay? And I need you to pick up your pens and pads. For those of you that are in the global audience, please join in. The more that you specify and dig deep, the more that you're gonna get out of this process. So before we tap into what is your purpose as a designer, let that marinate in your minds. Let's start thinking about it. I'm just gonna go through a couple points. You were gonna establish your baseline. We're gonna set parameters by a personal values. And I'm gonna talk to you about the three pillars of a designer. Minister Alfie. Now, this is actually from Anthony Robbins is module of six human needs. There are many out there, many, many out there. But this is a very easy, simple way of structuring and figuring out why we do what we do. And we need some certainty in our lives. To some degree, you can research in a bit more detail, but I'll just list them out. We need certainty, of course, stability, security in certain aspects. But we also need variety. If everything was the same, then life would be so boring and so uneventful. So we need surprise. We need newness. We also need significance. We need to feel that we were a part of something that matters to us that's in line with our values without goals and then, uh, connection to whether it be connection with people with love, relationships with friendships, with a work of art, without outlet as a designer, that's all part of the connection process and growth, too. No stopping that. We're all getting older, no matter what we do on about how many creams that we can use and you know. But we need to grow as a person, don't we? So everything has to link back to growth as well and contribution. Oops, sorry. So contribution. OK, we need to feel that we're contributing. If we look at a cronut, which is all the rage these days, we know that it is certainly delicious. It's a little different to the everyday doughnut, and there is an undeniable connection between your taste buds and that pastry well that I'm showing. Some of you can argue that it takes all the boxes, but if we look at being a designer as a vehicle that makes these six needs, we can say upon our own personal reflection or any creative channel, for that matter that it meets them quite easily. I'd like to talk to you about the three pillars of a designer, as we all know, and this links back to the first question. I remember the first question. It was Ah, you know, what is your purpose? I think that as a designer, we are three key things where a problem Silva, where we are a visual crafter. That's an obvious one, and we're a business thinker, but I think these are all equally important and interconnected to each other. I'd like to take these three pillars in presenting to in a Different Light. Firstly, you're not the kind of problem solver that turns your underwear inside out because you had no more clean wants to change into. You're really like Sherlock Holmes. He is arguably one of the greatest fictional detectives that ever existed. He is known for his astute, logical reasoning, his ability to adopt any disguise and his use of forensic science to solve difficult cases. Now, problem solving in design is very similar to this. It is an unwavering process of experimentation, exploration, research and hours, days, weeks off collaboration. Secondly, you're not the visual craft that spills spaghetti Bolognese on the kitchen floor and decides to leave it there because you felt that the ground looks better that way. You're really like Michelangelo as we know he was an incredible Italian painter, but not only that, he was an Italian sculptor. He was, ah, poet. He was an Ngeny, the guy that crafted the P ETA the statue of David and the Sistine Chapel. And thirdly, you know the business. Think of that. Sells umbrellas in the desert. When it's screaming hot. You're probably best Teoh sell bottles of water. You're more like Richard Branson, and you've got to think like this guy. Uh, and he actually started his first business at 16. Now he has version group, which we all know, and he has that company, which owns 400 companies underneath it. So I want you to think about your purpose in these three pillars in these three characters because it's important, really, to see more then what you are at present, everything in your life. Ah, whether you know it or not, has been touched by creative person. There's been some creative involvement in that innovation because designers are indeed people that create value in the world, aren't they? You really think about it. And if you still need more convincing, I've got a list here of some videos that you should note down toe watch, and it is a good collection of kind of the impact designers are making from execution through to design, thinking through to innovation. Uh, one of them is actually a drinkable book, which is a filter, and I'll let the video do justice of that case. Study. So unbelievable. Bus Shelter by Pepsi Max The Drinkable Book by Water is Life and Volkswagen Piano Steps by fun theory. You'll enjoy those videos, I'm sure. Okay, let's get to it. So what is your purpose as a designer for those of you on line that have started thinking Great, because I need you to write down at least three. Ask yourself, and they can be as obvious. In fact, they should be as obvious to what, uh, are those three reasons why are you a designer? And if you're not a designer, any creative person. If you're not a creative person, why are you doing what you do brought down free reasons and you can even link the values? So write down three values that being a designer serves to meet your needs. There's no right or wrong answer here, guys. Okay, so before I potentially get one or two answers from the global audience that tuning in online welcome again, Um, I would like to get some from the studio audience here, and, ah, blacks. Boring isn't it. Let's go with blue. All right? Who wants to just share one or two things from the audience off? Why you do what you did? Yes, Zain Show. So my purpose is to build products that people love and to solve real world problems. Perfect People love so problems perfect. And that's a huge part of why I do it too. Anyone else would like to share one or two? Yes, I like it. You enjoy it. Perfect. The most obvious one of all. It's fun, isn't it? And you got to be doing something that's fun. You got it. You deserve it. You know you've got it. Otherwise, you know, no one's going to give you that you've got You've got to pursue it on your own terms, you know? So that's great. Anyone from the, uh yeah, we have some people joining it now again, A huge global audience. People joining from around the world. Kate Bonneville says I designed because I can't help it. This stuff just comes out and design gives it a direction. 18 Media says I love revelling in my creativity and building awesome things Unreal. I love that 1st especially that was What is that one thing that you just constantly thinking about? What is that if it's designed, I congratulate you for that because I personally believe that design or again, any creative outlet is a vehicle that has given me an enriching life. You just see the world differently than most people, so thank you for sharing those that's great.
Class Materials
23 digital resources to keep in your back pocket
The 6 most crucial design principles to implement on any design
Top 10 mistakes to avoid when creating your online design portfolio
5 free online creative communities you need to be on and why
Daily ideas to improve and retain creativity
How to Photograph Your Work with a Home Setup
Ratings and Reviews
I have been asking for a portfolio class for graphic designers since last year on Creative Live. So, I was excited to see Ram Castillo teach this class. Thank you CL! This is one of my favorite classes on CL. This class is not only for specifically graphic designers, but can also be applicable to other artists and designers as well. I had to create a online, print, pdf and dvd school/job graphic design portfolio to graduate with my degree and was taught vaguely about what exactly to include in the portfolios several revisions later. I wish I had discovered Creative Live, then! Ram Castillo walks you through the steps of getting to know yourself which helps you to create the portfolio and knowing your potential employer/customer which let's you analyze what your portfolio should include. But, it isn't always just about you. A degree in graphic design doesn't always guarantee you a design job. But, Ram Castillo, his sense of humor and his cute accent will show you how to get that design job. Ram shares his secrets some designers probably wouldn't want you to know. Ram Castillo shows the portfolio sites you need to be on and how to market yourself to be seen, how to self edit your work, and getting feedback from others. Ram has guests that explain how they prepared their portfolio to get a design job. Ram addresses what to do and what not to do, what to include in your online portfolio, how to think daily and how to take care of your mind and body which can impact the way you create your portfolio which can also be an emotional journey. This class was a huge source of inspiration and breaking down the steps that you need to do to have a knockout portfolio and be a successful designer to shattering those hurdles and excuses. After watching this class, you too may be inspired to create that knockout portfolio whether you are starting out or not, your confidence may soar after watching this class, you may be the one holding yourself back and this class may help you to get out of your own way. Ram suggests if you don't have that hero project in your portfolio, create those knockout personal projects to put in your portfolio. Ram Castillo prepares you for your portfolio and beyond to get that interview and job. I highly recommend this class for purchase for the bonus materials, the videos for inspiration, how to photograph your work, there is enough room for you, inspiration, process and accountability. This class will also prepare you for the next step, getting a design job which is the next class you need to watch and purchase. Thank you Ram Castillo! Thank you for teaching this class and so grateful that you taught this class. This class has been added to my design library of resources. If you will excuse me, now I have a lot of work to do to create that knockout design portfolio.
I was excited to meet Ram from his first email prior to the live class that I was going to take. He is personable, authentic and eager to help others. I thought I would enjoy his class but wasn't sure how appropriate it would be to me as my photography business. Surprisingly this class would be perfect for any Creative business. It was so appropriate for my business and had so much actionable content, that I took 10 pages of notes! Many can train about portfolios. Many can be powerful speakers. Ram was not only those things but so much more. He started out by telling us about WHY and HOW he became who he is and had us explore ourselves. It was powerful. It was a light bulb moment to realize my focus in business has a direct result to how i was raised and what I believe is important. That was just one part of the training. In the end, I had direct and actionable goals toward revamping my portfolio. It's great to take a class that is not only motivating but changes the way I do business. As a direct result of this class, I changed my portfolio and got a photography job where the client told me they hired me due to my portfolio. How powerful!! It would be a FANTASTIC investment you won't regret.
this class is amazing! I have just graduated my graphic design education and started completing my portfolio so I could show interested companies or employers wat I am capable of... I will never ever look at my portfolio the same way after this class they don't learn you these things at school... What your portfolio projects should represent, how many, how to show trough your portfolio, what you are looking for in a job, how complete or incomplete your current portfolio could be and how to give it that extra something so they actually check out your portfolio when you contact them to apply for a job... This course was great, the guest speakers made it even more valuable. They are all very experienced in the aspects they were asked for... Ram Castillo has some great life experience to share! Get this course if you want to give yourself that extra push to achieve great things with your design!
Student Work