How to Compose Drone Photos
Colin Smith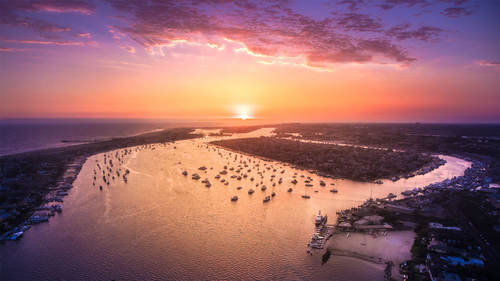 How to Compose Drone Photos
Colin Smith
Lesson Info
7. How to Compose Drone Photos
Lesson Info
How to Compose Drone Photos
All right, So we're now entering a different part of this. Ah, this little world we talked about equipment, we've talked about legal. We talked about gear flying, all that kind of stuff. Now we're going to switch, Ah, frames of mind to being created. We're gonna look now at photographs and videos. We're gonna talk about how to shoot photos, how to shoot videos. And so now we're entering into the twilight Zone of me being a crazy art teacher. I love it. My favorite part. So what we're gonna do is we're just gonna kick this off a little video. This is me. Um, this is a typical morning going out for a little fly. Most importantly, did I tell you? Make sure you have What I'm gonna do here is I'm gonna shoot a little bit of 60 frames per second. Um, okay. Have a quick little tip for you and 10 is a lot of people don't realize they tried to do him like this or just put him straight up or go this way. What you want to do is have the flat faces of these pointing towards your copter. If you do ...
that, you're gonna get a bit of six. Alright, guys. So there you have it. We got to fly the Phantom for pro in the Final Four. Advanced. Right now I really need a cup of coffee. So let's get out of here, all right? And I have my cup of coffee right here. I think with a company called Photoshopped Cafe. I like coffee. All right, so that was a little flight. That's actually seven miles from where I live. Um, a lot of the time in the morning and the evenings, I'll go out and I'll shoot now, Actually tells you how much I love this because it actually gets me out of bed in the morning, which is incredible. So what we're gonna talk about right now, though, is we're going to talk about the basic rules of photography and how they apply to aerial imaging. Or let's call it the new rules of photography. Because some of these rules are very similar to the rules that, you may know, is photographers, But some of them have a little twist to them. There might be a little bit different way of thinking about. So let's talk about the rule of thirds. So, compositionally speaking, this is a very important role. So let's have a look. A photograph here. This is a shot from Balboa Island, and this is intentionally centered. Now, when I want to create a scented image, I'm looking for a sense of symmetry. I'm looking for something in the middle. This sailboat masters, the highest point there, noticed that, So it makes sense to do that now. If you're on the ground, you wouldn't be able to do that. You wouldn't be out to get that kind of a composition and just cut it in the middle there. So when you want to do that, symmetry is great. But there's a rule called the Rule of Thirds. So whenever it starts photography that you everything is in the middle of the frame. Same with drones. All the drone people like I am right in the middle of the frame. There it is. We want to see it. But as we know as artists, cutting things into grids and in putting key things where those interstate create a stronger composition. Now one of the things about that composition is you want to have things moving into the frame, so you don't want to put something on this side that's moving out of the frame. That way, you want to print into the frame because the whole point of what we're trying to accomplish is leading the viewer's eye. You want to lead the viewer's eye into the frame, you wanna have the competition, everything, bringing them into the frame, and it will cause them to look into the image longer and spend more time looking at the photo of the goal is to have people look at your photo as long as as long as you can, because the longer they look, the more they're going to see in there more than can enjoy it. You have things leading out of the frame. It's gonna take him out of your photo very quickly. Now, if you're breaking those rules, there are times you might want to do that because there's a psychological element that you're building into your rich, especially you doing a series of images. But if you don't know the rules, you can't break him. If you break the rules without learning them, it looks like a mistake. So learn the rules, then smashed them All right, so let's get started. So rule of thirds say he was talking about this is Balboa Peninsula. Um, right here and there's a boat coming in for the evening. So you know, the typical kind of things I love shooting here, but see how that's right. On that point there it's drawing the eye, and everything is bringing the I into that shut and leading to that building. In fact, you probably look to that voting because that boat is heading to the building is telling this story right? You wanna have stories if you don't have stories as a beautiful picture of humans will get a museum and take pictures, right? So you want to have the view of thinking in a little bit. So rule third, cutting it there. Another thing we can do with the rule of thirds used a lot in aerial stuff is you want to cut the horizon on the third? Not in the middle. Now you'll see. A lot of times I will cut in the middle for a reason, symmetry or whatever the reasons, But sometimes you can make a decision, so I wanna have it looking mostly at the sky Or did I want a mostly having looking at the water? So a lot of the time you'll see a composition of rule of thirds where the skies in the third signal. But in this case, look at this incredible sky. The sky really is a strong point. So I wanted to show those clouds. I wanted to show the sunset This isn't aware who Hawaii. And so I cut it right there. And, you know, that kind of total dramatic story. One of the other things I mentioned I do like to do motor racing mode across the stuff. So this is shot with the 45 on the inspire. So I match a long way away from these guys. Looks like I'm really close. But once again, you know, I'm kind of creating the action. These guys are going out of the frame, but to me, that works is kind of telling that story. You've got the motorcross that kind of warm there up in the area that they are heading out like moving on to the next one. So this is the place you saw in the video here. This is actually I have a small sense of humor. Like, I think can I might know that. Kind of I seem very serious, but every now an animal. Little goofy. Um, So I put pencils here. They're just for fun. Or is this a joke? I just I couldn't resist. It is like pencils, Beach house, you know. Um, so anyway, but this is the same shot Has Victoria Beach, California, and notice we get the sun setting here in the background. We've got this and once again, boom. Right on the third right there.
Ratings and Reviews
I love this class. I have learned so much, and have already started using some of the techniques to shoot better photos. I just need more practice flying. I'm looking for the FB 360 template. Was it supposed to be in downloads and don't see it.? It's almost sunset so I'm headed out to fly and shoot! Thanks for the class!!
Really enjoyed this class. After using Photoshop professionally for over 25 years, if I learn a new trick or technique from a class, then I know it's money well spent, so Thank you Colin, I did learn a new technique. Really looking forward to putting more of these ideas into practice.
Student Work