How to fix the Ghosting Effect
Serge Ramelli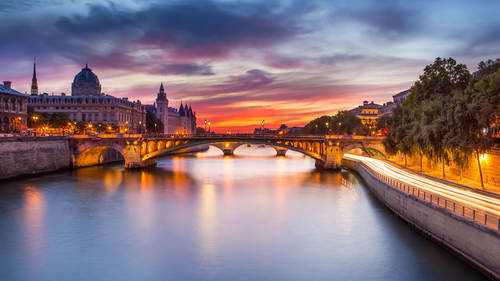 How to fix the Ghosting Effect
Serge Ramelli
Lesson Info
2. How to fix the Ghosting Effect
Lesson Info
How to fix the Ghosting Effect
the ghosting effect. I really wanted Teoh show you the ghosting effect again, but on a different case on water because it's ah, it doesn't do the same thing. So I'm gonna take the three world Father would open up. This is a photo that I shot with Trey Ratcliff in New Zealand On the on It was a sunrise and the sun was hitting this trees. It was the followed time because April it's foolish time in New Zealand Queenstown, and you can see it on the over exposed for like we had just that some really get getting into there. And I was like, Oh, I wanna make sure I get over the details that that's why I want to do an entity are It's one of my favorite photo I took there. So same workflow. I'm gonna go here, Sadiq Toll, I'm gonna go here, merge to HDR, and now again, it's gonna be really important. The ghosting effect, basically, you know, whenever you got something moving in the photo, you're better off, you know, turning that on. But I'll show you the difference. So it's gonna merge and Sunny...
Snr files big files and it's taking a bit of time. Okay? So again, we only have a lining match by default. It's on and you want to live it on? I would. I don't even know where they will be An occasion where you would take it off. I haven't fun one total and I'm not doing. And on this one, I'm not going to do the the ghosting effect first, and I'm gonna merge it, and I'm gonna call this one, uh, go this one test one so really want Because they will have a very simple name. And Ah, So what I'm trying to do is I really want to get this sort off like when I was there. You see, the reason I do hdr is that sometime nature is generous and gives you crazy colors but really crazy supersaturated in that morning. It was while that morning was while So here's our is er it really deserves some real color. Some really over Saturday, Like you hurt you. I school. It's because that's how I waas. Anything else would just be a lie. So I'm bring out the shadows, you know, doing this one. I'm gonna bring down the highlights, and I'm gonna do my white by holding on the option key. I don't care if the water is completely burned. I'm going to do about blacks and I'm going to do my exposure. And you see, we see the forage coming to life. But I go to 100%. Ah, you see on the foliage sometimes because it's an HDR. I can get some issue, have to wait for to render, But look at the water. I get a lot off. The water is kind of weird, So I'm going to stop here right now. I'm going to cancel this. I'm going to retake the for three photos open in the camera. And this time I'm gonna use the ghosting effect, and we'll see the difference. So said a toll and you haven't the Where is this choice? You have to redo it. And, uh, especially when there is foliage because of the wind. All right, so it's merging and the ghosting effect text forever. Any question, while it's doing anything What? We're at it on a natural h e r. Okay, here it is. So d go sing. I'm gonna put it on high. Oh, it was on high before maybe and merge it. Actually, I already had prepared this for you. So I want to do something. So I pre breaded so ghosting. In fact, he's here. So with the ghosting effect, No, that's on the one. It's great. We alive. Okay, so he says, without blushing effect with This wasn't so without ghosting effect. That's the one. I'm sorry I messed up. So that's the one. And look at the water Height is really weird, Okay? And actually, I had done the ghosting effect. That's why it was like she looks good and and that's that's a good thing being live. You can make me sticks like this, and that's with the ways he has much more natural. We don't get all this little lines, you see. So I was actually was the white one. So let's just continue on this one. I'm sorry about that. And so on this one, You know why they did doing really fast. The white I wanted here black I wanted here, bring on the highlights. So that's, you know, open in the shadows. Being under highlights. Doing the black and white just makes your baby contrast boosting a limit of the exposure and a bit of contrast. No white balance is gonna be very important. This one. So let's see what daylight is gonna give me the lights. A little more blue cloudy, little more warm and shade. Even mawr. I think I'm gonna go for shit on this one and add a bit off magenta because I love it. And, um, something here. I think I want toe. I want to so carry tea. Now, the only time I used charity is when there is no clouds around. But in this camp, there is no clouds. It's only trees. So clarity I might have clarity heal a little bit off charity. And on this one, I'm gonna just closed a photo. Little bits, not that strong on top. I want people to look at the bench. I just love this idea of like having this little water thing, the tree and the bench. I think it's it works kind of cool in this one
Class Materials
Serge Ramelli Special Offer
Ratings and Reviews
This was a good course if you want to know how to improve your photos using post processing features in software. He does show you how to combine a HDR but that is all. Very little how to take the HDR photos and what to look for in the photos when taking them. There was only about 10% HDR. The tips on how to bring a photo to life was good, but I was hoping that the HDR was more covered since that is what it was about. So I recommend it only because of there is good information on post process, not about HDR.
This is not a beginner's class. It's not an automated process where the program spits something out, but it's a great approach to using photoshop to give you a fabulously realistic approach and his personality is A-okay... I enjoyed listening to him and seeing things I didn't think to do when I was working in photoshop hdr. Photomatix, Nik, et al, can spit something out, but in Photoshop, you have more control with the outcome and it will be more realistic.
Student Work