How to Process a Night HDR Image
Serge Ramelli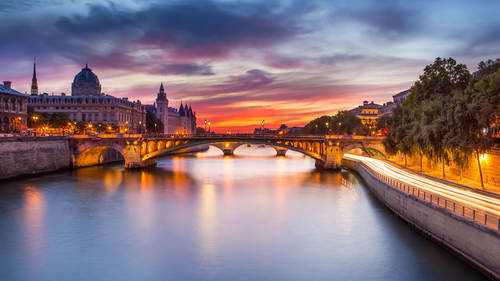 How to Process a Night HDR Image
Serge Ramelli
Lesson Info
3. How to Process a Night HDR Image
Lesson Info
How to Process a Night HDR Image
the Mont Saint Michel. I know if you guys ever been to the monster Michel, but that's one of the most amazing place I have ever been to. It's a crazy sort of castle in the middle of a bay where the water comes twice a month at the speed of for racing horse. So if you're walking in a bait, you have actually a wave water. And so what people sometimes do. They put a surfboard and they wait for the wave and the wave takes them on. And to start serving, you can Google that on YouTube. You'll see it's crazy. So it's one of the fastest tied in the world because the weights itself, the tight just goes in really fast. So it's very dangerous to be walking around and you can, but you have to know when the time is coming. I remember when I took this when I was walking around, and I see people going what was going on, and I'm taking a photo and I'm looking and I can see a wave coming from like ran. We ran an eso and she have a photo where you see the wave coming. It's crazy Anyways, I made it alive...
, and I'm back here at the most submission in front of the most high. Michel, I'm gonna go right away and right click and opening Camero. And this one needs a little bit of Photoshopped to come to life. Because when you do night shots, the problem is and this was shot with the 50 mark two. You see, the over exposed photo is going to give me details here on the walls, in the shadows, and the under exposed photo is going to give me details on the highlights and highlights is really bad. I mean, for sensors highlights a hesitancy to burn a little bit. So I'm gonna go here. I'm going to set them all. I'm gonna go to merge to HDR. In this case, I'm not gonna good do the deed goes team because I don't really have anything moving. You know, I don't have foliage. I don't have like, a water thing. I don't have cars. I have some people. I want to get a read off, that's for sure. And wait and I'll do it. But de ghosting is going away on this one, so I'm just gonna take on merge, and it's always a starting point, like you don't do any retouching until you've merger photo and you merge. Photo is gonna be your starting point. This one is a bit of work because, uh, it was I remembered being a very nice sunset, and I feel like there's nothing in this guy, so we have to do a lot of magic to bring it to the drama that I like. So I'm gonna put up the shadows if you have a lot of details there and I'm gonna bring on the highlights and not by doing the highlights like it's these photos, even to buy because my three bracketing where All a little too overexposed on this one. So but you have you know you have room to work with. So I'm gonna bring down the overall exposure because I want to get the drama here back in the sky. I'm gonna do my black holding the option key when White and I don't like the cause that much. Let's see daylight Very blue, Cloudy, a bit less blue and shade on this one. I really want to go for contract. It's not really liking of calling this guy. So the one that have the most color was daylight. I'm gonna leave it a daylight. And ah, now I know I said I never used clarity when there's clouds. Well, allied, because when the clouds are really that shy, I actually sometime do add a bit of clarity just to make him come to life a bit without with now, with you got it just a little bit. And, um, I think the photo really, really, really screams for Please add a bit of my agenda because it's read to blue. I don't know. You didn't get the message. I my gentleman, didn't get the memo. I got the memo. So I'm gonna add a lot of my gentile because I really love you know, I think it works round out of photo. And, um so they start doing something about that sky. The person you see here taking photos is cut. Kelby. I was with him because, you know, Scott Kelby, good friend of mine, And the food was pretty pretty sharp, actually. So, uh, but we have some work to do to make it pop. So I'm gonna take your grated filter, and I'm gonna make. I really want to close. Make this guy darker eso But I don't want it to be on the most semi shell. So I'm gonna take the brush, take a little brush picture. It's the razor. Make sure flow is at 50. So by default that you raise your the power of the eraser is at 50%. There's only one reason for that. Is that if just if you raise things and the way that masking works with Camero, it can make small halos around the most. Michelle, so you don't want that? So I got the auto mask on the mass is really important because, you see, I want to raise I dark in this guy. But I don't want to be on almost Michel. So I'm gonna raise this, and you just want to show your pluses within the monster. Michel, if you want to see just before or after off that one local sitting, which is a linear ingredient, I'm gonna kick around overlay and you see here you can click here and now I'm a describe darker without making the most Michel doctor. That's what it was dark enough, okay. And so I'm happy with that and I'm gonna click and drag and make another one here putting back overlay. So I see what I'm doing. Just wanna really get the focus on the most. Let Michelle and not on. So, you know, that road is kind of nice, but it's not the nicest road in the world. To be honest, I have seen better. I have seen better. I'm gonna make this darker and I'm gonna go here and you see, here the sun was kind of shy Was like, Oh, I'm here. Don't forget me. So I want, you know, doing a mash to the sun. So I'm going to do a big red jewel circle right where the sun is and I'm gonna go here. And so the way the regional circle works is exactly that the NEA great in anything you do here if you are on the effect on inside for is, for example, So if I boozy exposure, it's only happening inside of the circle, okay? And you want to make sure that your feathering is really high because if it's not, know what's gonna happen. Let me take the overly out. That's very natural. See what that looks really clean. No, it does not. So you want something You don't want people to go? Oh, you spill some water on the photos online. Okay, so, you know, dodging and burning is a technique that has existed for so long. I've studied locked the work of Ansel Adams Enrica. T. Bryson. They've been doing dodging and burning since it was invented the same date and photography existed almost and the way that they didn't have light room and photo shopped to do it. So it was really hard because they had to use dodge tools. And anyway, that's all I d. I've got, like, a lame torch, and I'm lighting my photo. But where is the son? I want to bring the son back in. So yes, I'm doing exposure. Yes, I'm gonna add some yellow. And yes, I'm gonna add a bit of magenta and a bit of saturation, All for the price of one all happening in one good circle and something you're going to small in something that you can go a large because sometimes the sun is very large, you know, and it makes a difference. You know, You don't want to overdo it. But now you have a great and between blew in and it's got you got to stop until the point where? And I'm giving this example of time where yet you're shooting the photo. The promise your eyes is gonna adapt Is this so you're you know you're going to think it's it's not enough which too much. The only way to know this is to put your attention on something else. Go to a black and white and then come back to this photo and then you will go. It's too much or it's not enough. So for now, for me, it might be, you know, it looks good to me. Might be. You know, I might say something totally different in truth in minutes, but I kind of like it so far. So now that I've done this, I'm pretty happy with this. You can click on the hand to go back to the basic menu, and you know, you can go here and say, Oh, let's go to the second panel and it's playing running with the shadows. Maybe make this a little darker. Yeah, and you just play around with it and see what it does to your photo like names don't matter. I'm not going to tell just one lights. Maybe make it a bit brighter here. And if you want to see the before and after, you can present P later and you see the before and after from the start so I can do this for hours anyways. Details. I'm gonna go here at 100%. I'm going to zoom him and look at the details now because it's an HDR. You see, I I still get a bit of burn here, but it's quite decent, you know, some of the detail. So I want to do my sharpening. So I've got this good old former that where sharpening is, whatever I do here in limine, INTs is gonna be deducted from the 100 number, and whatever is going to be left is going to sharpening. So meaning, for example, here it's a 100 days of photos, it doesn't have much noise. So I'm going to just go 10 on the nose reduction. So and so I'm gonna go a 90 because you know what, 90 plus 10 because 100. Now, why am I doing this? I have no idea. I've been doing it for 10 years. It works great for me. This one is an old canon five D mark to see it's kind of over a sharper now. That's because we didn't is a masking. So if I hold on the option key and then click on the masking, I go to the right. Anything which is black is not going to get mass. It's not gonna get sharpened. The result is that you know, you don't have nose in this guy, and it's much more clean there and voila! So I'm gonna go here. Now you see here there's a limit of blue here, little blue here. This is what we call chromatic aberration. Very popular back in the old days off Canon five D, Mark two and no. 70 40 meaning meter lancers and lances from a few years ago. Looks like all the brands have done a lot of work because I find, like, even with cannon now, I found a lot less chromatic aberration, but it used to be a really big issue 10 years ago where it's a big issue if you're shooting with a much, much cheaper camera. So you can go here. Two lens correction and you can click here on remove chromatic aberration. And what that's going to do that is going to remove chromatic aberration, which is crazy if you think about it. So I'm gonna click here. You see, that little blue fringe is kind of pretty much gone or not yet here. I mean, it's very shuttle, but if you do a big print and you got a big blue friends there, you're gonna go. I should have clicked the chromatic aberration. So just do it. Just do it like Nike says, Just do it. Okay. On about Professor Correction, let me show you this into a full screen mode fit into view on about prophetic elation. And so that's gonna take a bit of the vignette ing that's there. I'm sorry. I'm laughing at my own jokes. That kind of stupid. All right, so in about four calculation is going to take care of the vignette ing now. Sometimes it's good to have you needing So sometimes I wonder about the profound question cause I like the what it does to the lands, and I go back here and and as I do, add back divinity were supposed caffeinated because I liked the idea off, like, really focusing the center of the photo. Okay, and that's kind of good. So again, to be sure that before any after not exactly the same photo, the only thing that's kind of running the foot for me is the people, especially this planet was standing there. So what if there was a software that could do that first thing first? You need to make sure you click here on what we call the workflow win options. And you want to make sure that opening finish up as smart is not checked because for what I'm about to do, that cannot be done on the spot object. So you wanted to rest arise because I'm going to raise things and if it's monitored, economy racing. Skube pixel based. So I'm gonna take OK, because I like what I did. It's kind of crazy and saturation, but I'm a little crazy, so why not? You know if you think it's too saturated days a slider and look, I have not even touched vibrance and saturation, you know, night time after sunset, the colors gets really saturated. Just walk in the street at night and like the reds and the yellow and from the lines are really, really vivid and sometimes blue. So it's this is how it is. So hoping image. And that's just some clean up some fast times. This is not an extensive tutorial on you know how to ah, you raise the lemon and photo shop. So here I am, in photo shop, you have different work flows. I like to work with the central off photograph E, but essentially is what I'm going to choose for this one. So if you have foot Sharpe CC, just click on the Central in its right there, and what I want is layers. I don't want to do anything in that first year. So I'm gonna right click and drag and drop this photo on this layer show. I don't work on the original. And the first thing is, I want to get rid of this gentleman here. What are you doing in my photo? Why are you reading this? Shots? What have I done to have you here? Okay. And for this, there's many ways to go about this. One way is you can take the last little. There's so many ways to remove things in Photoshopped that it's not even funny. But I'm gonna try one. So I'm gonna make a little selection around this man really fast. So you get a selection. I'm gonna put the feathering of around five peaceful meaning that selection is not gonna be super crispy. Clear is gonna be a little feathered. And I'm gonna goto press, enter through that it takes into account. I'm going to edit fail, and I'm gonna feel that feel that was coming aware. And I always go with a little prayer. Oh, and so commend Z to undo so and every time you do it, it's gonna give you a different result. It's like the lottery, everything you play. It's a different result here. It's the same thing. It's kind of follow, but very some issues. But it sort of deep some basic stuff, you know, that come in deep. So no, but that was the biggest problems I'm gonna ask for stem tool. Or you can click on the stem toe icon whether you would like, you know, to use shortcuts in odd and the way any tools unfortunate works is you press a control and option key. And if you click and you go left or right and make sure to a bigger or smaller up and down makes it very, uh, 100% capacity or their present Very smooth You want smooth, Smooth is what you're looking for Make it smaller and you see that side work is kind of weird And I'm gonna s so I'm gonna stem to I'm gonna click on the option key and I'm just gonna click and you see it does a preview is gonna copy and pace wherever I click on the option key over there So click one click It's much better already and ah, here's something we had happen there too. So I'm gonna click option here and I'm gonna try to align it on Whatever is going on And it just for here And you know, if I don't think anybody is gonna notice So now the main guy's gonna gone and something is we always the lining. But I don't think anybody's going to use that. I'll give you a $1,000,000 if you notice I raises getting not you because you've seen it. Okay, the next time I'm going to use to take out my friend Scott Kelby. I'm sorry, Scott. Love you is the spotting brush tool. I'm just gonna paints. Cut with it. Prades using the same technology did. Okay, so I have to take the stem tool asks for cental and sort of corrected. So I'm gonna click here and and maybe clean that up a bit. Something is weird here, but, like is the texture on the floor is so random? That's like, Oh, nobody's going into that. But if you really about this year, you can always use a little stem tool to put some line back here, you know or not. And its student something here. So J for this. So stop eating Vegetable is really cool because all you have to do is brush and pray, brush and pray. Now that's a lot of people, and then you take the stem tool and you correct it. But because I'm live, I'm gonna do it really, really fast. But you get the idea. It desist, as I said, of course, on removal, removing objects. But you know there again before and after, you know, it's still a nicer image
Class Materials
Serge Ramelli Special Offer
Ratings and Reviews
This was a good course if you want to know how to improve your photos using post processing features in software. He does show you how to combine a HDR but that is all. Very little how to take the HDR photos and what to look for in the photos when taking them. There was only about 10% HDR. The tips on how to bring a photo to life was good, but I was hoping that the HDR was more covered since that is what it was about. So I recommend it only because of there is good information on post process, not about HDR.
This is not a beginner's class. It's not an automated process where the program spits something out, but it's a great approach to using photoshop to give you a fabulously realistic approach and his personality is A-okay... I enjoyed listening to him and seeing things I didn't think to do when I was working in photoshop hdr. Photomatix, Nik, et al, can spit something out, but in Photoshop, you have more control with the outcome and it will be more realistic.
Student Work