Creating a Successful Wedding Photography Business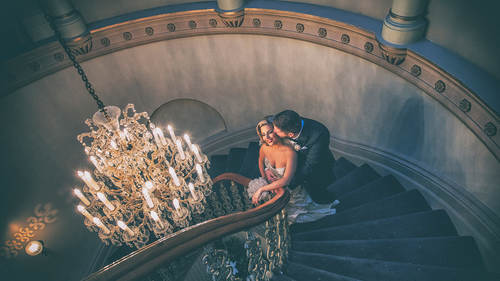 Creating a Successful Wedding Photography Business
Lesson Info
Bride & Groom with Bridal Party at Location
Creating movement again. Okay, let's get one without the girls. (women chattering) Can you all come over here, behind me? Everyone behind me! (car motor runs) (women chattering) Just look at her. (women chattering) Okay, nice. Okay, nice, get closer! Give her a kiss on the cheek. A real kiss, come on please, more! That's it, beautiful! You're married! (women cheering) Yes, that's gorgeous! (group talks quietly) (women chattering and giggling) Start coming toward me, slowly. More looking at each other. Now look away, that's it. Kick your dress, kick it. Oh, sorry. Beautiful, stay there, darling. Can you move your arm, and lean forward towards her. That's it, please don't look like a Tarzan! And you're not doing the dragon! (women laughing) Okay, that's it. Please come forward in front of her. Make a circle around her. Yes, take a walk, take a walk. Just leave her alone now. Look at his eyes, he's killing me! That's it, perfect! Danny, move away from me. Stop, that's gorgeous...
, Danny! Okay, Chris, go behind her. And stop there, and look, come in there. That's gorgeous. Okay, stay there! Why? Just let me kiss you! (laughter) Perfect, beautiful! (laughs) I have done it today! Yeah, I was laughing that this is a big challenge, that this is a difficult wedding for me, you know? (laughs) Because she's a photographer also, and she knows exactly what she wants, so it's tough business here. It's not the normal bride that I always get. And it was stages, and I need to deliver. Girls, they look like they're working hard for me, but that's why they hire me. They know that it's gonna be a workout. I tell them to have a light shoes, and not to have pain, because we're gonna work out, we're gonna achieve. This is where I need to deliver a lot of pictures. And shots like that, you know? All natural. You know, Chris was walking around her, so that movement creates beautiful moments. Chris was very stiff, every now and then, "Chris move, shake, shake!" But by moving him, he became more natural. This is the idea. (cheering) Perfect, beautiful! Okay, stay there, guys! Pretend there's no one in the room, Chris! What'd she say, don't touch my face, aw! Okay, stay there! Okay, bridal party, let's quickly do a shot with you guys so we don't forget you. Okay, just quick, quick. Okay, that's it! Two girls over this side. Ladies, can you push to Chris, forward? (women chattering) So, you're a married man, now! (laughs) So, both on the left and the right? Yeah, mixed. How close do we need to be? This is more traditional shot, so mix with the guys. With the right couples, or? No, do you want us in the right couples? I think we should have the right couples, yes. (excited chattering) (giggling and chattering) All right, all move forward. Okay, can you move back from this side, guys? That's it, Danny tilt slightly towards Chris, that's it. Perfect, beautiful, okay! That's great, let me take out, maybe adjust that light, all right. Now everyone, big hug, big hug! (cheering) Movement, go, hug, hug, hug! That's it! We can't bend! All stretch! Yeah, that's it! Perfect, yeah, that's it! Rachel, I want those face covered, that's nice! (laughing) Talisa, you're doing a good job! Thank you! (laughing) Okay, that's great! Okay, now let's get, quickly, the girls. (chattering and cheering) Girls? Yes? Can I have one of you over to this side, and one of you? I want the height. Guys, perfect, that's great! (camera shutter snaps) Okay, now let's get, beautiful! Stay there, perfect, okay. (camera shutter snaps) Beautiful, and Chris, take a step forward. Yeah, nice, and guys, come on, give him a hug. Go, go, go, go, that's it! (camera shutter snaps) Perfect, that's good, okay. (laughing) Okay, this is a session, it's one hour I'm shooting, so this is where I need to get a lot of variety. So continuously getting, I use a lot of wide angle lens also to capture the place, the environment we're in. The bridal party, I kept her there, because my only light source coming is from there now. I don't have any natural light, so I need to take as much as possible advantage of the light before we move somewhere else. It's going fast, but I have to grab my pictures. Get the guys, and now I move inside. Turn around forward, not too much. (women chattering) (camera shutter snaps) Walk over towards me, look over there. Okay, that's it. Kick your feet through your dress. Okay, look over there. Chris, come forward just a bit. Not too much, not too much. Don't take too much. Danny, just come forward, that's it. (indistinct voices) Danny, that's it Danny, perfect! Look here, please, Danny! Okay, everyone stay right there. Perfect! (women cheering) Beautiful, and another one, come on, movement! Put your flowers down, they're covering your face. Okay, sorry, one second. Do the splits! Okay, that's it. Turn this way, girls, beautiful! (camera shutter snaps) This way, this way. (indistinct chatter) That's it, okay, Chris, that's it! That's it beautiful. Okay, Chris, gorgeous! Okay, kiss, kiss, kiss and look here now, both of you! Yeah, that's it. Danny, come towards me, sweetheart, towards me, that's it. And Chris, head's closer, head's closer, that's great. Okay, now I've lost the light. I've lost the light, really, the light is gone. It's winter. There's no more light, so it's a flat light. So the reason I moved them in, under the arches, is because when you get flat light, you need to create a direction of light, like a window of light, like a studio. So by moving them, there's no light coming from the top, so it creates beautiful shadows coming into the picture. Let's see, you see that's beautiful light coming, and hitting her face. The girls coming into the shot. You see my ISO? Again, it's 1600, it's a very low light. I still want to use the daylight. Why do I use the daylight? I don't want to lose those beautiful details of the place. We've gone to such a beautiful place. If I add flash there, I'm going to create harsh shadows, and most probably lose the background, so I'd much rather use what light I have and get the results. One 25th of a second, f/4.0, daylight. And look how it's soft, but it's beautiful. Look how beautiful the light is. Rembrandt lighting there. It's not a studio, but it's there. And again, this is under cover now. We're not on the outside, so... And create movement again. This is what I love to do. I create the posed pictures, then I'll say, "Come on, move!" So she's moving, you know? The movement of the flowers, and another movement, her back. This continuation of movement, there'll be so many beautiful shots. And then, bring the groom into the picture. Of course, of course, don't forget. Don't ask me why the groom is not there, because there'll be a lot of pictures of the groom, also, individually. The groom is as important, but I love to show off the bride. (laughs) That's what sells me, not the groom. But again, romantic shots. This was where the veil, I was holding the veil and he was hugging her.
Class Description
International award-winning wedding photographer Yervant explains how to make your wedding business a success from capture through print. Before you can take great images, you need to build a strong relationship with your clients. Yervant guides you step-by-step on how to foster that relationship with your clients, interact with the entire family on the wedding day, and how to piece together their story to guarantee a happy client who's excited to make a large purchase. Utilizing a real wedding, he'll break down every moment of the day from portraits through reception. You'll follow Yervant through his post-production process and album creation to help you maximize your product sales.
In this workshop you'll learn:
Capture techniques for the bride, groom, and wedding party
How to work quickly on location shoots to keep your clients happy
Editing and retouching techniques in Lightroom® and Photoshop®
Album layout and design
Monitor calibration and printing techniques
Being a wedding photographer starts with a passion to capture your client's love story. In this course, Yervant will share his secrets for remaining passionate, relevant and maintaining a thriving business during his wedding career.