Working with Talent
Forrest Mankins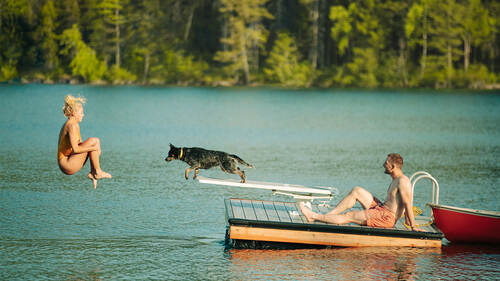 Working with Talent
Forrest Mankins
Lesson Info
9. Working with Talent
Go above and beyond with how you treat people, and you'll make new creative relationships that put you on the path to creating better work than you've ever made.
Lesson Info
Working with Talent
So what happens a lot with new photographers or with photographers that are new to shooting with people, is they get out to a location and they start to think about everything that they need to be doing. Where to stand, what lens to use, settings. They just start thinking about everything else and forget that their model still has no idea what to do. This puts a lot of stress on any person in front of the camera, whether they're a professional or not. It creates a tension that, once again, is gonna be apparent to our viewers. What we wanna do is walk our model through the shoot. So I might say, okay, this is the idea. We're gonna get you portaging a canoe through the woods, so I'm just gonna walk through our location with my camera and get a quick idea of where I want to be and where we'll have you. When I do this, I'll usually have a zoom lens, like a 24 to 70, or just any lens you're familiar with, and I'll walk to the area I think I need to be in and see how much I need to adjust. T...
hen I'll envision where the action needs to happen within my frame. And finally, I'm gonna go back over to my subject and say watch me do this action that you'll be doing. So in this instance of our portage photo, I'll give pretty specific directions, and I might say, so you'll be standing here, right where I am, and as I'm walking, you'll be walking down this path all the way to here. And I'm gonna remind them that one, we're really only trying to get one good frame. So two, we expect a lot of wasted frames. And I'm letting them know what their role is to play and that there's no expectation to have every shot perfect. And the goal of this is to take pressure off of them and allows us both to get in a more comfortable and creative mindset. Another thing I do, depending on the shot, is just tell people to be normal. And that might mean you can look around, you can talk, if a mosquito lands on your arm, slap it. The role I showed you is just a baseline, and we aren't looking to recreate that perfectly, we just wanna see a human being a human in this. So now we both know what we're gonna be doing. My model knows they're gonna start at Point A, and on my call, walk to Point B, and that if a bug lands on them, they can shoo it off or they can talk to me, they can look around, and they also know when one cycle of this performance is done. They also know that we will likely do this quite a few times and that it's not downing on anything that they're doing. We're just accepting that when we're trying to capture images that feel totally real, we need to run through them multiple times to get that realness. So, at this point, we're gonna go ahead and run through the cycle a couple of times, and then I'll usually tell my subject just to take a few minutes while I look through the images. And for me, this creates space to actually take a minute without anyone waiting on me and lets me put all of my focus into identifying elements that I like. So, everyone knows what's going on all the time, and even if for the model, if that's nothing at all, that's a lot better than standing around and not knowing what's going on. And I think if we took a second and thought about how we might feel in that situation, we'd make sure never to leave anyone hanging. So, when we're talking about photos during a photo shoot, I always wanna start with positives. And if there are negatives, I try to address the needed change as a positive. So, I'll talk about things that I'm doing a lot and you'll see how it puts a lot of pressure on me which is where we want it. So maybe you're shooting sunrise and your model is a little static or stiff. I might say the light is super good right now, this looks great, but I haven't quite figured out where I'm trying to go with this photo yet. I know we're close to something good, but I'm gonna change a few things on my end while I work this out. Maybe you could just go ahead and walk out a frame and just turn around and walk back in whatever way feels comfortable, and I'm just gonna kinda watch through the lens and see if I like that idea. So I'm taking the pressure, putting it on me and my decisions, my ideas, and I think if you try that out, it'll still feel a hundred times easier than trying to make good photos after inadvertently putting the blame on your subject. And one last thing, while we're trying to keep everything positive, we want to build up as many positives as possible during the shoot. So I am being very conscious about periodically showing my subject the good photos we're getting. Usually when I get the first one that I like, I'll immediately walk over to them and show them and say look how good this is, this is awesome! And generally you see their entire demeanor change, even if they seemed comfortable before. So as you can see, this entire process is as simple as thinking about how you would feel in the other position and doing everything you can to make that as enjoyable an experience as possible. Go above and beyond with how you treat your people, and you'll make new creative relationships that put you on the path to creating better work than you've ever made.
Ratings and Reviews
A lot of philosophical insights but not much of practical tips to use! I love Forrest Mankins photos and youtube channel. I signed up for his workshop to get a bit more of an insider perception, which he delivered in his own style and which is great. However, at the end of the workshop, I have a hard time to really feel like it worth it. Maybe I was expecting too much of technical, really hands on tips. The whole thing is good overall, don't get me wrong but not as much useful as expected.
Creating a Moment Overall, this workshop had a ton of great insight into Forrest's process before and after creating an image. I learned a lot and really enjoyed the points he touched on with working with models and teams. I never had a workshop go into these sort of important details that forgotten at times. I wish the workshop had more "in the field" video content as it tended to get a bit cumbersome watching Forrest talk at the camera over and over again but regardless I definitely learned a lot and would purchase this workshop again in heartbeat.
Student Work