Crochet Maker 201: Hats
Class Introduction: Crochet Hats
Vickie Howell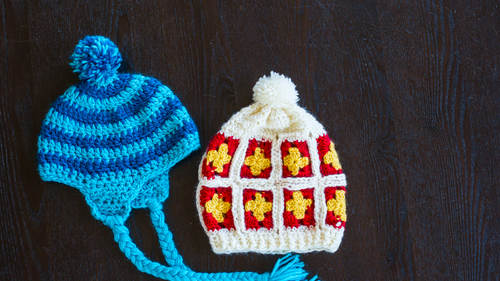 Crochet Maker 201: Hats
Vickie Howell
Get access to this class +2000 more taught by the world's top experts
24/7 access via desktop, mobile, or TV

New classes added every month

Download lessons for offline viewing

Exclusive content for subscribers
Lesson Info
1. Class Introduction: Crochet Hats
Lesson Info
Class Introduction: Crochet Hats
Hey there, I'm Vicky. How will welcome to Crow Shea Maker to one hats. I'm so happy to have you here. Because if you're taking a to a one course, that means that you are already hooked on Crow Shea and I kind of dig that. So maybe you have banned making scarves or wraps or other things rectangular. And now you're really ready to move on, Teoh Three dimensional items or things worked in the round. So we're gonna make two very cool hats that are also very different in construction. So by the time you're done with this class, you're gonna feel super solid that you have seen head perspective from all perspectives. So we're gonna be making a couple. We're going to start with this Tobagan Super cute. It's done with a double strand of yarn. So I'm gonna show you how to do that. We're gonna talk pom poms and ear flaps on these cool little braided ties. Then we're gonna be making this little granny square Mama jamma just so cute. Um, one of the producer said it looks vaguely like a tea cozy. I ...
think it looks like an awesome hat, but whatever. Um and this is made actually flat, and there will be picking up stitches and working in the round. So, at tennis skills, I'm gonna show you to not one but two different ways to make pom poms because pompoms frankly make me very happy. And we're gonna have tons of fun. And you're gonna leave this course with two really cool, totally doable D I Y hats that you're gonna want to make for yourself and all your friends. And you're gonna keep this on your gift. The list. So, uh, what are we waiting for? Let's get started.
Class Description
A creative practice such as crocheting is best learned with others, particularly as your ambitions begin to outpace your technical knowledge. When your only method of advancing your skills come from flat diagrams and instructions in a book, the prospect of making new garments can seem daunting.

Master crafter Vickie Howell will help you visualize and create beautiful hats in this fun, informative class. Join us, and you'll learn:


How to crochet a toboggan hat and a granny square hat

How to crochet ear flaps and braided ties for your toboggan hat

How to crochet the crown and ribbed brim for your granny square hat
It can be hard to set aside time for your creative outlet, and even harder to put time and energy into doing the research and legwork to advance your skills. Vickie Howell turns this formula on its head. Your craft should be your inspiration, and learning new techniques should be fun, attainable, and energizing.