Crochet Maker 201: Hats
Seaming Together Granny Squares for Hat Body
Vickie Howell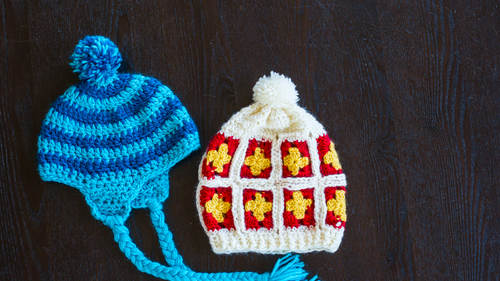 Crochet Maker 201: Hats
Vickie Howell
Get access to this class +2000 more taught by the world's top experts
24/7 access via desktop, mobile, or TV

New classes added every month

Download lessons for offline viewing

Exclusive content for subscribers
Lesson Info
9. Seaming Together Granny Squares for Hat Body
Lesson Info
Seaming Together Granny Squares for Hat Body
all right, now, we've totally finished the body of our hat and we're ready to do the band, and this will be the part that will keep it nice, snug as a bug on your head. So we're gonna join it. Really? It's exactly the same. So just pick a side, any side, and we're gonna start at a seem and we're gonna join the yarn with a slip stitch. And again, we're just we're keeping with our are the same color that we seemed with I'm gonna pull through and I'm going to chain too. Okay, So the chain to is just to give you the height of 1/2 double crush A. But it's not actually gonna count as a stitch when you count them. So we're going to half double crochet a evenly around all the way around. And you want to for this because we're gonna be working with a rib. It's important that you get a certain amount of stitches, and so we need to get 54. So, you know, you may have to fudge it here or there. It should work out, but crush a is one of those things that requires just a little bit of intuition if so...
mething's not perfect, just, you know, treated as an art form and just make it work. Could be your Tim Gunn moment right here and now.
Class Description
A creative practice such as crocheting is best learned with others, particularly as your ambitions begin to outpace your technical knowledge. When your only method of advancing your skills come from flat diagrams and instructions in a book, the prospect of making new garments can seem daunting.

Master crafter Vickie Howell will help you visualize and create beautiful hats in this fun, informative class. Join us, and you'll learn:


How to crochet a toboggan hat and a granny square hat

How to crochet ear flaps and braided ties for your toboggan hat

How to crochet the crown and ribbed brim for your granny square hat
It can be hard to set aside time for your creative outlet, and even harder to put time and energy into doing the research and legwork to advance your skills. Vickie Howell turns this formula on its head. Your craft should be your inspiration, and learning new techniques should be fun, attainable, and energizing.