Design Surface Patterns From Scratch
Bonnie Christine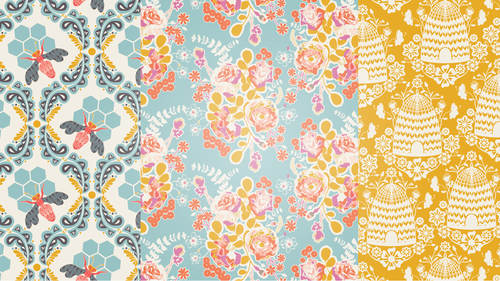 Design Surface Patterns From Scratch
Bonnie Christine
Class Description

Short on time? This class is available HERE as a Fast Class, exclusively for Creativelive subscribers.
Did you know that you can turn your sketches, drawings, and doodles into patterns? Join Bonnie Christine for an introduction to creating patterns to use in your very own fabric prints, stationery designs, website backgrounds, cell phone covers, and much, much more.
This course will take you through the process of working with Adobe Illustrator to create digital versions of your artwork. You'll learn tips and tricks for working in Illustrator and how you can use the software to create repeating patterns of your very own drawings. Bonnie will guide you step-by-step through the process of transforming sketches and tracings into vector art which can be used for an endless array of printable and online projects from customized stationery to computer wallpaper. You'll also learn how to assemble your collection of designs into a portfolio you can use to impress potential collectors and buyers.
This course will lay a solid foundation for those new to Illustrator and open up exciting new possibilities for people already familiar with the program. If you are ready to bring your drawings to life in new ways this class is for you.
SOFTWARE USED:
Adobe Illustrator CS6
Class Materials
Desktop and Smartphone Backgrounds
Jouney to Becoming a Surface Pattern Designer
Color Palettes and Pattern Mockups
Math Made Easy with Rotate Tool
Industry Resources and Supplies
Ratings and Reviews
I am so glad I took the time to sit through all 3 days of this course. I have been to hour long classes that I can't wait to get out of and this one I sat in for 3 days and I am wishing it wasn't over. I take a lot of continuing education classes and am always trying to learn new things and I have to say this is by far the absolute most informative, educational, inspiring, and motivating classes I have ever taken. Bonnie Christine was an amazing teacher. She took the time to take us through all aspects of the process and even beyond showing us so many things that can be done with everything she taught us in this class. I think she did a great job with the class, was easy to follow and is someone I would love to learn from again. Great job on everything. I would recommend this class to anyone who wants to learn about surface pattern design and Illustrator. Great job to everyone involved in putting this course together!
Awesome awesome awesome course! Thank you Bonnie! Thank you Creative Live! I have learned so much... so much great information packed together in one class. I am so glad I bought the course so I can rewatch it any time I need to.
I'm about halfway through my first viewing of the course and I have to say, its been electrifying! There is so much quality information here, its an excellent starting point, and I do think I can start working towards a career in design now. It also makes me want to find more information and courses in the art and design area. Bonnie is such a joyful, honest and enthusiastic instructor and really, it feels like she';s hosting an amazing party for her friends. Thank you Bonnie for doing this course and thank you CreativeLive for pricing it so affordably
Student Work