FAST CLASS: Design Surface Patterns From Scratch
Bonnie Christine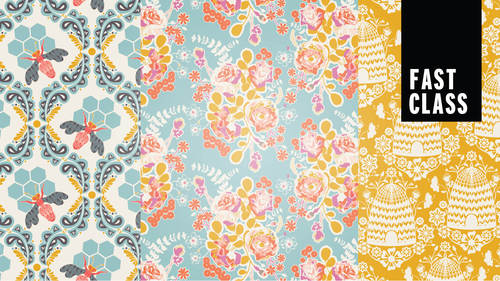 FAST CLASS: Design Surface Patterns From Scratch
Bonnie Christine
Class Description
FAST CLASS:
Try a Fast Class – now available to all CreativeLive subscribers! Fast Classes are shortened "highlight" versions of our most popular classes that let you consume 10+ hours in about 60 minutes. We've edited straight to the most popular moments, actionable techniques, and profound insights into bite-sized chunks– so you can easily find and focus on what matters most to you. (And of course, you can always go back to the full class for a deep dive into your favorite parts.)
Full-length class: Design Surface Patterns From Scratch with Bonnie Christine
SUBSCRIBE TO CREATIVELIVE and cue up this class and other FAST CLASS classes anytime.
Did you know that you can turn your sketches, drawings, and doodles into patterns? Join Bonnie Christine for an introduction to creating patterns to use in your very own fabric prints, stationery designs, website backgrounds, cell phone covers, and much, much more.
This course will take you through the process of working with Adobe Illustrator to create digital versions of your artwork. You'll learn tips and tricks for working in Illustrator and how you can use the software to create repeating patterns of your very own drawings. Bonnie will guide you step-by-step through the process of transforming sketches and tracings into vector art which can be used for an endless array of printable and online projects from customized stationery to computer wallpaper. You'll also learn how to assemble your collection of designs into a portfolio you can use to impress potential collectors and buyers.
This course will lay a solid foundation for those new to Illustrator and open up exciting new possibilities for people already familiar with the program. If you are ready to bring your drawings to life in new ways this class is for you.
SOFTWARE USED:
Adobe Illustrator CS6
Class Materials
Color Palettes and Pattern Mockups
Desktop and Smartphone Backgrounds
Industry Resources and Supplies
Jouney to Becoming a Surface Pattern Designer
Math Made Easy with Rotate Tool
Ratings and Reviews
Student Work