Digital Printing using Adobe Photoshop and Lightroom
Class Introduction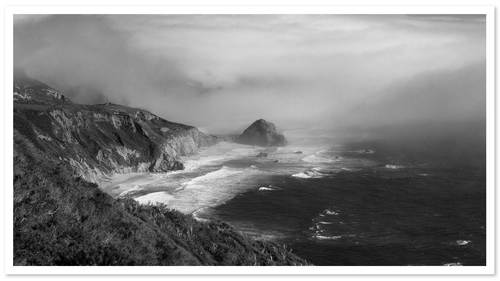 Digital Printing using Adobe Photoshop and Lightroom
Class Introduction
Lesson Info
Class Introduction
print of the photograph is really, really important to me personally, because I'm a person believes the photograph is the artifact, the actual creation of the object. But in addition to that, in all my years of teaching, if people came to me and said, What's the one thing I could do to become a better photographer? Outside of buying really expansive, expensive camera here, it would be the print. The print is the absolute fastest way to become a better photographer. There's a number of reasons for that. One is you actually get to physically hold the object, and what that does is that has a permanence to it. It has, ah, way of becoming something else than looking at something on the screen, because in the screen it's forever changeable. And the way our brains work we look at the screen, is we. We fixate on certain things, so we're fixing color if we're fixing objects of her cloning things out. Whatever we're doing, we tend to miss other elements. So when we get the print, all the sudden ...
were like, uh were that big white truck come from you go back and you look at your screen you're like, I don't see it. They were like, Oh, the big white truck Or when you print bigger, we'll look at some bigger prints. What looks like dust spots on your sensors Sometimes turns out that might be a bird. You're cloning out all the birds, so there's a bunch of reasons to actually think about the print. There's also a number of business things about how we see color, how we associate with color and things like that to become important. That all being said most of the time, when I work with people, they go to print and the print never looks right. And so they assume that it's not worth printing and they stop because they get frustrated. I'm not gonna do it or they have the classic. My print never looks like my screen, and somehow we've decided this print should look exactly like it should on the screen. And so we stopped printing for that reason. So getting past all of that, I think, is really important because, like I said, the benefit of the payout of actually getting to the print is significant. So what we're gonna do today is we're gonna talk about a number of different aspects of the print. And then we're actually gonna look at ways we approach printing and photo shop and in light room, both We're going talk about some of the pros and the cons of why you would pick one over the other. And then we're gonna talk in the end about how we actually go about storing archive. And our prints were how we sign our prints and things like that. And I've brought some sample prints we can look at from different sizes and different, different choices.
Class Description
Photography's history is rooted in the creation of a print. In this class, we will take a look at the tools and options you need to consider in both Adobe® Lightroom® and Adobe® Photoshop® to ensure that you get the best print possible. Over the course of the class, we break the printing process down into a few key areas in an attempt to simplify the process and still make sure that you get the best print possible. To make sure we start from the best place possible, we will touch on proper color management, paper selection, and other pre-printing considerations. We then shift our focus to Adobe Photoshop and Adobe Lightroom. We take a look at the tools and settings you need to use to make an amazing print. Finally, we spend a little time talking about final presentation considerations such as editions, signing, and framing.
SOFTWARE USED: 
Adobe Photoshop CC 2017, Adobe Lightroom CC 2015

Reviews
Great course! Daniel's ability to walk you through all aspects of properly printing is very helpful. His passion for the 'art' of printing is evident throughout this video. I am really excited and certainly more confident in my ability to enjoy printing as well. I hope that he develops further courses on printing. Cheers, Keith
Top Class information ! Thank you very much for taking the time to deliver a very professional and insightful first hand hand experience across to us - regards the final and the most important aspect - getting our images printed, we should all be printing more, and getting due value & pleasure out of our prints.. Many years ago i struggled with alto few books to make sense (not being in any form of print industry) to get to grips with this, wish these instructional / very helpful videos had been around then. thanks again CreativeLive & Daniel Gregory.. RP
This is a very good course, well-suited for both beginners and advanced intermediate photographers. It is very well organized. Daniel Gregory is well-informed and an excellent instructor. There's no fluff or wasted time in this course, just good solid instruction. Though I've got years of printing behind me, I learned a lot from this course and expect to view it again to pick up more of the fine points he addresses.