Diving into Photoshop Filters
Make Rain Out of Noise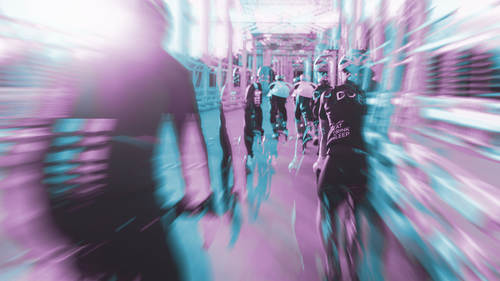 Diving into Photoshop Filters
Make Rain Out of Noise
Lesson Info
Make Rain Out of Noise
Since we're talking about noise, I'm gonna jump to this image and show you how we can make rain out of noise. Which, uh, might be surprising, because it's not what you would expect. I don't think so. First thing I'm going to do is make a new blank layer and fill it with black soled shoes at it. Phil Black. And now we're gonna fill it with noise. So we'll come up, Teoh filter noise, add noise. And this time we're gonna add 100% noise. Uh, we'll click, OK, and then I'm going to duplicate this two times for a total of three. So I'm pressing Commander Control J twice. Okay, so let's start with the flare here. I'm gonna press Commander Control T. And I'm going to distort this whole thing and increase it by 600%. And we can do that because it's noise and it's okay. And we don't have to worry about, like, pixels and resolution of the noise. So we've disordered it. Now we're gonna add a motion blur. This is just mind blowing. I think this is I think if you've ever seen Burt Monroy he is a He's...
an instructor he teaches Photoshopped to, and he's been around forever. And he does like photo realism and photo painting and realism. And like I just love the way that he does stuff and like, have you ever seen some of his tutorials? It's like, Here's how to make wood grain from noise. It's like that is so brilliant like it's basically the same sort of principle that I'm showing you here with rain, but it's just it's amazing to me when people come up with these things, I'm So here's rain. All right, so we're gonna filter, blur motion blur, and we're going to choose, like an angle and an amount, and it doesn't really matter, but something like this. We just want all three layers to be like, a little different. So we're creating like, layers of rain, and some are gonna be like more driving than others. So we'll put an angle of 67 a distance of 140 then I'm going Teoh, apply that and then I'm gonna press commander control l for levels and and drag the shadows in so that we have a higher I don't even I'm not gonna increase the highlights. I don't think I just want to knock out as much of the background as possible. E see where this is going, Okay, We'll save the big reveal for the end. Let's do the next one. Now we're gonna repeat the process, but this time instead of 600% will do 400%. So I'm just changing the width and height. So I press commander control T to bring up free transform. Now we're changing the, um within height to this time 400% and again we can run the same filter with If I press commander control F, it'll just be the same with same settings. But if I press command option or Ault control f, we get the same filter with the settings so we can tweak it. So that's just kind of nice. So do that. Of course, the most important part of this is this contrast adjustment and to just really make it like that. Okay. And lastly, we'll do this again 200% by 200% um, and then filter another amount, maybe really sideways. I don't know something like that. And again, Then we can put all of these in a folder. So I'm selecting the 1st 1 and shift clicking the bottom one, and I'm gonna group them into a folder by pressing commander controlled G that I'm going to change the blend mode to screen and it screens the black out. So now we have this rain, but to really randomize it and make it look less just like, Hey, there's a bunch of streaks of white. I'm gonna add a layer mask and on the layer mask and then to generate cloud So we'll come up to the filter menu and choose, render, maybe render clouds. And so this is the A mask. But it has this great effect of tempering all the rain that we just put in here. So and we could manually go in and tweak this a little bit more. Um, and maybe we want toe do a levels adjustments. We can like, increase the mood a little bit, but you can see now we have a rain. I guess it is kind of hard to see because there's so much cloud area, but not bad for a noise filter and the motion blur filter right
Class Description
When it comes to Adobe® Photoshop® filters, there's more than meets the eye. Beyond cheap tricks and quick fixes, Khara Plicanic will show you the powerful manipulations, effects, and more that one can do when utilizing this tool. Discover new uses for filters you thought you knew, and several you likely overlooked.
Software Used: Adobe Photoshop CC 2017

Reviews
Khara is knowledgeable, creative and has a fun and easy to understand teaching style. This class goes over some of the default Photoshop filters and offers ideas about how to use them for creative effects. My favorite new thing I learned was about displacement maps, but I'm looking forward to trying more of these out.
Explore More Free Classes
THE
CREATOR

PASS
Enjoy the free classes? Get 2000+ more Classes and watch it anytime, anywhere.
Get The Pass