Student Single Wedding Critique: David
Tyler Wirken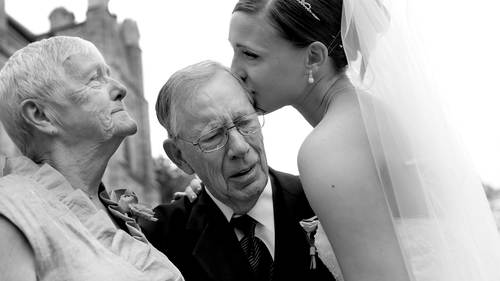 Student Single Wedding Critique: David
Tyler Wirken
Lesson Info
29. Student Single Wedding Critique: David
Lesson Info
Student Single Wedding Critique: David
The last wedding I shot with like specifically thinking documentary in mind so yeah hopefully me and give me a little give me a little give us and give the fine folks around the world uh no pressure a little insight about what you do and who you are little alright like fast okay? And because the more you talk the less critic you get right on dh then you know, just got to give us a little insight is kind of how you approach things okay? I'm david commoner a photograph in missoula, montana and spokane and washington but primarily trying to move to montana. This is a perfect montana wedding. It was outdoors, which most of them are in a river bottom in florence, which is just south of missoula really awesome couple she was very, very dreamy to shoot. She had a great personality. Um so we're looking for okay, I'm gonna keep talking. I mean, I mean, I mean, what your style oh, sorry. So I really like to concentrate on you come early to details. I like doing details have done a lot of susan s...
trip links courses. I never really well and that's just something that I like so I show up early and give them bonus coverage on that andi I'm transitioning, I would same or into documentary photography, I I feel like I'm ok it light I've spent a lot of time concentrating I'm figuring that out and now I'm working on taking that light and including moments into it so and then hopefully competition will be also coming at same time but yeah so documentaries where I'd like to go I do also like to do creative portrait so I try to a lot like at least an hour on the day of to spend time with them was just frightened exactly yeah and montana is a place where people are getting married in montana they want to see the background they want to see yeah that's the american way right okay yeah what's going on they're so cool um okay so you know overall you know this is this is uh I can tell where your strength already right and and your strengths are in the it's very common a cz well, they have this same kind of issue but I can tell where your call your call mist with your macro lens I'm doing details right? Because there's no the rings are going to yell at you right? Right everything the rings are going to move right? You're in control and I can tell I mean you're not like completely out of control on other things but I can totally tell just by skimming through these already that like you start to kind of mentally fall apart a little bit as the day ram stop in at that and getting closer to the ceremony and stuff like that I can totally tell that. Okay, well I can tell that because of your your your images become sloppier okay right and so you start off with these like really like I mean like right there right now right here, right? You know what that is as faras bring shots go right I'm not a ring shot guy right? I've always I've always been like, well they had them s o e need to take a photo of them for them but I understand why why why people do you know and so I mean that's that's great right but it's not perfect uh this image is not perfect right? Why we've got this line going through the back intersecting the rings it's not horror when we aren't really sure that the big stone is in focus or not that's the whole point in it it is it is and I have that image elsewhere I just thought this was sort of cool didn't learn it totally very montana yeah yeah okay, so what else? Uh find them find like that find the easiest probably cause you here's a dance when you're doing ring shots like this you have no excuses right? Like literally you cannot be like oh, you have no excuses like you are one hundred percent control of this is your idea these things are not going to move unless you put that on a really antler on a deer then I'd be really impressed right? You know I have a goal is here is here because you're sprinting through the field with a macro lens hitting that focus, right right? I would probably forgive you for not having the big big the big stone not in focus there, right? But you you literally have no excuse like this photo has to be absolutely perfect, right? Yeah, that makes sense. Yeah, so I like your idea right as faras ring shots go the way we win is like the best ring shot guy I've ever known like I would recommend thinking about ring shots in your own way okay, okay. And that might be hey, I love antlers, right? We'll put this on, you know, I don't know you, but but like he had this one that blew my mind it was a box of doughnuts I've seen that and like all the glaze rings from the doughnuts from people took donuts and he put the two rings and it was fantastic, you know, that's why I never did rain charges, I'm like I can't think that well and so so how do you make this perfect right? Most people like it's perfect is not perfect it's actually not perfect because this is not completely honored dead center right okay and it has to be right it's no different than what my dad was telling me when I was doing that electoral conduit and he's like you got to make it crooked to make it look straight like what happens with people is when some things in the centre if it's not dead center it either needs to be way off center or dead center right if it's if it's in between people are going to notice that they're going to think that that's wrong you does that make sense yeah right so it looks like an accident yeah, the other thing is of course that right there right so this is a mackerel right? Maybe it would have been hundred hundred mac right so f five yeah, I should have been you know I usually try to get it up tio like eight or nine really? Yeah, I want that from susan scribbling okay, so I have a different so she does amazing one maybe I e that you call her at sky bird but how do you critique this region? You know, just throw in the garbage um okay. Because with the macro like yeah, you need that much. Yeah, but is that is that is that when you shoot the ring at this angle or is that when you shoot the ring atmore of this kind of an angle you see what I'm saying is well yeah, because of that is that this angle you can't even see that the depth of field focused anyway, right? Right because if you shoot it at a higher angle then you would see you want to get more of this make sense yeah, yeah yeah, the reason I said that was is because you could have gotten rid of that that at two eight or something yeah, I don't know maybe you know, on the accurate like I literally got like this is part of the animal and I tried to work around it but it's not it's not it's not like a deal breaker ok in the end it's a ring so I should still give them the photos I've probably okay I mean, you know I wouldn't go I wouldn't hang up your your camera yet okay he's going to give it one more wedding and my other thing is I wonder if I would have not done both rings okay, you know what I'm saying? Because in the end that just becomes a distraction. You know? We know it's his ring, you know or like, you know, you're really cool is if you found like some like tape or something I'm like made her ring hang and like his ring is like going out stuck on top of it or something like that, you know, a zone idea right, right but the bottom line is you know it could be a live it better okay um and and again do you know howto really obtain your focus with the macro lens be emmanuel or fine tuning focus or the macro lens you get the focus and you just move your body back and forth oh yeah until you can see it until until the focus moves and then you get it right where you want it right? Right because sometimes the manual and you can't write with it where you want it and then you could move into scotch I usually just turn it and shoot the whole way through one of them is, um help you I learned that from tyler I have no idea what that's like so you know, the bottom line is is like you know so when you know you could just do a quick little crop on this and you know what I do on stuff like this to kind of make this work is take this this guide on it it snaps right in the centre centre so see that like how far off yeah, you say that now granted I'm a I'm a I'm a I'm a freak when it comes at seven I can notice those things you know? So then what I'll do is all is all try and just um uh don't try and move this it's gonna be hard yeah, you know, I think like, you know, you try and move that to exactly where it's so close, dude but you know it's just that little bit, you know, and and maybe maybe burn this down but have you ever tried lighting these? Yeah. He's a video did you think I just did on this one? I know it because that would help with your background, right? You know, it's like, put out put out a flash on the bottom or something like that with the magma or something like you? Fine tune that joseph pictures to fund check if he has ever heard of tvs. Yeah, he's really wait he's actually, like he's a friend of mine that, like, really got me on to this whole new, like, the cheetah lights and the mogelonsky really set me up with that and I'm really grateful and that guy can light like nobody's business. He has his own works, I was on lighting, which is incredible, but he could have seen you do bring shots and just, like, blow your mind. So it's kind of cool. So, you know, I'm trying to I'm trying to help you with that kind of it's ironic, the first picture you show is the fact that you hung a dress from the truth that you was that somebody else I hung a country yeah bride do not yeah why would she wait really wanted my dress on the tree today yeah I didn't get a pitch on it either I didn't get any pitch tree pitch come back either piccio the stuff that comes out of a tree and sticky stuff yeah risky there chief you know like why you know I just figured I was gonna have her laying on the ground later in the day anyway it didn't matter yeah but what you know what does this mean in the end for me I just don't know what this picture really accomplishes you know quite the athlete you know about it but if you want to do I'm going help you figure out better ways to do it okay let's e I mean I'm just doing what I think right probably knew that when you heard me talk to your dad about treason kraft get teo teo just so so anyway first things first is you gotta you know again you have no excuses you zero excuses on how to make this work right so what's the first I always do this I look away from the picture I look back at the picture and I look what's in the picture that is like that is distracting me, huh? Do you see anything? I don't like these trees exactly right or much of the one on the right exactly yeah society fixit shift around the tree shift around the tree what about the dress? Take it with me where you gonna go with the dress probably to the right okay what's that going to help hurt what's over here you think there was just blue sky over there oh, really? Yeah that's fantastic yeah, but it wasn't blue sky appear I would go ahead you would've what? Taking it out on photo shop no better not I wasn't even no vote but so what happens when you move it around? Well, I get in a worse position for the light that's why I put it where it is really you think so flavours coming straight on on that yeah, right yeah. So you want depth on that? Sure. Okay think about it right? Right. If you moved it, you're still gonna get the blue sky, right? Yeah, you can't go to the back side of a tree now you get the blue sky right? Right if you move it a little bit but the thing is that the tree's gotta be dead center in the frame right to make the competition really worked just not right now it's a little bit to the left I think I did that on purpose to help balance but you can't balance it there's no tree over here, right, right so no matter what you have teo so if you're shifting it, you had to make sure you shift enough we can still get between the middle get rid of these trees over here but then what happens now is that now that light comes at an angle right? And that light is going now accentuate all these dresses folds and everything more I'm saying right? And if you under exposed it by a little bit more just kind of under exposed by a little bit more that sky's gonna be even more vibrant and that dress it'll kind of pop out more you know, but let's just say you couldn't move it okay? Because here's a full point of exit see, I should've said it before starting right? So a critique he's not I said I said this one time foundation like it's a pretty for reasons not a high five right? But it's like it's like you gotta understand that like a critique I don't really care what happened, right? Right? I don't care if it was impossible, but it was impossible it doesn't matter right it's over now, right? I cannot change it, so what we have to do is we have to now think about how we're going to make it better next the next time, right? So but let's just say you couldn't move the dress on this one photo how do you fix the biggest problem that you don't like and you put it in the times about this tree first yes, uh I could get lower. Yeah, yeah, yeah, right. What happens if you get lower this my angle shift a little droplets all wonky a little bit right get the more I think I did that, actually. Yeah, right. So if you get further away in lower a little bit, then that khun save that a little bit. You get further away and then a little bit lower its not as extreme. Right? But yes, you have to get rid of that tree, right? This I can kind of deal with. Ok, but that one I can't okay it's driving me nuts. I won't take it in the photo shop. Can you can probably write, write, write is totally nothing wrong with it. But you know what? No, I agree it's better. I mean, you can sleep at night and do that, then I'm okay with it. Okay? Okay. All right. So anyway, so these are crime scene photographer pictures, right? Right, right, yeah. I'm just gonna call you xerox, okay? You know, which is fine, but, you know, I understand I do him, you saw me do it like on my video, yes. I walked by and I saw blueberries in the fields you have fast shot that blueberry picture yeah just like blueberries and blueberries, right? Yeah, you know, even I wantyou breastfeeding you know and so it is what it is, right? Yeah, you know, it's just that does not show up in your portfolio you know right but you know if you're gonna do it so what's the significance here is that her is a flower girl yes at her mom's wedding at her mom's and her mom's waiting herrmann second wedding I think who's flat it hurts from the wedding there where they did something they put in there did you put him there? I put it there to frame wasn't sitting on the table like that you know, I asked what I asked that uh why did I know that you did that? I asked you that because I knew you did it. Yeah, well they would never be sitting like never be nobody does that right? Right. Nobody takes their bo kay from their wedding did you sit in a box when in the water? People are afraid to put it anywhere, right? I mean, right, so you know, the problem I have with it is I don't care how you do it like you care last man you know you're in you're in minnesota right on tana tana whatever m one up there, okay you're in ones and I'm at home and kansas city, missouri I'm not going I don't care what you do, frank but it made me think and made me question the validity of it so if you're going to do it try to make it make sense and make it obvious that you did that okay does that make you know saying right so in journalism when you shot a portrait you would have to make sure it's a portrait like make sure people were like looking at the cameras there's no mistaking the fact that it's a portrait right kind of with this is the same thing okay? You're like dude, this is really insignificant doesn't matter but it's a mind set yeah, I know it's it's a mindset were like maybe I would pull the flowers out a little bit and focus on the flowers and make her a little bit out of focus okay or something I don't know I don't know I wouldn't do it again I remember setting it up not being too psyched about yeah yeah yeah yeah like this crime scene all right there's your as your sandals I do the same thing they shoot the shoes and stuff like that but at least try and make him very interesting if I would have seen her sandals on the floor right that I would have walked right over I would have kicked him right, you know, but that's how I found him I know it just it just yeah, pointless like don't waste your creative energy on this. Okay, right. I thought these were really interesting. I don't understand what's going on you're up here shooting down, right? You did not tell them to do anything. I'm hope no. Okay. That's good, good, good. But lindsay got here you're on your on your twenty eight to seventy twenty forty seventy um, because your shooting too tight we've resumed in too far because you you missed right? Right that's a that's a fail picture of me, right? Right it zit almost it's isn't close, dude so close but it's just it's a great idea and I love it. I love what's going on I think it's a fantastic way to shoot this. I commend you for that you were that close and because you were at forty seven if you're at thirty five, you would have had her arm even that because this is what makes it special, right? Right in that's what sex right now and quite frankly, if it was me, I would have had a little bit of an excuse is going to be like one thirty five mother todo can't like make myself go higher, right? You know I mean but you have no excuse right? All you do is buy this and you got that you know so always pay attention to what's going on around the frame right that's always important because these air so this is actually the best one this is if I would have shot if I had the situation I would have been like going nuts I only shot like five hundred frames get the one to everything that lineup on again had and this is going to haunt you but it's going to help you right because had you zoomed out this would have been a potential award winner I'm serious about that thank you because you but you screwed it up all right I know it's close it's fine for them but it's not it's not it's not good enough right because you cut off the hair on your butt see how that all lined up with those hands coming in yeah great scene great composition just get it get it think about that next time, right? Yep and when you're when you're when you're when you're not using zooms and you're using primes then you're going to do better at that kind of stuff because you don't you don't you have teo you have to make sure you had to make it work right okay so you love these little girls I did yep I don't blame you because they're great like this one's pretty fantastic it's a really great shot really really great shot I just hate all the tops of their heads you know but we're going to do and I wish his head wasn't looking down so he knew exactly what she was doing see that see that composition is not working it's all symmetrical it's all balanced and what you would want what you're praying for what you're like you know like incense to pray to the photo gods for is when that guy they say those little girls say something funny and he goes like this oh my god it's like you know that would be an amazing photo right? He didn't do it I don't know e but yeah so you know not bad stuff not bad you could make this so much better so so so so so much better um where where the problems I'm not sure what you're trying to show all three flower girls here she's just sort of playing around looking out the window that's it there's not really that image is never gonna come together okay okay why is that? I don't know exposure okay right so you're balancing the exposure here a little bit but this image is over exposed okay. See that light on her face she had to expose the light on her face, huh? You expose that light in your face you lose the other flower girls right? You see I'm saying right so then you just have to go because I did did anybody did anybody get a feel for that when they were looking at this picture that she was kind of ignoring the other flower grows that the whole idea he was trying to get across that that did that occur to anybody or did they just or did you guys just see of reflection with little girl making a funny face thinks it will yeah yeah there's sam saying so you gotta always think is this reading well right so uh my wife and my mom are like my my like sounding board fiction and they can't fear doubt and they then I failed you know? So the bottom line is if you had to explain your photos to somebody it's like a joke it's not funny right just didn't work so if you want to do this though but I see like this this is this is you know we don't need this anymore you know if you're going to go for the reflection go for the reflection shove your camera up against that picture on get rid of all of this crap okay exposed for that and then you get her other side of her over here right? I mean fine tune it you're not you're close but you're just not you're just going for it right that makes sense yeah yeah um lots of the girls better but compositions kind of yeah um it's all right it's over exposed three point two I think you're gonna be way better off if you get rid of that lens okay or tape it up but put gaffer statement thirty five okay don't allow yourself to zoom out zoom with your feet consuming with your feet if you want thirty five this background would've fallen out more okay right yeah I'm saying I think because you are because you have to look closer at that background further with you bad see in the end you were right here because the girls are interesting he sucks I mean he's peter tie on a lot of times, right? So there's your moment there's your moment and you're on the complete wrong position okay, what do you what's the background what's going on in the background? Nothing business business it's an iron which is right now that we've got people on the couch is we've got a tv court going through a girl goes head right, right you need to be like right in here right here down whoa yeah, right, because where's the clean background it wasn't that clean up there but on the ceiling yeah there's animals up here and there is a there was a second balcony up here it was cleaner than that straight up stealing what's on the straight up ceiling there's animal heads on the ceiling no, no no saying like right underneath yeah, yeah, right. There's animal heads on the wall. Right, but like, if you're down low and you put them up uh huh. And hopefully you can get like, them above love above to get some of the ceiling. Maybe I'm not saying down straight down, but maybe up behind him. There's enough of that quote in different areas, but regardless, I think that he's awesome in this moment is great. But if you were right here in the thirty five him him like this and the girls helping him, you see what that has to be? Because you got you got you got down like where his left knee is or just in front of that? This is right in front of his crash. Okay, okay, right. Because you're you're, you're actually losing all the faces. Uh, really face you have it's him. And if you go to over here, you guys are gonna get a little bit of her face, right? All of her face a little bit of her eyes, maybe. And then there's a moment I'm saying got it, ok, sure. Right, get in there. Okay, so I can tell what's going on like, you know, you're seeing these reflections, right, because you did it here. I think this is fantastic. Like it's, it could be better. It's close. Okay, but I really like the idea, right? Yeah, but you got it. You got it. And, you know, I'm I'm impressed that you swung for the fences there, right? Because because you you saw this. I don't know what she's doing she's, really? Anything but see, the problem is we have to really decide what's what's gonna be the best, right? Let's, that there's some great moments here, right? Look, there are is that her sister is just best friend. Yeah, yeah, but look at her face. I know, right? Yeah. And you miss that, uh, and she's got great expression here too, right? Then I don't know why we missed it. Do we miss it? Because we were really trying to focus on this reflection. That's. Why you stood in that position? Oh, yeah, yeah, yeah, yeah. So that's hilarious. You know, it was there was a lot of that character in the house, so I tried to incorporate it. I mean, it's, you know, you know, your camera used to be in the mouth almost like, literally like that. So I'm jumping around but I thought I hit that button and this is where my brain goes so that heads right here came in like a thief because the head has to be okay you never you never going to get through the teeth because there's nothing you know you want to bribe back there but that head has to be like like this big in the frame okay, you know what I mean? Okay, so I think what was happening was is that you were just this comer and I know is this is this sequential yes, yes, right. Okay. So quick you know the problem with that right her has got things coming into and out of it she's looking out of the frame moose not straight moose or elk and deer, elk and deer. I don't have a minnesota don't don't correct me. Okay, so, um just coming out of a corner bottom line is she has animals coming out of her head, right? I thought that was awesome. No, it's not okay. All right. Okay. It's like antlers that look like antlers, you know, like, you know it's great that those things are there, right? But separate them a little bit, so they're above and then she's got a queen's face okay, little awkward, okay, right, okay, now I know what is going on here see, this is what I that's why I wanted to see your images and I want to see multiple images from a situation I'm really glad you showed this sequence because this is exactly what I'm talking about ok where if I can look at your images and look at like things that you've shot like your whole take almost right I could tell what you were feeling and I can't tell what you were thinking right right and I can because I've been here I know this right? So I think what I'm gonna take a guess and see what happened so you walk over there and however little or much you I told him to be that's fine whenever give you walk over there they stand there and you go well that's a cool reflection right because you did that first he's right that first and then moments started happening right so then almost seven these two angel and devil pop up on your shoulders right? And the one angels like moment the devils like reflection moment reflection right? Okay is this kind of true because then you went over to the moment right? Right you because you went to try to get the moment okay? That yes and then you went back to the reflection when the moment stopped uh that is that an accurate assessment assessment of what you say? Yes probably just think I can I think so because you're like you're like you're like I see the reflection and you're standing in that position with reflection on there's moments so you gave up on that idea ran to the moment which is a good idea, huh? But at that point you might have missed the moments because you were we were waiting on the reflection on then you said and then you like what I got to go back to my reflection idea, huh? Right which is ok, but what I want you to do from now on is I want you teo to like, you know, unless of course you hire made a critique you you know you have to critique yourself all right? So you have to sit there and you have to be like, you know, um why break down your own process like why did I do that with me? Right that let this light writers start like why did I do that? So think about it might not be what you were thinking but this is what I'm feeling you were doing and I think in the end you have to decide what's more important is the reflection shot the important one or is the moment the important what about and I maybe channeling my thinking here? What if I thought I was going to get a moment in total election totally but then you then you should have stayed with the reflection okay does that make sense yeah so what happened was you try to do a whole bunch of things you ended up not doing any of it really well okay, that makes sense yeah, right because you tried to do too many things right? And I've been there right like oh, and then I almost said no like I get both of them but if had I just like made of one one commitment in one decision it might have been able to do a homerun okay, right you say that mean right? What about the moment shot that was in there is this one yeah, no bad charlie a moment now it's people smiling, smiling address but look at it look at that she's weirdly in that composed like like that I you know is that there's a picture frame coming in the back of that girl's head okay, it was a really great looking door back there it just you need to move to the right right if you moved to the right what happens? The head gets in the frame in this distance right here goes away right? You see that? Yeah, right ok, thanks so sick but you see I'm saying with this reflection all of this sucks, okay, you don't need any of that stuff, so why so see you take that away mm like how much better that looks can you guys see that there see that I would be I would be tempted to shoot whiting a vertical here because all this the way these things and you and you got it and you got to get lower to get rid of that huh? I think all that stuff has to be perfect right and that's why you got to shoot the bejeezus out of this nothing keep moving and just so you khun clean up all those problems you know so one person's I read one time that like photography is just problems all right all right just you know a good photographer I've read this somewhere I forgot the guy's name is a good photographer knows the problems with the photograph before he shoots yeah, because that's what I do I walk up the situation I see all the problems so then that way I can cite solving them before I start shooting right? You know? So you okay this helpful? Yeah here's your reflection shot I think it's really good. No thanks really, really good. I love it. Right um not tell me I'm going to be better and we all come together on your on its own no, but I'm not as impressive I'm just telling you right now I'm not as impressed because I knew what that girl was getting ready and putting the nail on she didn't she didn't stand there in that window perfectly by yourself did she know you put in there? Yes yes it's a great picture but to me it's like I don't know anymore okay that's just me right? Because if I saw this online or whatever and I'm like oh my god that's awesome scene right right that that's like risk taking yeah you know it's like I saw this the bride was getting ready over here and then I and then I saw this awesome reflection you know? And I made it all come together and I took a risk because I didn't I might have missed the veil if I went for this swing for the fences picture you know that's how I think I met a photographer really impressed me with that it's still impressive photo ok, I think you know for you you would you put it in your portfolio right? But to me it loses its got the eyes of that you know? I mean just think about that yourself, right? So to make it better she would need to be silly weighted down in this really clean spot. Okay, you see that because this silly where is still a pretty good silhouette but this still what's not quite enough alright, but I love it dude montana you know it's too bad montana, I mean it really it tells the story. It's a it's a great photo. Yeah, really great photo. But, you know, and I and I commend you for saying that, but if I was going to try and do it, I don't know how I would get there, but if you've got higher, then then she might go a little lower it if she could get in that space of dearly. Okay, so you're so you know where room was done. It's. Amazing. How fast? A half american. Yeah, right. Yeah, yeah, we're almost done. I don't have to be. Yeah. Yeah. So so, I mean, I'm just trying to give you some. Yeah, some. I wanted to see all your photos because I wanted teo. I knew I couldn't critique all of them. There's no way. Right in thirty five minutes, right? I mean, that's, why I do these online two hours, you know, because you can't. You can't get anywhere. But the thing is, is that I wanted to see how you were thinking. All right? And so what I can tell is that as you go through, it feels I can feel you getting further away from the people, except for this portrait time. You know, I had to consciously make that happen. Yeah, but I can feel you that the reset at the ceremony and stuff you're you're not you're not getting really close love this photo here love this moment, right? Like, man it's a is not there. You need to scoot over so more than ceremony wait for that moment, you know? And so just I can feel that you're I can feel that you're kind of kind of freaking out a little bit because you're in this position in front of everybody and because you see how kind of wonky everything is, how kind of tilted and stuff like that, but like, when you're shooting your ring shots, everything is perfectly like it is, right? Yeah. So that means that tells me that your brain is starting to, like, freak out a little bit. You're not paying attention to those things, right? As that's that's happening, right? So you need to kind of just, like, way talked about that. This next wedding, you're going to kill, dude, because we talked about how you're like, you know, I'm just going in there, I'm gonna go for it, you know, it's gonna be interesting, so I think that that's I can't wait to see it did you gotta understand me stuff I will absolutely well if they actually duct tape that dress would be great why don't rise my friends you know so anyway but you understand I'm saying like like I just I can tell that they just become sloppier and he goes on and I'm not that because you're tired or because it's a mental thing kind of holding you back from I'm not sure yeah right but pay attention to it the next wedding pay attention to what your feelings are the attention how your brand how you're you know on that video with me shooting I said it's time for me to reset and calm myself down I had to check myself before I wreck myself you know basically right so yeah but you know good stuff but I mean honestly I love the way you see I really do I think I think you're think you're for shooting for his little ways you've been shooting I think you're you're you're you're well on your way and you're doing really good I mean this this stuff up here is really impressive with these girls that's really impressive stuff so great yeah thanks any questions before we leave it is the size and can I have more yeah I was gonna be it what can you tell me about this here oh no yeah that was horrible yeah, yeah yeah this one right here. I love that shot. All right? Actually, I think that's really, really, really, really fantastic. Okay, she's looking for bugs, right? I don't know. I don't know what was happening mean. Yeah, probably. I doubt he's looking for what do you what do you think you're looking for? But I love it, right? Right. I think it would be better if you moved a little bit to the left. Go thiss and got this tree out of his butt. I don't see that. Yeah, yeah, if you so basically the way this works. Guys, if you move to the left, they move to the right. You move up, they go down, you move down there, go up, right. So you just kind of like to write that, and then just that and just put them in this little bit of space, maybe getting lower. You think because that's like a perfect background clean, but I think it's a great moment. Okay? I mean, if this is what you want to shoot and this is the seventy like, yeah, I make that black and white and put them on your, uh, any website. Okay. Great. Great school. Great. Thanks. We're good, thanks.
Ratings and Reviews
Tyler calls 'em like he sees'em. He gets it: capture the emotion, the expression, the feelings of a wedding without preoccupation with perfect posing, perfect lighting, perfect camera settings. An image of a father's expression seeing is daughter in her dress for the first time is far more important than trying to get it framed just right. Anticipate. Watch. Don't interrupt a moment. This is a great series to refocus on the true meaning of why we shoot weddings.
Recommend but with one big caveat. This class is useful in terms of his approach and mindset. I found it really inspiring in that respect. It's worth watching if you want to broaden your mind and make your wedding photography more interesting. Don't bother with this class if you are looking to improve technically, Tyler isn't a great technician and most of the info he provides in that respect is garbage and outdated. He also comes across as very arrogant at times and he's not a great instructor.
Tyler is not just an awesome wedding Photographer but a very good human being. Love the way he speaks, teaches and respect students and their work. I enjoyed each and every bit of this learning and learnt a lot. Thanks creative live and Tyler. Regards, Chethan Cks Photolab Melbourne|Australia
Student Work