Benefits of Two-Point Perspective
Jorge Paricio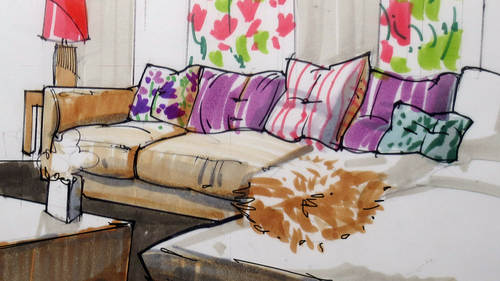 Benefits of Two-Point Perspective
Jorge Paricio
Lesson Info
11. Benefits of Two-Point Perspective
Lesson Info
Benefits of Two-Point Perspective
This is what we should be doing. We have two point perspective. Whenever you do an interior, you always have to stand looking at a scene without really crouching or kind of hovering in the space or on top of a ladder looking at the space, unless there is a very good reason. But it's not cover that you're standing. Um, there is no such thing as average person, but we can pick a height that a lot of people would have, and that would be five foot six inches roughly on. That's the height of these persons, All right, so when weeks when we extend these lines the same thing that we did with the other drawings, if I extend all these lines until they emerge, I'll get a vanishing point just outside my paper, okay, and then I can do the same thing on the other side. I know I switched colors, but let's get another caller here. I extend the lines. This is purple. I'm going this way, all the lines that are parallel to each other. I extend the lines and they meet into another point, another vanishing...
point over here. So I end up having to vanishing points. What if I joined them? If I joined these two vanishing points against what's going to happen, then this is a big discovery. If I am standing at a scene standing normally looking at the scene of roughly five foot six and I have to vanishing points, and if I connect them, then the resulting line would be your horizon line on that horizon line. And this is the discovery is in the eyes of the people looking at the scene, and this is what you want. All right, So this is something that we're going to cover in this class as well as one point perspective, one point perspective. It's kind of a simplification of two point where one of these lines found one of the vanishing points is parallel, so we have 90 degrees here. So these lines, no matter how we extend them their pilot to each other, they never converge into a vanishing point. But we only have one less use purple Over here. All these lines would go into a single vanishing point, roughly in the center of the room here, which I chose to place it kind of flow. All right, so and we can do the experiment of extending this line and issued also fit to that single vanishing point in the center of the room. All right, so one point perspective and two point perspective is what we're because we're going to be covering in this class. So yes and yes, on the others that I have shown would be knows would be a lot more difficult to dio.
Class Materials
Freehand Interior Design Packet.pdf
Ratings and Reviews
Creative LIve Why don't you re-do this class! Its a great subject.....get a new camera operator, who knows the concept of learning from watching.
Student Work