Drawing Hacks in Illustrator CC for Non-Artists
Erica Gamet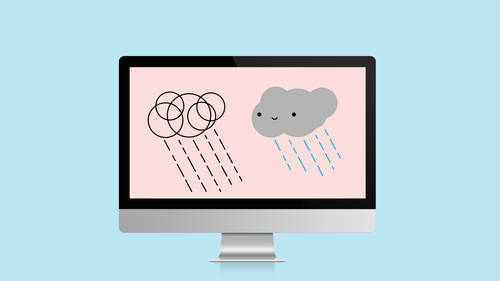 Drawing Hacks in Illustrator CC for Non-Artists
Erica Gamet
Class Description
Lacking in drawing talent? Illustrator's drawing tools have got you covered. Erica Gamet is an Adobe Certified Expert and in this class, she guides you through the basics of creating graphics in Illustrator. The ability to create your own graphics you can then use in your designs frees you from having to pay for stock images or worry about copyright issues. 
Erica will guide you through a series of simple drawing projects, including: 
How to look at images as a series of shapes 
Building images from pre-made shapes 
Creating custom shapes with the pen and pencil tools 
Using the Pathfinder and Shape Builder tools 
Adding color, gradients, and using Live Paint tool 
 Bring your visions to life, and create graphics you can use in any application, from newsletters to presentations and beyond.
Software Used: Adobe Illustrator CC 2017

Class Materials
InDesign Working Practice Files
Ratings and Reviews
Erica is a fantastic instructor. As always, she provides clear instructions with helpful demonstrations, all while covering *a lot* of material (i.e., good bang for the buck here). I also appreciate her cheerful demeanor and fun sense of humor. I have experience with other creative cloud applications, but I haven't used Illustrator much yet simply because I didn't want to confront the learning curve. After this class, though, I'm excited to get started. Thanks for another great course, Erica!
Very informative class for a total newbie like me, and Erica is delightful. There are some very basic concepts that I have to figure out for myself though since she did move very quickly through some of the steps, i.e., how she zoomed in and zoomed out, etc. Otherwise, I learned a lot and recommend it especially for newbies like me.
I wish there was a reply button here, so that I could reply with "Thanks!" Glad you all are enjoying the class!
Student Work