Student Shoot: Boudoir Ballerina
Lindsay Adler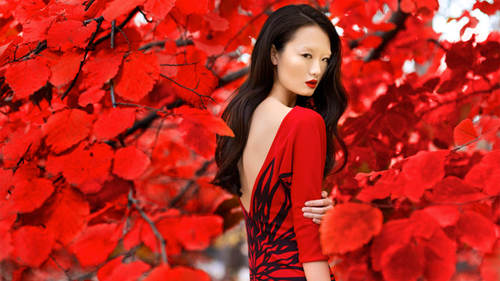 Student Shoot: Boudoir Ballerina
Lindsay Adler
Lesson Info
32. Student Shoot: Boudoir Ballerina
Lesson Info
Student Shoot: Boudoir Ballerina
Over here, where ramona set up, which is going to be a boudoir ballerina. Um, so talk about real quick, some of the pieces we have here, I get me things from becky mccann and vintage ambience dot com and a lot of it's, a french bedroom kind of feel and look and it's just a french dressing room kind of feel and look atmosphere to it. And I just wanted to kind of give her that boudoir ballerina feel not your typical ballerina didn't want the top not I wanted to have a sexy look, but not too risque. I just want to look elegant and beautiful, and she does. So what? Which way do thinking of shooting that scene yet, like parts of it were starting over here. So that's in the background? Yes, you're thinking over here here and look awesome. On what do you start with fifty and start with twenty eight? Um, I wanted to use your lens, baby, but it's been kind of crazy, so I didn't get a chance to ask you about that. I mean it and I just don't like practicing with them their home for well, how abou...
t after you do that once, once we're done exactly tio? I think all sharks go right you let me know how you need me to help and if you need this large piece of foam course phil uh we'll take a few shots and likely when I look at that she'll probably have to er probably to shoot on manual I shall manuals you know emmanuel's solution raw trick it a little bit okay and like a shooting and yes, the camera should focus on what it was that about did that smart? I don't know. Okay, okay, okay. So, um test a couple shots for explosion composition here. Okay? It's dark can I have that or all right? We're gonna probably be blocking your view, ok, wait, there should be fine I think good. And what do you shoot what you stand for aperture drop it down teo to point two location she had two point two and probably setting a focus point and we're over here again and shooting natural light she's shooting on manual because you're talking to trick the waiting a little bit that's dreaming good yes it's beautiful. So it looks like she's in like you said like a french who told something like that and there's a big bank of windows behind her in the room so it looks beautiful all right, so we'll just start out by her kind of sex sleep putting on her she okay, so yeah, I would get kind of right there and now what? I'm looking for his angles so we're off tests and c see if his pop up watch what I'm seeing here is right now I have a whole bunch of like, arm leg, arm arms it's all kind of bunched so you might want to even even though it's not how she might actually do it again yeah maybe extending the foot or crossing it over so it's something like that it's not all emerged yeah, so I think that would be a lot nicer and detail that I'm seeing as well. So that's a nice that's a nice details so to, um one thing I'm noticing as well also is kind of the flat foot on the ground maybe point to that other toe is well, uh something like that can you disappointed so it's that kind of just like soft I think that's good the way you just did it in your soft just yeah, just kind of lightly receptor and so when you move off of close up tell me because when I look what I look there is I think maybe more to the side like you can even turn her more that way because what happens it's four shortens your churches so you just see kind of like half of something yeah yeah like something turned like that turn a chair yes, as long as your body's not coming straight at us more at the side I was sure that yes better uh can you bring your back arm in the front as well even though it's not natural justin that yes try that except you're posing let's see? Okay, so I still have a problem with a for sure and so just do this tuck this took this foot back kind of they're here and then just look like you're reaching down at it. Um I feel like that's gonna be more elegant line and then maybe put that hand in your hair you have to fake pose something like that good better lines like a little better and you feel freedom overhand wherever you want like maybe put your hand on your knee for one good sense weakness and elegant just that beautiful you look beautiful by the way. Very pretty gorgeous sexy move this foot just out just a little more good perfect how you look if she crossed that foot over are now we'll give it a try. I mean, a lot of times if I need to eat this poser take a shot. If it doesn't work, you move on okay, put your hand on your catholic kind like you're down caressed it yeah, like caressing and rolls off with your fingers good, pretty I actually like this and sew in the seam to keep shooting but what else did you want to shoot her do you want her doing things on point and I don't want her doing things on point but I need her children so yeah you shoot this so you're happy when she you know ten more frames or something sure go for it I'm actually good with this are your friends okay so let's let's go on point so we can get the dramatic stuff exactly and then also like once we're done you can come back to whatever you need um he's working okay I didn't really know that those existed I think every day god take pain I did one val I class when I was in like kindergarten, huh and let's just say I only did one for a reason I was real bad just like stressed the brush so no worries okay, so where do you think you wanna have a little talk about it? Um I want her to do lines across the chair. I was thinking using the chair or the trunk and you mean just like kind of opposing ones like extension sending your leg sixteen year like over the chair uh because any thinking going to see from this single well this make sure because I don't know if you even like get up a little higher because you lose everything behind her with the chair so I don't know if you wanted it as like a background, but I definitely think starting with the chair is good chairs a starting point yes, we'll start with a chair and then we could maybe move it if it's too crowded because there is a lot so we'll see yeah, I tend toward simplicity because usually you know you have the more it can go wrong well, I have a trump flat and then we opened so okay just kind of went with it e her like I don't want her to get behind the chair and then maybe can interacting out of it, okay? Let's take a look things like that and then flipping your yes reaching down and then flipping your legs over the chair things like that I'm actually doing with these um I don't wantto hold them back, maybe let's move it over. Yeah, okay, but you better get your beautiful, beautiful, so pretty gorgeous. Listen, I love your expression, okay? So I'll stop you just one thing to take a look at that shot. Yeah, she read the book and read it. I don't care as much about that. I really am looking at that chair, so I think the fact the fat parts pointed toward you is distracting so went the fat part away maybe have the back coming you know more to camera so it's reduced yes so something like that could turn even a little more yeah so I think that will make that less of a visual distraction instead of and more like a prop she contract with its beautiful yes yes, I think that will vastly improve it. It is so weird shooting with this wrapped around me uh well um I also know you can take a break whenever you need. Yeah, like e uh so I wanted teo uh what good have they even even maybe even more yes, like closer to the chair yeah, come up a little bit. Yeah forward yeah um and if you need to rotate the chair, do it if you need to rotate it so you could do kind of a similar lane we can rotate even more if you want to do point and kind of put your foot up there pointed on the cushion. Yes, I like that taking maurin boudoir instead of just ballerina very where but uh so we'll just make sure and it's good because I like that the two tattoos other tattooed the tutu is black so it kind of we'll cover it see, I like that line very sexy c on this one I want you just to bring your hand that's with your long arm just kind of bringing it up on your shoulder yeah and it's kind of brush down things like that don't get a refund just kind of like throw yourself down and angle maybe um maybe do even on the uh have any kind of like this like on the chair so that leg is just extended out you can actually yeah and just one like that and then one just kind of just yes it okay but this is the same thing as far as the angle you're going to have her me saying you have this camera so bluntly so yeah maybe yeah if you can win a little ford or something yeah much better that's great that's beautiful like that so you try a bunch of different angles and kind of work that until it fits for you and don't be afraid to know we have the background there but you know don't be afraid to have it just a super soft suggestion in the background if you want to move closer and things hey look at me like missing very dreamy I want this I know where you are that light is really good do you uh gorgeous looking me trapper chin just a little bit okay all right so let me let me take a look I look in the back room I think so okay, so here's what I see I really like that um what we lose your set so do you think maybe with a little set moving her over here and put some of that stuff over there so you can shoot that same angle within the background perfect so let's give it a little let's do some set modification um okay so let's move the chair someplace over here and then the rest of it I don't touch your stuff but you know okay and then just maybe with that in the background I think that that posed and that angle looked really nice you just lost your set here um as a note to people are interested in like fashion photography there's a person on set whose job is sets and props designer so uh when you finally find a prop designer than they do everything which is great because you could just say okay you know what I think that the chairs too dominant and they find a way to work it because that's a whole other art form mints on its own over here relates all set meal okay all right not sure that's the same thing okay. Is that stable yeah, it is a good sushi would I do that sometimes you get for just gonna love it lawyer chin just a tad that's want you just to exhale through your mouth uh waiting for the other just well down and what do you think to another thing like let me see you can't you can't risk it see if it's cut up yeah so I think these were really pretty I also think if you want to shoot one from like against this wall um you could always like move something in the foreground to obscure liqueur shooting through so you don't have to own a saying you could always like shoot through it kind of get try one try one here I might you know I'm gonna dress my pop up there and move um I write I like your hand like where you just put your hand back with that and he's way thing is messing with checks okay? And I just threw this up I wish I had a smaller lens we will and see what I've got over twenty four we've got that out of there so so if you should ever there I think it's a totally different shop like shooting with that lens was just totally fine but I'm just saying like maybe you think if you shoot against the wall there this is no more in the background versus before it got obscured I'm gonna put on my carrot maybe grab a couple okay that's task might have something here with way you want to test something here you keep shooting I'm just gonna let me see your super wide shots yeah play okay, so put that leg s'more straight out this on the side just like that that makes nicer leading lines thank you good doctor holder thank you okay what do you think in return just a little just like that s so what works for you without any thinking yeah that's cool. Very cool um what do you think? You know that is cool I like that so that's I mean I think that forest fires that shot and that set I like that so I would probably just stick with that and then you can try something different um one thing that I might do um can you track the share of a real quick so I like that so I would I would stick with that for that shot um one of her trunk and in the window okay can you do something interacting with the trunk here because I think that this simplifying it is gonna be easier no way it's fine but when I was going to go I want to do this with one day like eric center leg there yeah frame um yeah, I think that's a great idea. Yeah, yeah, okay and try try some over here. I'm gonna have this chair but I like I think this simpler is better I like that something with a little more that's beautiful just like I like your hair like that pushing on it probably dreaming who's there like what? And I'd like a room take a look yes, I love these okay, very good. Um see just like I think what I would do for the rest of shots. I think I'm I am a moving on yet or no. Yes. Okay. So what? I think that I will dio I like this. Oh, that's pretty, too. That's. Beautiful. Nice job. Um, feel free to use any of any of the civilians over there. Let me just bring this up real quick. I think this is beautiful. Maybe it's maybe like a little sparse. And because you have, like, in the foreground cause you do have props, maybe stick something out of focus over here, something just so it's. Not as farce because you can literally have it like you're peeking in through something. Something you had a foreground middle got back. That's what it is fill this up a little more here because you can have her foot and the other leg is extended above the other props won't be emerging line. Do you think about bringing those books down there? Yeah, we're in here wherever something where so I would just listen, I don't need all of this now that yeah, some stuff like that's q. You know, just you can grab more shoes yet so I just kind of fill the set.
Ratings and Reviews
I have watched at least half a dozen Creative Live courses and this was definitely one of the most interesting and informative of them. Lindsay showed her wealth of knowledge in lighting, posing, post processing and marketing. I was truly impressed with her level of comfort in each field. She tackled different situations and questions with ease. I really liked the course layout as well. She shot her own themed shoots and explained them. Then she helped each student with their own very different styled shoots. It looked like a lot of fun and a great way to learn too. Then at the end Lindsay had a fun little light painting session. WELL DONE LINDSAY AND CREATIVE LIVE!!! ;-)
I'm an artist and amateur photographer who has long been interested in the subject of fashion photography and how to incorporate it into my art. Lindsay impressed me with her depth of knowledge and her comprehensive and selfless method of presentation. Showing before and afters to illustrate technical differences was particularly helpful to me, as was seeing her explain the importance of concept and story. Posing, glowing skin, and lens flare techniques were also a treat to witness and learn from her. Her passion for the subject is tangible, and left me more excited about the potential for my own work. The sheer volume of information Lindsay shares in this workshop is tremendous, from idea to the shoot to post-production, and certainly worth the investment I made in my career. Thanks to Lindsay and thanks to Creative Live.
I thought Lindsay was totally amazing:) She has inspired me. I want to attend more of her workshops. She was a great teacher. I want to learn more from her. I would love to attend one of her intensives, but I will have to wait til next year:( I am just starting out and she has given me many ideas. I cannot say enough good about her. I would love to see Lindsay back:)
Student Work