Student Shoot: Crying Words
Lindsay Adler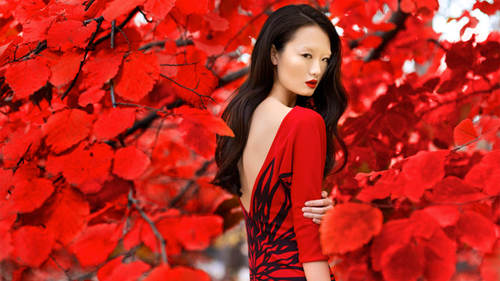 Student Shoot: Crying Words
Lindsay Adler
Lesson Info
31. Student Shoot: Crying Words
Lesson Info
Student Shoot: Crying Words
So now we're going to shoot with robin and shoot her concepts and we're going to do a little bit of tweaking we're going to talk about problem solving and challenges and lighting and one so let's take a look at what the setup is first so robin's concept real quick what was it again? It's a model crying tears and tears turn into words okay um so take a look at the set up we have here first of all we have a white background but because it's not lit and and she is illuminated by a very bright light source because we're exposing for her that backgrounds going to go black so even if you don't have every different tone of background you can work with and modify it to be correct. So up here we have it's kind of a halfway between a silver reflector and a snoot and it has a grade on it and what it does if you look here you can exactly see that the light on lee hits from basically the top of her head to just below her clavicles and so that's what that shape of the modifier as well as the grid do...
es it really focuses it in it creates incredibly dramatic really, really really beautiful light uh okay, so talk about challenges what you think we're going to do it to modify so good about it, okay as we know during my submission video I suggested that the letters be vertically addressed on the neck, but as we see now, they are horizontal because it's just easier to read that way, and the tears are stopping at the letters right now, but what we want to do is extend it out a little bit, so we're mixing some additional makeup now to just kind of spread and go across the neckline and tow the letters. So this is what I'm thinking I'll say when I say this based on what your idea was, um, a lot of what I would do would be to address some of it in post, okay, so you can clone to make these look like they're joined together. It was my biggest problem, I would say, is that it doesn't look like real it's, not like it's running, right? So that's, where we're gonna stir up this stuff, probably make a little bit of mess, um, and drip it down the face, and then what I'll probably do is do that do one time where we can remove it and then just do a couple of fresh ones, okay? What that does is it gives me lots of different pieces to work with, if if what I want you to do is find the pose you like, okay? If you find that pose and you do a variety of drips and you keep doing it you can cut and paste the drips from different photo put him together and have it work so late get you to the point where you want it to be so that's a recommendation work with her now to say okay that's you know, that's a poser like and they were going to try a different varieties of makeup and try to put it together so we're gonna start with that, okay? And so what I'm gonna have you do is we want a very long neck, so we want to extend the neck and if you could do some with your eyes closed and just think melancholy sand that's perfect. I like that look like and what? Lindsay's this's a hundred millimeter and point eight two point eight and it is what? Camera settings? This is a shutter one sixty f sixteen I s a one hundred. Ok, go ahead. All right, here we go. It's a little dark so might open up just a bit. Yeah is uh oh, yeah. Okay, so one thing, I think it's probably a little dark too, so you moved a little bit out of the sweet spot of the light too to that okay, the difference, you moved it so I can actually move it just a little bit. Try that same setting could it moved over an inch? I really just moved it an inch. Okay, so same settings. Okay, here we go. And I'm focusing on the I but I want to make sure that I get the neck and the scene. Sure. And if you're at like, everything, senior half eleven, something like that. It should be pretty. All focus. Yes. Nicholas so I'm sixteen. Sixteen. Nice. So is that close to what you wanted? For exposure? I wanna open up a little bit more. So maybe a fourteen day someone at fourteen. Same poses before. Lovely. Okay, a little bit. Um, I so okay. So for your for your vision of it, um, once you get the exposure, I mean, take a look at the back of the camera. Quick. I didn't like I like it better in your back. Your camera than on the screen, too. Okay, I did think I liked when you could see a little bit more of the neck here. Only because that makes kind of a nice leaving line around. Maybe not that much, but a little bit more, and if you again, if you want to just play with love way. Lose the other word. Yes, unless we turn her. So it depends on how you want to do it. But right now we're just going to see love. Okay? So just get that much so I'd have to shoot. So you find a pose that you like. And so you think it's, right? Very, very the head angle. Yes. And so that's. Why I'm going to do so. Each shot will just move a little bit. Yeah. Thanks. So here we go and you can keep the eyes close. That's, fun for poor processing. We're thinking of doing kind of pale skin with meeting her hair red on and then playing with the red eyes, he'll talk. The color is kind of beside each other. But again really, really pale skin. Yes. Lower the eyes a little bit, right. Slipped. It doesn't take a look. Okay. Don't export the computer. Okay? Yeah, when the noses up, it's a little highfalutin. So I definitely want to bring the nose back down. These air beautiful. Those are nice. Very nice, very nice. Good. Okay. Beautiful well okay, so like I'm liking it the only thing I would suggest is that we turn a little bit turned the body a little bit more towards me so I can get more of the words because the e and the sari is starting to disappear look, it's an e definitely disappears it depends on so one opinion that I have is you do want to see all the love and sorry but I feel like you're not gonna ever get the home right you might just picked the two like love and sorry orjust pick love come make that is anybody already have it on there because the missus too long it wraps around that wraps around she won't see it so I would pick the one or two tried that already and actually, if I could have you bring your hands just yeah people are looking at a tether that light is really, really beautiful to this really, really harsh she's great cheekbones great facebook she's able to handle it perfect that's what I'm talking about nice. I love that hold that pose for me right there. Awesome! She was much okay and I think I cut off the neck on as it started that way get roughly there, ok, that's nice oh, these are nice, good um, so that's beautiful that I know yeah like this whole kind of feel this one in the next one okay are good so do you want to kind of just go with that I don't know about the two hands because if you crop in half of the hand okay so uh do you need a hand up this time uh maybe do you just like a little softer fingers and maybe like left one off a little or maybe just I don't know if you can see the words but if you just kind of and she can trace yeah right yeah just kind of what that's perfect I like that and then maybe to mention way we'll take a look at how the light hits it good stall make sure I get my focus right and did we get makeup remover yes we did we did excellent okay calm down just a little bit for me bring the nose down just a little there we go nice just to have the exact same clothes as long this close it'll work right grab these okay I'm gonna go get a beer is the last one I got your eye opens it zeke enough it's not thick enough it's not thinking that I don't know what I don't I don't know jesus stuff we're just going to drip it on a c okay so do you think you have to give the clothes that you want? Yes. Okay. Something like that yes I do think maybe like maybe like a little I don't know yeah because it's cutting off so if we could just bring the hand not that you're choking yourself or anything but e said I want to die no way if we could bring the hand is it okay if I get it? Okay, so just bring the hand and then we'll place the thumb one year and then the other fingers just weather wrap it nicely ok all right to take that and then we'll play with this play with this I have no idea how this works but we'll make it we'll just drip it on their way I hope it doesn't tickle when things run down my neck I get off ticklish in like the way you like to take a look good you look back you look beautiful. Okay? All right, so I said I wasn't gonna squeal on camera, but I did well, okay, yeah. That's nice that like that. Okay, that's good. Okay, so we're gonna try this. Keep in mind I have a baby drop or to have a big steps much, but I was in a second the straw and way got him right here, okay, good, okay, good, so, um I'm going to drip it down the face and again, you can photoshopped these together, so um this is a stain that she can have that like four dollars okay all right so keep taking shots because it's gonna just give us different textures I want to try this okay your hands in the way I know but I'll be ready okay beautiful wait we can kind of photo shop these pieces together so I'm just gonna tell people that pose forever basically ok and I'm gonna add more so goes more for liberating okay yeah okay good stuff oh and I like the way it's dripping on the hand as well good okay, cool so we're gonna need a photo shop I'll help you take different pieces of these coming dr doing over here okay, so beautiful not be fun and you can actually put some on her hands you're okay and I'm gonna do some of the neck here grab that uh just so can you get it so it doesn't go in her mouth and now it's kind of close to her little bear I think I'm gonna do the same thing I'm going to get it on her job line here ok ok wait I'm just gonna drop it so it comes down a little bit they're beautiful that's what I'm talking about I'm going to write here into the love okay, okay it's all about the love baby here we go ready get ready okay, I'm going I was busy talking okay so what I want to do is give us a clean slate I want to clean this entire side so just do it up room and I had work thank you you're so gentle I love that you don't get the love's way need the love you needed love loves and just describe it it's sorry yeah no sorry you're gonna if it maybe it won't work we'll see yeah good just elbow grease ok and I like your eye color that's very pretty song somewhere way with the eyes open as well so what this so let me do with a clean slate again is if I drop stuff down in a couple different ways is getting me those pieces and then I will be able to kind of more fit together okay um yes okay okay yes and I can always be a little rough here we go ready unless it's gonna be rough with gentle with me here we go. All right. I'm just preemptive sorry way like uh well it's a little hot yeah. This lady is crazy to so focused I've never used this line before I use the dish but not this way there we go and treat causing you so you're a trooper you're you're like well everybody hey nice of you and to get the letters to be the same color I could just pick the color and well we're going to work on it because it's easier if it's like a later tone but we'll make it work. Okay? And then she done for me right here. So I am going. Teo worked with this. All right, so we're gonna drip stuff, okay? Same pose. Checking the similar post. I like that on yeah, fine. Nice. Don't need a clean. So the hand. Okay, so just do it a lot on this one, okay? And actually, I'd like to his shoulder, so I'm gonna focus mostly on beloved aspect of it. So if I bring her shoulder to the front, is it gonna take to keep it roughly and same angle to take a test shot? Okay, you have it roughly the thing it was same angle. Okay, good. All right, so I'm just gonna and you can modify your head if you want to do it ahead a little bit more too. Looses again. Okay. Thank you. Like the head that's. Okay, here we go. All right. I just wrote a whole bunch of these tiny. This texture for photo shop later. Okay, here we go. Way. Ok, ok. Keep going with the face. Nice. Don't add more in a second. Can't carry go, keep, keep composing here we go. At a lot more and and trying to side if I could add a sub stream off of it if it would work yes we want some strange sub streams here we go here's a ship stream way want rivers in tribute case recently that's our g I brief us on for like a grand here somebody here okay okay also hey good good choice what does this make up again that this's mac cosmetics teal pigment okay all right and then we do another I've got to get it kind of going towards the love here so I'm just gonna put it on the side of the cheek so I could get sling running down towards love okay good well tributary there yes I know it starts in the middle of nowhere but I could drag it from another part of the face so I'm gonna need some more we need to go right straight towards love I was going to try horizontal but it cuts off too much of the neck okay all right I'm just gonna have one minute left with you so I'm just gonna squirt a lot more ready oh that and sound good but that's okay nice lassie okay okay there we go beautiful okay and write books okay beautiful so I'm talking about awesome okay perfect so what I would have you do is that we have to take those shots and I'm gonna have you put them on my computer okay, so I'm gonna help you figure out how to shoot it in pieces together, so you can still keep shooting, if you want. And I, I'm gonna jump over here and she's. So nice job with the light on that and see that right there. I mean, that would be really great pieces to work with. So.
Ratings and Reviews
I have watched at least half a dozen Creative Live courses and this was definitely one of the most interesting and informative of them. Lindsay showed her wealth of knowledge in lighting, posing, post processing and marketing. I was truly impressed with her level of comfort in each field. She tackled different situations and questions with ease. I really liked the course layout as well. She shot her own themed shoots and explained them. Then she helped each student with their own very different styled shoots. It looked like a lot of fun and a great way to learn too. Then at the end Lindsay had a fun little light painting session. WELL DONE LINDSAY AND CREATIVE LIVE!!! ;-)
I'm an artist and amateur photographer who has long been interested in the subject of fashion photography and how to incorporate it into my art. Lindsay impressed me with her depth of knowledge and her comprehensive and selfless method of presentation. Showing before and afters to illustrate technical differences was particularly helpful to me, as was seeing her explain the importance of concept and story. Posing, glowing skin, and lens flare techniques were also a treat to witness and learn from her. Her passion for the subject is tangible, and left me more excited about the potential for my own work. The sheer volume of information Lindsay shares in this workshop is tremendous, from idea to the shoot to post-production, and certainly worth the investment I made in my career. Thanks to Lindsay and thanks to Creative Live.
I thought Lindsay was totally amazing:) She has inspired me. I want to attend more of her workshops. She was a great teacher. I want to learn more from her. I would love to attend one of her intensives, but I will have to wait til next year:( I am just starting out and she has given me many ideas. I cannot say enough good about her. I would love to see Lindsay back:)
Student Work