Student Shoot: Sea of Bottles
Lindsay Adler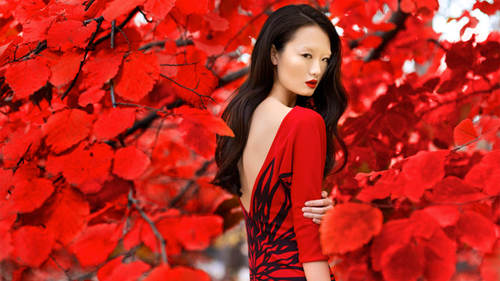 Student Shoot: Sea of Bottles
Lindsay Adler
Lesson Info
27. Student Shoot: Sea of Bottles
Lesson Info
Student Shoot: Sea of Bottles
So um over here is our boat in the sea of bottles bridal shoots high it's so pretty so a couple things for here we're doing natural light so we're shooting on manual you shame on you you can shoot on average a proteus well but in this situation one of the reasons you'd consider manual is with those bright highlights behind her that if you're shooting on average a priority it's gonna trick the camera and so it's going to under exposed so that's one of the reasons here that man you would be a better choice a couple things that we were talking about I don't know I don't think as it is I don't think you need to make any changes limb consideration we had is if we wanted her to feel like we're literally in a sea of bottles like endless bottles but you have no twenty bottles or something you can shoot on a tripod and then moved the bottles so you could have the bottles in the front shoot a picture issued on tripod move it back and then put them all together in photo shop but I think this look...
s really nice so it's whatever you want so what do you thinking for light what would you like me to help you with uh well I like it so far the only thing is there's a lot of shadow on the side so we just have a let's, try this. Let's just, uh, put this, um, it's going to be a seal that works like so, um, what we just did there is we have these big bank with big large window above and so this face before I show you again before shadowed, you put a big, large white reflector here and it fills it in. The biggest thing I would look for is just there might be, like, a little shadow caught kind of between the nose in the face. So try poses that either played towards the light or away instead of really in between, I think that's good. So have you told that, uh, that's a nice soft phil could see that shadow that's caught in the eye right now. Yeah, I can try to feel a little bit and but my trick is just supposed to that you don't have to deal with it as my her face toward the window. Basically. Yeah. Um, or or this direction? Just pick a direction because watch, look this way problem goes away. Look that way problem goes away. Okay, first this straight straight on. Ok. Ok, so go ahead. Don't look that way for me and the doo doo earlier with the bottle that was really cute and I'm gonna come around here and take a look oh that's beautiful look I'm watching on the tether behind you have my legs may be on to this highway that school shoot whoever you want which lends me we're using martin's the composer okay and what lens you have in it you have a thirty five or in eighty or nothing I think or double optic I don't remember that's a double off dick I believe consent good so you shoot away shoot maybe five ten shots um I will tell you that with the lens baby shooting horizontally is better no, you lose your you lose your bottles completely okay so just I mean it depends on if it's important to if it's not and it's not like the look it's nice I do like their when she has her head there because it catches the light on her face nicely just don't look it's far to the left because we get kind of those whites of your eyes look back so that so that looks really pretty though that is nice because you do see the bottle so that works for me. Do you want to keep your word that you just want to go back to fifty fifty okay but I do I like that a lot, so I do like that a lot so what I'll probably tell you is once we shoot doesn't figure out what you want I would go back and try some of those it does look like she's floating in dust and it's beautiful looks really nice like that cool okay stinging something wei have her on a stand because we're shooting you you could tell it was a boat versace and we have her up a little higher you can see in that it's a boat that's why we switched the angles take the top of the bottle and just be like oh I'm putting perfume yes look uh these are beautiful and I think the hand looks a little cloudy with the fingers curled like like hold it like yeah that's a lot of figures long fingers and then not towards the camera turned that hand sideways a little toward you nick other other way that was good but that's what we're all about again and then don't turn it keep trying suicide like great there maybe your handbag maybe hold it with two fingers so it's just like yes it's like yeah there you go that's better for me that's better than it looks like that sign I didn't let him sign aboutthe clock shit running us say that's pretty okay and then we take a look here um take a look at the shots okay place cool what do you thinking how do you take you take a look at the shot what what are you looking at? If you look here or look at the bag camera whatever. Oh, let me o okay, so look at the back over there. Okay, so what do you thinking what would you like change what's working or not working for you like you put on two more dreamy for me it's too queer it's too. So you guys have a couple you have a couple of choices that you can do first father's post one of the things that I do in post for example first line like this want dreamy is if you put your white brush on a low opacity and a really soft edge you kind of paint around the side and it just makes it lower contrast do you have to do that? Yeah, sometimes I do with pink so I don't want to be so sure it's like a pink cast you could definitely do something like that. Um of course changing your color tone a little bit but do we do we get that cute up? Do we want to give it a try? Yes. Ok, so we're going to try you happy with the frame because let's make sure if you're happy with the frame that I could do the fog yeah, I think so okay, cool, so, um tribal more to where you put your hand kind of out of the side that book kind like you're like reaching for something uh out that uh that that trey's in like that um yeah and then hands soft on your other arm see the only issue I see she looks a little naked so maybe if you're a higher angle you can see it better just keep that in mind twenty fits bride on someone looks naked they might not like it yeah I mean they might just love it you know I don't know all right so where the hell is the hose for this thing oh it was the whole it just comes out the front here no but it's this okay oh okay well you all this way just hold this don't know you can play it ok you just hold this and don't bring yourself you can't see no shoot a couple more frames just give it a try with this pose I think we should turn on the backs it is you think the fact that I'm playing at minus I'm not sure take a look can you put the other hand like to your face a little bit yeah very softly and then maybe it was your mouth is it doing it like so like this chicken pulled down again all right so you want me to just wait put your outlook towards you yeah like that yeah that's perfect. Okay so the red like a work smooth that's e g o okay okay we'll even for a second, okay try that I don't want to do too much to keep shoot a little bit more right now I'm just gonna blow it so back by her okay uh do one more strike described that button and I might below it a little bit more okay yeah can you kind of just be like like you're looking for something that you're looking out on the boat that's good yes because too much will make it so you just can't see her that's cool and soft hands soft as you can tell it's like you're gripping good okay uh let's try try pointing the fog machine back towards me yeah so let's see what it looks like if we could sweep it around so it looks like the bottles are in the fog uh well we think it's not working yeah, it won't let me take it full on e I don't know if my card's full or it says pc which is what they want to take uses it all it's blinking e do it okay great. So we're going to you went to your question sure way we're just going to switch and I think what I see here is I'm gonna try some more with fog I think the five look nice I'm just gonna have it more kind of near the bottom of the frame so it looks like it's a sea of fog versus five coming up but I think it looks pretty cool question for you. Um, lindsay from bonnie mccaffrey, do you shoot tethered in your studio? Ok, good question. I should heather, when I have a client who wants me to shoot tethered. Meaning, for example, if it's an advertisement there's a very specific placement where the words need to go, uh, there is a very specific look that, you know, the jewelry needs to have, and so they shoot tethers. They can make sure it's exactly what they want when I'm shooting fashion editorials that air for me, um, and I'm shooting so that it's going in a magazine, but there's no art director there that I don't, because it slows me down and I shoot quickly. Uh, so I usually wouldn't. Okay. Question from, uh, j differ from california when you're shooting, how do you set up your white balance? Are you in on a white balance of electing a pope? Told them real quick. So it has the same problem. You guys, when you try no problem. And for me for white balance yours. If it's in the studio, I'm going to be setting it. Teo, you know, daylight bounce, clever daily bone studio, but the thing I will say is a lot of times for fashion editorials. If I'm shooting outdoors, I will just shoot auto because the end of tweaking and messing with the colors anyway so it's not like each image that I touch end up being tweaked and the colors change so it's not actually true white balance. I always do kind of a custom white balance. If I'm photographing son that's clothing or jewelry, I need the actual color the true color of the clothing and jewelry to be represented. And so using one of those data color charts that they have cool, that was my next question. What do you use those? Yeah. I'm gonna have one in the studio and sew it right. You pull it out. It's. Quick and easy. Cool. Okay, uh, most would I move on? Ok, so you keep shooting. My recommendation to you is when you do this, do more fog and point it lower. But keep that that, like this poses and do some things where it looks like she's. Maybe her hand is skimming in the fog, hits your hand skimming in the water, do more wistful than then playful, maybe a little bit more wistful I think that would work, but that looks great I like the shots he had so far.
Ratings and Reviews
I have watched at least half a dozen Creative Live courses and this was definitely one of the most interesting and informative of them. Lindsay showed her wealth of knowledge in lighting, posing, post processing and marketing. I was truly impressed with her level of comfort in each field. She tackled different situations and questions with ease. I really liked the course layout as well. She shot her own themed shoots and explained them. Then she helped each student with their own very different styled shoots. It looked like a lot of fun and a great way to learn too. Then at the end Lindsay had a fun little light painting session. WELL DONE LINDSAY AND CREATIVE LIVE!!! ;-)
I'm an artist and amateur photographer who has long been interested in the subject of fashion photography and how to incorporate it into my art. Lindsay impressed me with her depth of knowledge and her comprehensive and selfless method of presentation. Showing before and afters to illustrate technical differences was particularly helpful to me, as was seeing her explain the importance of concept and story. Posing, glowing skin, and lens flare techniques were also a treat to witness and learn from her. Her passion for the subject is tangible, and left me more excited about the potential for my own work. The sheer volume of information Lindsay shares in this workshop is tremendous, from idea to the shoot to post-production, and certainly worth the investment I made in my career. Thanks to Lindsay and thanks to Creative Live.
I thought Lindsay was totally amazing:) She has inspired me. I want to attend more of her workshops. She was a great teacher. I want to learn more from her. I would love to attend one of her intensives, but I will have to wait til next year:( I am just starting out and she has given me many ideas. I cannot say enough good about her. I would love to see Lindsay back:)
Student Work