Student Shoot: Warrior of Light
Lindsay Adler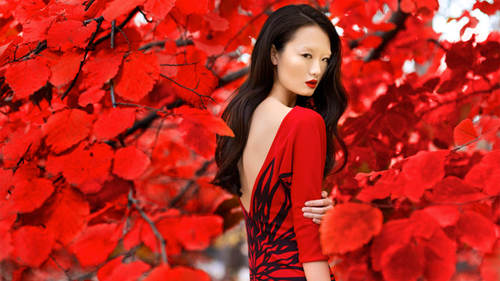 Student Shoot: Warrior of Light
Lindsay Adler
Lesson Info
28. Student Shoot: Warrior of Light
Lesson Info
Student Shoot: Warrior of Light
Tell me a bit about outfit real quick like how did you put together the chute like tell them what you wanted uh well I had this idea the bean an idea was amused and develop toe a warrior of light like protection kind of person so I told these to the designer and she designed this piece which is kind of off light fabric that can flow release lee because he was for a dancer so I wanted to show the muscles over that sir on dh stuff like that so it's like a really light piece of dancer can move around and things like that and that's like the dress and make up for the eyes it's like I wantto glow energy through and with the moves that she's going to do and with the crazy hair it's like uh well my idea off having energy and pushing it out like flowing through and and well the the bracelet it's an addition handmade for for the words that are different designer same signer so that was the entire thing and so back here you have two pieces of fabric this's just kind of late fabric the two colors...
they hooked up to c stands and this light is going to be this right here it's kind of a silver reflector has a grid on it so it doesn't spill on so that's going to be for the room light on the arm right and the public's and for the fabric okay, so this is going to give the fabric a little glow and if it's her arm givers and separation alright see of another one back there for the glowing fabric on that we have a soft box here for the light on the face could cool what else? Tell me what else you have here in this set up I hear or try to hit a fan over here which is going to help to to blow their fabrics and to make that those cures that I'm looking that will let and that really to the to the model okay, this attention on her so we're gonna have this fan going on it's going to be blowing and he put the black here is well because it's the shoes standing in front of the fan and really hard to kind of photo shop that out but it is easier to footed shop the black in the background to the black behind so it would be easier to do that so from the family we're going for a kind of graphic shapes, patterns and movements here just tell me what would you like to change it's cool thank you, jen you went down a little now that's fine that's fine way to kind of keep them in the middle way really stressing about his after his concept is that a lot of the inspiration he sent me with comic books, so he chose to draw inspiration from comics comic books from illustrations instead of me, which might be music videos or other photographers. So found that really interesting. One of the shots he has is of somebody kind of stepping forward with these huge pieces of fabric or cape behind them, so you could get inspiration from whatever inspires you from wherever you're passionate about. Way can move it back a little, if that's what the promise. You made me a little more movement. Yes, ok, you want a little more weight can. Okay, watch my hair, guys, wait, so that gives you an extra like three inches helps it all work. Okay, wait, okay, that's, right. Okay continue moving the camera don't shoot super fast. I like that bozo that's nice uh shoot a little so only because of the tether we take a look at it here. Okay, so for me looking at this shot I definitely wouldn't get the feet in here the reason I'm saying that is there not doing anything uh right now they're just kind of standing there so it's not adding anything unless she's like on point we're bringing her knee up but I don't think you need the feet and so I tried to shoot a little higher um and also if you look because of the angle you're shooting like down it makes you look a little shorter so I would get at a lower angle you know it's super down low just not eye level with eric so looking at this shot if you wanted that turquoise fabric lit which I like that it looks cool right now it's hitting that piece of fabric not the other one so we would need to move it but I think it was that way yeah. So it's actually just the fabrics tang of the little way pull this over um yeah, ok. Um somebody pointed at the back a little bit more tiny bitch so let's try that instead I think now it's hitting the back of the fabric so it should pop better ok ok, thanks for movement that's nice I like that tried to put something on your shoulder put both like yeah and shoot too more frames and then I want to take a look everywhere all right let's take a look at the back camera's seller that what you think about that kind of thing going on where you want yeah because it's like the triangles and the land's going I think that was really cool that's cool so is this what you're looking for something like this yeah totally I'm going to experiment a couple of things ok cameras uh yeah definitely feel so the other shoe after this but um you still have me here for a couple more minutes let me try something let's see something else to um I'm going teo get in your comfort zone stand behind you and hold it so let's do something where it looks like kind of like wings she has more free movement let's try it so I'm gonna be like behind you um the other thing we can consider doing uh is I could tuck it back all right so maybe I could attach it to wear something like that can I have a way of any smaller clams with the little ones or anything that is like hefty like really really intense here I don't want to hurt the dress either so I wouldn't just stand behind her for a second um and shoot shoot head shots because I'm gonna have my hand there's a shoot kind of higher up for izon only go for graphic cause I'm gonna have my hand right here okay you know you're not wei need to rotate it way have a different point so how about that if I got this there we go that's better grabbing a different point of fabric yeah um I want you to do something like like that on this one like like uh like you know michelangelo something like like that kind of time yeah but listen up looks kind of sick yeah yeah like flow with the fabric moral as kind of moral with your hands on your head more way more on that profile of him like you were trying to take a look take you for the position of your eyes take a look at this I'm gonna clip it on you that he wrote it there's a little one he brought thank you think you've got this all right so we take a look at these poses here take a look ok look back that looks great it can be done with tonight that's one thing people so for that shot in particular I think I really like that like the pose the hand is a little light um you can darken it down or maybe tilt it like instead of going at the lightest much just a little bit because otherwise is right now it's the closest thing to the light so it's gonna get lit most um and then maybe if I let the purple flow and actually hold the teal it would be more on that side so I like that can we flip to a couple of the shots I can take a look we did thankyou so what is closest to what you like I really like the last one well I like them all like I mean that thing that I wanted was the fashionable exploration is compression that she has like features on and everything goes well with the concept that I have to make up the dress and things like that that sounds wonderful let's so I really like the last one I think you should let's play a little bit because I mean I kind of love it so maybe maybe let's try I want to try like john yeah that's right and remember that I have been magical ones wear for holden and um that sounds good so let's let's try a little bit and try some too and this is movement even doing something where like looks more like movement yeah I brought some samples for her okay so feel free to bring him up I'll uh try to safety pin you nicely you're attached so try this we're going to try something like that like just like movements like the ones with nothing but not so martial arts just like tight can catch you if you can take your first teal or whatever. Okay, so what kind of shots? Where you thinking that, uh, like little movements on then, some, like, that steps to touching, yet you're just safety pins were just sending it to the back of the outfit right here, uh, do this two ways our way like that, and here. Okay, so I only have you for two more minutes. So let's, just shoot a couple of frames like this, and then you can keep shooting. Um, while we break. As well. Let me just attach that. Okay, let's give it a try. Okay? See? Okay, so that means way caught there may be another you think except you left uh, excellent. Cool. Cool. So so can you do that and try to make it easier on yourself, if possible as faras the background? Uh, photoshopping that's like too much? Uh, that won't work on trying to do the little like, like from here to here? Or are the other ones that don't make sense? That is like that, like, like you're like a stomping like like that we'll get some five coming in over here. Okay, but, uh, you see the stand so you will have to stay on that position just like your profile. A little more hands on that's. You will have to give it here. So you your body stays on there, so I'm gonna take two frames. I'm gonna switch over to them and you can keep shooting, so yeah, all right, here we go. Ready? Next time. Look at me. Go. And when you check these shots when you're looking back at the posing, watch for mergers that it's not all in here and try to get a little bit more shape negative spaces may be more dynamic image and looked better on the body
Ratings and Reviews
I have watched at least half a dozen Creative Live courses and this was definitely one of the most interesting and informative of them. Lindsay showed her wealth of knowledge in lighting, posing, post processing and marketing. I was truly impressed with her level of comfort in each field. She tackled different situations and questions with ease. I really liked the course layout as well. She shot her own themed shoots and explained them. Then she helped each student with their own very different styled shoots. It looked like a lot of fun and a great way to learn too. Then at the end Lindsay had a fun little light painting session. WELL DONE LINDSAY AND CREATIVE LIVE!!! ;-)
I'm an artist and amateur photographer who has long been interested in the subject of fashion photography and how to incorporate it into my art. Lindsay impressed me with her depth of knowledge and her comprehensive and selfless method of presentation. Showing before and afters to illustrate technical differences was particularly helpful to me, as was seeing her explain the importance of concept and story. Posing, glowing skin, and lens flare techniques were also a treat to witness and learn from her. Her passion for the subject is tangible, and left me more excited about the potential for my own work. The sheer volume of information Lindsay shares in this workshop is tremendous, from idea to the shoot to post-production, and certainly worth the investment I made in my career. Thanks to Lindsay and thanks to Creative Live.
I thought Lindsay was totally amazing:) She has inspired me. I want to attend more of her workshops. She was a great teacher. I want to learn more from her. I would love to attend one of her intensives, but I will have to wait til next year:( I am just starting out and she has given me many ideas. I cannot say enough good about her. I would love to see Lindsay back:)
Student Work