Student Shoot: One Light Setup
Lara Jade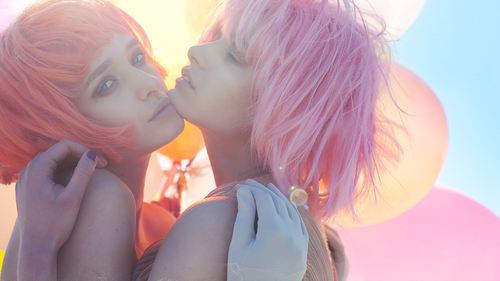 Student Shoot: One Light Setup
Lara Jade
Lesson Info
20. Student Shoot: One Light Setup
Lesson Info
Student Shoot: One Light Setup
When you're looking at this just think about the composition the way the light is falling on the model what you want us to give you so the way you've seen this so I would see this as something dark community so I don't want poses that I like smiley happy fun flooded with hands I'm looking for things that are a bit moody and maybe floppy if it's a real that kind of thing so and then you gotta taking consideration the angles of the dress well that kind of thing I don't know if putting the arms like this would work with frill okay so if you're gonna put arms try not to do this because you blocking the dress try to do more soft yeah okay if you could do that for me yeah that's great and just put your chin down look towards the left a little bit see you see what that my steps on me you can you've got this nice light here the deflector adding the depths on the background on the left here I wouldn't worry about the wrinkles and the clothes here because you could steam that forever and that's ...
not going to come out it's just something you gotta retouch afterwards okay? Okay and again that look great so just maybe a little bit more emotion just keep maybe put your eyes down that was just me pointed at you uh they just like look down towards that which is eyes of political see you not completely looking at the floyd just looking off into the distance I just with your hands right now that if you look at me one sexual hit me do you like this? Okay relax because you like this but I just relax them um um do tat huh till he said is not I wouldn't have felt it over to that lonely too that it's fine to talk ahead but if she does it over this way she's gonna get really shatter like on this side it's always best to do that if you want to do that I would just position yourself maybe here okay and where the light is bad and you see that before that even happens you don't do it and then go oh yeah I always knew that it would happen in the time it will be like okay so that was it's good that doesn't look good I'm gonna focus on this bit okay. All right, so maybe try position yourself here so when you are first approaching a model how do you like game that report with her? How do you get norman initially? Is there anything in particular that you do when they first come on set? Um I would just get to know them at the start of the day so as soon as they turn up just get to know them just get their background uh, maybe look at their portfolio because most of them are to spring the portfolio to castings or when they meet you for a shoot. Um, get to know what they good out there. Not that kind of thing. And just yeah, I just have a laugh with them and just kind of talk about life in general, I think it's good just to kind of open up to them first so they can open up to you and gain their trust before you start shooting. It's a quick question from dana layman who says, I noticed that the models nails are painted and this was with the other model. Um, and the question is, did the stylist do that, or do you ask people to normally come with bare nails? Or was that a part of the look? Well, fin nails. I would say that if you if you want nails on set if you got it depends on the shoot again. If you've got an editorial advertising shoot, maybe get a manicurist. If you have someone who could do it professionally, makeup artists sometimes do it. They have some nail polish in there, kid, but it's, good to have groomed nails even if you're not. Intentionally use it for a beauty shoot it's just good to have him clean um just painted even with a white coat yeah so it just really depends on what kind of shoot it is and I feel that it's important to kind of maintain every aspect of the shoot like that so once you're finished working with modeling the chutes complete is there any sort of you know, industry internal review system like do you do anything like that like writing the model or view our vice versa when you're first starting out like build credibility or other than like model may him just something like yeah like you unlinked dan you can write recommendations and reviews for your different people do you guys do anything like that in the fashion industry? I don't think there is anything like that I mean there's like portfolio reviews I know that sometimes a few events in new york but do you like you can go in with industry and review for values but I I really think it's about just kind of network and as much as possible as a photographer with other photographers maybe finding like people that magazines like paper cut today online magazines which not has a size and just kind of bouncing ideas back up there and they will network you that way if you're looking for a more active pose from the model like it's you know it's been kind of bury st how do you go about doing that like do you actually act out the action do you do you want it? Would you show us where I don't really I don't think I've shot anything where it spin likes monsoon crazy clothes the only thing I could say it's like yesterday where I got the girls kind of lie back she was enjoying the signs give him kind of a theme to go for um I mean I can't imagine it with the shoot so it's hard for me to kind of tell you exactly like if I did a crazy pose what would I do that's why I think I bought in the check because it's just something but heading tto at for it like yes today bringing in some props interacting with things just to kind of bring the confidence out from the model a swell thank you so this is a question that came in from facebook earlier today so I'm happy that we're going back a little bit and this was from oscar coleman who said what kind of money do budget for personal work or test shoots as a new photographer trying to move into fashion I need to start from the brown to build a fashion folio is there a starting place that you could suggest in terms of looking for the front first test collaboration? So I guess the question is how much money are you spending and that specific dollar amounts. But yeah, how much of an investment are you making it's, always a huge investment, I will admit it's money coming out of your pocket studios. Um, if he doesn't have a team right now, he doesn't have a portfolio set up. It might be worth him reaching out to paint for models just for the first time. I'm just to kind of build that, so he has something to kind of test with from that. But, you know you're paying for studios. If you don't have one, you pain, you've got your own lighting care, you're just painful. They're kind of equipment stuff. You also have to make sure this catering on set with some kind of food as well, so roughly like a test. Sometimes it can be like two hundred dollars. Sometimes it could be three hundred dollars. If you get in a location house near, those could go up to one thousand dollars, but the thing is, most photography is. Would you? The advertising campaigns were more at the top and then put most of that money back into their work as well. So they're constantly like climbing the ladder and building. Sounds like we're ready to start shooting again. Okay. All right. So you take a shot for me to see what it looks like on your camera. Then we'll go from there. Okay. Okay. So what I want the guys to do? Where is luke or john? Look, I just want to put the light because we're focusing more and I could torture it right now. I think this is how they look. Kind of works best. Could we put the lighting up a little bit higher and more like the side, so just pull it a little bit more. This side? Yeah. And down rather than side on going for another transition here. Um, when, uh, you have a stylist coming and bring all the outfits and all the dresses and everything. Is it normal for her to bring such a wide assortment? And you just kind of choose on set? Or does she show you samples or photos of the items prior to the shoot? She's bringing can it depends on the silent aaron it's very good at keeping me up to date before the shoot sugar out some pictures or she'll get a model for fitting before the day because she wants to see how the garment looks on um and then when she brings stuff on the day she usually brings a lot more but that's good because she knows I like to go over the clothing as well and have an opinion and plus you want options sometimes maybe an outfit won't look good on someone wasn't doesn't fit properly and you just want a second option or even like it was an editor of claimed they might go they want to racks of clothing and they're like they used to pieces or three pieces it's just always good ticket options are you approving like each outfit so once she sets her up is this something that you kind of pre decided? Okay, this shoes this dress I mean this looks good we haven't had a whole lot of time tio yeah exactly shoot saved but she's been putting him on the rack and she's been gone what do you think does this work and I've been going yes let's go for that as well yeah, usually we find okay all right, so what we've done is they just put the light instead of being flat on the model we've put it just up to the side a little bit off. So not flat anymore. Just facing this way facing down towards her. And this is just giving a nice, even light it's filling in some of these shadows that we're coming here before and it's just gonna give that nice, phil. Okay, just take a shot. See what? The light looks like that. Okay. So, do you see how that compares to the last one? Just don't have the last one yet to see the light here. How now we've got it's kind of filling in the background of that. A little still got this knife. Nice depth here. If you would assume into this pit here, just see how it's just filling in that faces, adding that nice imagined. Remember at the joan of arc. I think I should get a shot where the girl was kind of looking over like that. That's. Exactly how I shut about one. Okay, so what I'm trying to focus on right now because I think after taking some shots, finding out what works, finding out what doesn't. I really just want to focus. On this part of the outfit down to the frill here getting a beautiful portrait mrs often how I approach a lot of my fashion tests showed you on the side of a simple beautiful portrait it's okay, so what I want you to do is on every shot she takes I just want you to move a little bit and then I'll guide you from there okay, who always like when you're working with models they've gotta give you something as well as well as your given the direction it's harder with new models but it's also good it's a learning thing for you, right? If someone gives you direction and you're just leaving too yeah that's great even to salute a subtle move like that is good finding out what works and finding out what doesn't can I get you to face this way? I just ugh, she showed us to frame so hands down you just showed it to you right now that kind of fat like this. So you showed us in one second you showed up right in here. Yeah, just focus from here. You see, the main feature is this plant and the court the question so if you go to hear a little bit more that said, you're gonna get that morin shot keep your chin down for me because you're a lot toilet this's why we're here e. Great. If you could just maybe even just put your hands like that just for a little bit, and I just gives these shoulders like somethinto just crop in the top, okay, and then maybe just keep them down here. You see how that that showed that left shoulder you're doing this, that looks great. I know it probably doesn't feel great, but it looks great on camera for the composition. Open your lips a little bit and just a little bit more expressive with the eyes. Okay, chin down even more. Maybe. Okay, sue this arm yet great, delicate with the hands separate your fingers a little bit. I'm one of you starting to see you started to see with the hands we can better or is it? I do like the hand. I love the shoulder. Yeah, because they're very structured outfit. So he kind of needs something with how about if you were not gonna get this kind of close in because that's. So nineteen e. So I would like tio, just do that so we can get some framing here. So maybe just doing this for the one um yep that with the other day in turning towards this time go this way that's it okay so you see how that's giving us some kind of shape at the top of the image and crop in if you can okay so that what I would love you and if you could put both hands here yet but instead of pulling your arm down like that let it go on okay that's great case try one with chin up ten midway to chin down at the bottom ok ok just crop pain a little bit more because you're what lens you got fifty okay yeah might be a little bit wide for something else quote um if you were going this close I would use something like eighty five something of seventeen but you'll find right now you want to see those nails darling I don't know eighty five okay do you have any questions from the audience so jill always this feeling for you I mean what what what is your experience here asides terrifying no no it's amazing it's um I just started just a couple of years ago so I'm it's always me and you know doing a senior in high school or whoever and I'm the one that's putting down the camera to adjust the you know so I'm always the one I'm the stylist I'm that whole crew I'm the photographer so I have someone amazing, like laura telling me what to do and I could just focus on okay. What? Because so many times those details just get get lost, you know, and I get back and I'm post processing, and I see that I've cropped off something or that if she just popped her shoulder, it would've looked so much better. So it's, just so nice to be ableto focus on on the image and not worry about every single detail it's going on right now so I would love to get so what else do we got? One more person to shoot and maybe we could get the other model ready. Maybe we could bring a round for a change of what? Okay, so you're good to relax. So thank you and let's give jill around. Okay, forget such a model being fresh content. So this would be the full matter how I do a lot of editorial, so I'm well mother was being worked on my soft and I used to models for that very reason. I want to work on one model. Once getting changed, it emits that waiting time. In between let's. Because there's always gonna be that downtime as well. Um, so I would love for you to experiment with this. Did you get the settings from before? Okay? Yep. Well, so again, just to remind the audience were two hundredth of a second at six. Point three, and I have two hundred and a white balance on flash. Okay? And this is still yeah. Okay, if you have any questions for me, you know, um, maybe thinking of doing something kind of, like, really strong. I almost want to use the word fierce, but not you. Way to have a question from yolanda kingdom. Lars seems to ask the bottle the models to pose very angular. Lee. Yeah, I do this also, you know, using those angles to look strong, almost an erogenous. She loves the female hero poses. But what is your reason for the strong? Okay, first hi, yolanda. Cause I know, uh, on, um, the reason I'm using it is because of the angular outfits symmetry I'm looking for. Um the way that the model composed like it's a strong shoulder pad on the way there's no an angle with the part of the thrill of address if you have like, a soft poses something fluffy with those it's just not gonna it's always not gonna come together because you need something to kind of work with that you need to kind of move the shoulders to complement that it's alot about complimenting outfits and how do you how do you then analyze those outfits when you first see them? What are you looking for? A cz faras how to flatter them for the most when I first see outfit um when if I see them I'm just trying to think in my head of where how it would look best on set how it would look good with accessories so that comes with the stylist as well so we usually get together at the start of shooting will say okay, so this would look good in this setting. This would look good here and often more location scout and pick a section it's like a location house or a studio would say okay, we're gonna shoot this here he out or on location? How would complement the dresses alot about complimenting and outfit? What comes from that a higher level question as we're still trying to work on that tethering and it's from fashion tv editori and he says editorial typically does not pay well at times. Yeah, and only gives credit. But it does provide good exposure. This might be something that we're going to be talking about tomorrow. But how many times should we shoot for credit? What pays the bills as a fashion photographer? What kind of assignments is that all tomorrow or any it's? All tomorrow. But I will cover that now because I think it's a very good question for people that might be watching today or tomorrow. And I think that editori, like a photographer, needs to have two different sides of work. He needs to be the editorial on dh. It needs to be the commission work commissioned advertising. That kind of work. He's the bills to get that work. We need the editorial work. You need the tax cheats. You need to show people that you can do this and that you're good enough to get tash sheets and that you can do all that work with the team in order to get that. So you need to have something. I mean images alone. A grade but it's always great to show that tache e or that front cover and that's really what it is and I mentioned like clientele of personal work, but that's also alongside. Having, like, a tax cheat as well. So you can name the client who can say which person you work for. What magazine you work for instance? Uh, s d town from dallas is wondering, how does the stylist pick clothes that dictate fashion for the future? Way heard haley say that they're looking to schedule things out months in advance when styling these shoots, how can you be confident in the direction in fashion that the magazines would want to move it? Um, well, fashion magazines will always move with the fashion that's going on right now, so currently wearing spring summer. So it comes at the worst time with order winter because you've got shoot like swimwear and that kind of thing right now. Um, so magazines usually doing the same thing, so they're looking for people that have those kind of segments and what's great about paper cut magazine is there not like a lot of magazines monthly, whereas most magazines a quarterly and munsey is great because it means you can go back to your house and pull things, but it also has to be relevant to what's going on right now as well and relevant to the theme because I know haley. With paper cut, they have really great themes as well as he always has to be relevant with fashion, relevant with the theme of the magazine has a question just going back to, uh, testing and paying for testing. So what if you're just starting out and you want to do testing, but you don't really have, like, advertising work yet? So would you need, like, probably like a side job just to pay for that? All the testing. So pain protesting, um, I would always say that if you have a side job, it's, excellent, because you can use that to supplement you testing work. I mean, I in the first years of my care, I kind of struggled a bit because I've never had another job, and I come from a very small time, small back. So it's kind of it was kind of hard for me. But I just every bit of money I would get from sudden things they were put back into my photography and then I knew eventually what kind of work out that I was starting to receive more advertising work and that's what's happened it's gone from here up to here but I still do testing work and it's important that when you are running money he's still taking maybe a quarter of that on business expenses just to put back into testing worked yeah, good. Okay, you on set? So what I see with this outfit is I'm up for your vision too, okay? But I love this hero for me and the shot that this is a fashion I think will be the necklace so cropping into here and propping into here would be beautiful. What lens do you have? Fifteen. Do you have anything some two hundred? Yeah let's grab it let's grab that. I would love to get some shots with that. Any questions while she's just doing that. I'm getting her to grab a lens because I want to do some more close up shots and she had a fifty so the reason for that is because we shoot a quarter it we want it to be a seventy mil or more because of their distortion recommendations for online magazines or any websites that you would recommend to try and submit to as a beginning there's things I could, ben trovato block, which is a great resource, and I often submit work to there, and I think maybe just google things like on facebook was typing like magazine. A lot of listings come up, um, trying think of websites that do that, there's ones that we have in the uk that's called f tape, and it lists all the magazines. It doesn't necessary the recipe online, but it ate lists or the kind of higher end magazines. But I think the best thing is just research. Do you research about what's going on? What other photographers maybe doing a cz well and what they're submitting to, because you won't find out for you researching these kind of things to thank you for being patient, ok, see, you stand quite far back with that thing, right? So I would love it. Be great if you could do. Here. Here. Okay. What I want from you is I would love to get symmetry, so if you look straight down her lens stone? Yeah, I really like that shadow on the sign. It's. Kind of hard to see in here because it was totally doing. This is exactly how I would have shot that joan of arc shoot, you know, the one with the that kind of background and stuff, and only the background was a little bit darker. But it's exactly. This kind of shadow that's coming in the depths from the beef that's, kind of giving them a nice depth on the background as well. So going and try that. Try a few shots as well, and I would love for you to kind of come out with supposes that you think it's. Well, because that's, what it's all about it's all about. Everyone learning is making the shakes and then moving on from that when you owned in your mouth trying to twist your face try and just go straight and yeah you can definitely get a teller just face that way well, a little bit back, but kind of like yep it's always important to ask her like a facial expression you might want a swell she's kind of doing awesome but, uh bring both your arms and yeah that's great angry a little bit lighter in the eyes but a little bit smaller. Yeah, great, yeah. Looks great. It's a great month. Yeah. Keeps your finger. I would love for you to keep shooting. I'm gonna start maybe critiquing from here. Okay. Great let's say, feel free to go ahead and, like, change it up if you want you want teo if you want to pull a chair um t when I just want to capture a little bit more of this at the moment check what time it was just like that with connection left the one with the two now see that's what? I'm just so not used. Yeah that's ok that's what you're here for so yeah, a little bit more chin towards the light again so a little bit higher exaggerated you, like remember it's coming down an angle I feel like this you're gonna get shot out here like this the lights going for like higher yeah, just soft with the expression is well, just a little bit softer, okay? The mouth and again a little bit more with exaggerated chin great. I feel like you look like angelina jolie both of yu um all right, so I just want you to experiment with much as she wants just tell everything to her she'll appreciate that if you give her as much direction it's possible can we understood or in them? Of course you can. Yeah, so we'll just so I could be a tiny bit higher and then look, you just need teo for me. John, could I grab you to sit over like, I'll just have her do it? It's way to pull the light down, you know, so I just well, I don't have to have her, so I've never shot like, with kind of raunchy. Okay, so I love toe play and get a few shots but lead yeah, right towards the light and then top body back towards me a little bit. Yeah, and all you do yeah, I'm gonna get really close and I'm gonna do about it that's great, um showed back up to the light, but now a little bit towards me more and then up a little bit more chin up, yet great and same thing with the mouth a little bit smaller, great, look straight, okay, so this is lovely like this. This kind of shot, like the one before that. This is a little bit commercial because of the mouth, but that's, okay, because we've got the right light here. We've got the right angle with the shoulder. I love the way the light's just falling in here. Only when the light was here, there was too much shadow going on. So I bring in the light on the middle toe towards here you got that? But you still got this night my step? Okay, so this try this again, but the expression okay, just work on that. So getting mouth a little bit open but not getting five shots for me and we'll do another critique and chin up towards the light a little bit and yes, to open a little a little bit too. I just want to put a chin down a little bit. Not so much of a smile a little bit more serious. Okay. And then can I also have, like you started exaggerated shoulder? I like that one. Ok, let's, check that one. Yeah, check that one and then I think we're done with sex. It's gonna learn now just the one yeah, yeah, the only thing I would do here I love everything that's going on hand to just give yourself some space even if you don't intend to. Even if you intend to crop this later on, give yourself this much space, the side or even a bit more here's the cover shot give yourself enough space up here to work with, but yeah, you've got everything here, there's a detail in skin it's gonna be great to eddie afterwards, these things like on the I could be easily fixed the hair. I love that it's messy on the side. These could be easily fixed here on the light works because you've got that nice step just coming out here as well. So I definitely think it's a good one. You just need to give more space. Um, so I think we got it. Do you want to give some feedback on how you felt with that different nervous? You're wracking? Yeah. It's. Hard to shoot with a bunch of people around it's, usually and one person, a couple. So for now you're proposing confident going, yeah, one person's shoes, how also, and just, you know, really being more playful, not having to wait for the tethering it it's usually more of a flow for me at first, like static, static. Um, and again, working with models it's a little bit more fluid, they put in a little bit more of their own. And then I give some feedback, and then it kind of keeps going back and forth. So yeah, this's in quite the same.
Ratings and Reviews
It was an amazing class. I have seen many fashion photography courses in Creative Live and I find this one was one of the best and very easy to follow. Lara was very clear about the fashion photography industry, explaining the differences between editorial, commercial and advertising fashion photography and when/why you work for free, the process, the importance about experimenting solo or with a creative team. It was very inspiring and loved her!
Having dusted off my camera after a 3 year inspiration slump I decided to head toward the fashion/editorial/Fine art/Portrait route. I discovered this course and after researching Lara Jade's work and seeing the course content I decided to buy the course. I'm completely new to the fashion world having mainly shot personal stuff. Anyway, for anyone reading this review who might be thinking 'should I, shouldn't I book this course?' I'm only up to video 6 - the vintage natural light look. I've learned so much already, even if I'd paid the same and got the first 6 videos I'd have been happy. So far it's covered so much about planning shoots, directing models. I like the fact that Jade is a working professional photographer rather than a want-to-be-but-failed or a long time passed has-been. I like that she's British (as am I). I like how she teaches and how down to earth she is and how happy she is to answer questions. I like how humble she is. The content, the teaching style is nothing short of being an assistant on set and learning first hand. Don't think about buying this course, just do it. You will not be sorry, I promise you!
Lara's course was very well put together. She covered so many aspects of her shoots, including letting her creative team have the perfect amount of input; so she demonstrated how important it is to surround yourself with the right people and consistently getting their input. I'd love to be able to work with her hair stylist and wardrobe stylist for future editorial shoots. For being as young as Lara is, she is beyond her years in preparedness, experience, and aptitude to instruct. I thought she handled situations, like some "dead air" during live shoots very well by explaining in detail what was going on. Needless to say, I was super impressed.
Student Work