FAST CLASS: How to Start a Photography Business
Pye Jirsa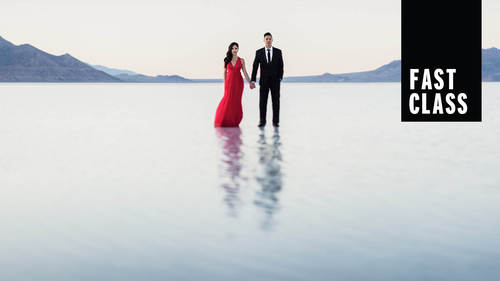 FAST CLASS: How to Start a Photography Business
Pye Jirsa
Class Description
FAST CLASS:
Try a Fast Class – now available to all CreativeLive subscribers! Fast Classes are shortened "highlight" versions of our most popular classes that let you consume 10+ hours in about 60 minutes. We've edited straight to the most popular moments, actionable techniques, and profound insights into bite-sized chunks– so you can easily find and focus on what matters most to you. (And of course, you can always go back to the full class for a deep dive into your favorite parts.)
Full-length class: How to Start a Photography Business with Pye Jirsa
SUBSCRIBE TO CREATIVELIVE and cue up this class and other FAST CLASS classes anytime.
The content and opinions expressed in this course are for informational purposes only and not for the purpose of providing legal advice. You should contact your attorney to obtain advice with respect to any particular issue or problem.
AFTER THIS CLASS YOU'LL BE ABLE TO:

Start a photography business
Develop the ideal business structure and business plan
Research competitors and the market in your area
Build a short-term and long-term strategy
Create a marketing plan and marketing materials on a budget
Confidently conduct an in-person or phone sales session
Manage small business tasks from accounting to strategy
ABOUT PYE'S CLASS:
Professional photographers aren't just people with a knack for photography and a good camera -- because launching a small business on nothing but passion is a sure-fire way to fail spectacularly. Layer business savvy, marketing know-how, professional grit and more onto your existing passion and learn how to start a photography business. Take your hobby, vision, and creativity and build a career -- whether you are looking to run a full-time business or just a side gig.
Led by a photographer that's also a certified public accountant, Pye Jirsa, the class teaches the ins and outs of launching a photography business from the ground up. Along with three full days of instruction, Pye shares a 12-week plan to get your business up and running, a business expense calculator and more inside the class workbook. Understand what gear and skills you need before you launch and how to build a portfolio by photographing family members or organizing a stylized shoot.
Stop feeling overwhelmed by the monumental task and tackle one task a day in a 12-week plan. Brainstorm names for your business and learn the different types of business licenses available. Secure a domain name and build a website that's easily searchable. Develop a marketing plan with little investment. Master in-person sales and book your first session.
Whether you want to venture out in portrait photography, commercial work or any other client-based type of photography, learn the "business" in photography business with Pye Jirsa.
WHO THIS CLASS IS FOR:
Photographers ready to launch a business
New professional photographers looking to grow a young business
Photographers interested in working in weddings, portraits, newborns, maternity, families, seniors, engagements or commercial photography
Class Materials
Experience Pricing Example
Ratings and Reviews
Student Work