Composing for Better Minimalist Photographs
Curtis Jones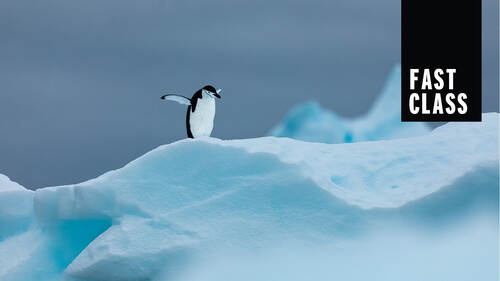 Composing for Better Minimalist Photographs
Curtis Jones
Lesson Info
5. Composing for Better Minimalist Photographs
Lesson Info
Composing for Better Minimalist Photographs
we could do a whole class just on composition. But for the purposes of this class, I wanted to touch on just a few key elements that I think are important to keep in mind when you're going out to create your minimalist images. When you strip so much away, it becomes that much more important to understand where you place your subjects in the frame and in relationship to one another. I've just set my camera on a tripod. I've I've gone into the frame here. So if we look at the image according to the rule of thirds, we have the top third here, which is a nice yellow sky, nice empty, beautiful space. We have the middle third here, that has the main interest of the image which is myself coming into frame. This wonderful dark V. And then the iceberg here on the other side on the left, and then we have the bottom half that kind of mirrors the other side of the top. So the dark side of the image, the foreground and the tundra which is into silhouette. And what I really like about this image is ...
here on the right third in the middle. We have one important subject which is the human element, which I was saying before carries a lot of weight. So it can be smaller than our second important subject, which is this iceberg which is much larger than the human element, but kind of needs to be to balance that weight ratio of importance. What I'd like to show you guys here now is the same. It's not the same image, but it's the same subject represented three different ways compositionally and again. I've overlaid the rule of thirds here. And this is a really good exercise that you guys can try with your own images and a crop tool in lightroom or something similar just to play with that balance again of where you place the subject in the frame. So compositionally. This first image. I've got the these fishermen in Greenland again, once again uh beautiful like golden, almost like metallic ocean at sunset. And it's very very clear. I believe that this is where I want you to look. I want you to notice the fisherman, this beautiful silhouette against the golden ocean. And intentionally I've cropped them and placed them down in the bottom left so that all the visual weight is down there. But then you're I kind of gets a chance to wander around the rest of the frame and taking all that beautiful golden color. And this is a good example too of what I was saying before how negative space can actually be textured and it can be colored, it doesn't have to be white or black. And that's just the end of the story. It's very textured. It's very colored. But as long as those colors are all the same or very similar and the textures are very similar and it's not like your eyes jumping from the difference. The difference the difference then yeah, it's it's useful and it's great negative space. This is another example of using kind of a leading line. These repeating rocks going all the way back to this little bird here. Um lots of open space on the top that's mirrored in the bottom except for that one line going in with the repeating rocks. Um with lots of like, again, intentional space between each rock. I tried different angles on the same little pond, but this was the only one that kind of had that nice separation of rocks at the right distance between each rock to really give me that that minimalist clean feel. One other thing I'd like to point out when we're talking about minimalism and compositions is that negative space can be really useful if you're shooting stock photography or doing agency work or editorial work for magazine covers and things like that. A lot of art directors and graphic designers and layout artists are gonna want a lot of space for their texts for their titles, for other graphics and images that might go on these things. So if you if you're at all interested in creating images for that line of work, I would highly recommend starting to include lots of negative space in your shots. Not every shot is going to have to be that, but it's really important at least give people the option so that they can see how they can use your images and space and include their own font and brand and labels. So that's just a little bit about composition. Like I said, it's it's not too in depth or detail. They just wanted to cover the rule of thirds, balancing using that grid system in the rule of thirds and then leading lines and kind of repeating patterns and stuff like that to show you guys how you can start using that in your minimalist images.
Ratings and Reviews
Lovely and information. The information was relevant and ended up helping a good bit.
Very interesting class, in a very unusual location (Arctic), which blended together to give a top notch class. I learned a lot about Minimalism as applied to photography, and Minimalism as applied to post-processing. Curtis is engaging while teaching and demonstrating on site, or back in his "office". I really enjoyed this class. Thank you Curtis.
Student Work