Testing the Magic Wand and Quick Selection Tools
Mark Wallace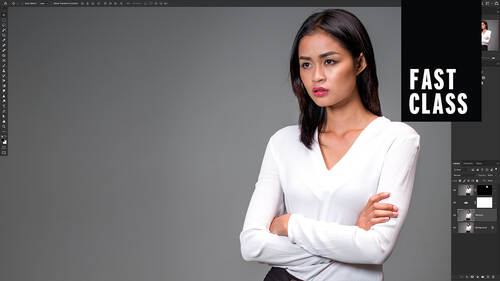 Testing the Magic Wand and Quick Selection Tools
Mark Wallace
Lesson Info
10. Testing the Magic Wand and Quick Selection Tools
We'll take some time to use the Magic Wand and Quick Selection Tools to remove a background from two different photos. In this exercise you'll learn why some tools work better than others depending on the situation.
Lesson Info
Testing the Magic Wand and Quick Selection Tools
I have opened wanna.JPEG, the same image that we've been working on this entire time, it's loaded up. One thing that we need to remember to do though, is to go over to this background layer and click on the lock. And then what we want to do is go to File, Open, and then we're gonna go over here and we're going to open karen.PSD. That's that right there. I'll click open. And now we have a new image. Now notice in Photoshop here, we have two different tabs so we can have two items open at the same time and we can go back and forth between those two things. So in this Karen file here, I'm gonna double click on the hand so that we can see her filling the screen. Okay, let's compare those selection tools and see why one will work better in some situations and some in others. So remember in Wanna, when went over here and we had the magic wand tool, it had really significant issues because the background and Wanna's hair are very similar in color and tone. And so Photoshop wasn't really able ...
to figure out where Wanna started and where the background started. So that wasn't very good but we had great success when we used the object selection tool and we just said, hey, select the subject. And so that new tool did a great job. But sometimes those old school tools work great. So over here in our Karen image, you'll notice that there is a huge amount of contrast between Karen and the background. The background is white. Karen is very dark hair and her outfit is very dark. So if we went over here and chose the magic wand tool, three by three average, our tolerance is 35 contiguous, and I hit the background, bam, just like that, the background is selected. Okay, so clearly some of these tools work better in some images than others. We can even go in and try this tool that didn't work, the quick selection tool. And if I drag this around Karen, notice that as I'm dragging, it works just fine. It selects the background. It's great. So what I want you to do after this session, is open both of these images and try these tools, all these different selection tools and try selecting these two different models and see which method works the best. Try the quick selection tools, try the magic wand tools, try the lasso tool, try the different options in the options bar. Get to know these selection tools because we're gonna be using them quite a bit. So, let me show you one more thing before we do the crazy Karen on beans, which is really gonna be fun and that is there's another thing that we need to do when we're selecting items and that is selecting what's not selected. That's called select inverse. When would we do that? Well, example right here is Karen. So right now, I have the background selected and what I want selected is Karen. We know we have the background selected because remember, I selected this white area and if I hit delete, you can see that the background goes away and not Karen. What if I wanted Karen and not the background? Well, I'm gonna hit Control+Z to undo that delete that I just did. How do I select Karen and not the background in this instance? Well, what I can do is I can go to the top menu and click on select and then select inverse. And what that does is it says anything that's not selected, select that and anything that is selected, unselect it. It's inverting the selection. So now, we have Karen selected and not the background and I can prove that by hitting delete. Bonk. The exact opposite thing is selected. It's a negative of what you've done.
Ratings and Reviews
Student Work