The Style Cycle: Define
Julia Kelleher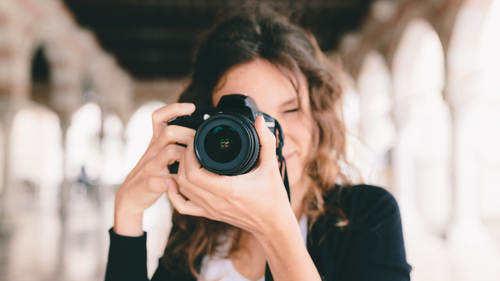 The Style Cycle: Define
Julia Kelleher
Lesson Info
8. The Style Cycle: Define
Lesson Info
The Style Cycle: Define
Half the challenge with defining your style is sticking with it. Because the imposter syndrome that's going on in your brain is gonna wanna make you change 'cuz you will doubt whether it's truly you or not. But I encourage you to physically ignore it. You will literally have to recognize it and go I'm gonna stick with this for a while to see if it's truly me. And you are not allowed to have a say in it for three months. Like literally, when you think you've found your style you've defined it, you're like yes I've gotten through this class, it was awesome, I've totally defined it, I know where I'm going, let me tell you, two weeks from now... Are you sure? You know it, you know it's coming. That little voice, are you sure? I don't know that was just a two day class. You nah, that's not you. Maybe you should change it up again. No, uh-uh. Shut it up. You got three months to be quiet. You're in solitary confinement. Get out, okay? Do not let him tell you you need to know for sure by givin...
g it some time. And that is the most frustrating thing about finding your style is giving it time. Having that patience to let it marry you. You got a date. Frickin' don't let the one night stand thing happen. Let it date. You gotta like know if it's cool or not, okay? You have to stick with what works. Stay consistent. Do not go all willy-nilly on yourself. How we define our style is with visual description and mood. Okay? We are going to be coming up with a lot of adjectives, and there's a great book out there called The Synonym Finder. Who's the author? Belinda, do you remember the author of The Synonym Finder? It's my Bible. No it's not, it's a...I wanna say Roberts? I'm gonna have to look it up. It's a red book. I've had mine so long the cover is like tearing off and it still says Radlick on the side of it, my maiden name. Yeah? Looks like it's a J.I Rodale. Rodale. That's what it is, Rodale. J.I. Rodale. That's a...if you can buy that book, it's a thick monster book. That book will give you so much in terms of marketing messaging. When I was trying to figure out the four step find it formula name, I got that by looking in The Synonym Finder. Because I started looking at f words. Not... [audience laughter] Sorry, that was embarrassing. Not that kind of f word. But I was looking for four letter words that rhymed with find, with four, with step process, you know, and I came up with formula. I'm like yes, it is a formula. The four step find it formula. And it like came about. So using words and language, and having a resource like that where you can look up a word and find synonyms for it that may work with the marketing message and the language that you wanna use, the adjectives that you wanna use, is so powerful. Because sometimes I'll look at my work and go, oh it's ethereal, but then I'm like, that's not really ethereal. Let's look up ethereal. And I'll look up ethereal in my synonym finder, and it'll give me all these other words for ethereal. Like, yeah that describes it much better. So, literally, my Rodale book, I have Radlick written on the... you know how you close the book and the pages you can write your, it's that thick, Radlick is my maiden name and I... this thing has been with me my entire journalism career because I needed to use it when I was writing journalism for finding just different words to say things. You know how many ways I know to say rain? [audience laughter] I was a meteorologist for years, and it rains a lot in Portland. A lot. And I don't wanna say rain every single time, so that synonym finder, oh man, it just gave me every word in the book for rain. Precipitation, drizzle, spritz, mist, squirt in the dirt, mist, you know, there's all kinds of was to say rain. So, and one word might be better than others. There's a difference between a squirt for the dirt and drizzle. There's a huge difference, right? Okay, so, it's the same thing. Ethereal may not be your word, but if you look it up in a good synonym finder, which this one is the best I've ever had, it's my Bible, it gives you that flexibility to find other words that may mean something better. So when we go into the defining phase, we're gonna be examining words and language to help us define it. Now a lot of you are just maybe saying, well what's the point of that? I don't need to do that. I don't have to make an artist statement or anything like that. You may think that, and that's fine if you don't need to, but let me tell you, it is so empowering to write down what you do in your art, why you do it, what it means, and how you hope to impact the world. By being able to put that in words, all of a sudden you are giving yourself marketing language to use to attract your ideal client in magnificent ways and no one else is doing it. No photographer is doing it. Painters, sculptors, they do it left and right. Because when you go to an art museum, think about it, you wanna know what that artist was thinking, don't ya? Why the heck did they do that? And when you read an artist statement or something, you're like wow, that is so cool. Like, it gives you a glimpse into the artist's mind, and that is so empowering as a viewer of the art. Same thing with behind the scenes. Why do we all love bts's? Because we get to see inside the artist's process. We get to see what they're thinking. What their elusive creative mind was doing when it created that piece at that moment. That's intriguing human connection. So when we reveal that in language and in visuals and in words, all of a sudden the viewer and the ideal client is like ah, yes, that's me too. And again this comes down, I've talked in other classes about finding your purpose and your why. It's the same thing, the same concept, but now instead of taking into our business and our customer service and what we do for people, what we promise as a brand, we're also doing it into our style and why we're creating the art that we're creating and the message and the impact we wanna make on the world.
Class Materials
Body of Work Artist Statement
Ratings and Reviews
Wow wow wow, as an artist on a beginner's stage this was an amazing presentation. Julia is a pro on teaching the psychology of the artist within ourselves. I will follow her from now on and start putting in practice her step by step techniques on finding my style as an artist. Thank you Creativelive and Thank You Julia, you are amazing
This course is amazeballs. Love love love love love love love. Just buy it. :)
Wow - this may be my favorite Julia Kelleher class (and I own several). So much of what she talks about hits home with me, really speaking to where I am at in my photography journey and the struggles I grapple with every day. Lots of hard truths - the kind that remind us as to the necessity of good old fashioned hard work (really, really hard work) - the need to be truly technically proficient - the need to experiment - the need to practice every single day - repetition ("wash, rinse, repeat!") - and the need to continue learning all the time. I also really appreciate the fact that Julia touches on the PPA (Professional Photographer's of America) CPP (Certified Professional Photographer) process a bit. I just took my CPP exam and will be working my way through the image submission phase of the CPP process over the course of the next year; so it was nice to hear Julia's thoughts and experience in her own CPP journey. I NEEDED this course. Julia and Creative Live - thank you for bringing this to us. And Julia, thank you for diving deep into the hard realities that we need to hear and know in order to truly grow and evolve artistically and professionally.
Student Work