Fine Art Photography: The Complete Guide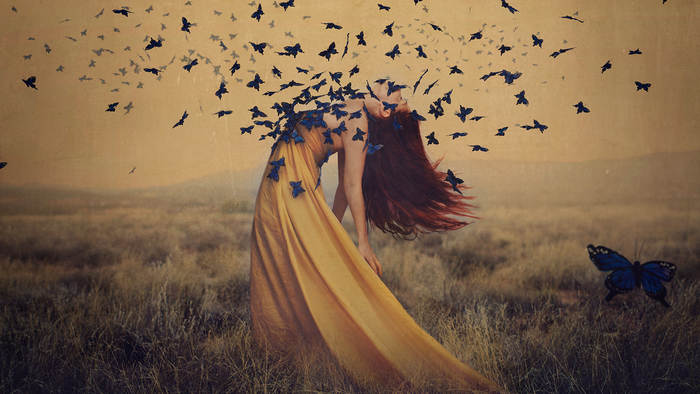 Lesson Info
Introduction to Shooting Photo Series
We're finally here to do the official shoot, and I'm very excited because we did a ton of prep work for this, so I have got models here on set, I have got props all over the place, and we're ready to get started, and it's really important to me now that we're actually doing the photo shoots that I think a lot about how I'm going to direct my models and making sure that I get the images as fast as possible, because we have a lot of uncomfortable shoots to do today. I have got a fish tank with water in it, I've got a room full of sand, I've got lots of stools placed around to balance on top of, and they're not necessarily anything dangerous, but they're things that are gonna be very uncomfortable for everyone to do, so I wanna make sure that it's really fast, because the faster, the better. I wanna make sure that I'm prepared enough to get the shots in maybe one to five frames, and I wanna make sure that the models are able to get out of their position within I would say at least a coupl...
e of minutes after starting the photo shoot. So we've got our models here, and if you guys wouldn't mind joining me, I just wanna talk a little bit about what went into the planning of this series, and how I have decided to work with our lovely models. We have Kristen and Rachel, and they are by my request, very bendy and I'm really excited about that, so that means that they're going to be able to hold their position perhaps better than someone else. They probably have really good core strength, they're going to be able to hold weird positions for maybe an extended period of time. And what I did right before we started the day is that i took them aside and I said, "Okay, these are my super weird sketches," and they probably don't look like anything that you would ever understand if you were to just look at the sketch, but nonetheless, here's a little visual of what we're going to be doing with my needs list, my materials that I will be shooting with so that they know what's going to be in the space with them as well as a little overview of each image just describing what it is, where it is and how it's going to go, and it's really important to me when I'm working with another person, especially since I'm used to doing so many self-portraits, that I explain the details of what the pose will be, how long they're going to need to hold it, and precisely how uncomfortable it's going to be for them. When I started choosing models for this process, I first of all wanted somebody who would be able to hold the position and that's how we ended up with these two lovely people. And then after that, I had to decide who was going to go in each space, so my main consideration, aside from who's going to fit in what wardrobe best, because generally, they're going to fit in all of my dresses and things like that, was hair color. Trying to decide which hair color works best in which space, especially because for example, we have a fish tank with murky water in there, so what hair is going to stand out in there versus what will stand out best in a field or in a barn, and what's going to work well with a dark background, so those were my main considerations when I was choosing who was going to do what image, knowing that they have a lot of the same skill sets in terms of being able to hold a position, that wasn't so much of a consideration here. So I think we're ready to dive into shooting this series and I'm very optimistic that we're going to be able to go very quickly cuz we've done so much prep work and I totally believe that these girls are going to be able to hold those positions like pros. So let's get started.
Creating a great photo for a client is one thing - but turning your passion and ideas into a series that is shared, shown, and sold is a whole different business. If you do it right, you'll be shooting what you love all the time. Learn how to choose which ideas to create, how to turn your concept into a production, and steps to getting your work seen and even sold in Fine Art Photography: A Complete Guide with Award-Winning Photographer, Brooke Shaden.

This is an all-inclusive workshop that provides the tools you need to run a successful and creative business as a fine art photographer. You'll learn creative exercises to find and develop your ideas, how to create an original narrative, how to produce your own photo series, post production techniques and skills for compositing and retouching, how to write about your work, ways to pitch to galleries and agents, and how to print your pieces so they look like art.

This workshop will take you on location with Brooke as she creates a photo series from scratch. She'll walk through every step for her photo shoots including set design and location scouting, she'll cover techniques in the field for capturing your artistic vision, post-production and compositing techniques, as well as printing and framing essentials.

She'll round out this experience by discussing all of the details that will help make your career a success like licensing, commissions, artists statements, social media plans, gallery prep, and pricing your work.

This comprehensive course is a powerful look into the world of fine art photography led by one of the world's most talented photographers, Brooke Shaden. Included with purchase is exclusive access to bonus material that gives exercises and downloads for all of the lessons.
Reviews
I tuned in for most of Brooke's lessons in this course and watched some of them more than once as they were rebroadcast. First I want to say that Brooke is a very good instructor. Her easy-going, friendly, down-to-earth, somewhat quirky manner cannot be mistaken for unprofessional. She is very prepared, she speaks well (not a bunch of hemming and hawing), she is thoughtful, she is thorough, she is very relatable and at ease, and she is definitely professional in her presentation. I really thought when I first tuned in that it would mostly be background noise while I was at work, sound to keep me company. Not because I didn't like Brooke but I really didn't think I was into fine art photography nor did I think I cared about the business side of things much. Not now anyhow. I was really wrong. Brooke sparked a deep interest in me to delve into fine art photography, to consider creating images for myself, from my imagination. In fact, I realized that this was something I'd been thinking about for a couple of years though I hadn't put a name to it (the idea of creating pre-conceived images based on my own creative goals). I gleaned many little treasures from her about image sizes, working with printers, different types of paper, selling, interacting with galleries, and so much more. I may not need all of what she taught right now because I'm definitely headed in another direction at the moment, but she planted ideas and information in my head that I know will be useful at some point. Things I may not have thought of on my own, but that seed is in my head now so when the time comes, I'll know. I'd really like to buy her course but at the moment, with the holidays right around the corner, it's not in my personal budget. I'm grateful to have caught the live and rebroadcast lessons though, and her course is on my list to own. I think it's a great reference to be consulted over and over again, not watched once and forgotten. Kudos Brooke for really putting together an excellent course.
I'm retired now, but spent decades in the people and training business. Brooke is extraordinary! Even though this course is extremely well organized and she's left nothing unattended, she moves through it with friendly conversational manners and without a sense of it being stilted. It's as though we are all her friends, not students, as she shares her heart and passion with us. What a joy it is to listen to her. And what a clear, unambiguous command of her subject. Wow! She explains it with such ease using explanations and techniques that won't overwhelm artists just starting their portfolio or the Photoshop-squeamish among us; but despite its simplicity her resulting art is breathtaking and beyond original. I wish more of my professors at school were as engaging. This was by far my best buy at Creative Live yet.
What an amazing 20 days this is going to be! Brooke is so enthusiastic and has such a lovely manner. What a bargain for all of the information Brooke will be sharing with us. So excited. Thanks Brooke and Creative Live. :)