Audience Q & A
Penny De Los Santos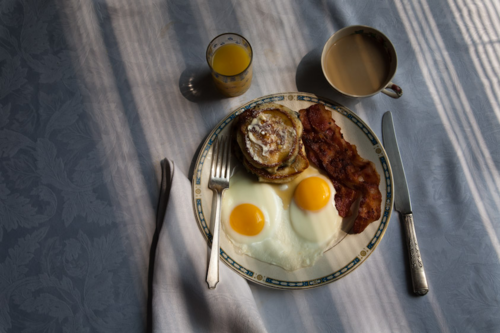 Audience Q & A
Penny De Los Santos
Lesson Info
2. Audience Q & A
Lesson Info
Audience Q & A
Do you have a subject matter that you haven't photographed yet that you would really like to photograph? Ah, is someone giving me an assignment? KFDPhoto. Hmm, do I have a subject that I wanna photograph. Yeah, there's a ton of them. There's a ton, there's just so many great stories. I would love to be on assignment in Turkey or, I don't know. I mean, I think there's some great stories here, you know? Yes, the answer is definitely. Is there one place that speaks out to me right now, no, but that doesn't mean anything. You're all, been there, done that. Yeah, no, I just don't think, and that's the other thing. You do not have to cross a huge ocean to find a great story. There are great stories in your back yard. You found one yesterday, there's a kitchen here? Um, yeah, there's a restaurant called Fair Start that does, they help underprivileged people with a career working in a kitchen. And I just happened to be walking by this place and noticed the sign that said chef night...
on Thursday night, and went in, I made a reservation, not knowing what their story is, and when I got to the restaurant, I found out about their background and their story and then I waved to somebody and said, you know, "Can I take some pictures in your restaurant?" And they're like, "Go for it." So you never know where you'll find a story. Yeah, there's a ton of stories in Austin I wanna shoot. Yeah, I mean, your stories can come from any source, and I don't, yeah, you don't have to travel to do it. You can go in your back yard. You brought up an interesting point, and I wanted to follow up on it, and I can't remember. It's gone completely. Oh, I know what I was gonna say. So when I started shooting for Saveur, I, so, these are the pictures I was making. So shooting food, for me, I learned it, by being thrown into it and just shooting it. So I shoot food the way I make these pictures. I almost never use a tripod, because I wanna move around, and I move around. I don't wanna be restricted, and a lot of food photographers who do work in studios primarily use tripods. I'm not saying I don't, but mostly I don't. So tomorrow, we are gonna do a food shoot in-studio, in the vein in which I have shot a studio shoot, food shoot. So we've got a food stylist and a prop stylist who are working with us, so you'll get a feel for that, and then on Sunday we're gonna do a actual, we're gonna try to simulate a food experience, you know, a food culture, the idea that, you know, you can go to a place and experience something and how would you photograph that, how would you tell the story of that place? And that space and the people, and in addition to that, photograph the food. So initially, I wanted us to all fly to Mexico City, and photograph in my favorite market in the entire world, but they didn't really, these guys couldn't have come, so. (chuckling) Watch me. Can I do one followup question about what you said before? Clara Varre would like to know, and many people are asking what's a fixer. Oh, good question. I am sorry I didn't qualify. A fixer is someone that, so when I land in a place and I don't know where I'm at, obviously I don't know the streets, I don't know the vantage points, I don't know where I can find what I'm looking for visually. A fixer is that person. So if I land and I'm like, "Okay, this is my story. "I've gotta get to this village, "I've gotta photograph these people, "and then when I come back I need to get "a vantage point of the city, "and I need to get it at sunrise and sunset. "And they both have to be from two different locations, "and by the way, where's the light coming from "when I get to those locations, and in addition to that, "where's the market, and is there more than one market, "and I'm looking for a woman who hand-makes, "blah blah blah." So I'm like spouting off all these ideas, and this person who is normally, can be, sometimes, a journalist, so they would know the community really well, and they'd be like, "Oh, here's the market you wanna go to. "Here's the person you wanna photograph for that. "Oh, I know someone who can get you there, "oh, and by the way, did you know that "there are people on horseback who do this pilgrimage "every Saturday and they," I don't know. So a fixer gets you where you wanna be painlessly. Hopefully, if they're good. They're always local, and they can also be assistants in the sense that if I'm shooting food, they're gonna hold the reflector for me or they're diffusing the light for me or if it's like a, you know, they're holding my bag, but not necessarily they're assisting me, but most fixers are kinda just making my life a lot easier. Do you have any advice as to how to find a fixer? Yeah, absolutely. I would do two things. I would tweet. I would tweet, "If anybody knows a fixer in Rome," or wherever you're going. And you know, I don't know if you need one in Rome, 'cause Rome's pretty visual and there's a ton of markets. But well, so, the first thing you wanna do is you wanna do your research. You always want to read as much as you can about a place before you go, and so if there are travel guides or if you're seeing a blog about someone who went and this really interesting piece, I would email those people and say "Hey, I'm heading there, "I'm gonna do a story, do you know anybody "who is available as a fixer or someone "who could be a liaison or I could interview them "and ask them, where's the best place to get this or that?" That's what I would do. Bloggers are it in terms of finding information, so bloggers can be great fixers. In fact, I worked with this really wonderful blogger in LA who was my fixer for the LA story. I mean, he rocked it on that. I didn't, I mean, I speak English, obviously, and I speak Spanish, but he really helped us find this woman before we even landed, and kind of helped us forge that relationship. You wanna keep taking some more questions? Sure. Do you guys have any questions? In the audience, here? I'm talking to you guys. Does it freak you out or something? Do I need to moonwalk? Yes, yes you do. Why did I ask that? Of course they'd say yes. I have a question about the time, you said you spend a lot of time on assignment, on location. Is that predetermined, or are you sort of open-ended? You go into an assignment thinking it's gonna take you five days, but you might need eight? It's predetermined, because I'm on a budget. If I'm staying, like, let's say, it's predetermined. I can't, flights are really expensive to change, especially if it's an international assignment. So I have to be very careful. Sure, there are the exceptions. I've called my editors before and been like "Oh my god, this is amazing." I was in Senegal last summer on assignment. It was a really difficult time to make pictures there, and I actually ended up calling my editor and asking him if I could stay on a few more days because it was really sensitive with photography. Like, crazy, I'd never experienced it like that. So, um. So yeah, you know, basically. So you know, you have assignment X, you know it's probably a five or seven day assignment, or do they just say "We're sending you for five days, "get it done?" So, there's some flexibility there. I mean, I book my own tickets, so I mean, if I wanted to stay on. Okay, I'll give you an example. I went to India on an assignment, I stayed for a few extra days 'cause I wanted to be there to shoot. I sent everything I shot, even the few extra days I stayed, because it was India and I knew the pictures were gonna be amazing. It depends on where I'm going, and if my schedule allows for it. Like, I couldn't stay in Honduras 'cause I had to come back for here. Have you been on any assignments where it just wasn't a very visual place and it was really kind of difficult to find some photos? Yes, yeah. I have to be careful about the assignments I talk about. (laughing) Yes, I have. I'm trying to think of one that I can talk about. Uh. Yeah, I have. You know, this is a great one. And I guess sort of what I wanna know is, what did you do, how did you kind of brainstorm to find those images? I have the perfect answer. So, and I'm kind of excited I actually have the right answer, for me. I was sent on assignment to photograph, to do a series of assignments in Texas. That's where I live, right? And it was the worst assignment of my career. It was so bad. So I had to travel to different parts of the state. Texas is huge. I mean, it takes, to get to parts of West Texas, can take 10 hours, you know? It's a big state. And so it was so bad that my editor actually called me and, after I'd sent him my film, and said, "Is everything okay? "Are you, is your personal life all right, are you..." And I was like, "Yeah, I think so." And he was like, "Well, your pictures "just didn't feel like you. "It didn't seem like you were yourself. "I just didn't know if everything was okay with you, "maybe something was going on." And I was like, "Whoa." I was like, "Oh my god." And I remember hanging up the phone and going, "Crap." I felt, I beat myself up big time for that one. And I called him back and I said, and actually, you're gonna meet this editor today. I called him back and I said "Larry, I don't know what happened. "Maybe it's because it's Texas. "I've seen it for years now, "and maybe I couldn't see it with new eyes." There's something to be said for seeing something every day and seeing these scenes that you see every day and missing them, because you see them every day. And he said, "You know, I wondered if that was it." And I just said, "I think maybe it was." And then I said, "Would you be willing to let me "go back out, go back to those same places, "and make photographs again? "I wanna up the game, I wanna be better than that." And he said, "Penny, it wasn't that bad." (laughing) So that's how much I beat myself up. But he said, "But you know what I love? "I appreciate that, so why don't you go shoot this?" So I did do a couple other Texas assignments for that issue. They did a whole issue on Texas, and so, and actually, the issue looked good, and I was actually, I could look at that and I felt good about the pictures. So it was like, yeah. It was, I don't know if it was that bad. He was right, it wasn't that bad. So there you go. M Hanes would like to know how your dynamic changes when you work with a writer as opposed to telling the story yourself. Uh. It changes a lot. The dynamic with the subject changes, because there's more people. So it depends on the writer, too. There's definitely personality differences. It can change a ton. Because the writer is interviewing too, maybe, while I'm trying to make pictures, and that's not always the best scenario for a photographer. You know, you really want your subjects to do their thing and not pause to answer a question. But then sometimes after you get past that initial period there's a moment where they start to become who they are and you photograph their real life. But I also think that there are some writers who just come in and, like me, they're just observing. And those are the best ones, because they're really kind of just letting them do their thing. And I love the way those writers kind of paint the story with their words. I mean, that's where I see photographs, you know. But then when I'm by myself in the field, it's a completely different experience, because I'm spending more time with the subject and I'm also, you know, I tend to overshoot. And when I say that, I mean that I go, like, I'll always go to a market. There's some, like, go-to things for me which, 'cause I, unlike the writer, the writer doesn't have to really have a sense of place, an establishing shot. I do, and sometimes the establishing shot doesn't always come from the subject. Sometimes it's an overall or vantage point of the city or a scene or, you know, it's a beautiful geographical photograph. And so I spend a lot of time making that picture. And so when I'm with a writer, I lose the writer at that point. I'm like, "Okay, I'm going to do my thing." So it's a completely different experience. Both are equally as engaging and interesting, and I definitely feed off a writer's experience, for sure, in the field, easily. Definitely, it's like, it's a gift. That was for you, Kathleen. So, oh, question, Amani. So kind of along those same lines, of course when you go into a story, you've got a basic, or more than basic idea of what you're going in and looking for. Do you have, do you set up like a physical or mental shot list of what you're aiming for, and if you do, does it end up, do you end up sticking with that or do you kind of let the story take shape around you? I always have a mental shot list, so, and my mental shot list may be different than what you're thinking. I'm always thinking establishing shot, details, portraits, scenes, food. Those are my itemized shots. And I don't relegate myself to those happening around the subject. So you can't. I'm trying to tell the story of a place or a person, I might describe it just as well by getting a really beautiful, evocative kind of scene of the market with these men carrying fruit, you know, or something, I don't know. But yeah, I have a list of shots, but they're more like have I shot a detail. Have I made a really beautiful portrait, have I thought about how I'm gonna see this place, what's the best way to see this place, this space? And then the food, photographing the food takes, like, it's a completely different skill set. So when I do photograph food, I put down one camera and I pick up another, and that is, I'm speaking metaphorically in that sense. Because it's just different, you know? It's hard for me to be shooting at food and then, like, there's this amazing scene happening, and I'm gonna leave the food and go to the scene, but it's really hard. It's hard to adjust between the two, and sometimes I have to do that a lot, and I hate it. I hate it, because I wanna be able to really think about what's in front of me and focus on it and give it as much attention as I need to give it to make sure that it's the best that it can be. Does that make sense? Mm-hmm. Cool. So I have a question from G2, who is one of our regulars in the chat room. How do you go about understanding the essence of a food that you don't eat, and is there any food that you don't eat? Definitely. I don't know them yet, but I'm sure there are. (laughing) Yeah, no, there is. I'm trying to think what I don't eat. I'm not a big fan of, I'm not really a liver person. Sweetbreads, they have to be fried and seasoned really well. I don't eat the stuff I photograph. Sometimes, but normally no, yeah, never. Because by the time I am done photographing, it is dead. Like, it is dead, it's cold, it's not in any way the way it's supposed to be eaten. I don't really, and I don't, I have literally put my hands in it, I've probably sweated in it at some point, I've, like, moved it from another plate, I've like, splatted stuff all over it. I mean, I get in there and I, you know, I mess it up. You don't wanna eat that. (laughing) You don't wanna eat that. That's kind of interesting to me, because you think about a chef as, you know, always having to eat and try, and I would think a food photographer would be eating a lot, but it's really not that way, is what you're saying. It's not like a chef. No, there are the exemptions, exemptions? Exceptions, and exemptions. No, I mean, I did this one shoot at Manresa, in San Francisco, amazing restaurant, big chef, beautiful food, I mean, really visual food. And he watched me as I was making the picture, in fact, he held the reflectors for me. And we shot it like in his garden, you know. Of the restaurant. And he was like, "Do you wanna try it?" And I was like, "Well." So I did, and it was amazing, you know? But yeah, no, I don't really like to do that. There's, a lot of the writers I work with are like "Let's eat!" and I'm like "Whoa. "Go for it, man." (laughing) I could tell you some funny stories about that. But I won't. That's not really what I expected, so that's good. Really? Yeah, no, I thought it would be like a full-on eating session every time. Yeah, no, no. No, and that's the other thing. I always eat before a shoot, a food shoot, for sure. That is the most important thing. And you eat really, really clean and light, because the last thing you wanna do is photograph when you're stuffed, that is like, you just wanna go to sleep. Oh my god, when I was in Honduras, wow. I, okay, it was like carbo. I haven't eaten that many carbs since I was like 12, it was insane. And so we're in this remote village, these African women, African descendants, are making, like, you know, plantains, and I mean, intense carbs, and so, you know, lunch comes, I'm shooting, and of course, they're like, "You gotta eat." I mean, they were up in my face saying "You gotta eat." And I'm like, "Okay, let's do this." And it was like, black beans and rice with, you know, tostones, and fried plantains, and another carb, and then another carb, and then another carb, and then a small piece of protein, and I was like, "I'm going down. "I'm going down for the count." I'd just gotten off like a 12-hour flight, I had a horrible, like, layover. I don't know what happened, I can't even remember. So I'm like, okay, so I sit down, and I'm like, "I'm just gonna eat like three spoonfuls "and then that's it," right? So I ate, I was starving. I was starving, 'cause we'd started driving to get to this village at like four a.m. and we didn't really eat until we got there. So when we did finally sit down, I was really hungry, and I was like, "This sucks." So I ate, I didn't eat the whole plate, I ate some, and I gave the writer the rest. Literally, and I'm not exaggerating, within an hour or two, I was like, under a mango tree like. I was passed out. I couldn't even move, and the writer was like, "Penny!" And I was like, "Yeah!" I was exhausted, first of all. And it was hot, it was like being back in West Africa hot. I was like, what, this is insane. So yeah, in that case, I did have to eat. Anyway. Okay. I don't really, I kind of, can we take a break, is that all right? You ready to take a break? Unless you've got more questions. Oh, well, we got plenty of questions. We got tons of questions. Let's keep going, because I don't, I finished the pictures I wanna show for now, and then we have Jim's interview next, right? Yeah, we're gonna take a break at about 11:45, so that's in about 25 minutes. So we have tons of questions, let's just keep the questions rolling. Are you cool with that, guys? Yeah, yeah, let's go for it. I spun through those pretty fast. So JackiePhoto heard that a lot of magazines use fake food that looks like real food. Do you ever, have you come across that? No, I always shoot real food, 100%. Organic approach. (laughing) She's on it. I wanna say, I think that it's more advertising that uses the fake food than magazines. I think they did use. Yeah, that's totally true, yeah. Advertising, commercial work, definitely, but I've shot some commercial work, and that's my style, so these are my kind of personal ethics that come into it. In my opinion, food looks appetizing when it's real, you know? How many times have you looked in the frozen food section and seen like, a super-styled commercial shot that was so not real? I mean, it was like, "Are you serious?" It's not appetizing. I don't think it's a great selling point. And there is a trend to shoot real food now. It's a style trend in advertising to kind of shoot real food, you know. So that's what I do. I've never shot fake food. But yeah, for some, a lot of advertising. My sister used to be a food stylist, that's why I was thinking about it. And it was, you know, the ice cream scoops made out of Crisco and stuff like that. But I mean, for practical reasons, because it would melt. Yeah, yeah. Or the fake ice cubes and so on. And I won't even tell you what she did to a turkey with motor oil to make it that dark brown, yeah. Yeah, that's just not my style. And I suppose, I don't think an advertising client would hire me based on that, for sure, and that's good, 'cause I don't, I mean, that's not how I shoot. Yeah, it's like, I don't take every assignment I get. You know, I don't, I don't. I stopped doing that a while ago. So you know, unless it paid really well. (laughing) But I don't. Yeah, I can't. I don't wanna, I mean, I have to feed my soul, so in order to do that, I wanna take the assignments where I'm gonna be able to feed myself and my soul. You know what I mean? That's awesome. Okay. Filia had asked, "What's the best technique "to photograph people eating, ensuring they stay natural "so that you can capture their "true expressions in the moment?" Do you photograph a lot of people eating? Yeah, I don't like to, though. It's hard, right? It's super hard, and it's really unflattering. It's not fair, it's not nice. In fact, people are always like, and I'm like, "No, no, no." I don't, I don't, I mean, I do, but I don't. I get it before, like, if they're kind of like playing the food a little bit, I'll get that. But no, eating shots are pretty miserable. Like, they're just not flattering. No, don't do it, don't do it. Just walk away. (laughing) Or wait, you wait for the moment. You gotta wait, you wait for the moment. It depends on the situation in which you're making a photograph, but I would really just wait, you know? I mean, if it's a portrait and you're completely working the subject, and you take them to another location and you think about the light and the background and then you're gonna get them eating, you might get them just right here with the bowl, but no, you don't want, open mouth, no. So that makes me think, like, there's so much to posing people for photo shoots. And are there tricks in food photography for posing eating? Is there some way you can describe to people, "Okay, this is what I'm gonna have you do. "Take the fork, when you're about 2/3 away," you know, "have this look on your face," is there posing for that? Well, there is, but I think those photos are very cliche. I think you do that one time, that's it. Like, that's it, that's a cliche, and it's like, you can't, that's, no. It's bad, it's, I mean, I think you can make that photo, but because it's important for you to start there or start at someplace. So maybe at the beginning you're making cliche photos, but I think the idea is, like, that's not the goal. I think you wanna elevate your pictures beyond that cliche, for sure, and so for me, pictures of people eating or almost eating, well, it's very awkward, it's not flattering, and it can be cliche. And then there's this kind of like standard photograph of people holding their food and looking, and I think that's great, but you can't do that every time. That's, you gotta be really careful. You gotta move beyond those. Like, that's kinda like a foundation. If you're doing that a lot, you're doing that because that's an easy photograph for you. You shouldn't be doing that, you need to go past that. You need to go to the harder photographs and challenge yourself, push yourself to like, see beyond your own photographic cliches. So for me, that's one. I'm like, mm-mm. And I would, there are some photographs I won't make because I don't wanna make that picture. You know? I'm not saying I'm not looking, I'm just saying, hm, I might be ready, hm, no, no, keep, just wait. And it either happens or it doesn't, but. It comes with experience. Yeah, yeah. David Weigel asks, "Is your passion for the subject "driven by the relationships you develop "or do the relationships develop because "you're passionate about your subject?" Wow. I know. That's a great question. Can you repeat it? No, I'm good. (laughing) I had to read it a couple times myself. I think it's both. I think if I've got a passionate subject, great, because I'm meeting them with the same passion. But I am pretty passionate. I love what I do. I would not be doing this if I didn't love it. It's not worth it, life is way too short. Photography is way too hard, and I'm my toughest critic. So I wouldn't do this if I didn't love it. This is, like, not a great, it's an amazing life, but it has its drawbacks. But I love it. So I'm enthusiastic behind the camera, definitely. And I'm in pursuit of something that's gonna be inspiring and that's gonna evoke people. I want people to look at a picture and feel something. I want them to feel like they've been there or that they've tasted something, or that they wanna make it or they wanna eat it or they wanna go there. But I wanna take people to a place they've never been and wanna experience it, and hopefully they do through the photographs that I make. So I'm, I can't do that unless I show up with as much enthusiasm as the subject, or beyond it. It's like, I have to have an insatiable curiosity, you know? I have to constantly search. At the end of the day, I'm exhausted. When I get home, I wanna sleep for like a week. But the next opportunity I get to go make those pictures, I'm there. I mean, that is the key for being a successful photographer, is you have to be motivated. You have to be inspired. And for many people, that manifests very differently. For me, that's just like working my ass off. That's how motivation happens for me. I know that I might not go into a situation and have the best pictures, but I know I'm gonna work so hard in trying. That I can guarantee. They may not be the best photographs, it may not come together, but I tried my hardest. And I can walk away from an experience going "I gave it my best," you know? Thank you, and you know deep down at the gut feeling, you've given it all. Yeah, I mean, I really feel like, for me, I think it's important you educate your mind so that you can lead with your heart. And that is the way, that's the way I make my pictures, you know? I wanna know everything I can about the subject so that when I get there, I can just, you know, be as open as possible to react to what they're doing. When you say you, like, that you have the enthusiasm, do you mean that you show that enthusiasm when you're behind the camera, or. Sure, sure sure, that's a good question. 'Cause you're making it sound like you definitely like to stand back and let everybody tell their stories, and the stories come through the pictures. It can be both. Both, okay. So I'm not gonna be like, "Yeah, I'm here to make a picture!" No, it's like, "It's nice to meet you." And I'm enthusiastic behind the camera in a quiet way, but that said, if I'm shooting food, and you'll see this tomorrow 'cause I know I'll do it. 'Cause I get really excited. If it's a great picture, I get excited. So I get excited after I know it's there, in the same way that if I'm photographing someone quietly, disappearing, making a picture, I'll peek a glance at the back of the camera and be like "Yeah, yeah, I got it, I got it." Yeah, I mean, I think most people can sense when I'm with them that I'm pretty excited to be there. I try to be cool about it, you know. Speaking of that, Penny, the internet is really excited about all that's going on. Everybody's enjoying this so much, and I just wanna say, the internet, you guys are asking amazing questions. So this is awesome. So they've brought their A game. They are so on their A game with the questions. I'm loving this, and we have time to ask questions. We're gonna ask some more questions right now. Yeah yeah yeah. Okay, Michelle Mista would like to know, "When shooting food culture, how do you establish "one or the other, the scene versus the food?" Well, the scene takes a lot harder to get to. Well, that's a great question. That's a tough one. They're both overwhelming. (sighing) I deal with this, this is my life. Yeah, which one trumps? Because the food is ready, and then the scene starts to happen. Everybody gathers, and the plates come out, and people start to get excited, and then I'm like, "Crap, I've got to shoot the food," because it's live, it's like, at its best. (sighing) That's hard. The food happens first, because it would die. It dies, so you get what you can. I'm gonna tell you, when I was in Honduras, that happened. The food was coming out, and the women were gathering, and it was this amazing moment, and I was like, "Shit!" It varies, it varies. It depends on how the moment is coming together. If it's a profound, beautiful moment, go for it. That's what I do. And then I'll get food second. But if it's not as escalated, and there's, I can tell when something's really gonna start brewing, I'll shoot the food, but I'll shoot the food fast, and I won't get a chance to really get into it. Or what I'll do is I'll have them put food aside, just until I get these shots of them kind of in their moment celebrating or sitting down, whatever it is, or if it's, if we've really organized it well and we have the opportunity, we will do the food separately on a different day than eating it. But in this case, when I was in Honduras, it was like, we're in a remote village, these ladies are gonna cook once. You know, it's not like we can come back the next day and drive 12 hours to get there again. That is a great question, and that is, that will always be a struggle. And you have to trust your instincts, develop your instincts so that you know when to react and if it's worth, like, leaving what you think is gonna hold. The food will hold for a while, not a long time. It depends on the food. So then I would always work the situation first. And if you're trying to get the steam coming off of it, you need that quickly. I mean, in your mind, are you thinking. I don't ever worry about steam. You don't? Sometimes, but no, not really, it can be really distracting, because it's like a white plume, and you really wanna focus on the food. So you always, you gotta think about that. Well so, I mean, if you're going to take food photography, are you thinking, you have to get the food, because I'm here to do the food, or? Yeah, but it's not just about the food, it's about everything around it. I mean, that's the way that I shoot it. I mean, shooting food is not, it's so much, it's about the plate, but it's so much beyond that. It's beyond the plate, for sure, easy, definitely. So you focus on, I always focus on the people. I mean, it's about the connection. That's why me working for Saveur makes so much sense, because that's what they celebrate. I mean, they're really interested in celebrating that place where people connect, because of food. And that's the story they wanna tell. So the food is very important, and oftentimes, it will be shot secondary, like, back in the studio in New York, or I'll have an opportunity to shoot it, maybe another restaurant makes a similar dish and maybe prettier. So that's the other thing that happens. Sometimes the food that people make isn't pretty. Like, it's not pretty. Like, it's great-tasting, but not for a photograph. And so I'll find it in another place. I'll find it from a restaurant or something. And kind of not fake it, but just get another version of it. This is kinda what this workshop is about, right? Yeah, yeah yeah yeah. So I don't just shoot, I mean, if I have the time, I'll photograph food at several different places. Does that make sense? Yeah. Michelle McNichol asks, "I live in Mexico, "and often take pictures in the mercatos. "Many times women ask for money after they see "that I take their picture. "Because I'm only taking a picture for personal pleasure "and not for profit, what's the appropriate way "to approach this situation?" And other people have also asked about how you do go about, when you're in the markets, getting permissions, or if you, yeah. Yeah, I never pay for photographs. Ethically, I don't think it's appropriate, but that said, if they are selling something, or, you know, I'll buy whatever they're selling, for sure. But I just, you know, ethically, I think it's important for people to know that the photographs that I make are completely 100% from a place of the person saying "Okay, yes, "you can make my picture." I didn't exchange money with you so that I could pose you in a certain way, because it's not a real moment. It's not a genuine representation of what is there. So I don't pay for photographs. I dealt with that a lot when I was in Senegal, and it was really difficult. It was awful, because photographers had come before me who did, they'd paid people to pose for them. And so people wanted to be paid immediately, and I was like, "I don't have a budget to pay you." And it doesn't have to be a lot, I'm sure, but I just, I can't do that. And the other question was? There was a second part. Just general permissions. Oh, yeah, I always have to get model releases. It depends on the publication. But most of them demand model releases, so that can be a nightmare, and that's why a fixer is always nice. Not every publication does, but when I've done stuff for Martha Stewart or the Geographic or something, I definitely have to have model releases. It's a pain in the butt, yeah. There's been quite a few questions, again, about getting into people's lives and capturing their stories. JMS803 had asked, going back to talking about shooting stories on your own, self-assigning in your own city, and things like that, do you think it's necessary to be shooting for a publication or something like that in order to convince people to let you tell their story or capture their life? Do you notice a difference when it's for formal publication versus you doing it on your own, or is it the same? No, there's definitely a difference. It can be, I know that if, yeah. I know that people react to me more because I work for Saveur. Which is, you know, neither good nor bad, but it does make a difference. But you know, I also think that anybody who loves what they do and meets somebody with the same integrity and wanting to tell their story is definitely gonna, hopefully, be like "Yeah. "Yeah, you wanna celebrate me with photographs? "Let's do this." So you know, if someone doesn't want you to make their picture, don't. It's not, like, you're not gonna get great pictures there. It's not worth it. I think you have to be really honest with yourself and operate from the right place so that that happens, and so those photographs manifest themselves. I don't, I question, like, how great the photographs would be if you went into a situation where, you know, they really didn't wanna give you access 'cause you didn't have credentials with some publication that was really gonna get them somewhere. You know? I hear ya, I hear ya. It's kinda lame. Yeah. It's like, I only wanna be your friend if you, like, I dunno, because I wanna know, you know, tell me what you're doing and tell me where you've been and tell me how you make a living, and then maybe I'll decide if I'll be your friend or not. That's kinda lame. I mean, is that more true in New York than it would be if you were in, you know, Brazil, or? It depends on the restaurant, you know? I don't know. It depends. If you've got a great portfolio and a restaurant has a pretty high profile and they know your work and they know you, they're gonna want you in there, whether you're on assignment or not. If you're in Brazil and you're on assignment for a big major U.S. magazine and they've never heard of you before and they don't want any pictures, it doesn't matter, you're not gonna be in there. So it can go either way, really. I guess I was thinking more like if you're in the village in Honduras, like, those people don't necessarily care if you're writing for a big publication versus yourself, right? Or does it matter, do they know? I don't know that it matters. We showed them the publication and they got really excited, so that's always a selling point. I think that there is some excitement that comes with that for a lot of people, so yeah, that plays into it for sure. You know, if you wanted to go to a place and make pictures and didn't have access, I think I would spend time with them and kind of write a proposal to them and tell them why you wanted to make pictures there, what your intent was, kind of, and then try to get access through maybe someone you knew who knew them, or you borrow an access, even if you're not formally on an assignment. Yeah, totally. Did you have a question? Yeah, I did. It's related to composition. I know that when you're doing a story about food and culture, you wanna get some wide shots and then you wanna get some tightly cropped shots. For me personally, I don't know if everybody's like this or if some people are like this, or maybe it's just me, but I can look at a big vast scene and it's easier for my eye to zoom in on a tightly cropped shot rather than setting up the whole, like, landscape type deal. So since it's harder for me to get that tight type of wide shot, and you're kinda going back and forth between the two, is there anything, any advice you can give about how to train your eye to see the overall picture rather than just zooming in on the tightly cropped shot? I never zoom, that's the first thing. If you have a zoom lens, don't zoom. You gotta exercise. You gotta get close to your subject, get away from your subject. You should be working your subject 360. So if you're zooming, you're right here. You're not getting close, you're not getting intimate. And there's something about that physical act of going up to someone and getting right in front of them, because you know what it does? It changes you. It changes your comfort level with that person, and that is one of the scariest things to learn as a photographer when you're first starting is getting close to people, 'cause a lot of people are really intimidated about putting themselves out there like that. So if you're changing your physical proximity to someone, it's getting you out of your shell. They're getting used to you, but more importantly, this, you're finally, you're stretching your legs. Okay, you realize that if you get that close to them, they're not gonna hit you or spit at you, and you're like, cool, and then when you work around them and go behind them, maybe get low, always changing your perspective, but zooming is like, don't do it. Throw that zoom, tape that thing down and don't zoom. You are, it's a crutch. I think there are appropriate times to zoom, obviously, but if you are trying to make intimate pictures and really tell a story, I think you as the photographer have to move your body. Move around your subject and just get in, get out, so that you can explore it. You have to explore your subject, and so for me, a zoom kind of prohibits that. It's a disability, a little bit. It detaches you. Yeah, it disables you, it detaches you, yeah, it's a great word, yeah. So one of the things that I struggle with is, I can take pictures in my kitchen, you know? I've got my, I mean, you said stretch beyond your cliche. I have developed my own cliche, it works for me, I can do it, bang it out in 30 minutes, and get it on the blog. But I wanna do less of that, and I wanna do more of telling the story, and I use fixed lenses. Do you travel with a lot of different lenses? I mean, what do you, how do you change out your perspective without changing your lenses? Do you have a go-to lens that you like, I mean, I know I keep a 52 millimeter on my camera and that's, but sometimes I'm thinking this isn't the best. It's not telling the story wide enough, you know, or is it just getting in and getting out? So what I'm about to say may contradict what I just said, but I'm telling you. I don't zoom, I do not zoom, but I almost exclusively, there are exceptions. But I travel with one to two lenses, and that's it. I have backups in case something happens. But almost everything I shoot is with one lens, and I move my physical proximity to and from the subject. I'm almost constantly, when I'm shooting scenes and people, I'm, well, it varies what lens I'm gonna use. But I will change the length and adjust me rather than adjust the lens. And the reason I do that is because I travel and I travel a lot, and I travel, sometimes, you know, my transport is awful. And lugging a big bag of gear is not the way to go. I will be spent before I get there, and I have to conserve my energy until I get there because then I have to be on. So I have condensed my travel gear down to a pretty tight set of tools that work for me every time, and it's, I'm so comfortable with them that I know what I'm gonna get with them. And it's like a second language, you know? It's, yeah, I mean, I know the tool so well that I know what I'm gonna get when I move. Okay, so you can use a zoom lens, but don't zoom while you're using it. (laughing) I'm not even comfortable with that. You can use the lens, don't zoom. You change your focal length, don't zoom. Yeah, does that make sense? It does, it does. Because I don't want you to think of it, "Oh, I have a zoom." No, I don't even think about, I mean, it is a zoom, okay, and there's probably people out there who are like, "This is semantics." But it's not, for me it's principle. Like, you have to get beyond, you have to physically change your position to really engage your subject. I think that's probably like where pictures start to happen, and a lot of photographers don't do that. And that's probably the element that they're missing. I'm not saying pictures are gonna happen right away once they start to stay on a fixed focal and just work the subject, but eventually they will, and I can guarantee that. Okay. With practice. So if I'm understanding correctly, then basically what you're saying is you're only changing your focal length to get a desired result, like maybe you wanna blur the background or whatever. Yeah, I'm saying that-- You're not using it so that you can stay stationary in one spot. Right, yeah. I'm using a lens that has multiple lengths because I travel for a living, and I can't carry a ton of gear. And when I use that lens, I'm using it as a fixed focal length lens. So if I'm shooting a scene, probably maybe 35, if I'm shooting a person, maybe 85, maybe, you know. And that's a true 35 and a true 85. Yeah, I'm shooting with a Canon 5D Mark II, so yeah. So yeah, if you don't have a camera that has that, that makes that adjustment for you, then you just need to buy a Canon. (laughing)
Ratings and Reviews
Penny is the best with Food photography and at telling a story with pictures. This was the very first class I ever saw on Creative Live and Penny was amazing! Her class is so informative to all the aspects of food photography, from styling, to plating to shooting and lighting. and how to tell a story. What she taught me will never go out of style and will inspire you too. Thank you Penny for this outstanding class!
Love, Love, Love Penny. What great energy. I will never look at food the same way. Her story and her vision really touched me. She was so generous in sharing her knowledge in such simple terms. One of my favorite classes!
Totally love this course!! What a find especially for the price - such a wealth of information and what a great positive spirit!! Thanks Penny for sharing - keep up the excellent work!
Student Work