HOMEWORK: Day 1 Assignment
Penny De Los Santos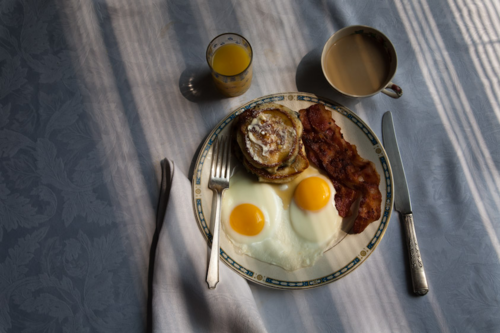 HOMEWORK: Day 1 Assignment
Penny De Los Santos
Lesson Info
7. HOMEWORK: Day 1 Assignment
Lesson Info
HOMEWORK: Day 1 Assignment
Okay, I have to give these guys an assignment, don't I? All right, I gotta be honest, that first assignment, all of you did really bad at. You did bad at it in the sense that I asked specifically for people and culture photographs, in your own life, and what we got was mostly food photographs. Wouldn't you agree? Yeah. Most of them were food-driven photographs, so I thought you were talking about our videos. No, not you guys. I'm mostly talking to the Internets. (laughing) So all of you out there, I am very thankful that you sent pictures in, however, comma, I'm gonna reassign you because I wanna see, I wanna see the point of departure pictures. I wanna see, I wanna see those pictures where you start to show me the food culture in your life. So that's people, that's place, it's establishing shots, sense of place. I want you to think food scenes, and I want you think about composition. You spent the entire day talking about these things, so I want you to think about that. So you...
r assignment is, I'm gonna read it again. Think about the people and the culture around food in your life. Think about the people and the culture around food in your life. Submit those photos, okay? So you're gonna photograph a food scene. I want you to think about composition, color, light, moment, those creative devices that Larry touched on, all those things. Same thing, you're gonna upload them to the Flickr group and we're gonna critique those. Again, and I also wanna talk for a minute about tomorrow. So today we did a lot of talking, and I am ready to shoot, so and I think you guys are too, right? Yes. I'm ready to make pictures. I don't wanna talk anymore. I'm tired of talking, so tomorrow is huge. We are gonna do a full-on, full-blown, money is no object food shoot, and we are shooting some of the hottest, sexiest food you can imagine. Bacon is on the menu. Bacon, yes. So tomorrow we're shooting a food shoot. It's a full-on, we've got a client, and we're doing four to five different sets. I can't remember. So that's what we're doing tomorrow, and Saturday is also shooting and we're doing food culture. We're gonna simulate this idea of what we've been talking about today, and shooting food scenes. People in food scenes, the moment, details, establishing shots, all that stuff. I can't think of anything else. Is there anything else I'm supposed to touch on, guys? Oh, can I take a question or two? Yeah. Do you have your question? Do you want, do I accept the questions, or should we wrap up? I just want to check to see if I have any questions real quick. Well, there's plenty of questions. I mean, we could go on and on with questions. Two awesome questions. Will there be beer in tomorrow's shoot? (laughing) Gear? Beer, beer, bacon. We got beer. I don't think the audience is getting it. Uh, sure, I don't know. No, there's no beer, not in the shoot. There might be, is this a personal question? No, no, just a joke. Okay. Ha, ha, is there beer? It was a personal question. It's from the Internet. There was a question that came through from Abel V., which is how big is your team? Do you have a full time assistant, or are you doing all of this all by yourself? I have a huge team. Can't you tell? In the field, I don't have a budget for an assistant, so I don't normally take one. I always hire fixers, translators, drivers. At home, I'll use assistants, but I don't normally, because I am almost 80% in the field. So, it doesn't really make sense for me. My business is changing, and I actually think I will hire an assistant, probably in the fall, a full-time assistant. I don't know if there'll be a traveling assistant, okay? Let me just put that out there right now. (laughing) The only thing is too is that I want someone who is gonna help me grow my business. I love photographers, but you guys wanna start your own businesses. I'm trying to grow one, or you know, continue growing one, so that's also like a huge determining factor for me. I want someone who's gonna be on my team with me, and help me row the boat, you know? So I have a huge team, they're just not all paid full-time. How's that? That works. Yeah. You have a huge team, and then you also do it all yourself is what you're saying. Yeah, I do have stock agents. I have, you know, I do use assistants, and I mean I have a ton of resources that I use. I just don't hire, I can't. I don't need anybody full-time, because I'm not in one place full-time. Yeah, okay, that's awesome, thank you. Anything else? I think we're good. Final thoughts. Okay, so tomorrow we're making pictures. Don't for a second think we're not making pictures. This will no longer be in my hand. It's not in my hand now. (laughing) All right, so tomorrow we're making pictures, so come back tomorrow. It will be even better. You guys are awesome. Thanks for hanging with me. You've totally encouraged me and inspired me. I picked a solid group of people, and I hope more than anything that I hope all of you think about the photographs you're making everyday. I think, I hope, that, God, I hope that we've planted some seeds, and that maybe you're starting to think about how you connect with food and how you can tell those stories. Maybe you've never thought about telling stories, and so maybe something different has changed. Maybe, you know, maybe you'll think about that in your own personal work. So anyway, thanks for hanging if you're still watching, all three of you. (laughing) Great, thank you, Patty. (applauding) My guy.
Ratings and Reviews
Penny is the best with Food photography and at telling a story with pictures. This was the very first class I ever saw on Creative Live and Penny was amazing! Her class is so informative to all the aspects of food photography, from styling, to plating to shooting and lighting. and how to tell a story. What she taught me will never go out of style and will inspire you too. Thank you Penny for this outstanding class!
Love, Love, Love Penny. What great energy. I will never look at food the same way. Her story and her vision really touched me. She was so generous in sharing her knowledge in such simple terms. One of my favorite classes!
Totally love this course!! What a find especially for the price - such a wealth of information and what a great positive spirit!! Thanks Penny for sharing - keep up the excellent work!
Student Work